You just had your ultrasound, and the doctor comes with the news, "It's a girl!". Do you know what this calls for? A pink baby shower!
There are numerous pink baby shower ideas out there, so it can be hard to choose what is right for you. Check out these most outstanding ideas you can implement to make your pink shower unforgettable!
What Is a Pink Baby Shower?
A pink baby shower is a pre-baby party celebration with a pink-colored theme.
In such a theme party, everything is pink, i.e., party decorations, the cake, the backdrop, etc. You can, however, include a few other hues that blend in with pink, but overall, pink is the primary color.
Are Pink Baby Showers Only For Mothers Expecting a Baby Girl?
Pink is considered a feminine color; hence pink baby showers are typically associated with girl baby showers.
Although colors continue to grow increasingly gender neutral, pink remains the color used most traditionally when expecting a girl. Therefore, throwing a pink baby shower typically makes the most sense if you're expecting a girl.
Similarly, if you don't know the gender but hoping for a girl, you can throw a pink baby shower.
How to Decorate a Baby Shower For a Girl
Pink and shades of pink are traditional baby shower decorations for a girl. Below are ways to incorporate various party decoration ideas in your pink baby shower.
Theme and Decor Ideas
You can have various themes for your pink baby shower, such as a teddy bear theme, an elephant theme, or a princess theme. To use any of these themes to create a pink baby shower, make the primary color pink.
However, only some things should be pink! Play around with shades of pink, such as hot, light, or blush pink, and be sure to include other accent colors. With over 150 types of the color pink, you have numerous options to pick from and include in your girl's baby shower, while tan and rose gold can serve as great colors to complement a pink theme.
Pink baby shower balloon decorations should be the first thing you put up. Tie the pink balloon decorations to the baby shower gift basket, so they float.
Place some more confetti balloons on the floor in a random pattern. Make sure the balloons are all different sizes to present a creative design.
Remember, you will want to vary your shades or choose some accent colors. Not all balloons should be pink! You can include some light and deep shades of pink balloons, gold balloons, and white balloons.
Apart from the balloons, lights, and ribbons, you can add decor items that match your party theme. For example, include the cutest bears in your decor if it's a teddy bear-themed party. You can also use pink-colored lights to add sparkle to your shower venue.
Table Top Decor
To get that wow effect on your pink baby shower decorations, ensure the table decor is also outstanding.
Begin by covering the table with a clean lilac, white, or pink tablecloth. Then, place pink rose-scented candles on the table. Have three or four of these, depending on the length of the table.
Remember to include pink pearls and rose petals. The rose petals can be white, light, and hot pink.
Place clear, gold glass vases with pastel pink and white flowers on the table.
The centerpiece table should have a pink tablecloth spread throughout. Place flowers and throw pink confetti all over the centerpiece, as well as long ribbons, bows, ruffles, and nicely folded napkins. To break up the monotony of pink, you can add some greenery.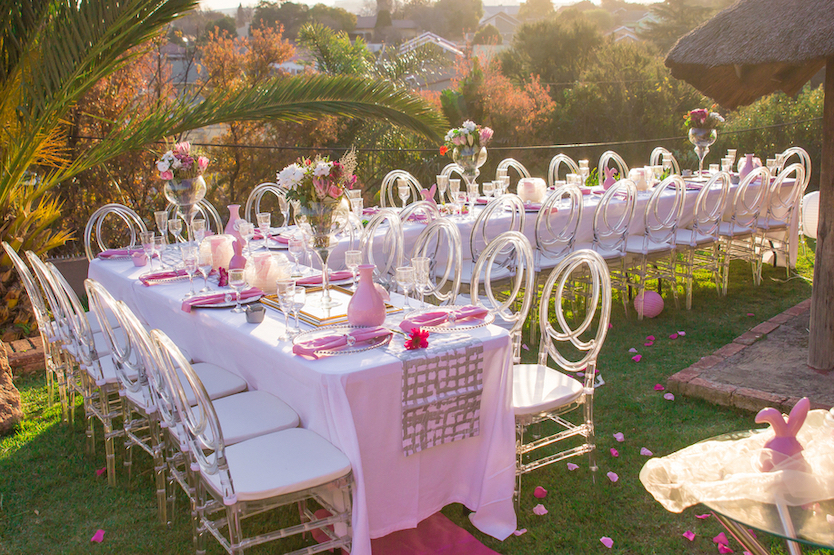 Backdrop/Photo Booth
Backdrops and photo booths are essential for any event, whether a bridal or baby shower. Use a pink party backdrop for a pink baby shower for a girl. It's a simple backdrop, but you can bet it'll be the most beautiful.
A pink rosette backdrop is also a great option. You can have it flat or with some volume. Always go for fresh buds. Use plastic ones only when you're on a budget.
For the photo booth, you can have pink or white cardboard with heart-shaped glitters or pink paper fans attached. For a fun alternative, you can use beautiful silk or cotton fabric with various flowers.
Food and Cake Inspiration
Be creative with the food for a memorable pink baby shower. Popular foods served at such events include:
Sausages
Shrimp
Salmon
Ham
Tomatoes and potatoes in pink
Red beans
Some of the drinks you can serve guests include:
Rosé wine
Colorful mocktails and cocktails
Cranberry, strawberry, cherry, and raspberry juices
On the dessert table, you can have:
Strawberry ice cream
Pink candies
Pink-colored cookies
Turkish marshmallows
The cake can be white and pink, with gold accents or rainbow sprinkles. You can add colored bows to make it a bit extra.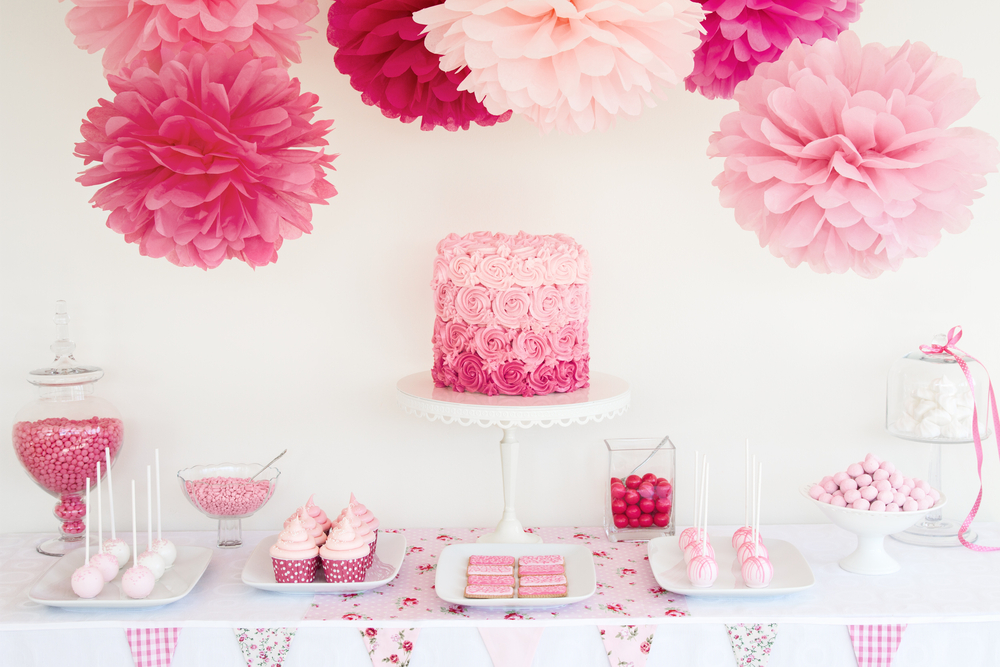 Pink Baby Shower Favors
Baby shower favors are friendly gestures to guests as a thank-you for attending the party. You have the option of personalized favors, DIY, or food.
You could pack your guests chocolates, cookies, candies, or cupcakes for food. Ensure they are treats that everyone can enjoy.
If you decide to prepare DIY items, consider decorating mason jars and filling them with something thoughtful.
Personalized party favors may include a gift package containing scented candles, facial masks and scrubs, and body butter, among others.
Baby Shower Games
Two to four baby shower games are enough if you have many guests. Picking just a few games will leave you plenty of time to do other things during your baby shower. Some of the most popular baby shower games are:
Relay races for diaper changes
Guessing games for baby's due date
Trivia games or icebreaker games
What exactly is in the bag?
Scramble
Pink Baby Shower Invitation Ideas
There are numerous unique and creative ways to send party invitations for a pink baby shower.
Begin by getting cards that match the color scheme for your pink-themed event. You can also send virtual invitation cards to save time and money on printing.
You can add flare to your invitations by tying ribbons onto them, attaching cute cutouts, or adding glitter.
Remember to send out your pink baby shower invitations on time so guests can save the date for the celebration and plan their schedules.
Pink Dress Code: Yes or No?
It's a good idea to mix up the dress code. Just like the rest of your decor, feel free to incorporate other colors into your wardrobe for the event. Other feminine colors, such as lilac and white, are acceptable for guests. You can always incorporate pink into an outfit with fun jewelry or hair accessories.
Tips From a Mom on How to Pick a Pink Baby Shower Theme
Make sure all the colors match and that only some things are pink.
Know where to source pink party supplies
Add one or two other colors to match the primary color, pink.