Are you planning a baby shower party for a loved one and considering a teddy bear-themed baby shower?
Well, my friend, you've chosen well with this classic theme that is popular if you don't want to go with a specific character bear like Winnie the Pooh or Paddington.
So, now that you're sold on using the teddy bear idea for your party, here are a few teddy bear baby shower ideas to pull off an event the parents-to-be and friends will never forget. We have thrown in some DIY tips and ideas if you love crafting or want to save a buck.
Why Go With A Teddy Bear Theme?
One of the best things about this theme is that it works perfectly for either a baby boy or girl, a gender-neutral baby shower, or even a gender-reveal party.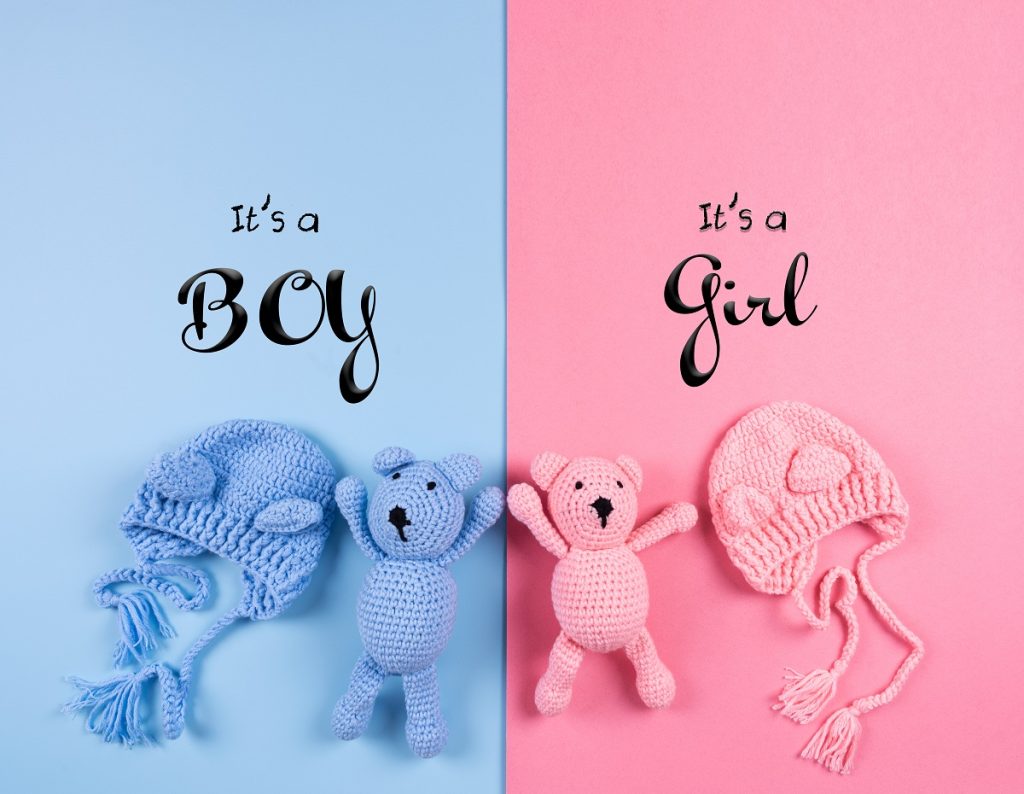 Second, most party decorations are affordable and reusable for future birthday party decorations. If your baby's room incorporates the bear theme, you might be able to use a few pieces of your baby shower decor.
Third, you can find everything you need to carry out this theme, including invitations, decorations, tablecloths, plates and napkins, cake toppers, favors, and other party supplies.
Teddy Bear Baby Shower Invitations
Invitations are one of the first items you must tackle when planning a baby shower. Sending them out early, at least four to six weeks before the baby shower party, helps you and your guests plan accordingly.
Apart from telling your guests the date, time, and venue of the baby shower, the invite also communicates the theme. Take a peek at Amazon or Etsy – you will find no shortage of teddy bear invites.
If you are a skilled designer, feel free to adopt a DIY approach to create a one-of-a-kind invitation. Or, you can download an editable, printable, and shareable template such as We Can Bearly Wait if you do not want the fuss of designing from scratch.
Teddy Bear Baby Shower Decorations
Party decorations are crucial for any baby shower, whether you are having a girl, boy, or gender-neutral baby shower because they reinforce your theme and liven up the event. Teddy bear decorations are easy to find and are, pardon the pun, unbearably cute.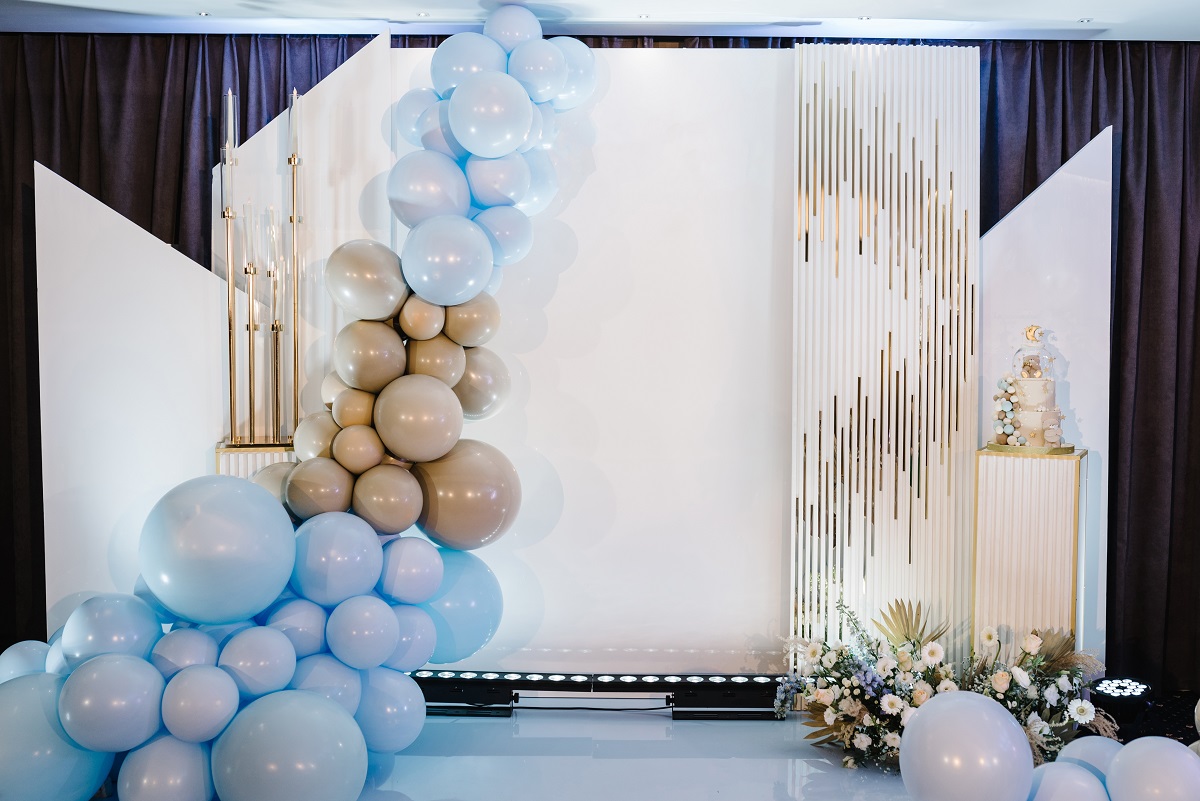 Balloons
Balloons are a simple and inexpensive way to add ambiance to your teddy bear baby shower. They come in all shapes, sizes, and colors, so your choices are limitless.
Use a color scheme to complement your teddy bear party theme. For example, decorate a baby boy's shower using baby blue, light blue, beige, nude, or other shades of brown balloons. Some shades of green and gray can also work well. 
For a baby girl shower, use pink, cream, white, and light shades of brown. Decorate a gender-neutral party with white, medium to light green, yellow, or brown tones.
In addition, you can use transparent balloons and stuff them with colored confetti that matches your theme.
Create a balloon arch using your desired colored balloons to draw attention to focus areas at your venue. You can set up the balloon garland at the entrance, gift table, or photo booth. Decorate the floor by scattering balloons of different sizes, particularly beside the gift table. 
Complete the look with cute teddy bears of your choice. The brown teddy bears of nature can be made into baby girl or baby boy teddy bears with clothes or ribbons!
Also, dangle teddy bear balloons from the ceiling beside the dessert or drinks table.
Signs
Place a welcome sign at the venue entrance to receive guests as they come in. Like the invitations, you can handmake the signboard or buy a ready-made or printable version from Etsy or Amazon. Get a "We Can Bearly Wait" welcome sign that matches your baby shower invitations, although one of the many other designs may capture your fancy. 
An alternative to a welcome signboard might be a teddy bear-themed banner or backdrop instead. Add fun decorations like balloons with colorful party ribbons beside the sign or banner.
Other baby shower signs can mark the gift table, dessert, drinks, and party favor signs.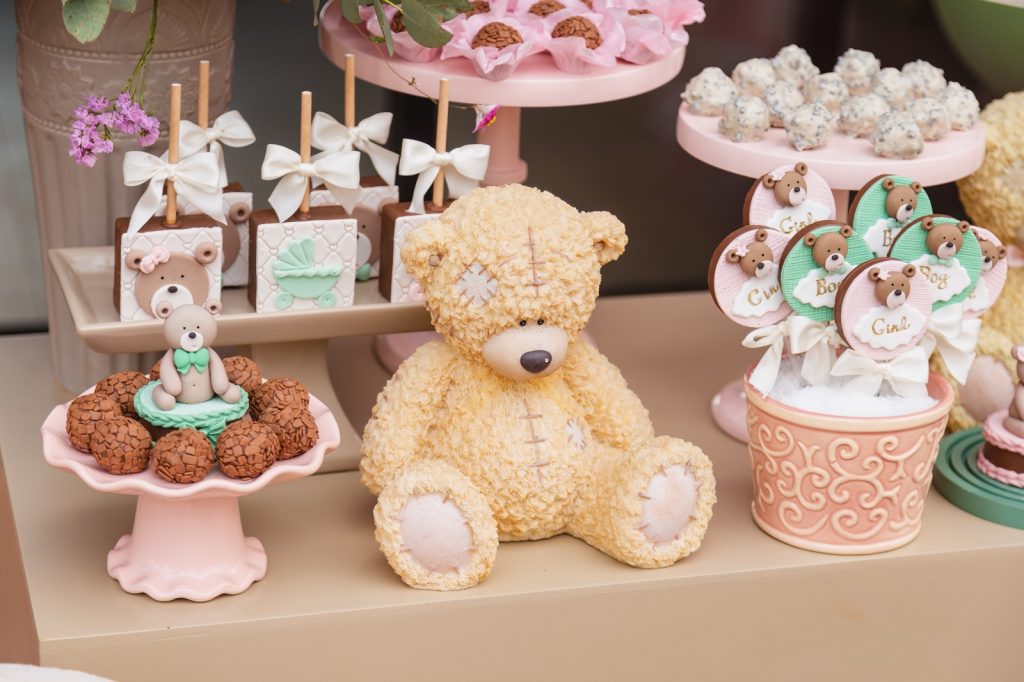 Table Décor
Decorate your guest table tops with centerpieces that suit your teddy bear baby shower. Here are a few ideas:
Stuffed teddy bears: The teddy bear color may be pink, blue, or traditional brown, depending on the gender of the baby.
Small pots filled with gummy bears: Buy small terracotta pots from a craft shop, paint them or leave them as is, and fill them up with gummy bears.
Rose-shaped teddy bears: Make small teddy bear centerpieces using roses for a chic teddy bear baby shower. Add a ribbon that matches your color scheme.
Place a runner with tiny paper teddy bear cutouts.
Tablecloths can carry out the theme – choose one with teddy bear prints or solid color in your color scheme. Make a subtle statement with these adorable teddy bear napkin holders.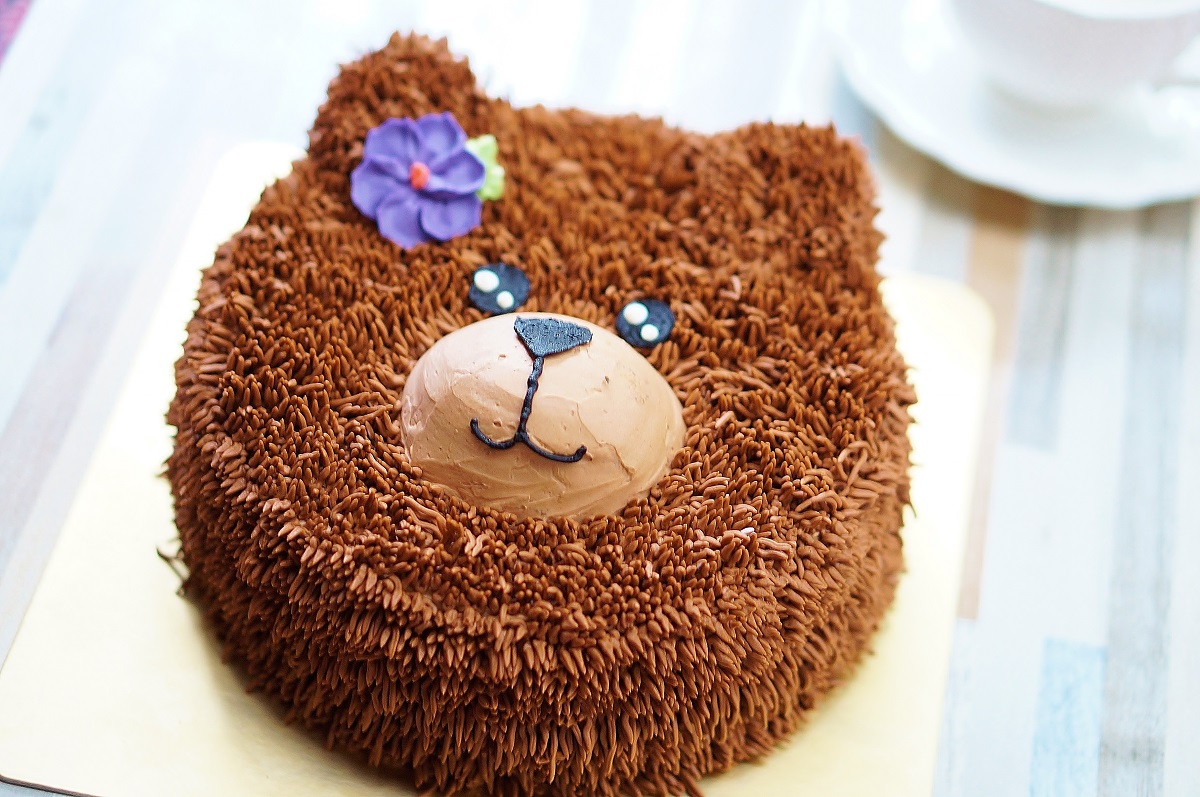 Bear-Themed Desserts
No teddy bear baby shower would be complete without a teddy bear cake as a baby shower centerpiece. But, if you opt not to use a teddy bear cake, make sure you or your baker decorate the cake with bears to tie into the theme with cupcakes, cake pops, or cookies. (You will find it hard to resist a teddy bear cake topper though!)
Cupcakes are also an excellent idea for bear-themed desserts. Add teddy bear cupcake toppers or edible bear-themed stickers. Also, consider providing other treats like bear sugar cookies, brownies, and chocolate-covered pretzel sticks. Chocolate-coated strawberries are another yummy addition.
Remember to provide drinks for your guests. Sweet lemon iced tea or any homemade fruit juices are excellent for a teddy bear baby shower. Also, do not forget to provide water.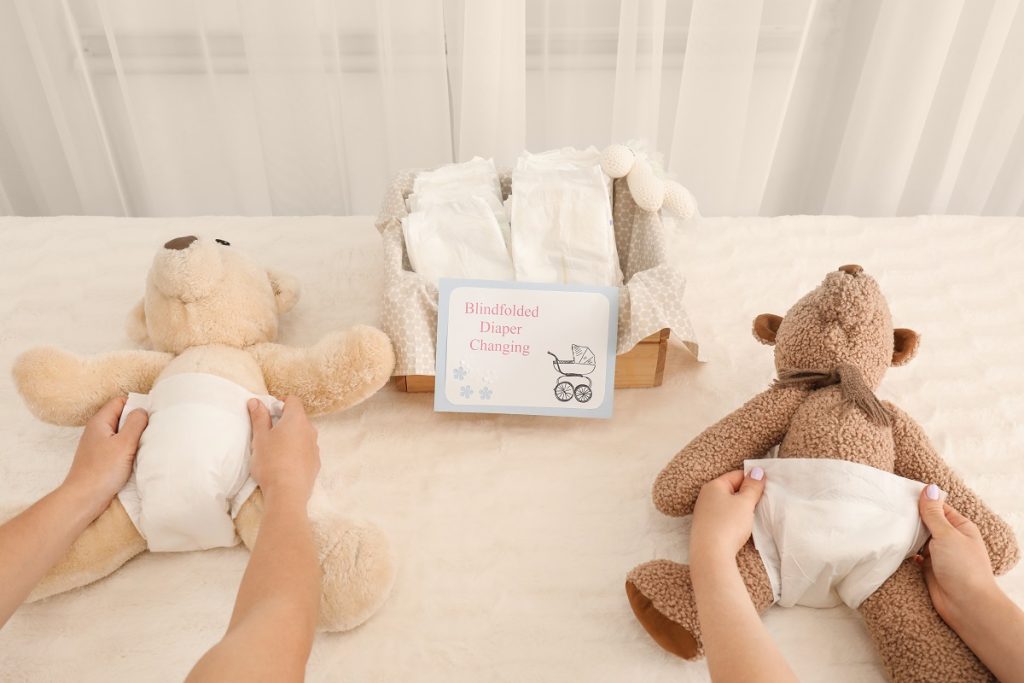 Baby Shower Games
Baby shower games are a fun and exciting way for guests to interact and get to know each other. Below are bear-themed baby shower game ideas to break the ice:
Diaper changing race: You will need some diapers or pieces of cloth, baby clothes, teddy bears, and a timer for the race. Contestants will run through a series of obstacles. Finally, they must change the teddy bear's diaper while blindfolded. The person with the fastest time wins the race.
Guess the number of gummy bears: Put gummy bears in a jar and have contestants guess the number. Count them in front of everyone. The person with the closest figure wins and takes the container filled with gummy bears home.
Draw a teddy bear: You will need a piece of paper and a pen for every contestant. Use a timer or stopwatch to time the contestants. Have the guests draw the cutest teddy bear they can in two minutes and have the mom-to-be pick the best one.
Who knows mommy best: Have a set of questions about the mommy-to-be and have contestants answer them correctly. The person with the most right answers wins.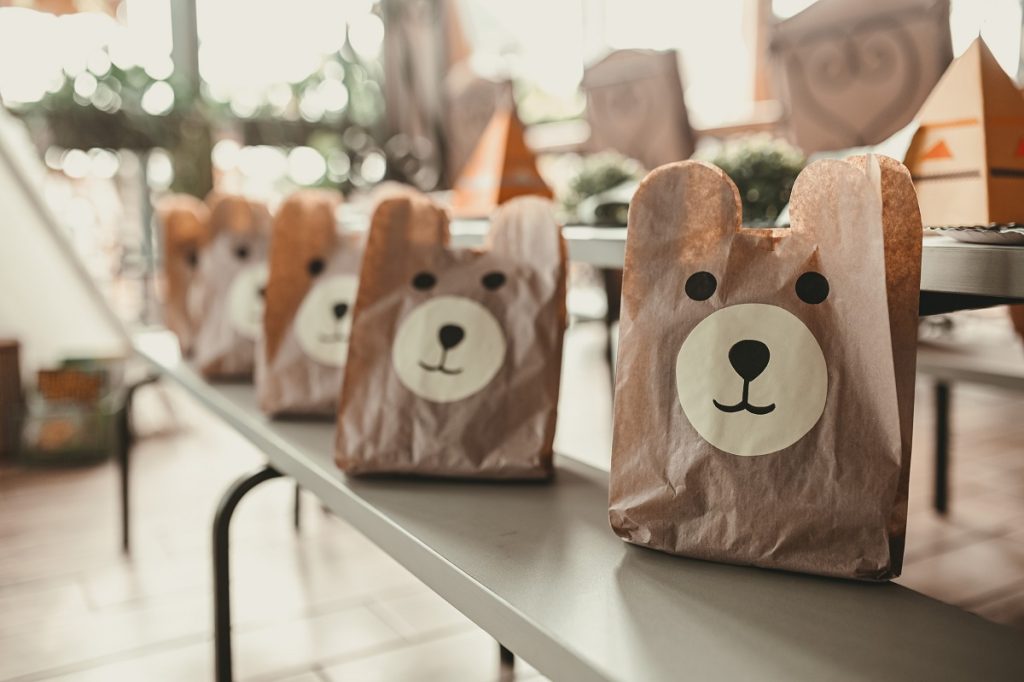 Baby Shower Favors
Baby shower favors are not a must-have, but they are a wonderful gesture to thank guests for coming to the party. Below are simple party favors to consider for your teddy bear baby shower:
Scented or unscented soap: Wrap the soap bars with clear paper tied with a ribbon. Use teddy bear-shaped bars to tie in with the theme.
Candy: Put the candy in personalized gift bags with a thank you note.
Handmade scented bath bombs: Depending on the number of guests, pack one or two bath bombs in a personalized pouch with a thank you note.
Teddy bear-themed keychains.