Is mom-to-be laid-back, artistic, or loves natural elements? If yes, a boho baby shower theme would be the best option for her shower party. So, what is a boho baby shower?
A boho baby shower is a party theme inspired by the free-spirited, relaxed, and artistic Bohemian style. The party embraces rustic, tribal, and vintage styles and features natural elements like flowers, leaves, feathers, and wood to produce an effortless and chic feel.
Does that sound like the kind of baby shower you would want? Stick around because I'll share DIY and ready-made party ideas- boho party decorations, guest favors, and games. I'll also throw in ideas on what to wear for a boho-chic look.
How Do You Throw a Boho Baby Shower?
Like other baby shower themes, you need to work out the venue, decide on the color scheme to use, prepare baby shower invitations, decorations, and food options, and decide on baby shower games and party favors.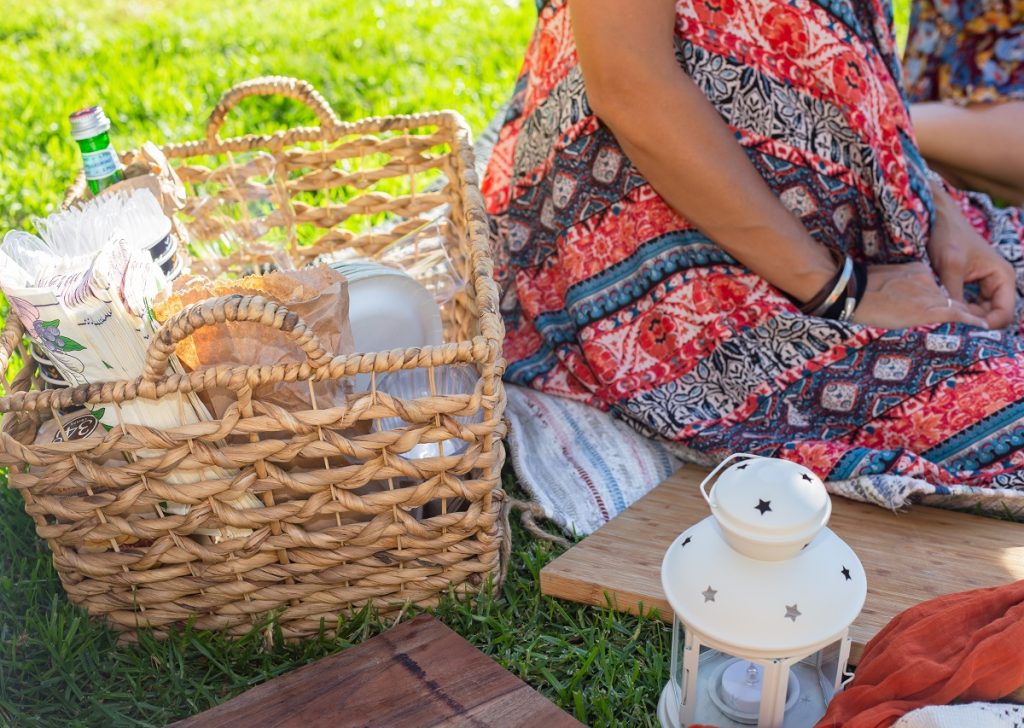 Here are tips on how to throw a boho baby shower:
Venue: You can hold either indoor or outdoor parties, though an outdoor party best suits this style.
Colors: The Bohemian color palette mixes earthy and neutral pastel colors. These include shades of brown, red, yellow, green, blue, gray, and white. Choose one or more of these colors. The colors work very well for gender-neutral showers.
Invitations: These should match with the color scheme chosen and communicate to guests about the boho theme.
Decorations: Mix and match prints and textures for a boho effect. For example, you can combine a variety of fabrics like khaki, burlap, and lace or combine solid wood and metal elements. You may also use paper crafts and greenery for your decorations.
Food options: The baby shower cake and other treats should show the boho theme. For example, you can have a teepee cake with edible feather decorations and a peach punch in line with the color scheme.
Games and Favors: Have activities and gifts that match the theme of your event.
Boho Baby Shower Ideas for a Boy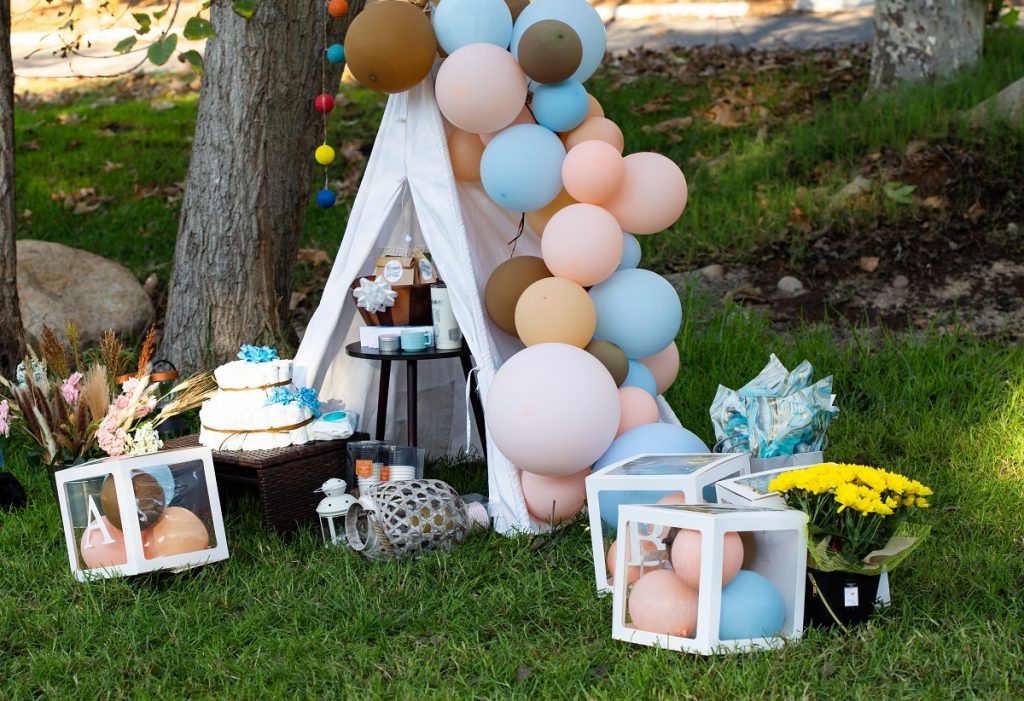 Are you planning a baby boy boho baby shower? Pick as many ideas as you want from the list below to throw a successful party:
Use shades of blue, gray, green, brown, white, and gold as your primary colors.
Use printable "Oh Baby" boho baby shower invitations with pampas grass floral decorations.
Place a balloon garland with light blue, sage green, and gray balloons at the entrance or photoshoot area. Intertwine white flowers and faux eucalyptus vines between the balloons.
Place blue-dyed Baby's Breath in vases and use them as table centerpieces.
Use clear mason jar centerpieces filled with colorful beads.
Prepare blue, ivory, and brown onesie, feather, and arrow-shaped sugar cookies.
Display mini succulent cupcakes on the dessert table in woven baskets.
Use a solid wood backdrop with an "Oh Baby" sign and floral decorations.
DIY blue, green, white, and gold fabric streamer hoops for wall hangings.
Place burlap table runners for a rustic Bohemian effect.
Use Bohemian rainbow disposable tableware.
Use blue dreamcatcher printed napkins or napkin holders.
Boho Baby Shower Ideas for a Girl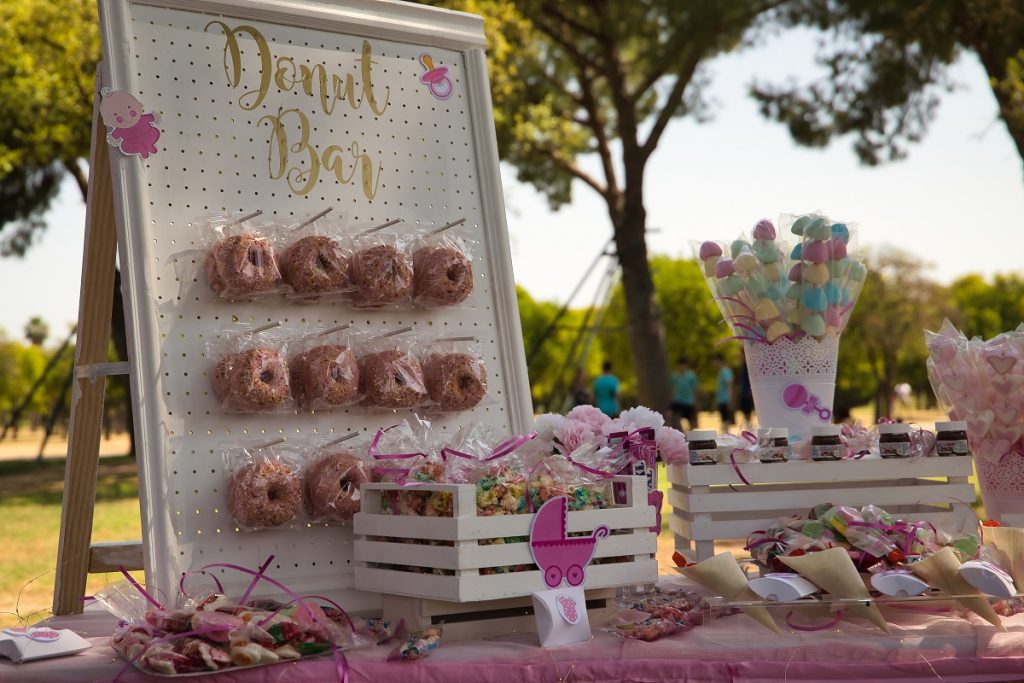 Add soft pink and rose gold touches of color to your boho baby shower decorations for a baby girl shower. Other baby shower party ideas include:
Wooden chalkboard welcome sign decorated with a pink rose garland.
Flower crown for guests and mom-to-be. The mama-to-be can have a different arrangement.
Insert flowers and faux eucalyptus leaves between your pink, gold, and nude balloon arch for a greenery effect.
Decorate your photo booth area with a heart-shaped carnation garland backdrop.
Use white candles, dried pampas grass, or bunny tail bouquets in vases as table decor.
You may also use macrame tapestry for wall hangings and table runners.
DIY or use printable Boho rainbow baby shower invitations, welcome signs, and banners.
Use pompoms with jute tassels with wooden beads as decorative chandeliers.
For a picnic set up, use peach, beige, ivory, and pink colored cushions, pillows, or poufs for seating and as boho baby shower decorations.
Use lace as tablecloths or table runners.
Decorate table tops with white or earth-tone confetti.
For an evening event, hang string lights on trees for a whimsical touch.
Serve treats like donuts, grazing platters with crackers, cheese, nuts, and various berries, and a sparkling fruit punch to keep guests refreshed.
Gender-Neutral Shower Themes
For a gender-neutral shower or a gender reveal, you can select a theme such as bumble bees that uses colors like yellow, orange, white, black, and brown.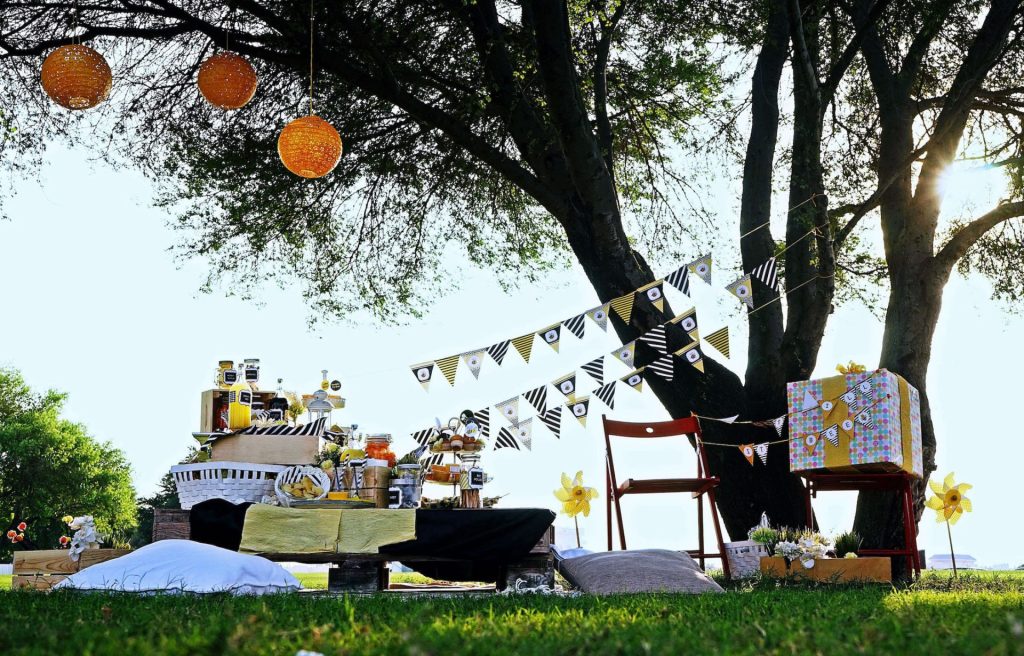 DIY Boho Baby Shower Ideas
Save a buck or two with these DIY boho baby shower ideas:
Diaper Dream Catcher
Make a dreamcatcher decoration using diapers. Dangle feathers dipped in dye and colorful tulle strips from the diaper ring to make the dreamcatcher come to life.
Lace Teepee Gift Booth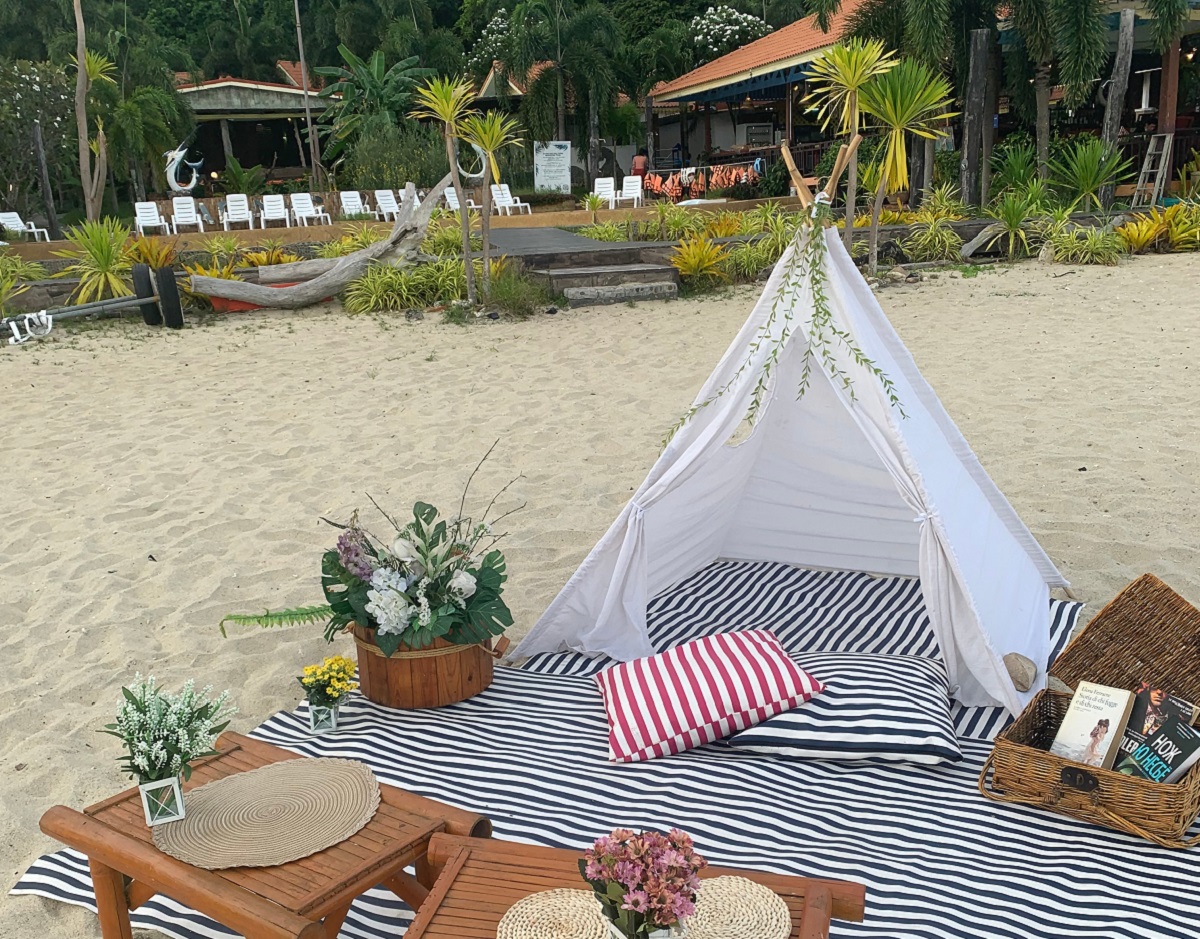 Many baby shower parties have a gift table, but you can create a lace teepee gift area to tie into the tribal boho baby shower theme. All you need are four long sticks, rope to tie the sticks together at the top, and lace fabric to add to the structure. You may also decorate the teepee entrance with foliage to add natural elements.
DIY Floral Balloon Garland
Incorporate rose flower stems into your decorations with this boho chic balloon garland.
Flower Photo Frame
Repurpose an old photo frame and decorate the corners of the frame with various colorful flowers- sunflowers, roses, carnations, or daisies for your photo booth.
Baby Mobile
Make a baby mobile with multicolored fabric tassels and beads that mom-to-be can use in the baby's nursery.
Macrame Wall Hangings
Macrame wall decorations may seem hard to create, but there are many DIY patterns for beginners. Gift the macrame decorations to mama as home decor after the baby shower party.
Boho Baby Shower Games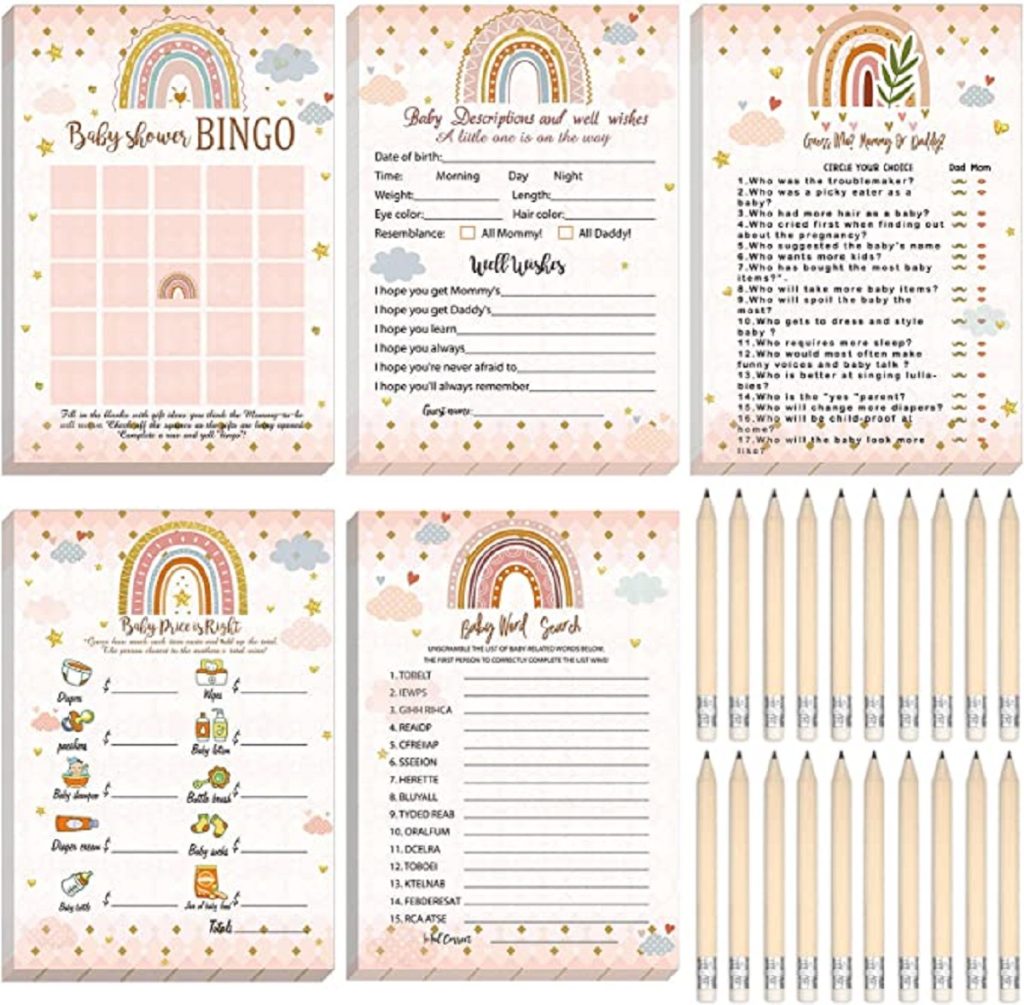 Baby shower games are a nice way for guests to interact and have fun. In line with the relaxed Bohemian baby shower theme, you can choose a more chilled-out direction with your games and activities. Below are baby shower game ideas:
Baby word scramble: Have guests compete to unscramble baby-related words.
Decorate baby's onesies: Provide guests with plain onesies and materials for decorating the baby's clothes. Mom-to-be will choose the best-decorated onesie.
Bobbing for nipples: Instead of bobbing for apples, have guests pick out rubber nipples with their hands tied at the back.
Boho Baby Shower Party Favors
Appreciate guests for gracing your boho baby shower by giving party favors. Below are five boho party favor ideas:
Flavored tea sachets
Essential oil bath bombs
Mini succulent plants
A bag of sugar cookies
Tin candles.
What To Wear to a Boho Baby Shower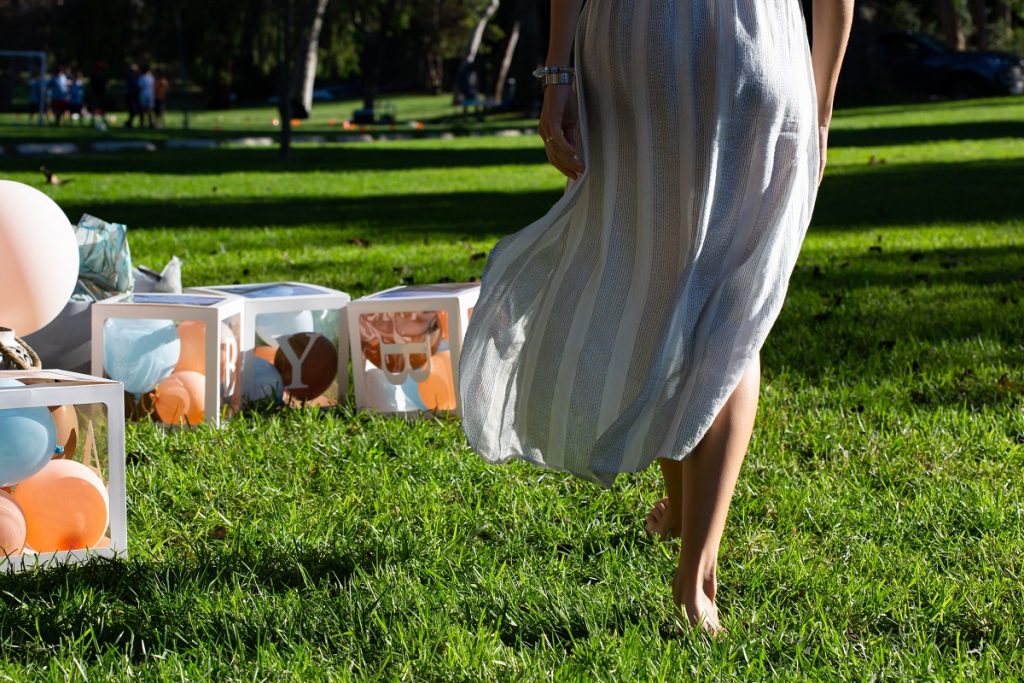 Dress the boho part as a mom-to-be, host, or guest with flowy and comfortable outfits.
For example, wear a floral maxi skirt paired with a comfy tee shirt or an off-shoulder maxi dress. Alternatively, wear an embroidered boho blouse with denim shorts for a casual backyard party. If you want to wear pants, pick linen or denim fabrics.
Use these tips to have a gorgeous Bohemian baby shower outfit: