Your BFF is about to be a mom, and it is time to plan the baby shower of the year. But first, you'll need to come up with a unique baby shower theme.
For a creative pre-baby party, steer clear of the generic ladybug, dinosaurs, blue, pink, or monkey themes. Not that there's anything wrong with those themes, they are excellent. However, in this post, we'll discuss one of the most unique shower themes—a safari baby shower.
It is time to think outside the box.
What Are Some Unique Baby Shower Themes?
A surefire method to host a unique baby shower theme is to take time-honored ideas and infuse them with a dose of the modern.
To illustrate this point, think of a basic blue baby shower. How about giving it the classic twist of a blue nautical baby shower theme? Then you can sail out to meet the young prince in a sea of blue.
On the other hand, a rustic mustache or cowboy baby shower theme will fill your party with puns. A cowboy boy theme's props and decor will also make for excellent photo backdrops.
Also, you can go bold with a pink tea party theme for the brewing baby girl. A tea party is an excellent opportunity to blend your delicate pinks and cream for an airy and light feel.
Alternatively, a garden or woodland gender reveal theme will infuse your party with natural elements such as acorns and assorted flowers.
And now, let's talk about a safari-themed baby shower.
What Is A Safari Baby Shower Theme?
A safari-themed baby shower takes the parents-to-be and their guests to the wild African savanna or Amazon jungle.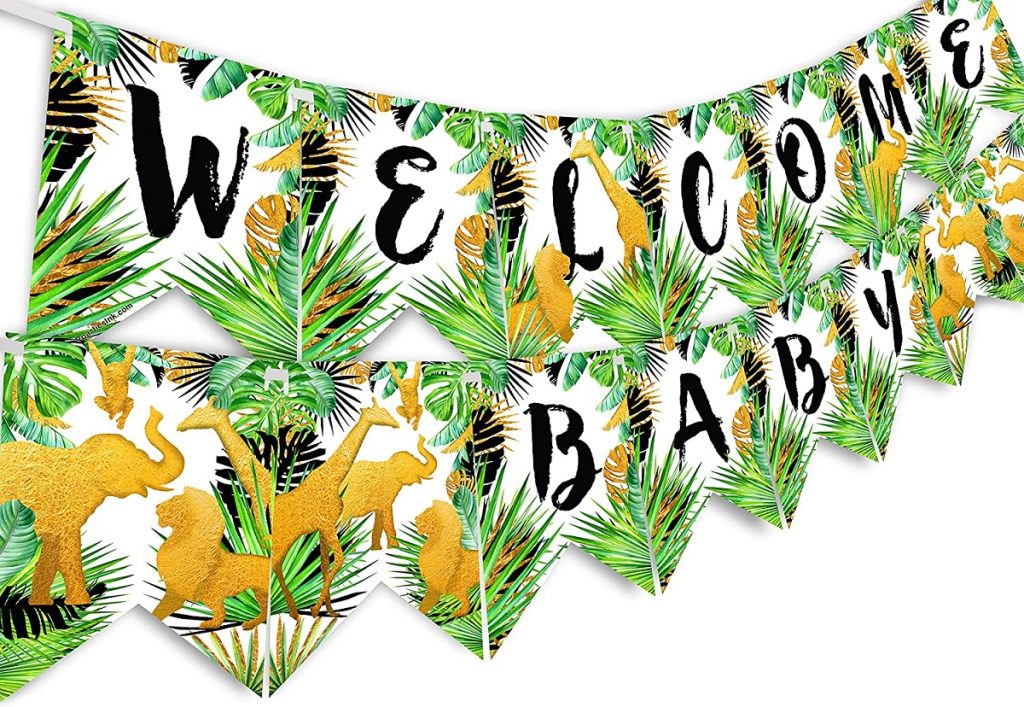 Jungle baby shower themes are unisex baby shower ideas inspired by nature, wild animals, vibrant colors, and storybook friends.
The safari animals baby shower will set the stage for a unique, creative, and fun rainforest or jungle party. There is no better way to show the mom-to-be some love and give her a much-needed break from the day-to-day pregnancy routine than with a safari baby shower.
How Do I Throw A Safari Baby Shower?
Having the right space is the key to the perfect jungle safari baby shower. One of the best safari baby shower venues is the outdoors. So, plan a jungle baby shower either in summer or late spring. Your theme will blend in with the natural greens and browns in the outdoors.
That said, if you live in warmer climates, you can have a safari baby shower at your convenience. However, if the momma craves a safari-themed baby shower in the dead of winter, there are ways to go about it.
So, what do you do if you cannot take your baby shower party to the great outdoors? First, fill up your indoor space with greenery, such as ferns. The natural details will transport you to the jungle and make your party space pop.
Build your jungle theme using glam animal prints on table linen, wallpaper, rugs, or cushion fabrics. Large animal prints will pull your design together.
More so, you can accessorize with fun jungle-themed photo walls and animal artwork. The key to this theme's success is plenty of natural light for a positive, airy, and relaxing party.
Safari Baby Shower Invitations
Safari baby shower theme invitations can set the jungle party theme mood before the get-together. An added benefit of safari-themed invitations is giving the guests an idea of the gift items they should bring for the baby's room. It doesn't hurt to mention that you have a safari theme baby room on the invite to prep them for gift shopping.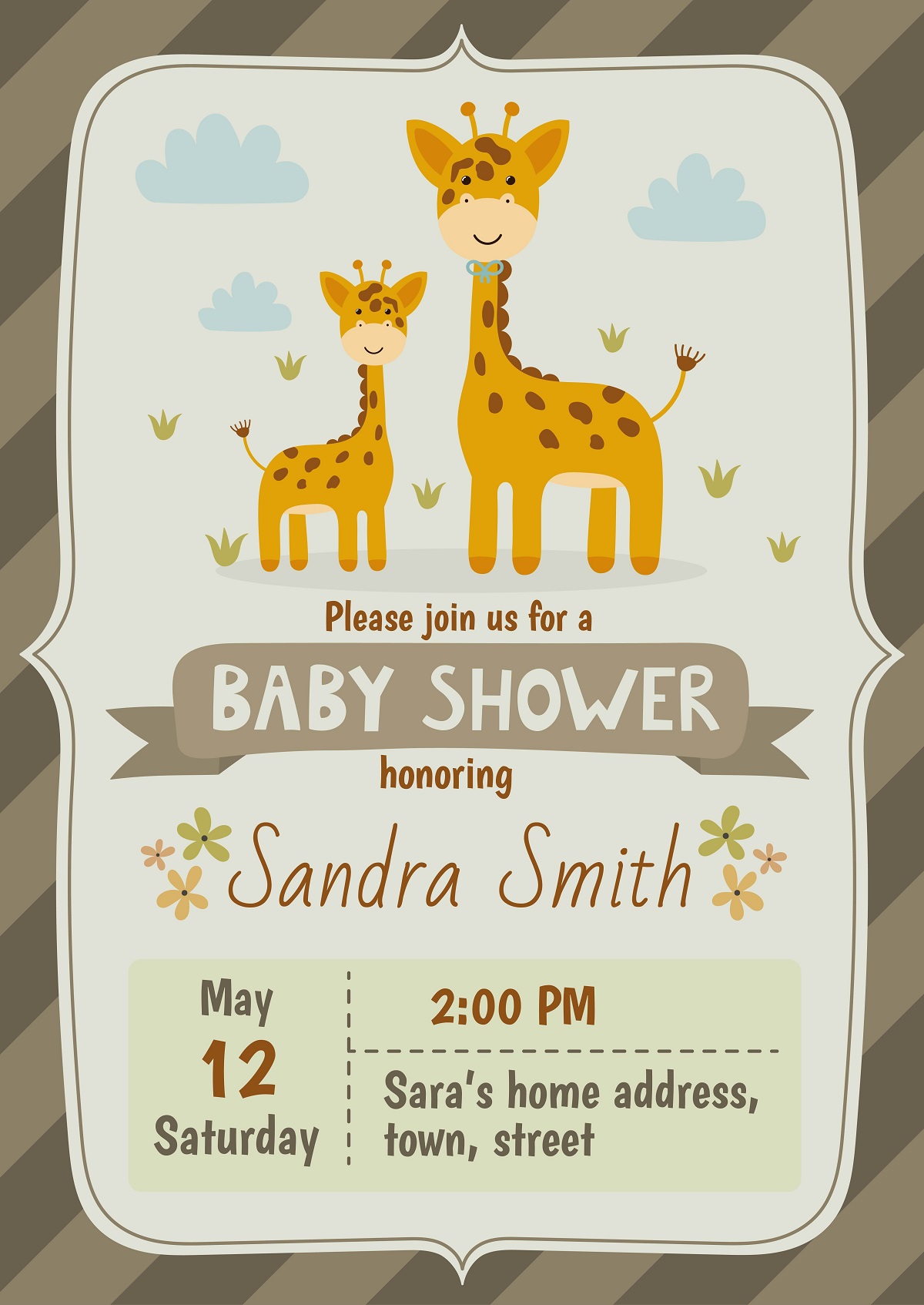 There are exquisite DIY safari party baby shower bundle templates with everything from invites to table settings, stickers, welcome signs to banners. All that you need is quality stock paper to get started on your jungle-themed baby shower.
A professional calligrapher can personalize them further, but this is a premium option. Alternatively, take the easy way out and order your safari-themed invitation cards online. Etsy has lots of attractive and high-quality options that you can order pre-printed.
E-invites like the Wild One Safari Squad invite at Paperlesspost are a cheaper, more environmentally friendly option. Furthermore, digital e-invite websites will track your RSVPs and ease your planning tasks.
Safari Baby Shower Decorations
There is much that you can do with quality safari baby shower decorations. You can, for instance, use the giant Monstera or palm leaves as your muse for an elegant outdoors and glittery jungle theme. Blend their imposing greenery with tasteful gold details such as miniature elephants, giraffes, and white roses.
Place some lemongrass and citronella outdoor candles around a gilt monstera leaf centerpiece. The candles will infuse the party with a revitalizing and crisp fragrance, making the all-golden sheen delicacies all the more pleasant.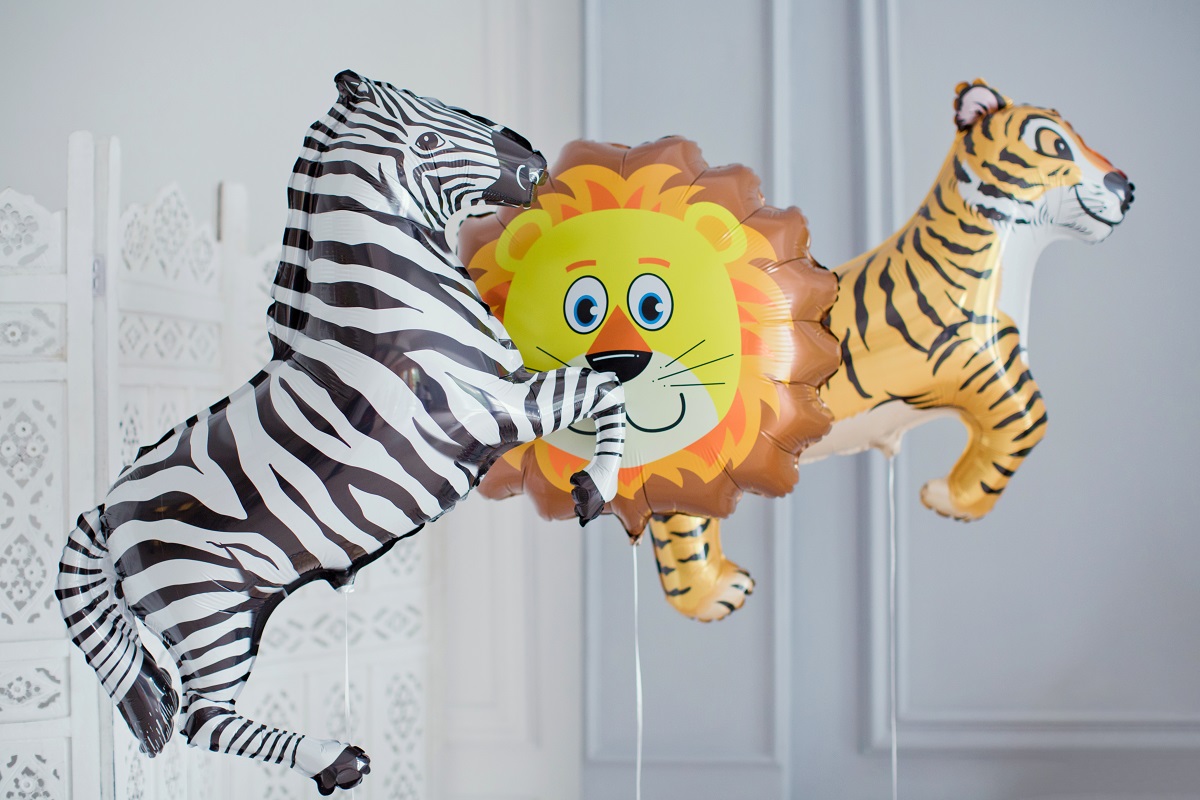 Floral décor in soft, warm hues like cream and apricot will add a feminine vibe to your theme's animal figures and boisterous savanna plants. If you are adventurous, use glittering bold textures with some glam for the ultimate jungle theme.
Safari Baby Shower Balloons
Safari baby shower balloons can create beautiful backdrops and garlands for an unforgettable party. For example, vibrant sage green, white, and gold balloons and greenery will have all your guests going "Oh baby!"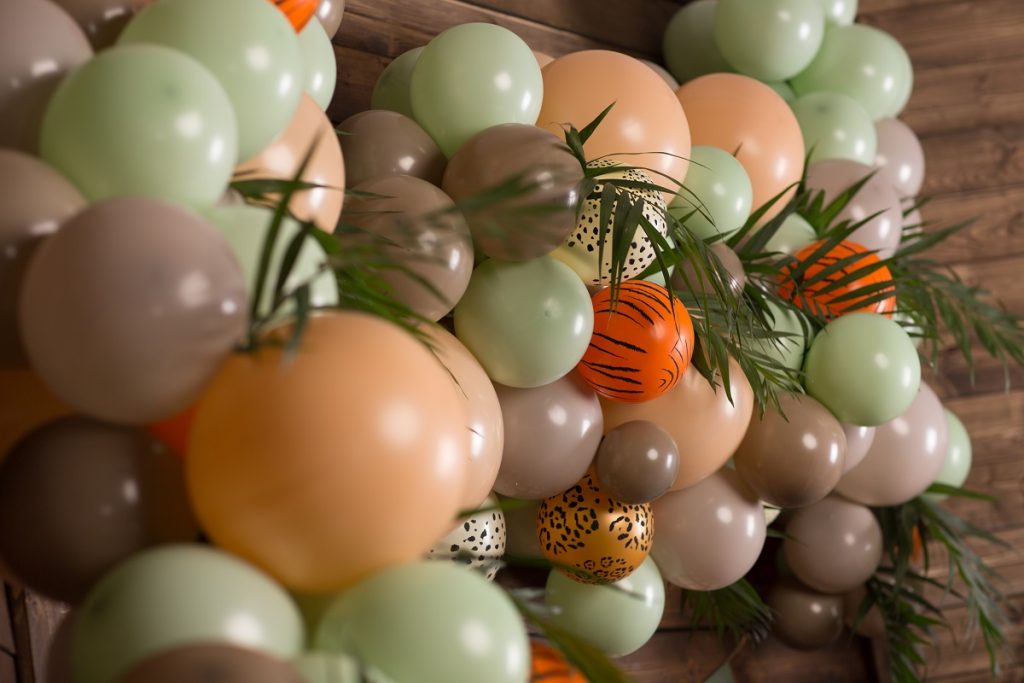 You can also order a Jungle Safari Balloons Garland Arch Kit with loads of colorful balloons in leopard, zebra, tiger, and coffee patterns.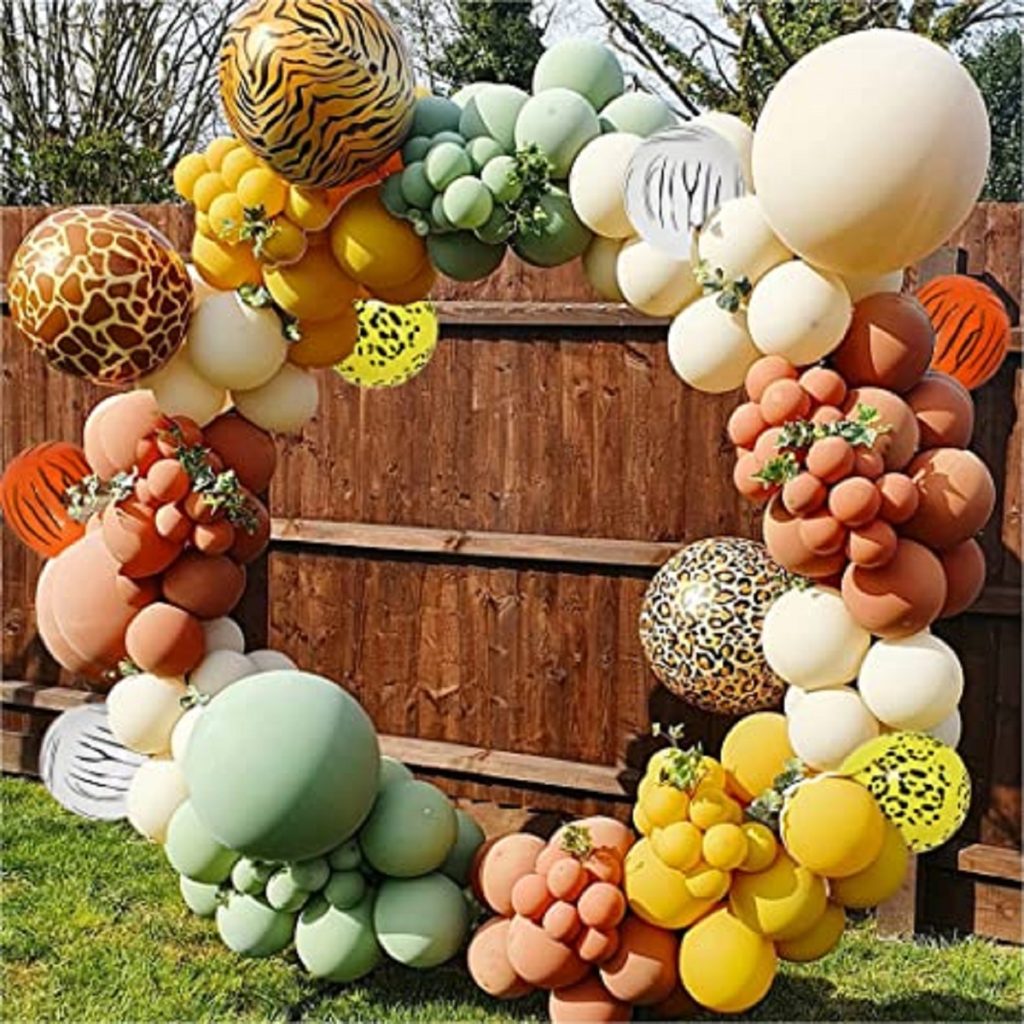 Balloons will elevate your jungle book baby shower, while whimsical mylar balloon signage in gold can create excellent photo-op backgrounds.
Safari Baby Shower Centerpieces
The perfect centerpiece is jungle-themed desserts, such as a giant baby shower cake with lots of stuffed jungle animal cake toppers. You can also have an animal-inspired centerpiece, like, a giraffe-styled cake.
How about an animal figure surrounded by beautiful potted plants on a neutral-colored tablecloth? Try out this Giraffe Donut Stand for your baby boy donuts as a centerpiece.
Safari Baby Shower Backdrops
For a sophisticated backdrop, go big and bold with blooming balloons in neutral greens, browns, peaches, and cream.
Throw in some pampas grass to complete the out-in-the-wild theme party. Alternatively, build a boho-style photo backdrop using animal-inspired décor, a few baskets, and a balloon arch.
Safari Baby Shower Desserts & Cakes
The desserts and cakes are another chance to infuse the safari theme into your baby shower. Serve animal crackers, banana pudding cups, or zebra cakes.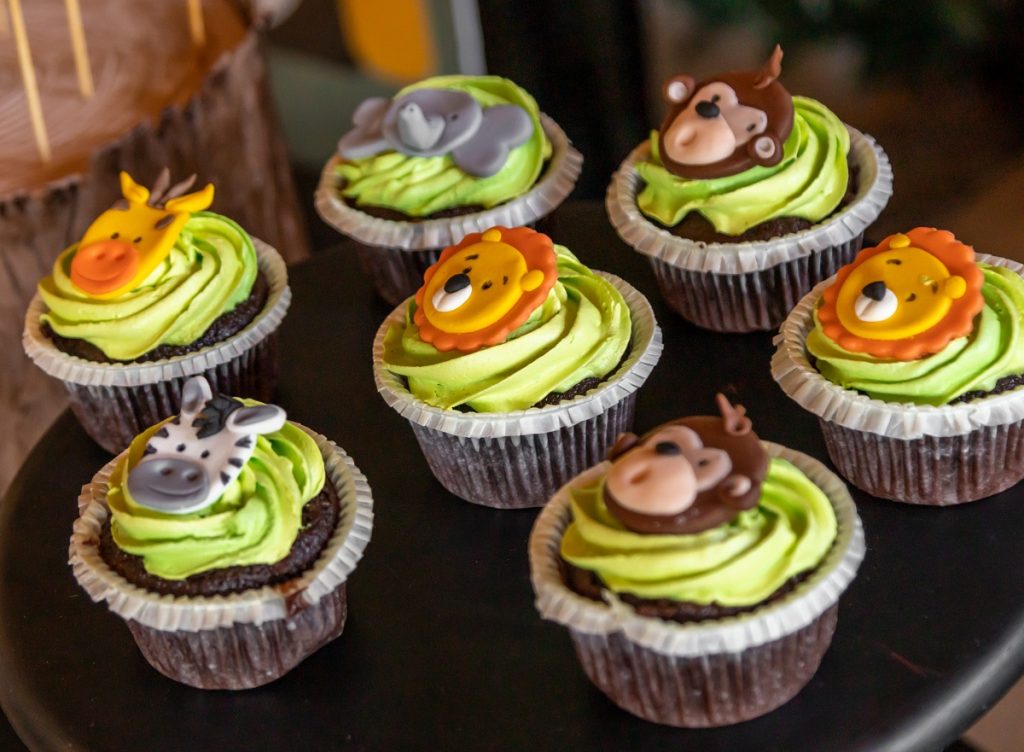 How about cheetah print-inspired sweets as party favors?
And don't forget to add safari-themed cupcakes to the dessert table. You can even pack some of these and give guests later to go with as their safari baby shower favors.