Are you planning a baby shower in winter? No worries, because this is the best time to have a whimsical winter wonderland baby shower theme.
The theme gives you tons of creative freedom to customize your baby shower around anything winter-related such as the Christmas and New Year holidays, the cold, snowmen, snowflakes, polar bears, etc. 
Still don't know where to start? Here are five baby shower ideas to pull off a winter wonderland party that no one will forget.
1. Winter Baby Shower Themes
There are many variations to the winter-themed baby shower so let your creativity run wild. Here are some cool winter theme ideas:
Baby, It's Cold Outside Theme
Snowflake Theme
White Christmas Theme
Add pink or rose gold accents to your decorations and invitations for a baby girl pink winter wonderland theme. For a baby boy, use various pastel shades of blue and gray.
If you are going for a gender-neutral party, use the classic white, cream, tan, gold, silver, or green colors.
These baby shower ideas are also excellent for the baby's first birthday and future birthday parties.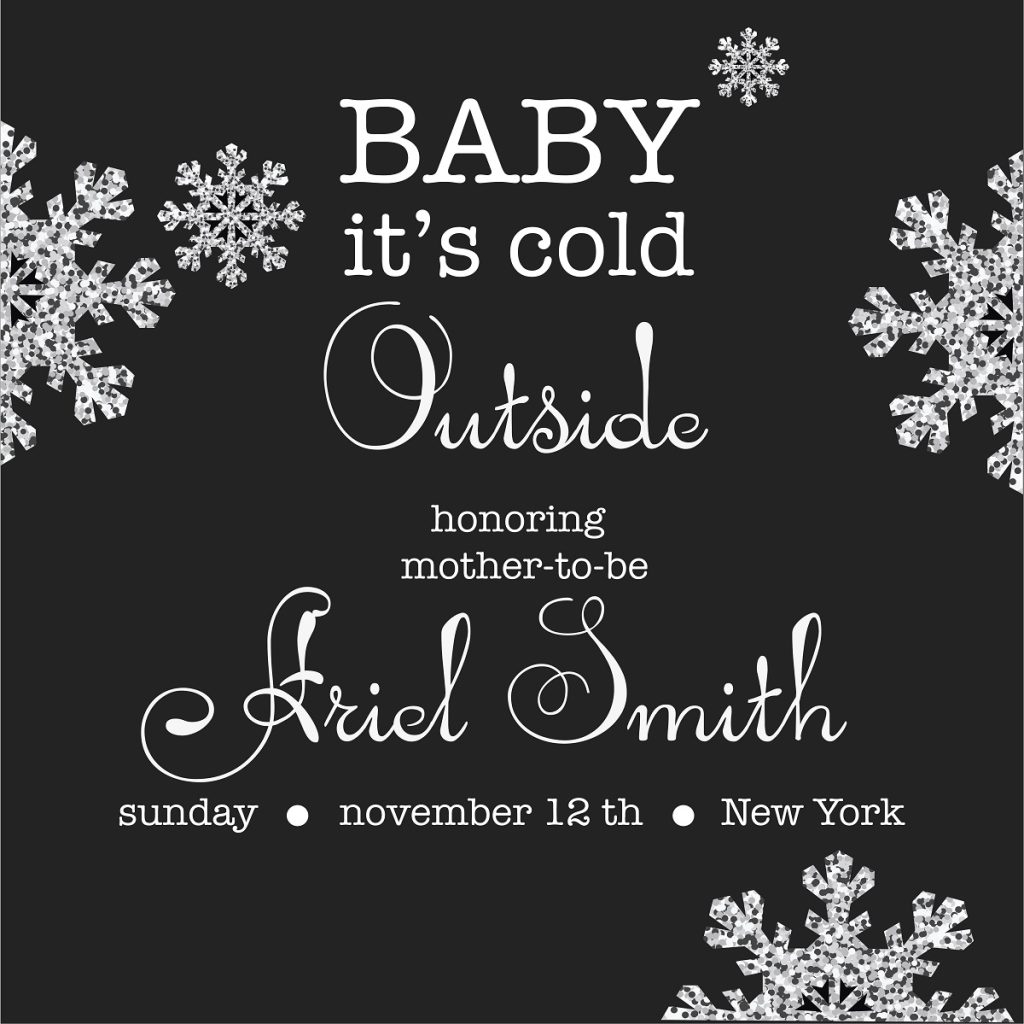 Baby, It's Cold Outside Theme
The Baby, It's Cold Outside baby shower theme is the most popular winter baby shower theme. This means getting party decorations and supplies is hassle-free.
Decorations usually feature balloons, snowflakes, pinecones, birch twigs, Christmas trees, wreaths, polar bears, penguins, etc. Use silver glitter and spray paint to add some sparkle to your baby shower theme.
Here are a few cute party ideas for you:
Customize "Baby It's Cold Outside" invitations, banners, and a welcome sign – check out Etsy for inspiration.
Welcome guests using a handwritten "Baby It's Cold Outside" chalkboard sign instead of printing one.
Use white, ivory, and silver as the primary color schemes of the winter wonderland baby shower. Add other colors as desired.
Use silver spray-painted birch twigs, white roses, or candles as table centerpieces.
Add glittery snowflake confetti on table tops.
Have a hot chocolate bar with various toppings. 
Have a "Baby It's Cold Outside" cake topper.
Use white napkins printed "Baby It's Cold Outside" and silver disposable cutlery.
Use baby mittens and booties as decorations.
Feature arctic animals-polar bears, penguins, or seals for your party decorations and food.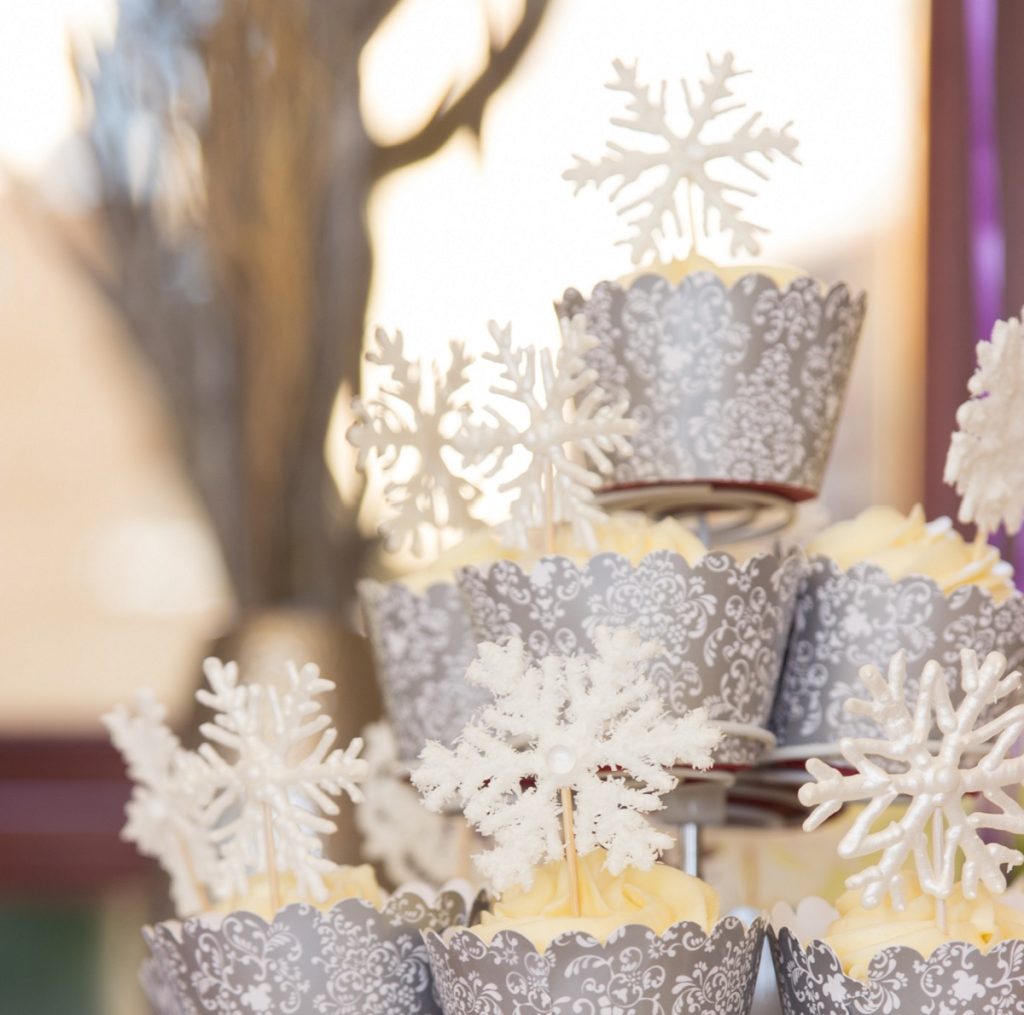 Snowflake Theme
It's all about the snowflakes! Use different snowflake decorations to bring life to the winter wonderland baby shower theme. Here are some ideas for this winter baby shower:
Use printable "A Little Snowflake Is On The Way" baby shower invitations and a welcome sign.
Decorate the room with a sparkly silver snowflakes backdrop.
Place white winter snowflake wands in a glass vase and use them as table centerpieces.
DIY snowflake chandeliers above every table.
Use a white balloon garland with giant and miniature snowflake cutouts added.
Decorate a Christmas tree with snowflake ornaments.
Use a shiny snowflake banner or winter snowflake backdrop for your photo booth area.
Use white, silver, and pastel grays as your primary theme colors; add pink or rose gold for a baby girl and pastel blue for a baby boy shower.
Feature snowflakes in plates, cups, and napkins.
Provide snowflake-inspired treats like snowflake pops, cookies, or a cake.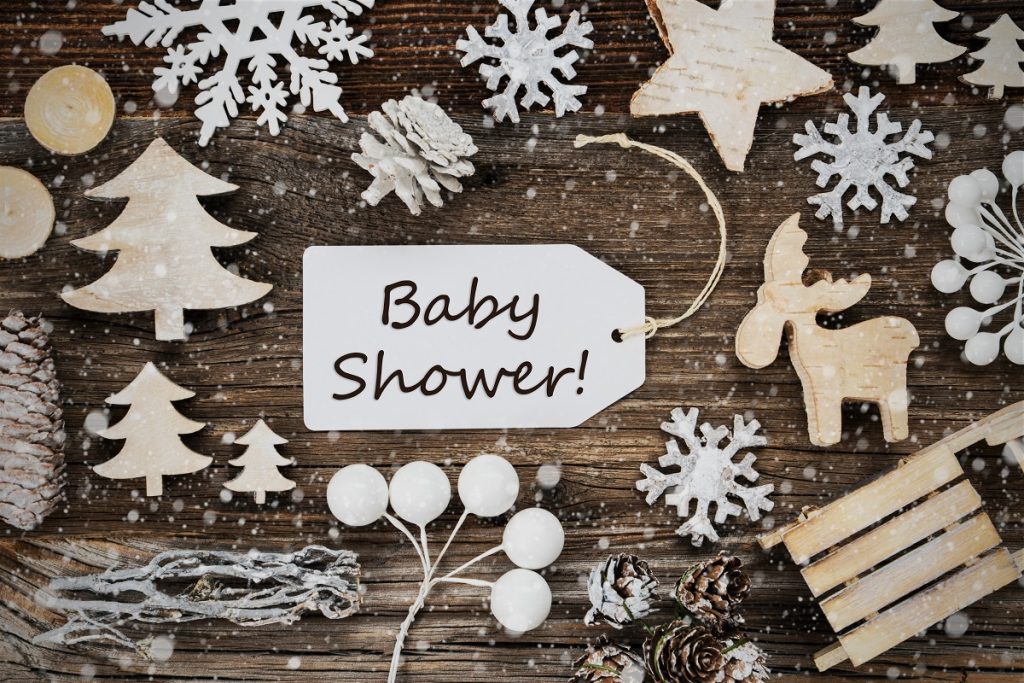 White Christmas Theme
Use any of your Christmas decorations for your white Christmas baby shower theme. Your color scheme will have red, green, white, gold, and some shades of brown. Here are some party ideas to consider:
Place decorated Christmas trees at the corners of the room.
Use white faux fur rugs, fake snow, or white confetti to imitate snow.
Decorate Christmas trees with baby socks, rubber pacifiers, and bottles.
Provide treats like gingerbread houses, snowflake cookies, candy cane, and eggnog punch.
Feature reindeer, Santa, and his elves in your decorations.
Use Christmas lights to decorate the room.
2. Winter Wonderland Party Decorations
You may need to buy some decorations like winter-themed banners and baby shower invites to decorate your whimsical winter baby shower, as you have seen in my ideas above.
But in most cases, you can use your Xmas and New Year holiday decorations.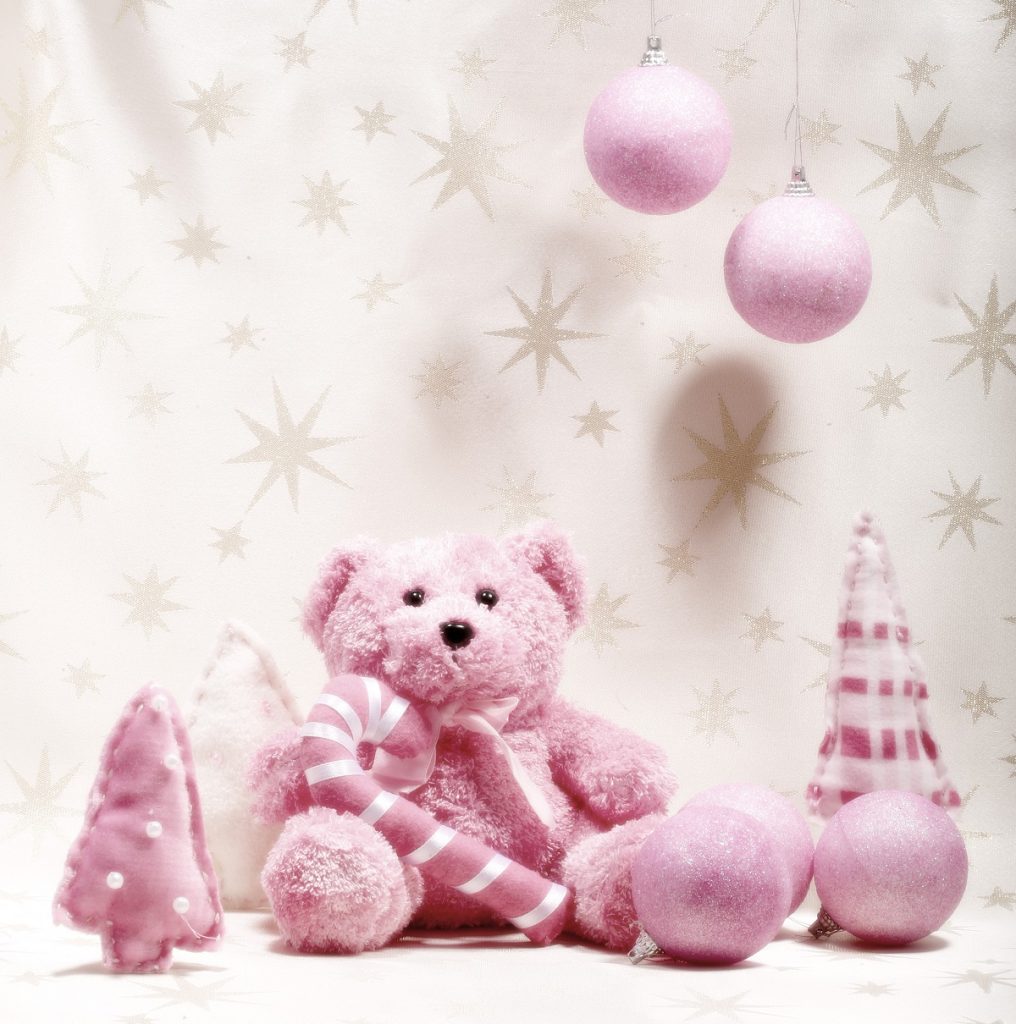 Take Advantage of Holiday Decorations
Here are a few ideas on how to use your existing holiday decorations to decorate your winter baby shower:
Decorate corners of the room with Christmas trees with the usual Christmas ornaments or baby clothes and toys.
Wrap string lights on the Christmas tree or use the lights to decorate an entrance.
Light candles and place them in open jars on table tops.
Use miniature snowmen, Christmas trees, and candy canes to decorate the dessert table.
DIY snowflakes, evergreens, or floral birch wreaths and place them on walls or entryways for a Christmas touch.
Use evergreen garlands and miniature trees to decorate tables.
Hang Christmas stockings as banners.
Floral decorations using roses, pampas, Baby's breath, or dried Lunaria.
For a girly pink Christmas baby shower party, incorporate soft pink balloons and fabrics. Add hints of blue for boys.
3. Winter Wonderland Baby Shower Cake & Dessert Ideas
Like your winter wonderland baby shower decorations, use the cold and the festive holidays to inspire your baby shower cake and dessert ideas. Here are a few ideas:
Polar Bear
A polar bear cake is excellent for a 'Baby It's Cold Outside' baby shower theme. Have your baker include edible polar bear figurines or shapes on the cake. Apart from a polar bear cake, you can also have polar bear-shaped cookies.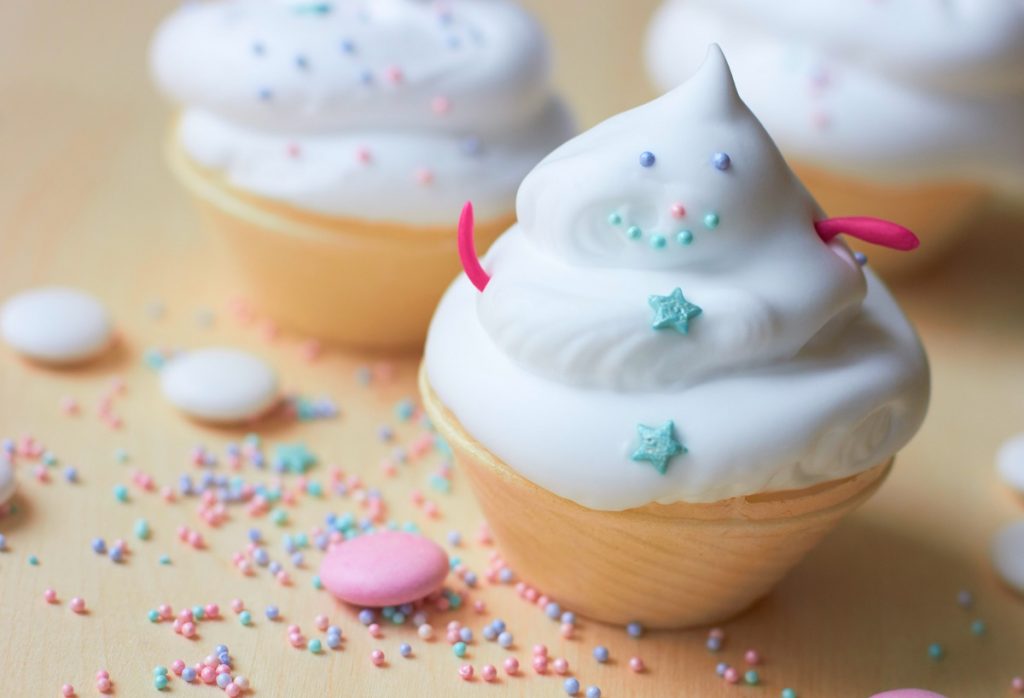 Snowman
Have snowmen cookies, cake pops, and cupcakes for your white Christmas baby shower theme. You can also feature a snowman or two on your winter wonderland baby shower cake. If you are feeling creative, make a snowman-shaped macaron tower.
Dessert Table
You can set up a traditional baby shower dessert table with a baby shower cake, cookies, and cupcakes that go with your winter theme, or use the cold as a perfect excuse to have a hot cocoa bar. If your budget is more flexible, have both options.
Hot Cocoa Bar
A cocoa bar sounds complicated but is easy to pull off. Here are some superb ideas for you to steal. Remember, hot cocoa bars are customizable, so don't feel the need to pick everything in the list below.
Hot chocolate: Use a mix or go for a homemade slow cooker recipe.
Cups/Mugs: Use your regular mugs or snowman disposable coffee cups.
Toppings: Make the bar fun by adding a variety of toppings like marshmallows, mint chocolate chips, whipped cream, caramel syrup, cinnamon or peppermint sticks, or candy canes.
Treats: Add cookies or cupcakes with snowflake or snowmen stickers and cupcake toppers.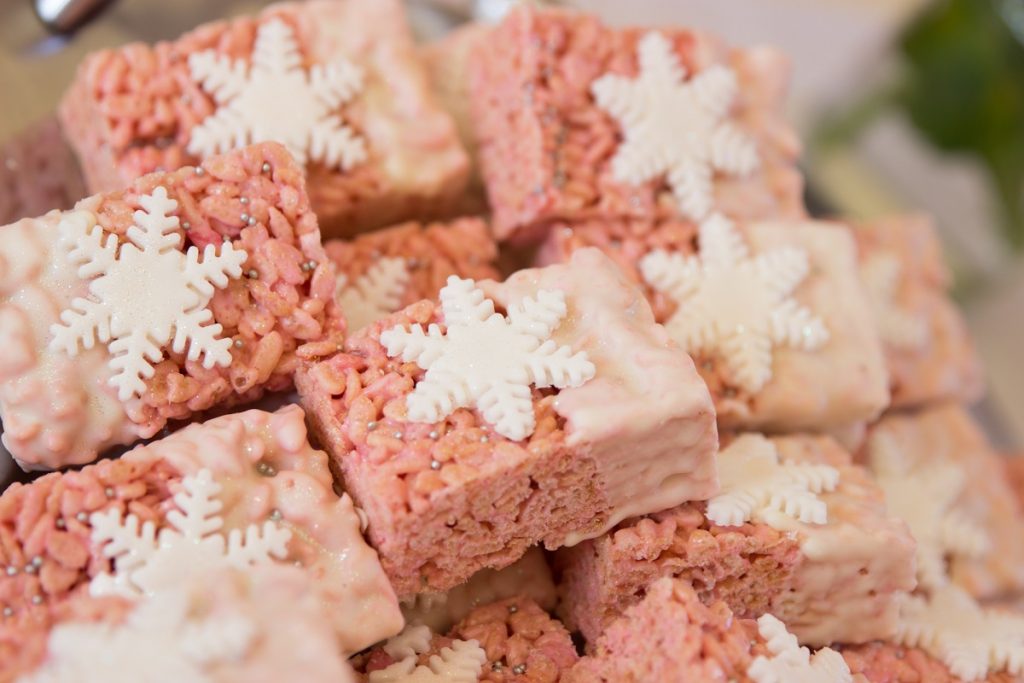 4. Winter Party Favors
Say thank you to guests for coming to celebrate mom-to-be by giving party favors. As with everything else with the winter wonderland baby shower theme, the guest favors need to go hand in hand with the winter baby shower theme.
Here are some adorable winter party favors to consider:
To-go mugs: Every time your guests take a sip from their mugs, they will remember the event and the mom-to-be.
Winter socks or gloves: Help keep your guests warm with a pair of winter socks or gloves.
Hot chocolate mix: Add some marshmallows to the mix.
Snowflake or snowman-shaped cookies: Pack these tasty treats for your guests to enjoy after the event.
5. Winter Wonderland Baby Shower Games
Games are a superb way to break the ice and raise the fun levels. Try out some of these for your winter baby shower:
Charades: Split your guests into teams and play this classic game. Use baby and winter-related words. The team with the most answers wins.
Wishes for a baby tree: Prepare winter wonderland-themed cards and have guests write their personalized baby wishes and have them hang them on a Christmas tree.
How well do you know mom-to-be: Test how many guests know mommy well with a series of questions. The winner gets an extra winter party favor.