Rainbow baby showers are unique as they represent both happy times ahead and may bring memories of grief and sadness. Due to the unique nature of rainbow baby showers, you may be looking for guidance. This article will guide you through everything you need for a rainbow baby shower.
What Is a Rainbow Baby Shower?
A rainbow baby shower is a baby shower for a rainbow baby. A rainbow baby is a baby that is born after a miscarriage, stillbirth, or any other type of infant loss.
What Is the Meaning of a Rainbow Baby Shower?
A rainbow baby shower means celebrating the Mom-to-be as she prepares to welcome her new baby after an infant loss. This loss could be due to miscarriage, stillbirth, or infant loss.
The emotions and grief that parents go through with infant loss are compared to a storm. Pregnancy after infant loss is the rainbow that finally breaks through the storm clouds like a rainbow, hence the rainbow baby and rainbow baby shower.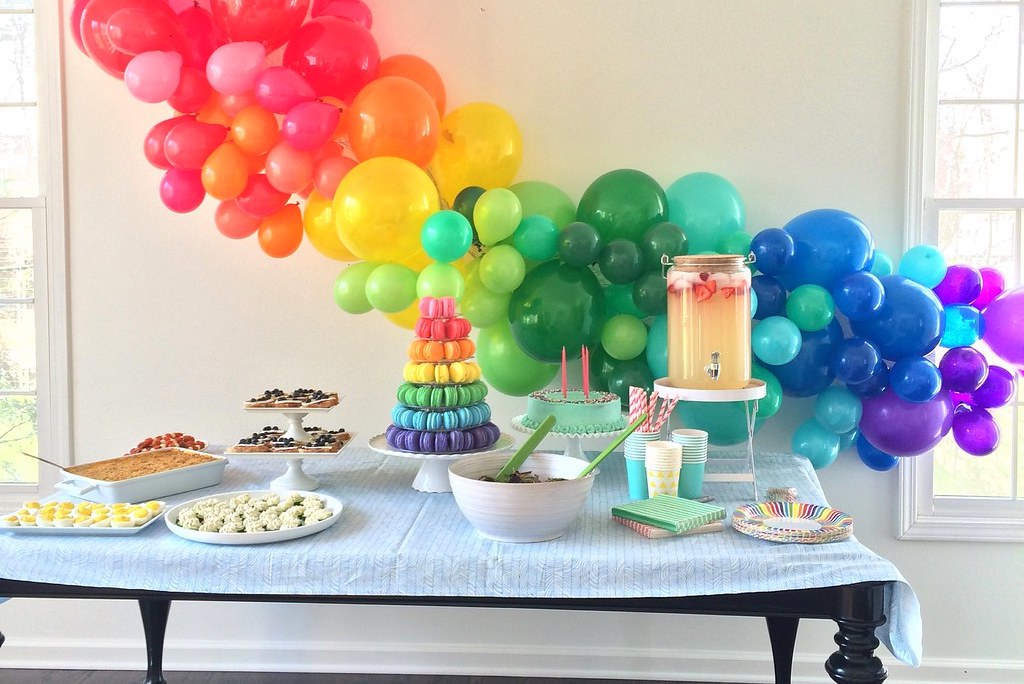 Baby Shower Ideas for Rainbow Babies
Rainbows are the beauty that comes after the storm, which makes for a perfect baby shower theme! Keep reading to get rainbow baby shower ideas for rainbow baby shower invitations, rainbow balloons, rainbow party decorations, rainbow cakes, rainbow centerpieces, rainbow baby shower party supplies, and more.
Rainbow Baby Shower Invitations
There are many great options for rainbow baby shower invitations. If you know the gender of the baby, you could pick out invitations with specific colors. Otherwise, you can choose gender-neutral colors for invitations. For example, you could find baby shower invitations with golds, blues, and tans for a baby boy. For a baby girl, you could choose pastel colors.
To incorporate the rainbow theme into your invitations, you can use rainbow colors or create a DIY rainbow design on the cover of your invitation.
Rainbow Balloons
There are many ways that you could include rainbow balloons in your decor. One popular idea is to create a rainbow balloon arch. The balloon arch can serve as a beautiful background for photos.
Another way to include rainbow balloons is to create or purchase balloon garlands. The rainbow balloon garland will be another Instagram-worthy background for photos. There are balloon garland kits available if you need a little guidance!
For more tips, check out our guide to the best DIY baby shower balloon display.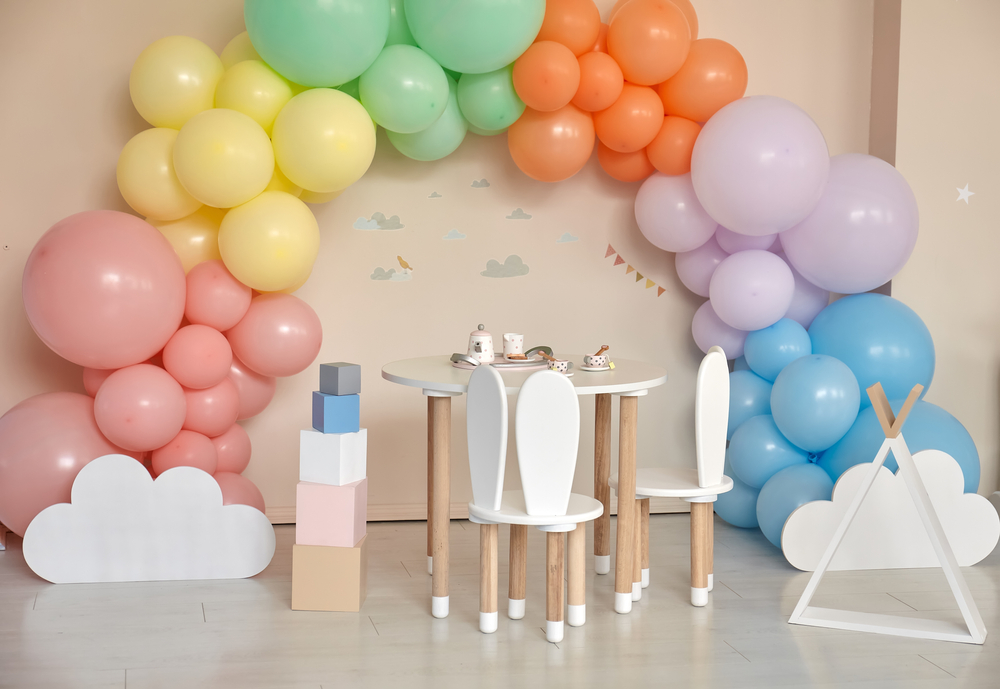 Rainbow Party Decorations
Decorating with a rainbow theme provides a lot of options. When you are considering what other party decorations to add to your baby shower, here are some ideas:
Sprinkle rainbow confetti on the tables and around the food you are serving.
Hang up colored onesies in a rainbow. You could also hang up these onesies as part of a onesie decorating station! This would make for both a baby shower game and decor!
Decorate the tables with rainbow-patterned or brightly colored tablecloths.
Rainbow Cake
Serving a rainbow cake or rainbow cupcakes is a perfect idea for dessert! When brainstorming ideas for the cake, keep in mind that there are many options for cake toppers. You could always purchase or bake a plain-looking cake and dress it up with a beautiful rainbow cake topper!
You could also personalize the cake or cake topper with the baby's name!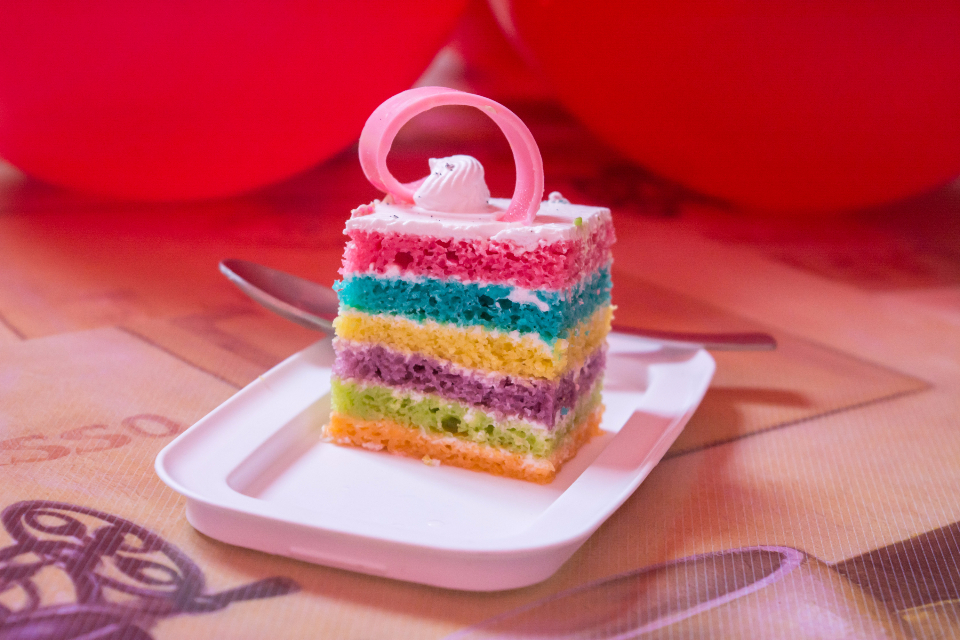 Rainbow Centerpieces
One easy, festive centerpiece idea is to add rainbow sprinkles to the bottoms of small glass jars. Then top with a small tea light candle. You now have festive centerpieces for each table!
You can also fill mason jars with rainbow pom poms. This simple centerpiece idea would be a beautiful pop of color at each table!
Rainbow Baby Shower Party Supplies
When preparing for the baby shower, here are some party supplies to put on your list:
Napkins, paper plates, and plastic cutlery
Invitations
Party favors
Organizing a food menu and purchasing the supplies for the food you need to make
Preparing for baby shower games and purchasing any supplies needed for those games
Your preferred rainbow baby shower decorations
A guest book
Tips For Rainbow Baby Showers
Here are a few additional tips to help you plan this unique baby shower!
Include the parents-to-be in your planning. There are a lot of emotions associated with welcoming a rainbow baby. Including the parents in your planning ensures that you are planning something they will enjoy and appreciate.
Understand that there's no right or wrong way to celebrate. If the Mom-to-be prefers not to have a baby shower or wants to wait until after the baby is born to have a shower, know that there is no right or wrong way to celebrate.
Honor past losses. If the mom-to-be is okay with this, you may consider a table honoring her past loss. This table could be as simple as lighting a candle or framing an ultrasound photo. For some, honoring past losses is helpful as it reminds them that their child is still here, even though a new baby is coming.
We hope this guide provided you with everything you need to know about hosting a rainbow baby shower.