Having imaginative baby shower balloon decorations can transform any room into a welcoming venue. In full bloom, party balloons are the life of the party hence why they are a fantastic addition to any baby shower event.
You can use balloons to create:
Baby shower balloon centerpieces
Balloon stands
Balloon garland
Creative balloon arches
Gender reveal balloon display.
Read on for tips on using balloons to create these party displays at your upcoming baby shower party.
Create Beautiful Balloon Centerpieces
Balloons are the perfect DIY décor item. A few creative tweaks can transform the ordinary cheesy balloon into an elegant masterpiece. However, to create beautiful balloon centerpieces, you must first think of a theme.
Next, order a balloon column, arch, or bouquet kit that matches your theme colors and build eye-catching balloon displays.
Below are some creative ideas that will take your baby shower decorations from zero to the party's hero in a flash.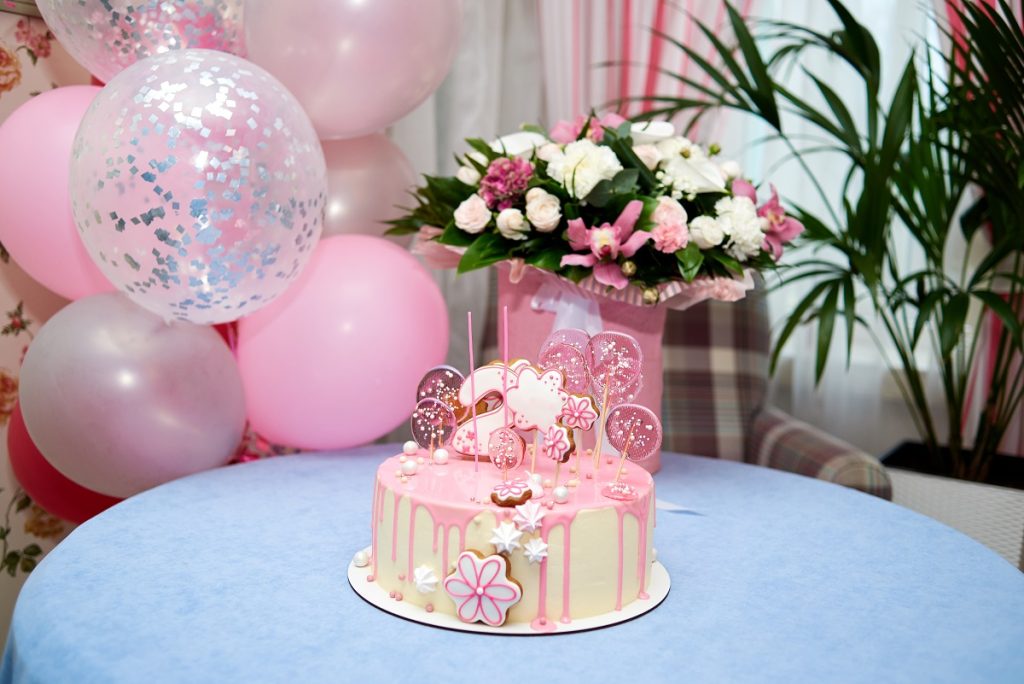 Balloon Bouquet
A balloon bouquet is one of the easiest DIY baby shower balloon centerpieces. It is easy to craft, and you can make it using mylar or latex balloons.
Moreover, you don't need much effort and equipment to fashion your masterpiece. A pair of scissors, a stuffed animal for your centerpiece, and a ribbon will do.
Inflate your pastel balloons with helium to make them floaty. Next, tie a ribbon on each balloon's base and position them to a bouquet shape. When you finally have a bouquet shape that melts your heart, tie the ribbons together.
Afterward, snip any excess ribbon at the base. Finally, attach your bouquet to your stuffed animal centerpiece, and you are good to go.
If creating a centerpiece for table decor, have 3 to 7 balloons on your bouquet.
A free-standing balloon garland could have 5 to 12 balloons. Use an odd number of balloons to form a cascading form.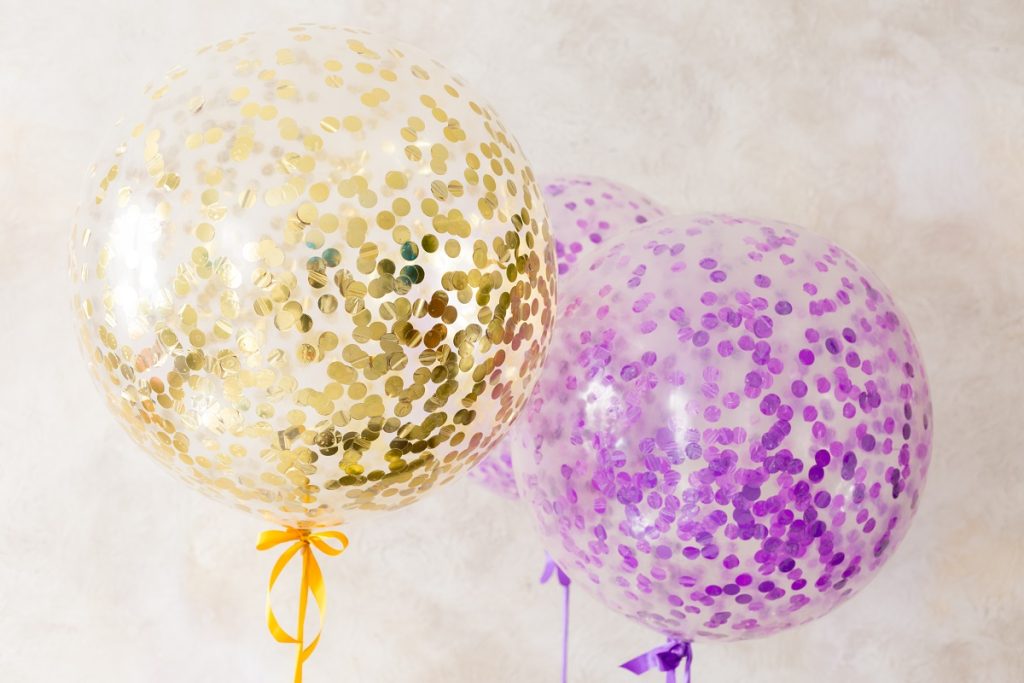 Confetti
If you've bought birthday balloons lately, you know how much confetti balloons are the in thing nowadays. Now, guess what? You can also have confetti balloons as your baby shower balloons.
These colorful paper pieces add oomph to otherwise plain balloons. Just fill your translucent latex balloons with the sparkly charms, and they will shine like diamonds at your baby shower party.
Making a confetti balloon centerpiece is fun and easy.
First, use a few puffs of air to inflate your balloon. Next, add in your confetti and pump in your helium. Then, rub your balloon's surface with natural fiber, such as cotton. This action will create static and keep your confetti from sticking to the walls of your balloon. Finally, tie your balloon's bases with ribbons and place them at the event entrance or use them as a table centerpiece.
Balloon Pacifier Centerpiece
A balloon pacifier centerpiece is a baby shower balloon display that resembles a baby's pacifier. This party decoration may require a little more DIY effort, but it is all worth the effort.
For example, let's say you want to make a lavender balloon pacifier centerpiece for a gender-neutral display. You will need the following latex balloons:
One 12″ sized balloon
Four 5″ sized balloon
#260 animal-shaped latex balloon
Blow the balloons up using helium. Then tie the 5" balloons at their bases using curling ribbon. Next, lay them flat on the table, their knots side by side to form your pacifier's base. Next, tie your large balloon to the cluster's knots using a curling ribbon.
After that, blow up your #260 and leave its end unblown. Bend your #260 into a circle. Then tie the loose end of the balloon to form a ring shape for the pacifier. Attach it to the bottom of your 5" cluster using a curling ribbon. Lastly, attach a long curling ribbon for hanging.
Making a Balloon Stand Without Helium
Balloons inflated with air last longer than their helium-filled counterparts. They are also cheaper, but they do not float. That said, air-filled balloons make excellent balloon garlands and arches.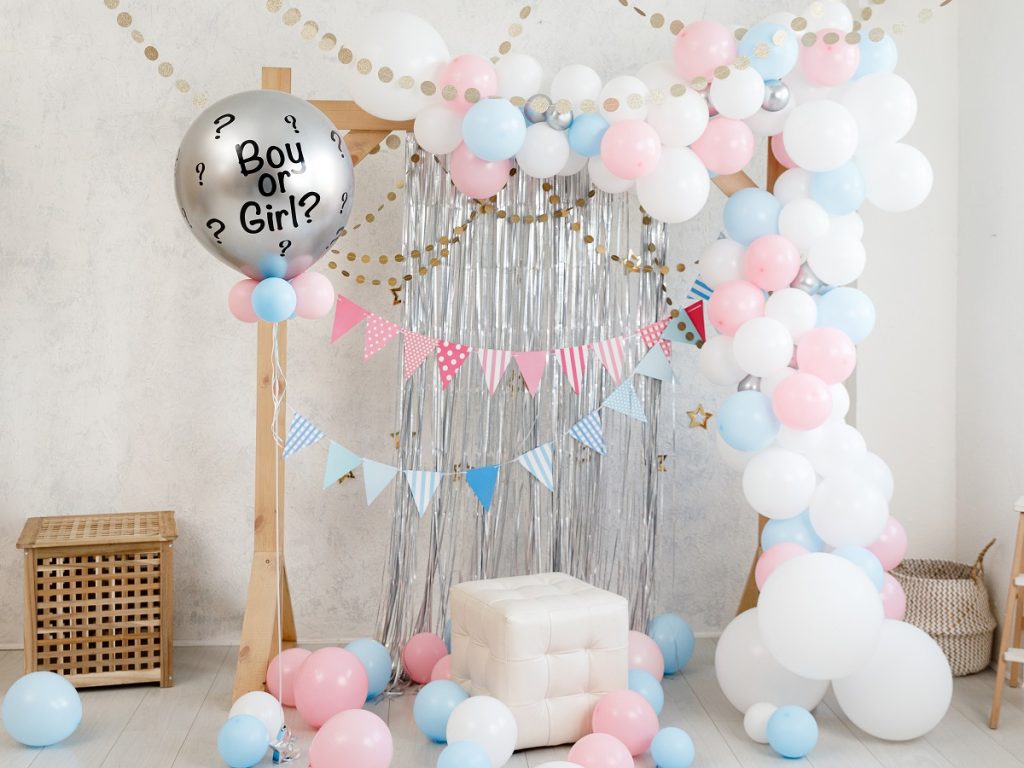 Balloon Garland
Balloon garlands are beautiful but an intimidating DIY project. Fortunately, our DIY hacks and this balloon garland kit will smooth the process. So, what items should you have in your garland kit?
High-quality latex balloons
Garland tape
String
Balloon tying tools
Scissors
Hammer
Pencil
Glue strips
First, choose a balloon color that matches your theme. Then, pair your clear 18″ or 12″ latex balloons with lots of 5″ mini ones for a beautiful form and shape. The 5″ will fill in the spaces between the large balloons, making the arrangement fuller and looking more gorgeous.
Attach your balloons to the decorating strip. Build your final design alternating balloon colors and sizes on the strip. First, attach all the more enormous balloons, then connect the smaller ones afterward, filling up every gaping hole in your garland design.
Use your pencil to mark placement spots on your wall. Then, attach your hooks to the wall with your final design in mind.
Hang your balloon Garland and fill any left-over gaps with your small balloons. Add some fresh greenery or flowers to personalize your garland further.
Now you can take lots of gram-worthy photos!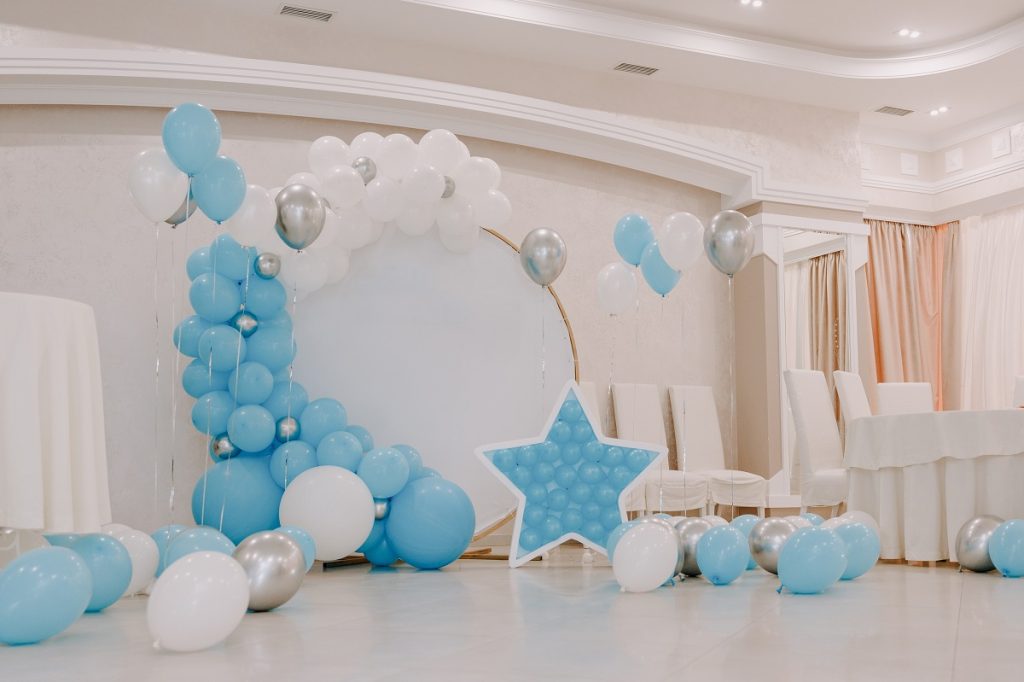 Baby Shower Balloon Arch
A balloon arch is a statement piece. You can hang it over the entranceway, dessert table, or dance floor. A beautiful art form, it will be a fantastic photo backdrop and a talking point at the baby shower.
So, what party supplies do you need in your baby shower balloon arch kit?
5″ and 12″ latex baby boy balloons
Garland tape
Glue dots
First, inflate all your balloons using a balloon pump. Then, tie them up and set them aside.
Unroll your garland tape, lay it flat, and attach the larger balloons. Hang it using wire or string and hooks.
Next, identify your arch's curve point and create a hanging loop by looping string or wire around your garland.
Hang your balloon arch middle section first, then secure the bottom and top using hooks. Next, use the 5″ balloons to fill in any gaps on the arch. Finally, use double-sided glue to secure them in position.
Add stunning accessories such as foliage and flowers on the day of your girl or boy baby shower party for a wow effect.
Gender Reveal Balloon Display
Thinking of a unique gender reveal balloon display? How about a confetti balloon column? You can also build your balloon column using pink or blue balloons.
Below are the items that you need to create it.
11″ and 5″ latex balloons in two complementary colors. You can, for instance, have matte baby pink and pearl white colors.
A balloon column stand
Balloon pump
Balloon sizer.
Add confetti and inflate four 11″ balloons. Use your sizer to create a uniform shape.
Use a single knot to wrap your balloons into clusters of two colors that cross each other. Cross a cluster with another and twist them around to make balloon quads. Position them at the base of the stand.
Next, inflate four more balloons into an 8″ size. Form your quads and add them to your spiral column.
Then, take 4 of the 5"-inch balloons, inflate them and form a quad. Next, create duplets of two baby girl balloons or baby blue and two white, then create a cluster of quads.
Place them on the column pole. Then, repeat the previous steps using your 5″ balloons till you get to the crown of your confetti balloon column.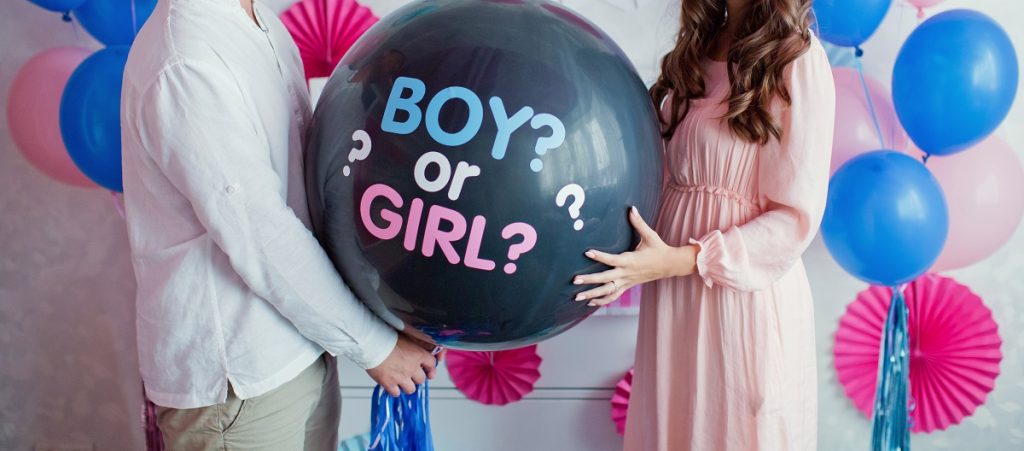 Last-Minute Balloon Ideas
If you are short on time and want to add some pizzazz to your party décor using baby shower balloons, order some jumbo mylar balloons. Foil balloons have exciting shapes, such as hearts, stars, letter balloon pcs, or flowers.
You do not need to do much to make them pop. Fill them up with helium, and your pre-baby party is good to go.