After months of expectancy, your family and friends are about to meet the new bundle of joy. So what better way to release all that built-up love, laughter, and warmth than at a baby shower party with festive décor?
Tasteful baby shower table décor can help spark that party spirit. Say you dream of a tea-inspired baby shower party. Create a stunning tablescape using party supplies such as pastel pom poms and fresh flowers.
Missing your fun party days? Bubbly and bright graphic stripes and a non-alcoholic cocktail bar centerpiece can inspire a hen party vibe for the soon-to-be busy mom.
What Do You Put On A Baby Shower Table?
Your baby shower table decor should have a table centerpiece. It could also have decorations, treats for your guests, cutlery, and table linen.
Match the Themed Baby Shower Decorations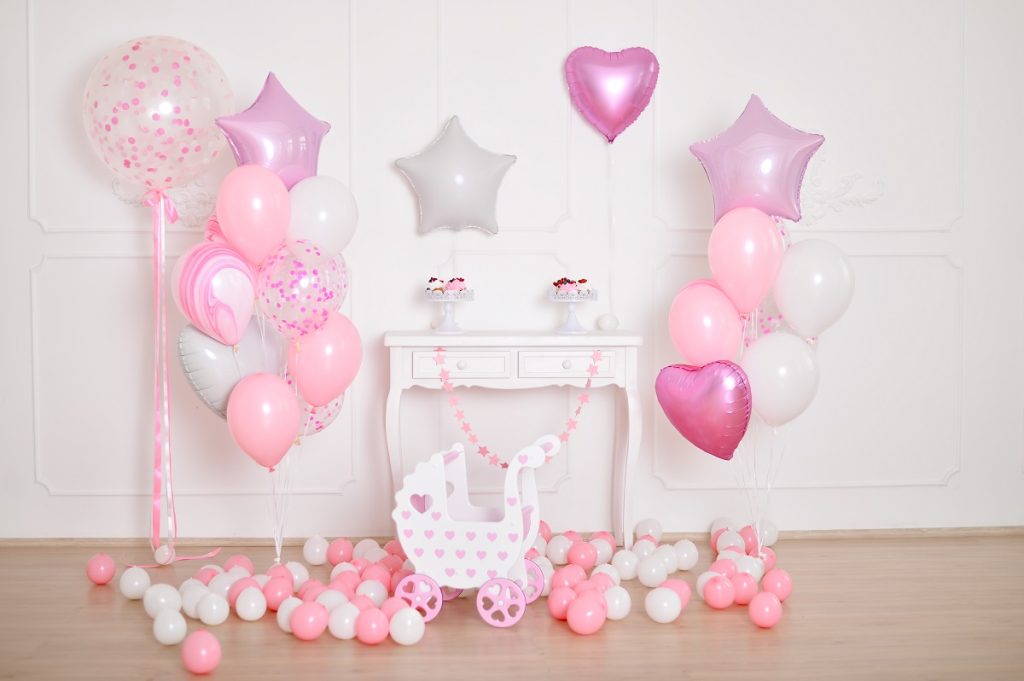 Party Theme
Nothing screams party louder than balloons. So, order a monster balloon kit and add some bang to your party. Then, create a blue or pink two-tone balloon garland for your glam photo-op session. 
Alternatively, elevate your baby shower theme with dyed floral centerpieces. You can combine contrasting neutrals in modern glassware for a minimalistic or modern party theme. Also, feel free to request your guests to wear blue or pink to the party.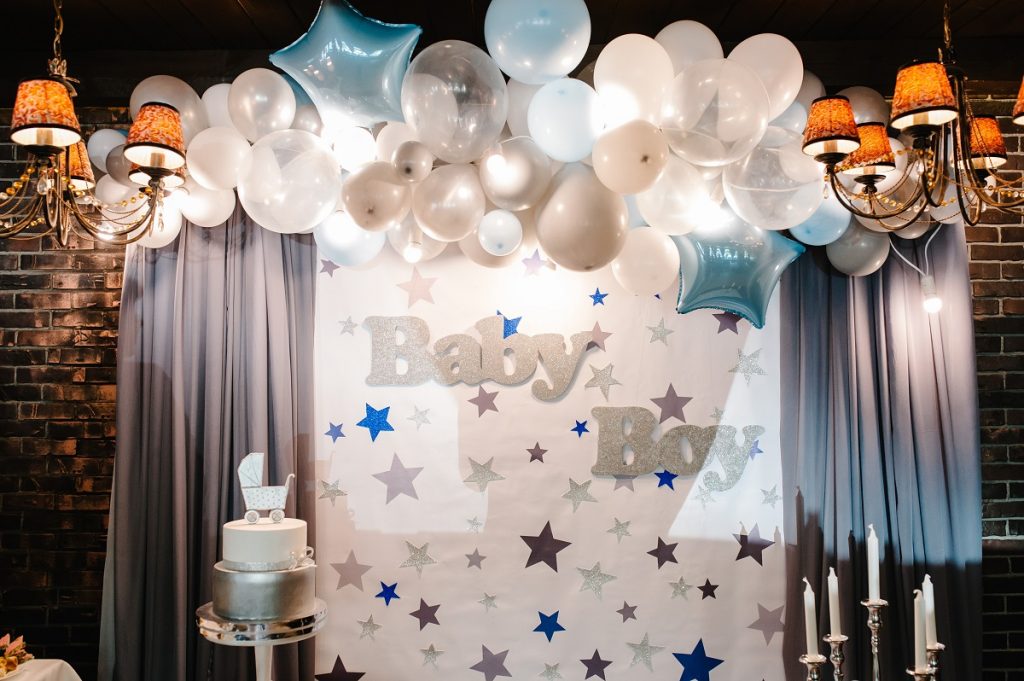 Baby Boy Shower
If you already know it's a boy on the way, go all out to welcome the little champ by creating a celestial moon and star theme. Use floating candles on glass to mimic stars on your table. Blue linen will complement your stars and recreate the night sky on your table.
Other elements, such as large overhead suspended balloons accented with a huge cut-out moon shape, will complete the celestial theme baby boy shower.
Baby Shower Balloon Theme
Do you have a favorite childhood story you can't wait to tell your little human? Why not make it your baby shower party theme? For example, you can recreate Dr. Seuss's Truffula trees using colorful baby shower balloons. Use books as a powerful centerpiece to your storybook balloon theme.
Girl Baby Shower
Here is a unique take on the pink baby girl party theme; Keep it pink with florals using classic pink, white, and cream florals as your centerpiece. Mauve and soft pastel pink table linen will maintain that timeless look that screams diva!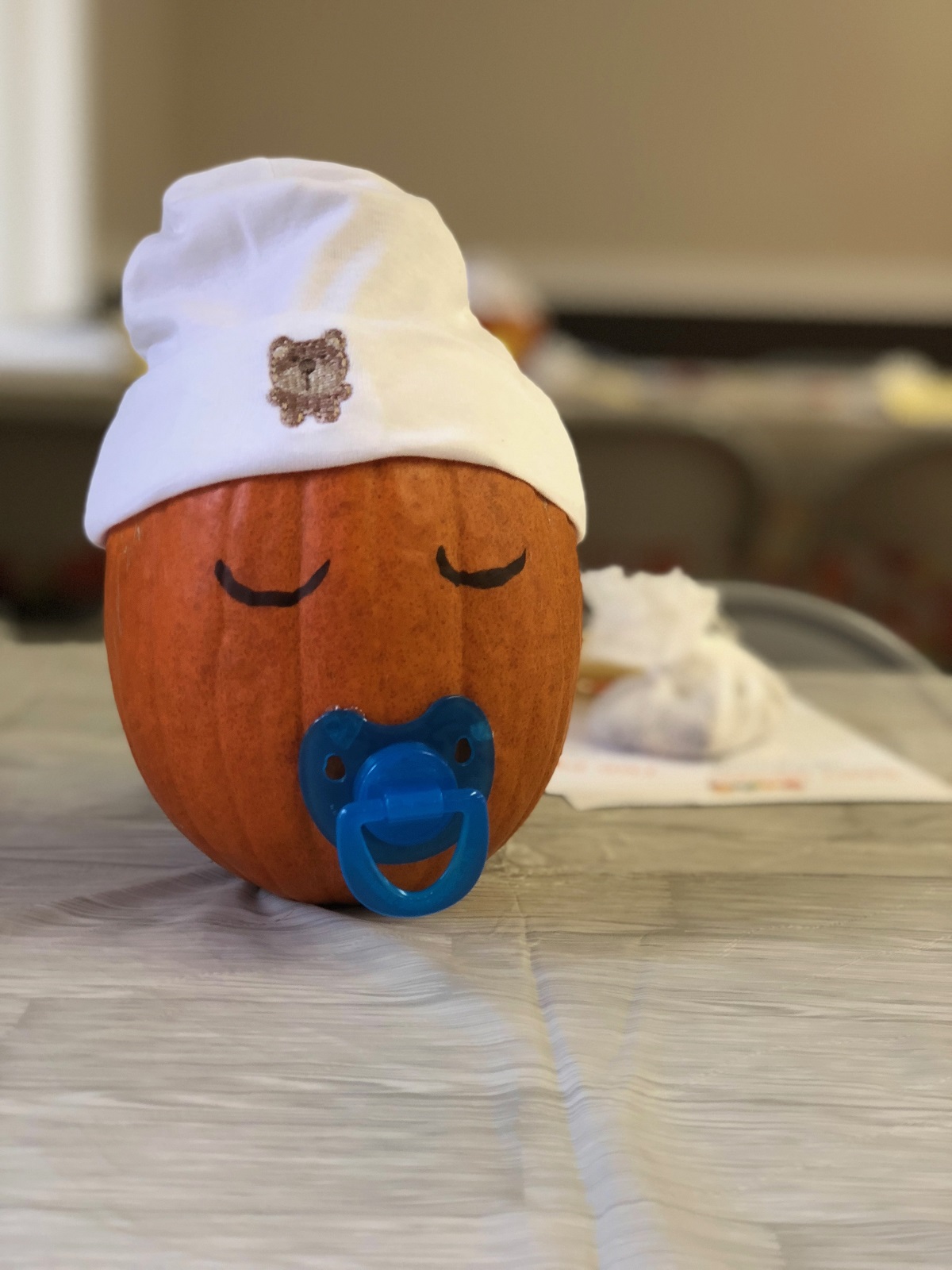 Halloween
You can create a ghoulishly good baby shower theme using your Halloween decorations. Make pumpkin dessert as your centerpiece and a "ghoul or booy" cake topper for spooktacular fun. Halloween wreaths will also sweeten your baby shower table decor and theme.
How Do You Arrange A Baby Shower Table?
Professionals say that the three main ingredients of stylish table decor are height, color, and texture. So first, think of a color theme.
Color
So, what are the rules of color in baby shower table décor? Well, your elements need not be the same color. Instead, let a common thread run across your table decorations. So, for instance, serve Blue Lagoon mocktails for your baby boy's shower, then use dazzling blue ornaments to create a party theme.
Soft pastel blue table linen that matches your blue baby shower table centerpiece will create a harmonious color scheme on your table.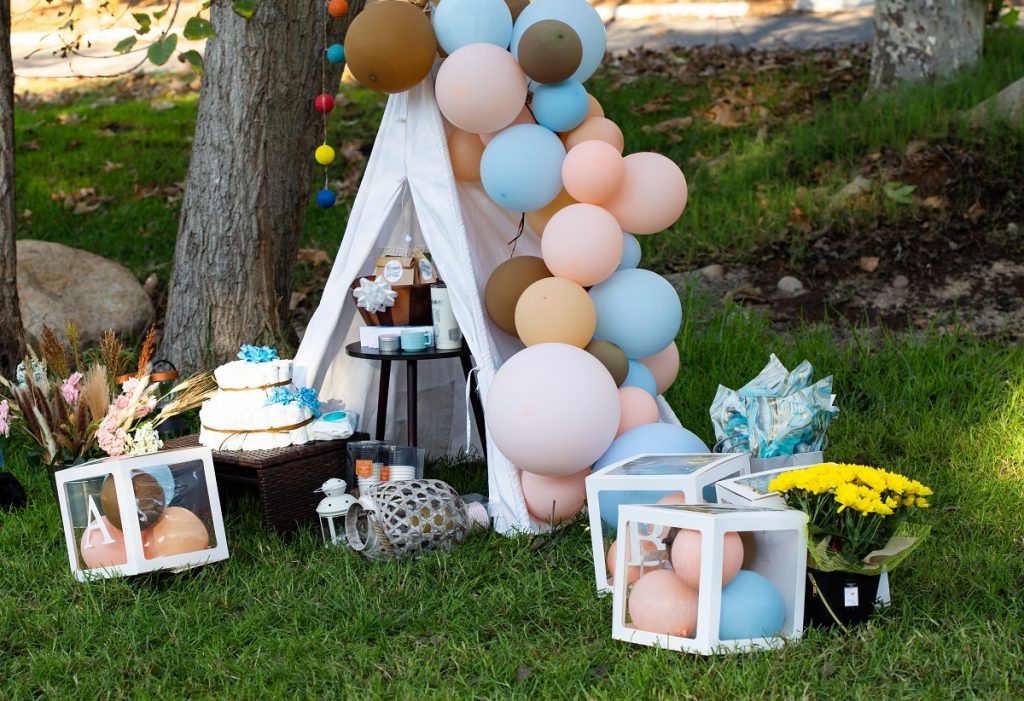 Texture
Besides color, your baby shower decoration ideas should have a variety of textures. Mix and match two or three textures to create a visual appeal theme.
Love the Boho look? Blend brass, rattan, and dyed grass elements to recreate it on your table. Rustic wood, lace, and linen are excellent pairings for a farmhouse theme.
Height
Likewise, height is a crucial element for the perfect baby shower tabletop. Pay attention to this element to steer clear of the average baby shower table decor.
Use height to create the perfect baby shower centerpiece by ensuring all baby shower table decor moves up and down along the length of the table. If your table centerpiece items form an M shape, you aced the height décor element.
For example, place tapered candles on each side of a mason jar, then fill it with a baby shower-themed flower bouquet. Voila! You have the perfect centerpiece.
A good rule of thumb is to observe the 12-inch height rule for all decor items on your table. Taller items will obstruct your guest's sight lines. In addition, a busy table is a conversation killer.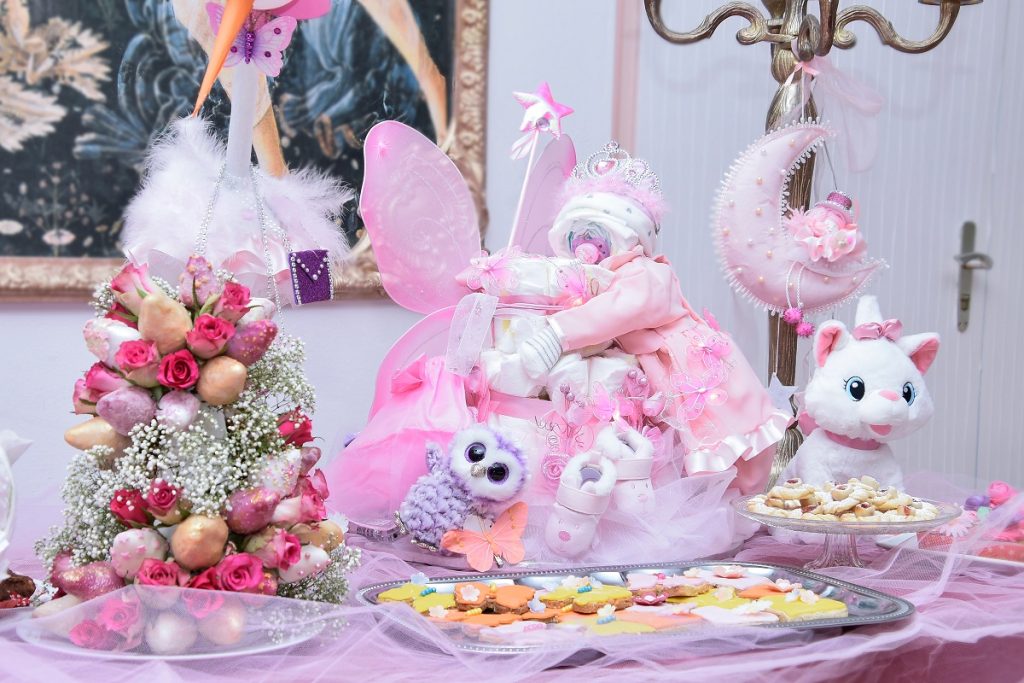 Do Baby Shower Tables Have Centerpieces?
Yes, they do. A centerpiece is your entire baby shower table decor's pièce de résistance. So let's discuss a few centerpiece ideas you can use.
Use DIY Babyshower Centerpieces
DIY projects are often a welcome idea as they will help you cut costs. Moreover, the personal touch of creating party supplies makes it unique.
Mason Jar Centerpieces
Mason jars are a versatile baby shower decor element. First, paint them with your baby shower theme color or attach removable embellishments. Then, load your mason jar with blue or pink flowers and baby's breath for a charming centerpiece.
Burlap Centerpieces
Tie burlap around your fruit basket centerpiece for rustic charm. Burlap creates cute mini diaper centerpieces as well for an adorable woodland theme.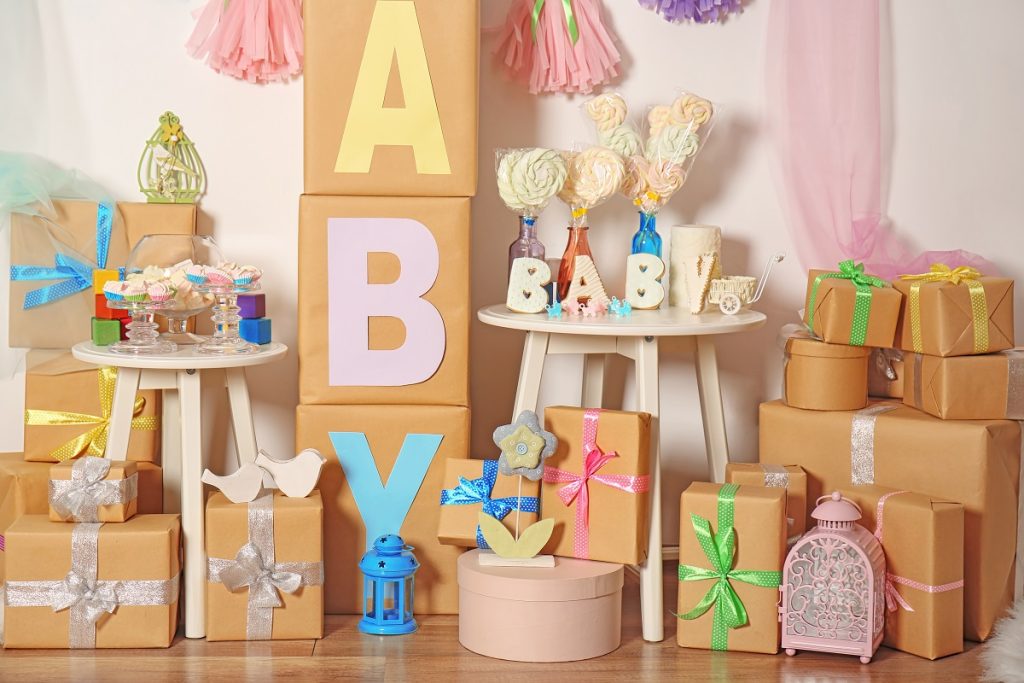 Baby-Themed Table Centerpieces
Diaper cakes are the epitome of baby-themed centerpieces. You can also use baby blocks, teddy bears, and pacifiers to recreate cute centerpieces.
Balloon Centerpieces
Alternatively, create confetti balloon centerpieces. Make a bouquet out of beautiful balloons, then use cute and fluffy stuffed as weights.
How Do You Give A Baby Shower Centerpiece?
Baby-themed centerpieces such as the diaper cake are also thoughtful, fun gifts. The mom-to-be can re-use them once the baby is born.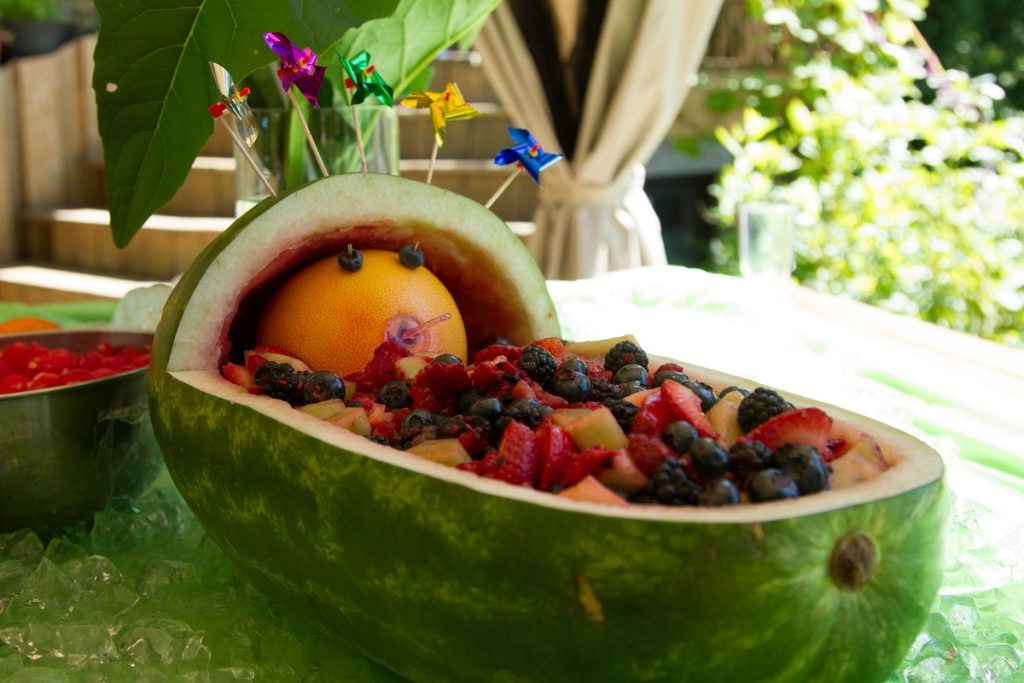 Arranging The Dessert Table
Colorful food is an excellent way to build up on your theme without being excessively matchy-matchy. For example, a glamorous fruit arrangement centerpiece could add to your color theme. You can build on the fruit theme by using fruit as decor on the napkin fold or as card placement weights.
Another good example is the use of stands to create varying heights on either side of your cake centerpiece. You can then place platters of sweets on each side to create the perfect visual flow of all elements.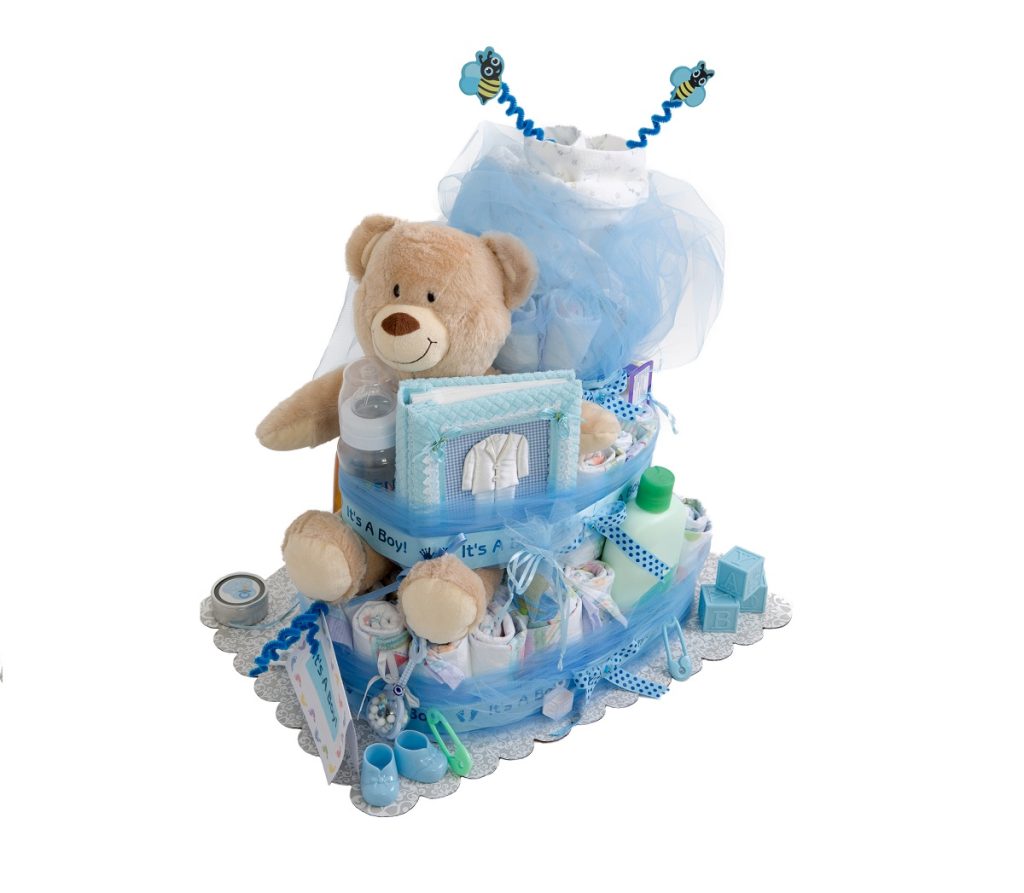 Finally, a diaper cake can be an eye-catching baby shower table decor. Roll newborn baby diapers, then hold them together with burlap, bows, and ribbon. Next, build a three- or four-tiered diaper cake as your baby shower table decor centerpiece.
There you go, try one of these fantastic baby shower table decor ideas and enjoy a beautiful shower party.