Hosting a Baby Shower is a ton of fun, but it can be hard to choose a venue! Baby Shower venues can range from simple at-home celebrations to grand affairs hosted at designated event spaces.
This article will explore the best Baby Shower venues for every type of event, whether you're looking for affordable options or unique baby shower locations.
Where Are Baby Showers Usually Held?
Baby showers can be held at a number of different locations. Your budget and guest list are the two most significant factors in choosing your baby shower venue.
You will want to be sure to choose a location that won't take up your entire budget, but it will also need to offer enough space to accommodate all of your guests.
Can You Have a Baby Shower at Your own House?
Homes are one of the most common locations for a baby shower, and you can absolutely host at your own house. Make sure that your home can accommodate your guests and plans for your shower.
At home baby showers are especially greater for warmer weather months so your guest can gather both inside and outside.
What Are Some Unique Baby Shower Venues
The perfect location for a special occasion such as a Baby Shower can be somewhere unexpected. Don't be afraid to find a unique Baby Shower venue!
Art Gallery
Not just a space for corporate events, art galleries are one of the hippest Baby Shower venues. Art galleries have excellent lighting, which will help ensure photos look amazing.
Most large cities have art galleries with event spaces. The only question is, which art gallery should you choose to host the Baby Shower?
If the mother-to-be has a favorite artist, choose a venue that features art she enjoys, or that is in a style or color palette that she appreciates.
Botanical Garden
The perfect baby shower for a mom-to-be who enjoys nature. What better way to remind her that she's creating life than in a place hand-crafted by mother nature?
Botanical gardens make an excellent backdrop for photos. As the event is held outdoors, less decor is required. It looks beautiful as is and will reduce stress on the day of the event.
Bakery
Arguably the best-smelling location for a Baby Shower, a bakery that allows events can be an awesome venue choice.
Bakeries will usually require a certain amount of food to be purchased, but depending on the size of your guest list, it is often not difficult to meet the minimum.
Many bakeries are decorated to look adorable and inviting too!
Host the Baby Shower on a Boat
A boat can make a memorable setting for a Baby Shower. Whether the boat stays in a marina or sails out to sea, this is undoubtedly one of the most unique Baby Shower locations.
Some boats are made for hosting these events, although if you know someone who has a boat and is willing to let you use it, even better!
Apple Orchard or Farm
Fruit orchards and farms can make for a fabulous Baby Shower location. Not only will the photos be fantastic, but many farms and orchards also have activities guests can do, such as cider tastings and apple picking!
Be sure to ask if they have an indoor space available such as a barn, in case of inclement weather.
What Are Some Affordable Venue Options
Having a Baby Shower can be expensive. Food, drinks, decor, and gifts all add up! One way of saving money on a shower is by using a free or inexpensive venue. You can have all the fun without worrying about a pricey deposit and fees.
Party at Home
Sometimes home is where the heart is and where the Baby Shower should be. Hosting a shower at home means you don't have to pay for the venue!
Home showers allow for complete control and customization of the food, decor, and timing. Home celebrations can be set up before the event day, which is a huge bonus.
If your home isn't guest-ready, ask if a friend or relative would be open to allowing you to use their home for the shower. Most people would be honored to be asked!
Outdoor Patio
If you have your heart set on an outdoor celebration, hosting the shower outside on the patio or in the backyard of your home can give you the vibe you're trying to create.
Plenty of natural light will make the special event picture-perfect. Patios with trellises are particularly useful because you can tie streamers and balloons around the posts.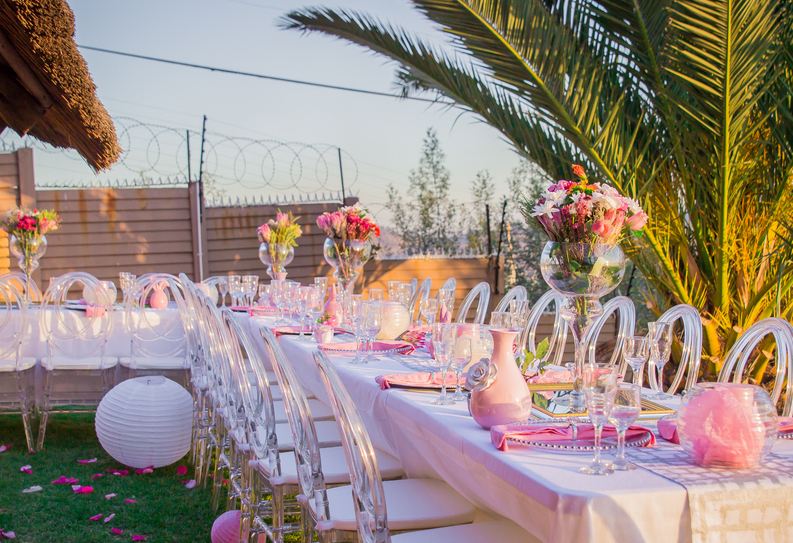 Community Center
Most towns have a community center for community events and private parties. The cost to rent these facilities is usually much cheaper than other venue options.
Most community centers have different room sizes, so you may be able to save more by renting a smaller area.
Banquet Hall
Banquet halls are used for wedding receptions, birthday parties, and even Baby Showers! Working with a banquet hall is typically easy because they always host events.
You can often rent all the necessary tables, chairs, and items. Most banquet halls also have a full kitchen, which can be convenient for preparing and laying out food!
At a Church
Consider your local church if you want a sacred setting for your Baby Shower. Many churches have meeting rooms for special events.
If you are a parishioner of a particular church, you may even be able to get the venue for a lower cost or free!
Be sure to explain the type of event you're hosting and check to see if the church will allow you to hold it.
Before Choosing Your Event Venue
Before settling on the perfect venue for the Baby Shower, you should consider a few things. Some event venues aren't appropriate for large parties, and some may not be able to provide all the services you require.
How Many People are Attending?
You can manage the number of guests that may potentially come to the Baby Shower when you initially make your guest list. You will want to invite family members and close friends at a minimum. Still, you may want to consider work colleagues, neighbors, and friendly acquaintances.
Having a venue in mind will help determine how many people you can invite. Some event spaces require a minimum number of people, and some places have a maximum. For any potential venue, you will want to ask how many people the venue can accommodate before sending out invitations.
Event Tip: Keep in mind that some guests may bring people with them unless the shower invitations require an RSVP for each person coming.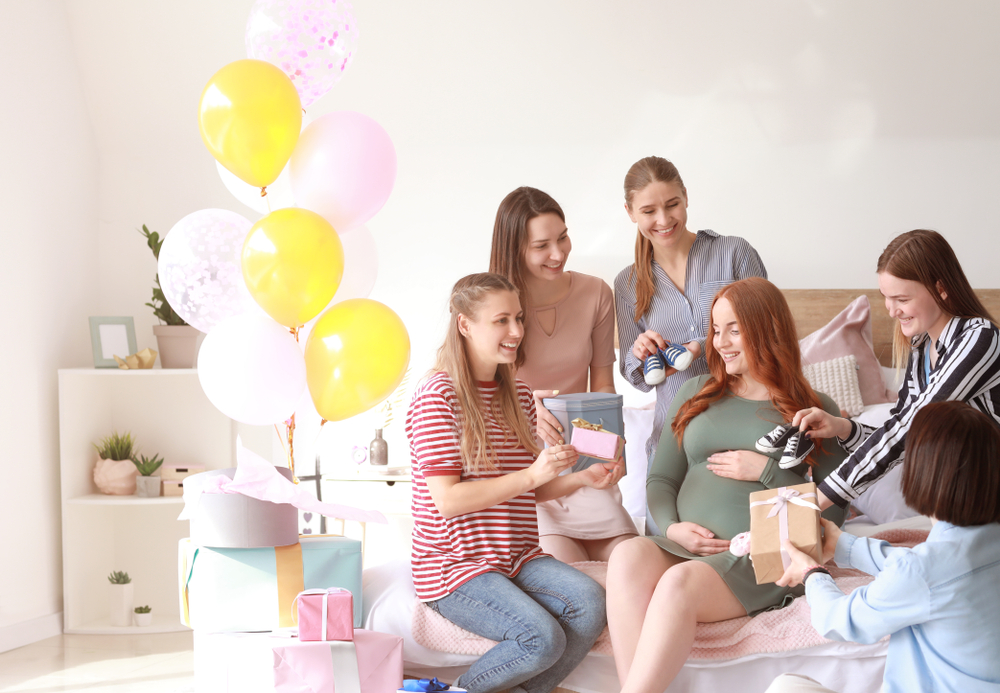 Do You Need Event Planning?
Many venues offer event planning services, and they can make hosting a Baby Shower easier.
If the venue offers this service, you will want to talk to them about the most important details.
Be sure to ask what options they have for the following:
Food and beverages
Centerpieces
Linens
Seating
Private dining areas (for larger venues)
Wifi
Restroom Access
Parking
Hours of Operation
Event clean up
Outside rentals (photobooths, etc.)
Best Baby Shower Venues
It's essential that the mom-to-be is happy and comfortable with the venue. The best Baby Shower venues are convenient, offer the necessary services for the shower, and will accommodate the desired number of guests.
Some of the most popular Baby Shower venues are flexible and used to hosting events.
Restaurant
Why not support a local restaurant or host the shower at the expecting mother's favorite dining spot?
Restaurants are convenient because they have parking, can usually accommodate small and large parties, and there's no need to worry about food!
Clean-up is a breeze because most restaurants will take care of that too. Talk about a win-win!
Just be sure that you book well in advance and before sending out your invitations.
Park Pavillion
Many parks have pavilions that they rent for outdoor events. The best place to find information is to look at the official city website under Parks and Recreation in the desired area.
There you should find a list of local parks, including ones with outdoor rental options. Fees for parks are usually minimal, provided you follow all the rules.
Tea Room
For a sophisticated and classy ambiance, nothing beats a tea room. Finger sandwiches, anyone?
Tea rooms usually have all the necessary tables, linens, and chairs. You likely won't need centerpieces because treat trays and tea sets are generally placed in the center of the table.
Tea rooms often have private rooms or private spaces set to the side of the main dining area. If you want the whole place to yourselves because you're having a large party, you will want to book a Tea room well in advance.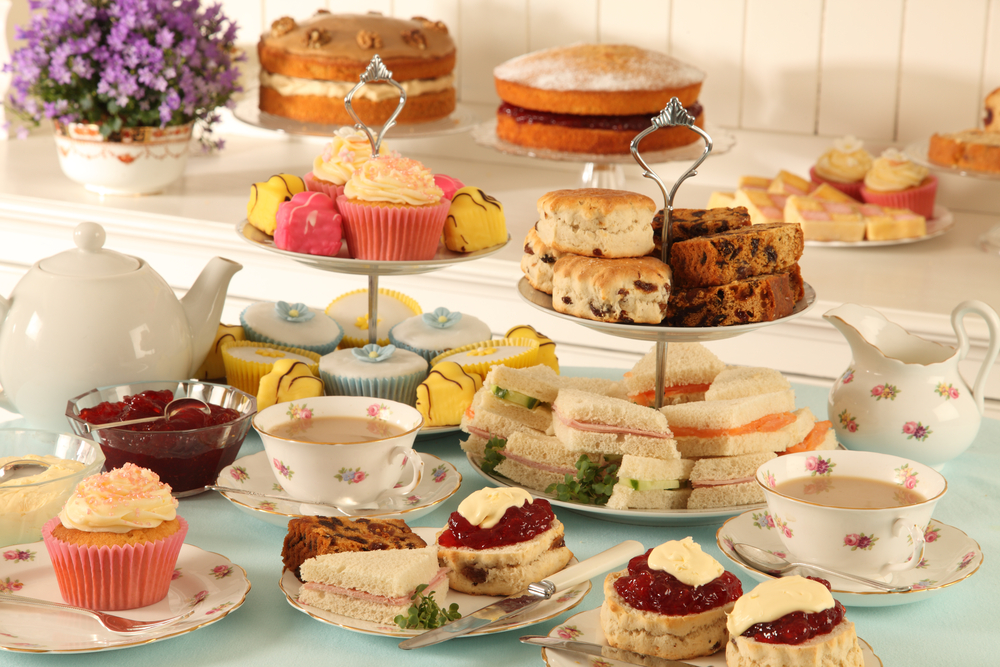 Historic Mansion
If the Baby Shower is going to be a grand affair with many guests, it may make sense to host the shower at a larger venue.
Mansions will certainly offer space in spades, and many have opulent surroundings that are perfect for a more formal affair.
Just be sure you get a complete list of rules for historic locations so you can plan the celebration accordingly!
Baby Shower Games
Once you have your perfect venue in mind, you will need to choose baby shower games that will work well in that setting. Some games are better played indoors versus outdoors or work great in private spaces but not public locations.
Here are some baby shower game ideas that will work well in various venues!
Baby Drawing Game
A simple game that you can play anywhere with little materials! All you need is paper plates and pens or pencils.
Each guest places a paper plate on the top of their head and, while holding it with one hand, draws a baby with the other. It's challenging to do and produces hilarious results.
The mom-to-be can pick her favorite and award that guest a prize!
Mom's Cravings
This is an easy game requiring only paper and writing utensils!
The expecting mom will describe her pregnancy cravings (without using the actual name of the food or drink). She can describe several different things she remembers craving throughout her pregnancy.
Guests will need to write down what they think the craving is.
The guest or guests with the highest number of correct answers win!
Playdough Baby
This one works as long as you have seating with tables (most venues should). The idea is to take a small container of playdough and "sculpt" a baby in a short amount of time.
The mom-to-be picks her favorite "sculpture," and that person wins.
Baby Around the World
This will require a little prep work, but free printables are available online to make it easier! The idea is to have a piece of paper with two columns.
The first column will have the word "Baby" written in several different languages. The second column will list the languages.
The person who can make the most correct matches wins!
The Price is Right Baby Shower Game
Who doesn't love guessing retail prices like on The Price is Right gameshow?
Have guests guess the retail cost of several everyday baby items such as diapers, baby food, and baby clothes in the year she was born.
The person who does the best wins!
Keep in mind that a ton of Baby Shower games will work for nearly any venue, so don't let the worry of hosting shower games detract from the Baby Shower venue of your dreams.
Now that you've chosen a venue, it is time to think about cake! Check out this article for some great ideas for boy baby shower cakes!