How Do You Plan a Winnie the Pooh Baby Shower?
Are you organizing a baby shower party for your friend or loved one? There are countless baby shower ideas to choose from, so picking a theme can be pretty daunting. Character-themed parties like Disney's Winnie the Pooh can be a great idea to choose from!
Here are some suggestions for throwing a fun party with a Winnie the Pooh baby shower theme including ideas for invitations, venue decorations, food, games, and party favors.
Let's get started!
Winnie the Pooh Baby Shower Invitations
Of course you'll want to send out invitations early to let friends and family know about the baby shower. There are plenty of beautiful Winnie the Pooh baby shower invite ideas!
You can create invitations using a free invitation template, add a few Pooh-inspired stickers, and handwrite the invitations for an intimate touch.
If you're looking to save some time, you can always buy one of many editable digital invites that fit your preferences.
Ensure your invitations include the following information:
Name of the expectant mom
The name and address of the host
The venue, date, and starting time of the baby shower
RSVP information
Dress code, if any
Gift Registry/ preferences, if any.
Winnie the Pooh Baby Shower Decorations
Any themed baby shower must have impeccable decorations, and a Winnie the Pooh-themed shower is no exception.
Most decorations are budget-friendly, so you don't need to break the bank to please the new mom. You can choose to DIY, use ready-made store-bought decorations, or do both.
For the Pooh theme to stand out, factor it in the party invitations you send out, the props and backdrops at the party, the food, and down to your tablecloth decor. 
What Can I Use for Winnie the Pooh Baby Shower Centerpieces?
If you're looking for ideas for centerpieces for your baby shower, include the entire gang of the Hundred-Acre Wood – Pooh Bear, Piglet, Eeyore, Rabbit, Kanga & Roo, Owl, and Christopher Robin. Here are examples of how you can feature the different characters in your party, whether it's gender-neutral, a boy or girl baby shower. 
Pooh Bear
Pooh bear will most likely feature the most in your party decorations. Buy stuffed Pooh bears and cutout props. Strategically place them in different locations of the venue.
You can also incorporate Pooh in your tableware using pooh-inspired plates and napkins.
In addition, make or buy tasty Pooh bear treats like Winnie the Pooh macarons or cupcakes to add to your dessert table.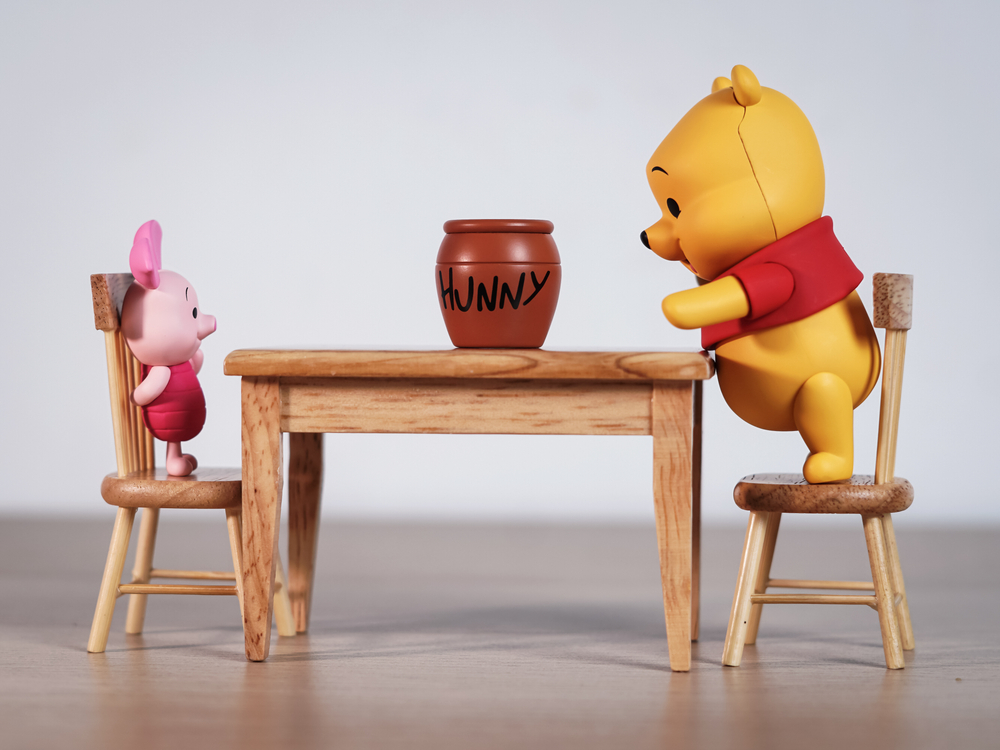 Piglet
Make piglet-inspired dishes like Piglet Pepperoni pizza bombs. Let's not forget the popular hot snack, piglets in a blanket, made by putting mini-sausages in a crescent roll.
You can also name one of your refreshing drinks after Piglet. For example, the "Piglet Berry Lemonade" would be excellent for a baby shower for a girl.
Tigger
Incorporate stuffed Tigger and mini toy figurines to decorate the baby shower space.
You can make Tigger tails in a few steps by dipping pretzel rods in orange chocolate, allowing them to cool before adding stripes of melted chocolate. Also, use Tigger for other meaty food items like Tigger tangy meatballs.
Eeyore
Make an Eeyore-inspired drink such as Eeyore Colada Mocktail.
Hunny
Everyone knows Winnie the Pooh loves honey, so featuring honey pots in your decorations is an excellent idea.
You can buy a ready-made pot or simply DIY paint a terracotta pot to achieve the same effect.
Honey pots can be used as centerpieces on guest table tops by filling the pots with yellow flowers. They can also act as stands for cupcakes, a serving bowl for cookies and sweets, or even party favors for guests.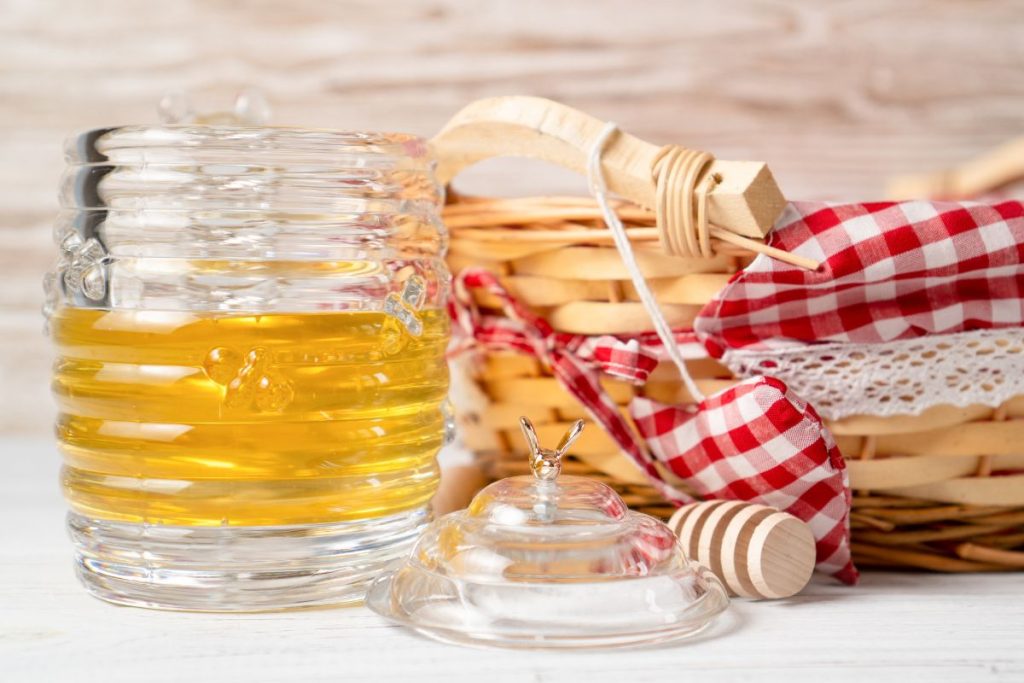 Classic Winnie the Pooh
The classic Winnie the Pooh baby shower theme is best for a gender-neutral Pooh theme or gender-reveal party. The most popular colors are pale blue and yellow. Still, a combination of other pastel colors like green, pink, brown, purple, or gray may feature in the party decorations.
A balloon arch with a Pooh-themed backdrop from Etsy is always a gorgeous addition at the entrance or gift area. You can add real flowers between the balloons to add some oomph to the setup. If well-staged, you can use the place for a photo shoot with mommy and daddy-to-be.
For easy post-party cleanup, use a Winnie the Pooh-themed tablecloth. However, use a plain colored cloth for a more balanced, less cluttered look if you plan to add other decorations. Include Winnie the Pooh and friends' food labels to tie into the theme.
Winnie the Pooh Baby Shower Decorations for Girls
If you already know the gender of the baby, then plan a gender-specific shower.
Let's begin with ideas for a girl baby shower with the pooh theme.
Hang some white, pink, and yellow balloons beside a personalized, girly, pooh-themed welcome sign.
Set up a balloon garland using the same color as balloons at the entrance for a cohesive look. You can use fake grass turf as a background and decorate with Disney Winnie cutout decor.
The gift area should have a comfortable chair for the expectant mom decorated with a pink banner or a variety of pink-shaded balloons. You can also place a nice customized baby blanket on the chair as a take-home gift for the baby.
Use mini Winnie character toy cake toppers on your cake centerpiece.
And finally, hang round yellow lanterns over the snack table and use bee stickers to symbolize a hive.
And there you have it, a cute Winnie the Pooh-themed baby shower decor for a girl.
Winnie the Pooh Baby Shower Decorations for Boys
Boy baby shower decorations have lots of blue, but feel free to add touches of other colors like white, gold, or shades of green and brown.
The entrance should set the mood for guests as they walk in, so add a customized welcome sign decorated with Winnie the Pooh character balloons.
Decorate the corners of your baby shower room with stuffed Winnie the Pooh characters dangling from balloons, and place a Pooh bear rug near the gift section. Accessorize the gift table with an easy-to-make diaper cake centerpiece using diapers and ribbons.
You can also add a customized baby blanket on the chair, then use honeycomb shelves to display snacks and treats for the guests at the snack table.
Finally, to add a unique touch to the whole event, print this one-of-a-kind thumbprint guest book so the mom and dad-to-be can remember their Disney Winnie the Pooh baby shower. Provide blue ink to go with the baby shower decorations.
What are Some Winnie the Pooh Baby Shower Games?
Baby showers aren't complete without some fun games. Here are a few ideas on activities you can play at your Pooh shower:
Guess how many honeycombs: Fill a jar with honeycombs and have your guests guess how many there are. Each guest can have an answer card to write their name and answer. The person with the correct number of honeycombs is the winner.
Pin the tail on Eeyore: Get a large sticker of Eeyore and stick it on a wall or cardboard. Hide a bunch of Eeyore's tails around the baby shower venue and allow each guest to find one. Then blindfold the contestants and have them stick the tail correctly onto the Eeyore sticker.
Christopher treasure hunt: Place clues in different areas and have each clue lead to another clue. The winner finds all the clues and gets the treasure (a gift).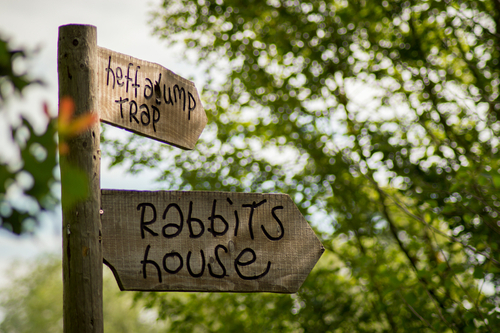 Other Party Supplies
Organizing a party involves many things apart from just decorations and food. You may need many other supplies to make the event a success.
Here are a couple of suggestions for must-have party supplies.
Winnie the Pooh Party Favors
Appreciate your guests by giving them party favors. Here are a few inexpensive presents:
Honey in mason jars: Tie a thank you note on the mason jar lid.
Honey-scented candles: Your guests will remember you and your pooh baby shower every time they light their candles.
Bookmarks: Give your guests something to remember you by every time they open that book with these printable Pooh and gang bookmarks with quotes.
Looking for more baby shower theme ideas? Check out these suggestions for an elephant theme baby shower!