Did you know that babies will use about 6000 diapers during their first two years of life? That's a lot of diapers!
Suppose you have volunteered to host a baby shower for your friend or loved one. In that case, you may be interested in learning more about diaper showers. Keep reading to learn everything you need to know!
What Is a Diaper Shower?
A diaper shower is a celebration for a new baby, focusing on diapers, wipes, and diapering supplies.
A diaper shower is a great way to help the parents-to-be with one of their most significant expenses: diapers! Diaper showers are a great way to celebrate a mom-to-be welcoming her second, third, or fourth kiddo.
Like a traditional baby shower, a diaper shower can be straightforward or more elaborate.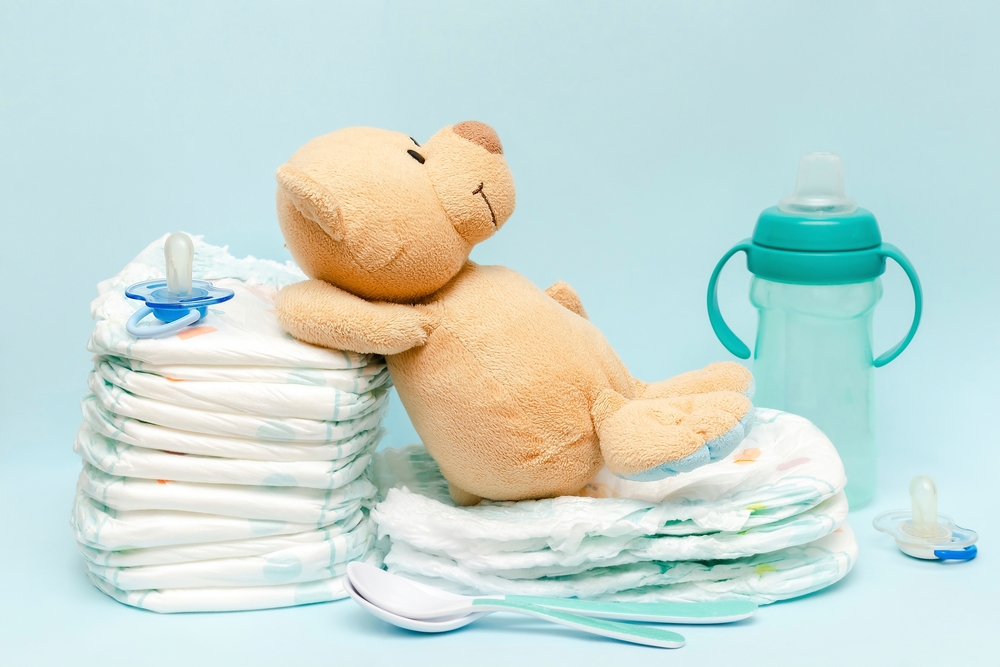 What Is the Difference Between a Baby Shower and a Diaper Party?
A diaper shower is similar to a baby shower, but the focus is on diapers, wipes, and diapering supplies. Rather than providing a baby registry or having guests bring other gifts, all gifts are focused on diapers and diapering supplies for the new baby.
Diaper showers are also commonly thrown for man showers as a simple way to celebrate the dad-to-be!
Present Ideas For A Diaper Party
Here are some present ideas for new parents for a diaper party:
Box of diapers (Huggies, Pampers, or whatever the parents prefer)
Baby wipes
Diaper bag
Cloth diapers
Baby powder, Desitin, or other ointments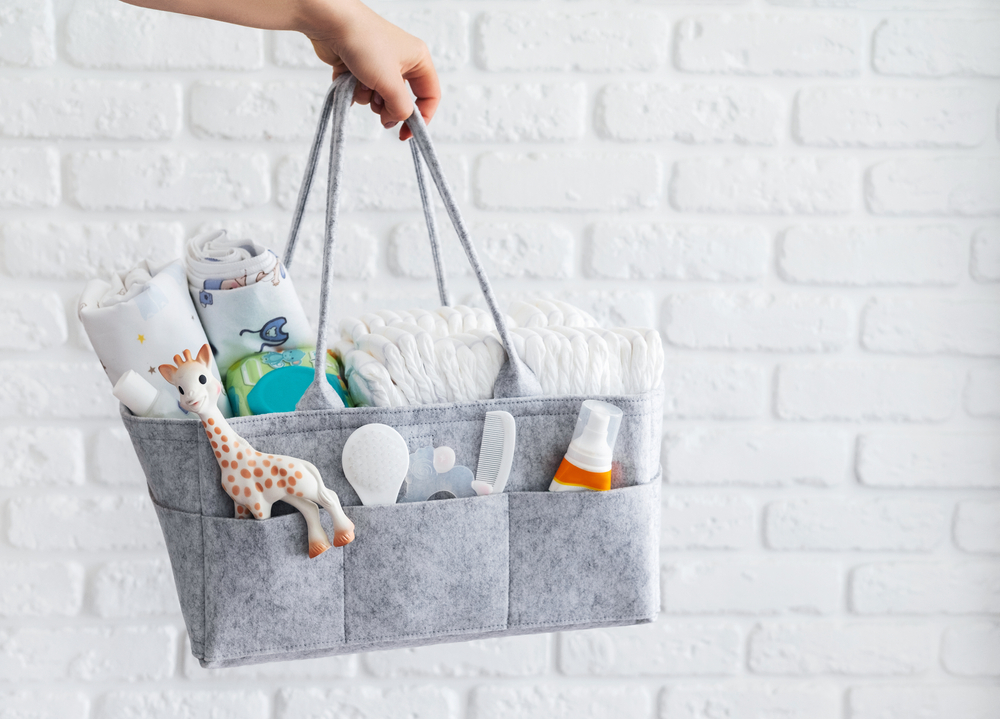 What Do You Do at a Diaper Shower?
You can eat food at a diaper shower, play diaper games, and celebrate the mom-to-be! Many traditional baby shower activities can still take place during a diaper shower.
What Is a Good Theme for a Diaper Shower?
You can choose a theme for your diaper shower if you wish! You can also keep the diaper shower simple and skip the theme.
Here are some theme ideas for a diaper shower:
A baby is brewing
Chuggies and Huggies
Backyard BBQ
Diapers for Dad
Diapers for the new parents
Donuts and diapers
What Is the Best Way to Plan a Diaper Shower?
To plan a diaper baby shower:
Coordinate with the mom-to-be and the dad-to-be.
See who they would like invited for the diaper shower.
Send out diaper party invitations.
You can then plan a light snack and dessert to serve at the diaper shower. You can keep the diaper shower very simple or plan baby shower games and make the event more similar to a baby shower.
What Are the Best Diaper Shower Favors?
If you wish, you can provide the guests with diaper shower favors! Here are some cute ideas for party favors:
Mini bottles of champagne with a party favor tag that says, "She's ready to pop!"
Clear party favor bags with chocolates
Custom can koozies with a phrase like "baby is brewing!"
What Are Some Good Diaper Shower Games?
If you are looking for some excellent diaper party games, here are some ideas.
Diaper Raffle
A diaper raffle is a passive game that all guests will enjoy! This baby shower activity is simple – guests bring diapers and are then entered into a raffle to win a prize.
How Do you Have a Diaper Raffle?
Suppose you want to have a diaper raffle at your diaper shower. In that case, you need to note this on the baby shower invitation. On the invitation, note that guests can "bring a case of diapers to participate in a diaper raffle!"
When guests arrive at the shower, give anyone who brings diapers a raffle ticket or write their name on a piece of paper. Before the shower is over, pick a winner. The winner gets a prize just for bringing diapers!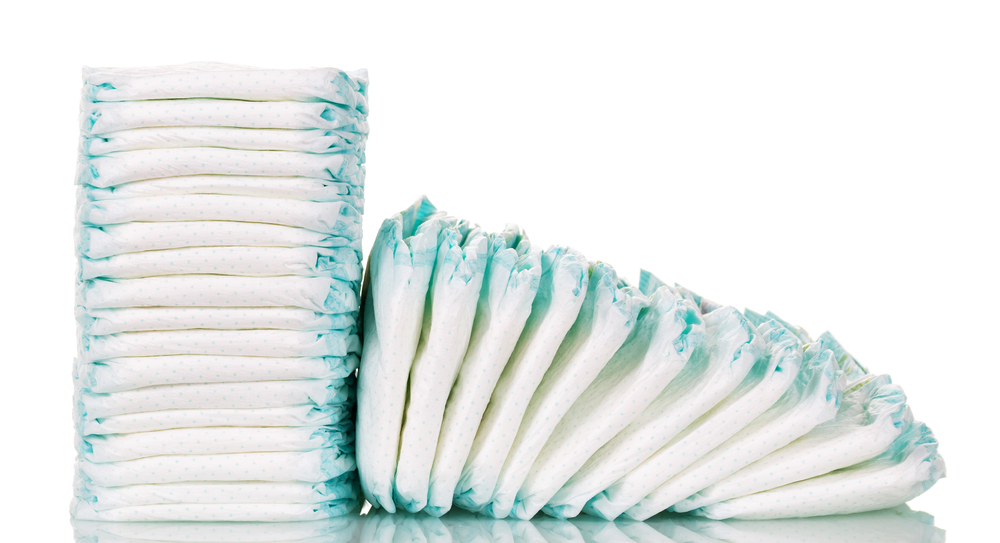 Dirty Diaper Game
This game is a great icebreaker! The dirty diaper game is simple to play. If you have the dirty diaper, you are the winner!
How Do you Play the Dirty Diaper Game?
Before the diaper shower, squirt some mustard in a diaper. Then mix up the stack of diapers. When guests arrive at the shower, hand everyone a diaper. Have the guests go around and introduce themselves.
Then, guests can open their diapers. Whoever has the dirty diaper is the winner! This fun baby shower game doesn't require much work for shower guests!
What Can I Make out of Diapers for a Diaper Shower?
Suppose you want to decorate with diapers for a diaper shower. In that case, you could make a diaper cake, hang a banner of diapers or make a diaper bouquet!
How Do You Make a Diaper Cake?
Diaper cakes can make for beautiful centerpieces and excellent baby shower gifts! If you want to make a DIY diaper cake, follow these directions.
Purchase diapers. You can use any brand you would like.
Open the pack of diapers and then roll the diapers. Use a rubber band to secure each diaper in the rolled shape.
Use a circular pan (pizza pans work well) as the base of your diaper cake. Begin arranging the diapers in a cake shape. Sometimes it's helpful to put a paper towel tube or a bottle of baby lotion in the middle to form your base.
Make the second layer smaller than the first layer, stack the diapers up, and add more layers until the cake is the size you want.
You can add a big rubber band around each cake layer for security.
Once the layers are complete, you can start decorating and being creative! You can add items like bows, ribbons, or baby items like bottles and pacifiers.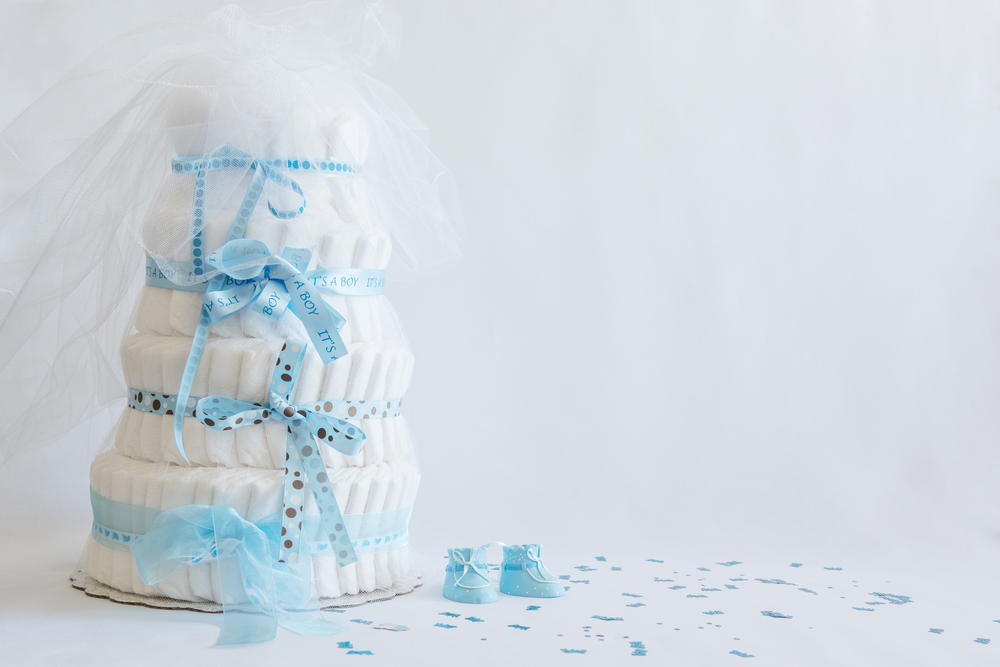 These great ideas will help you plan a fun, laid-back diaper shower! For more inspiration, check out our guide to baby shower sprinkles!