Once you've determined your little one's gender and learned that the baby is a girl, you can start preparing the theme for your baby girl shower. It doesn't have to be a grand celebration. Even a simple gathering with a few friends and loved ones will make it worthwhile and memorable for everyone attending.
If you still need to decide on the theme for the DIY party, worry not, as we've got your back. In this article, you'll learn more about some baby girl shower ideas that hopefully spark your imagination and get your creative juices flowing.
What is a Girl Baby Shower?
A girl baby shower is a special celebration for the soon-to-arrive new baby girl bundle of joy. It is a beautiful way to honor and welcome her and her mother into the world. Guests usually bring gifts such as toys, clothing, and nursery items to celebrate the new mother's arrival.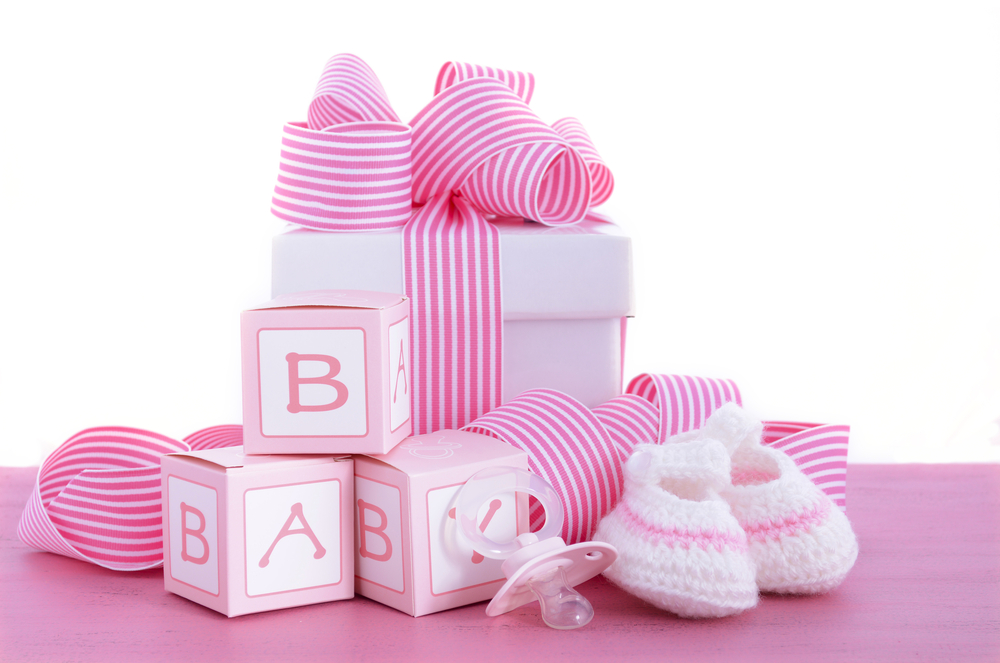 What Is the Difference Between a Girl Baby Shower and a Boy Baby Shower?
The party decorations and baby shower games at the event tend to be more delicate and feminine. In contrast, the decorations and games at the boy baby shower may be more rugged and action-oriented.
Generally, a girl baby shower is typically decorated with pink, white, and other pastel colors, while a boy baby shower often has blue or green colors.
However, don't limit yourself to these themes; go for whatever your heart desires. As long as the theme is tasteful and in line with your goal, there shouldn't be a problem.
What Is a Common Theme for a Baby Girl's Baby Shower?
If you think about it, there's more than one common theme for a baby girl's shower. You shouldn't limit yourself to the color pink and let your imagination run wild. Here are some baby shower ideas that can help you get started:
Floral Theme
You can't go wrong with a timeless, soft, floral baby shower theme. Use pink and white as your color palette and combine them with different pastel flowers to bring the theme to life.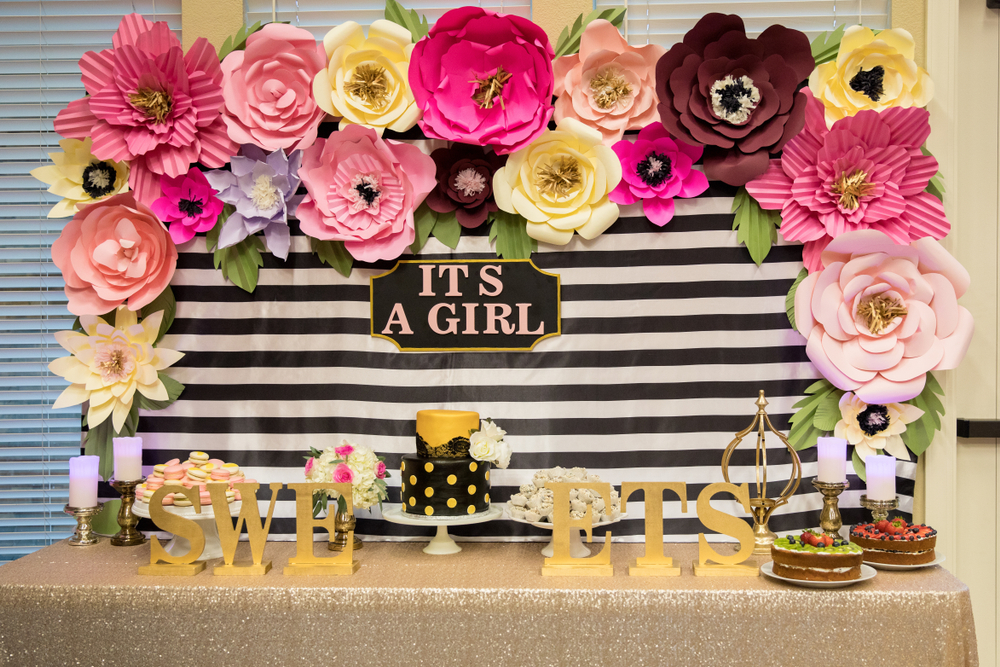 Glitter and Sparkle Theme
Add sparkle to your baby shower decorations with a glitter and sparkle theme. You can use a variety of glittery and metallic decorations to create a magical and glamorous look that will leave your guests in awe.
Under-the-Sea Theme
You can also go for a cute under-the-sea baby shower theme. Consider adding blue, green, and deep oceanic shades to your girl baby shower decorations. Opt for interesting underwater-inspired details such as starfish, shells, and corals.
Rustic Theme
If you're a fan of the classic countryside decor, you can opt for a rustic baby girl shower theme. Use natural elements such as wood, lace, and florals to create an earthy and organic atmosphere.
Fairytale Theme
Give your baby shower a whimsical twist with a fairytale-inspired theme. Decorate the area with storybook characters, flowers, and glitter for a magical look.
Spring Garden Theme
Bring the beauty of spring to your baby girl shower by setting up a garden-themed celebration with matching party favors or baby shower favors. You can use a variety of spring plants and colorful decorations to bring the baby shower party alive.
Some of the themes you may use include woodland, boho, a gender reveal party, tulle, honeycomb, tea party, little princess, bridal shower-like, pom poms, little star, and gold baby shower.
What Color Should the Cake Be?
The cake can be white or pastel pink for a girl baby shower. You can also opt for a more playful and colorful look with a combination of multiple pastel shades.
Other great options are a cake iced in pink with white details, a cake covered with edible flowers, and a cake with ombre fondant. You can even go for an ombre or rainbow-colored cake.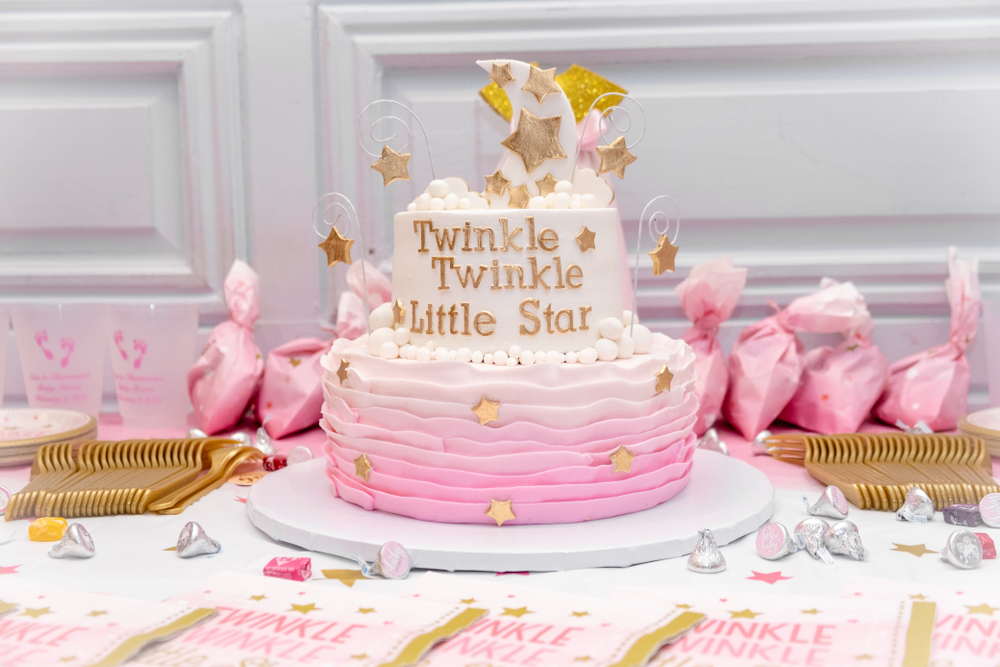 What Colors Are Typically Used in a Girl Baby Shower?
The primary colors typically used in a girl baby shower are pink, rose gold, white, and other pastel hues. These colors usually create a delicate, feminine, and whimsical look. Depending on your chosen theme, you may also opt to add sparkle or metallic hues and other accent colors.
What Are Some Ways to Make the Food Table Look Nice?
To make your food table look nice, you can set up a cake and cupcake stand, decorative platters, and pretty plates and napkins. You can also use an exciting cake topper or a centerpiece to give the food table an extra touch of elegance. Adding a few floral pieces and balloon arches can also be excellent additions.
Table Decorations and Centerpieces
Depending on your chosen theme and color scheme, you can use flowers, stuffed animals, mason jars, banners, confetti, and garlands to brighten up the area and make it look more inviting. You can also place photos of the mom-to-be and postcards from her home country, if any, to make the celebration more personal and meaningful.
What color is the tablecloth?
You may choose from any color themes above to use for your tablecloths. Even complementary colors may work as well.
Still looking for inspiration for your baby shower? Check out these great ideas for a girl baby shower!