A magical butterfly theme is a beautiful way to welcome a little one and spoil the mom-to-be! You may have questions about butterfly shower invitations, food, decorations, etc, so here is your go-to guide for everything you need to know about hosting a beautiful butterfly baby shower.
What is a butterfly baby shower?
A butterfly baby shower is a baby shower party with a butterfly theme. There are many beautiful decorations, food ideas, and party favors for butterfly-theme showers! One fun idea would be to use the butterfly theme with a tea party!
How to Host a Butterfly Theme Baby Shower
Let's dive into specific baby shower ideas for butterfly shower invitations, decorations, food, dessert, and party favors. Keep reading to learn more.
Butterfly Baby Shower Invitations
One of the first steps to hosting a butterfly party baby shower is sending out invitations. There are many cute ideas for including butterflies on your invitations. You can use floral patterns, add subtle butterflies to the invite or use bright pastel colors.
When deciding on invitations, you can order invitations online from a site like Etsy or go the DIY route and create your own.
Be sure to include the following information on your invitations:
Time and date of the baby shower
Location of the baby shower
When to RSVP by
Include the baby registry
Any other important information for guests to know (For example, if the shower will be held outside, it would be good to note that so guests are aware.)
Butterfly Baby Shower Decorations
There are so many fun ways to decorate for a butterfly baby shower! Here are some tips for party decorations.
Butterfly Baby Shower Centerpieces
When determining centerpieces, keep your color scheme in mind. Here are some centerpiece ideas:
Bouquets: Choose an assortment of pretty flowers and arrange them in vases for each table.
Gold butterfly framed image: Find pictures of illustrated gold butterflies and print these images. Then insert it into frames for a simple centerpiece idea.
Purple butterfly 3D centerpiece: There are many 3D butterfly centerpieces that you can pick up from a party store or order online. You can use any color centerpiece of your choosing! For example, if the Mom-to-be is having a baby boy, you may choose blues and greens.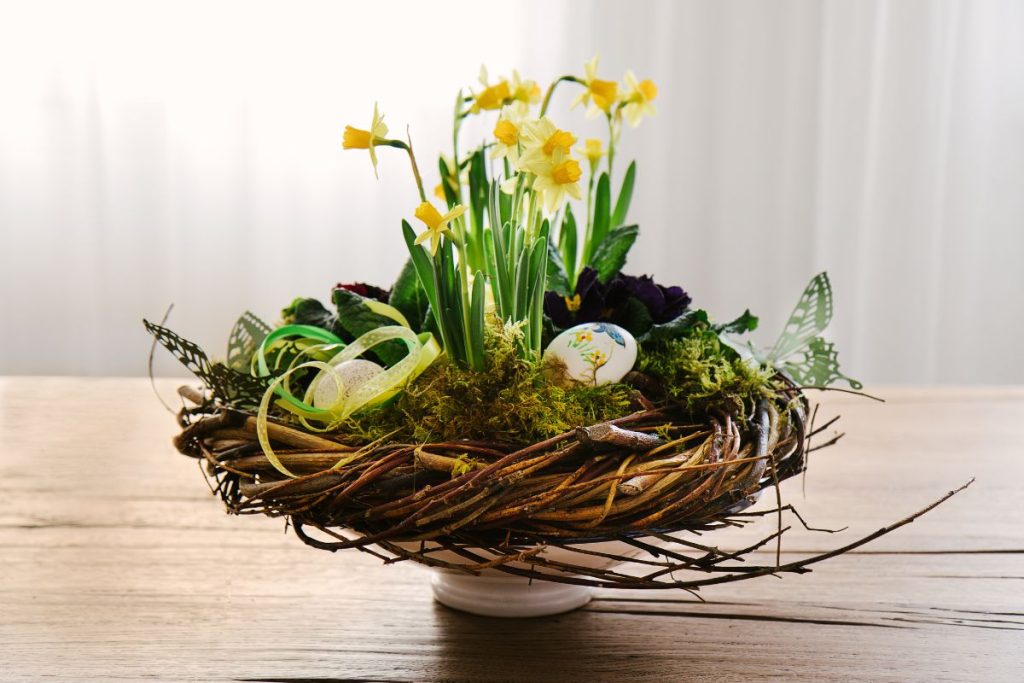 Butterfly Baby Shower Backdrop
You can do butterfly balloons in a balloon arch or balloon garland for a backdrop or use brightly colored balloons or find balloons with butterflies on them.
Balloon garland arches are trendy and make for a beautiful backdrop for pictures! You can try creating a balloon arch by using a balloon arch kit! For more tips, check out our DIY baby shower balloon displays guide.
Butterfly Baby Shower Foods & Dessert
The dessert table is always a crowd favorite! To stay on theme, you could display a butterfly banner on the front of the dessert table for an extra festive look!
Butterfly Baby Shower Cake
When deciding on the cake, take the Mom-to-be's preferences in mind. Once you have determined the cake she prefers, you can get to the fun, creative part!
You can order or make a butterfly-shaped cake, using beautiful watercolors to make it pop. You can also stick to a basic fondant cake and add butterfly cake decor or butterfly cake toppers.
Another idea would be to make cupcakes! Be creative and create a large design using cupcakes. You could also add edible confetti or butterfly toppers to each cupcake.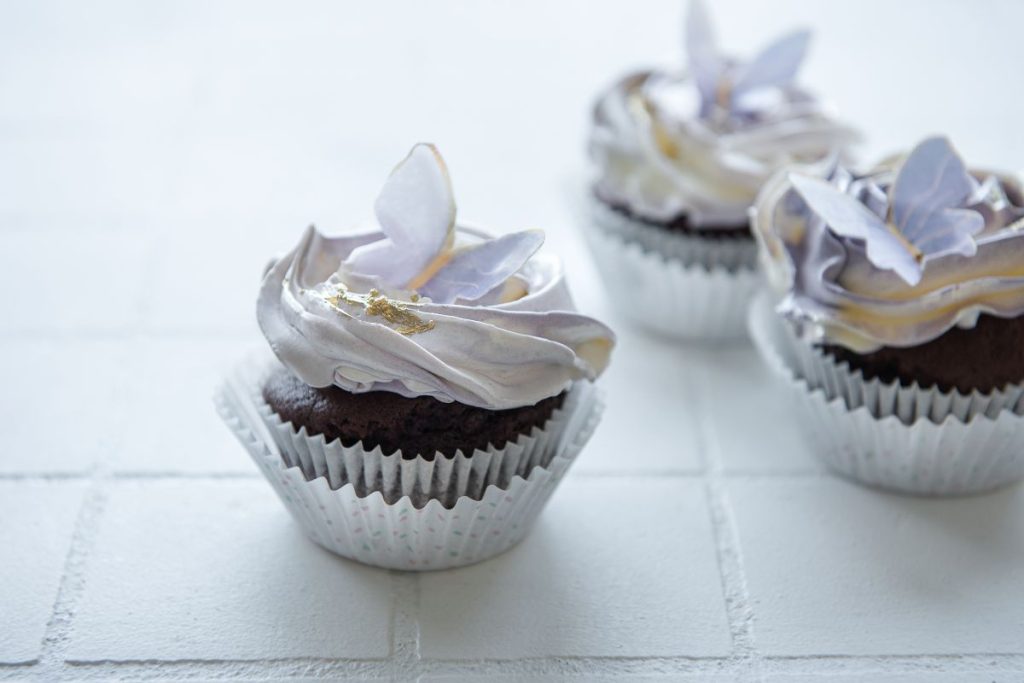 Butterfly Baby Shower Cookies
The sky is the limit when it comes to butterfly shower cookies! Opt for realistic-looking butterfly cookies or do any color that you would like. Rose gold cookies are a beautiful addition to your dessert table!
Butterfly Baby Shower Favors
There are so many ideas for party favors! You could also use these ideas as prizes for baby shower games. Here are some of our top picks:
Small baggie of chocolate kisses: You can call them butterfly kisses!
Butterfly-shaped soap: Find butterfly-shaped soap to hand out for a simple, festive shower favor.
Flower seeds that attract butterflies: Find a flower seed that attracts butterflies and package it up cutely.
Butterfly stickers: Create custom stickers for everyone to remember the baby shower.
Butterfly Baby Shower Party Supplies
Here's a quick list of party supplies, so you don't forget anything! Be sure to choose plates, napkins, and tablecloths that match your color palette
Napkins, plates, and cutlery
Tablecloths
Decorations and centerpieces
A plan/menu for food and dessert
A guest book
For additional tips and advice for hosting a baby shower, check out our guide to arranging baby shower table decor.