Fall is the perfect time to host a Halloween baby shower! With such a unique Halloween-themed baby shower, you might have questions about what to serve, how to decorate, and what games to play. Check out these great tips for throwing a spooky Halloween baby shower!
What Do You Serve at a Halloween Baby Shower?
There are many delicious options for food to serve at a Halloween baby shower! For main courses, here are some food ideas to consider:
Spaghetti and Eyeballs
Cook spaghetti and meatballs as usual, and then top with plastic eyeballs before serving. You could do the spaghetti with garlic bread cut into a pumpkin shape!
Pumpkin-Spiced Cinnamon Rolls
Make or purchase pumpkin-spiced cinnamon rolls! When it's time to add the icing, do your best to drizzle it like a spiderweb! Bonus points if you add plastic spiders to the top!
Depending on your baby shower theme and the time you host the shower, you may choose to serve a full meal or just snacks, desserts, and drinks. Keep reading to discover ideas for snacks, desserts, and beverages!
Spooky Baby Shower Snacks
Spooky snacks are sure to be a hit! You could serve just snacks or snacks in addition to a meal. Here are some snack ideas:
Mummy-To-Be Dogs
This is a unique take on the traditional pigs-in-a-blanket. Instead of fully wrapping the hot dogs with the dough, be creative and bind it to look like a festive Halloween mummy!
Halloween Puppy Chow
Make puppy chow as usual, and top it with lots of Halloween sprinkles! Puppy chow is crowd-favorite and looks super festive with colored Halloween sprinkles. You could also send this cheerful puppy chow home as an easy party favor!
Cute Halloween Desserts
A baby shower isn't complete without festive dessert! Here are some dessert ideas to serve at your festive Halloween party.
Halloween Baby Shower Cake
If the mom-to-be is looking for a gender reveal, you could offer to use the cake to reveal the gender! There are so many options for Halloween-themed cakes. You can choose any cake, add a festive cake topper from Amazon, or even make festive cupcakes!
Caramel Apple Bar
This dessert bar is both a sweet treat and an activity for guests. Choose a variety of toppings for the caramel apples, and let your guests get creative!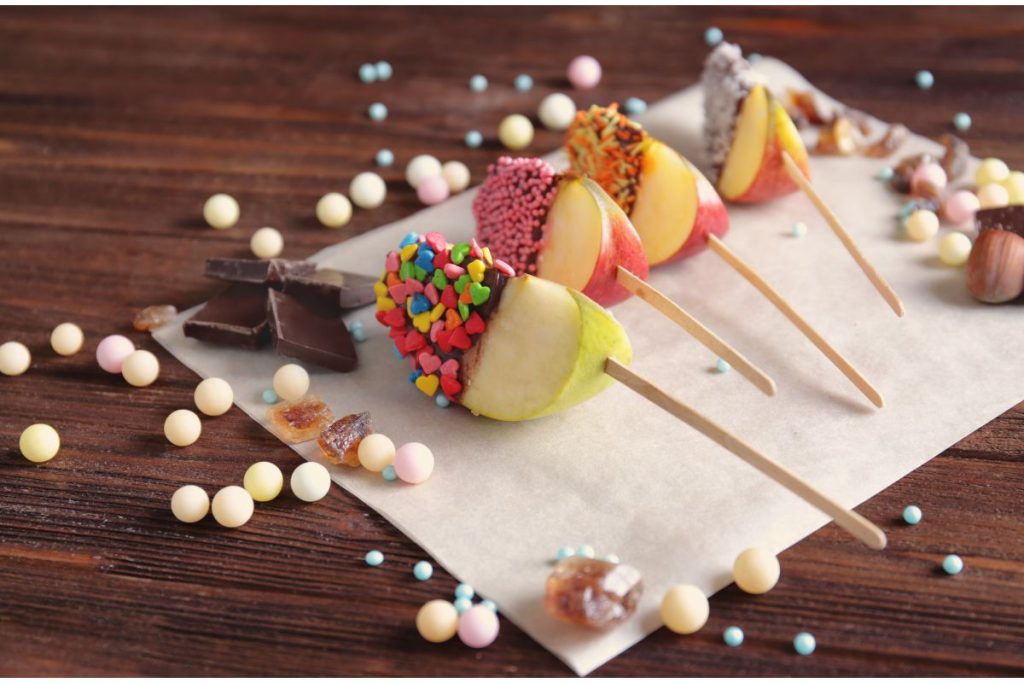 Fun Halloween-Themed Drink Ideas
Keep up the fun Halloween theme with festive drinks! Add glow sticks, plastic eyeballs, and plastic spiders to make any drink festive. Here are a few fun ideas to take your Halloween drinks to the next level!
Hocus Pocus Punch
This punch is easy to make and requires only three ingredients! Mix 8 cups of grape juice, 12 oz of fruit punch concentrate, and 2 liters of lemon-lime soda. Serve in a punch bowl with floating plastic eyeballs.
Ghoul Brew
This fruity drink is another simple recipe your guests will love—mix 46 ounces of pineapple juice and 12 ounces of frozen orange juice. Then stir in 1 liter of orange soda. Finally, scoop in 1 pint of orange sherbet.
Fall Into Halloween Table Decorations
Now that you have some food, snacks, and dessert ideas, it's time to think about how you can decorate! There are so many fun Halloween DIY decorations!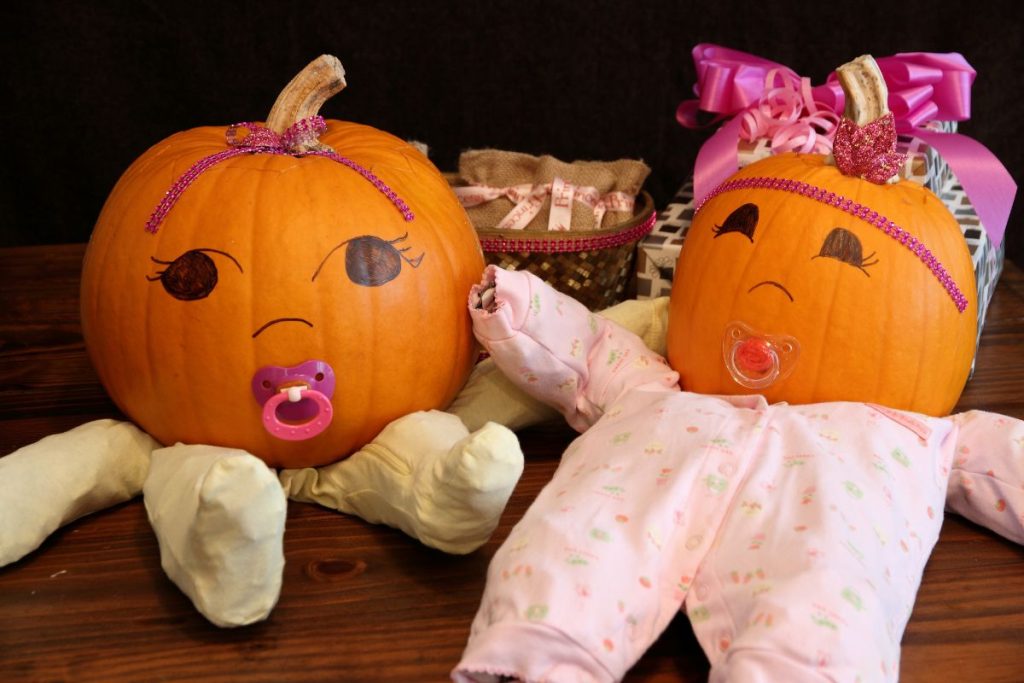 Halloween Centerpiece Ideas
Centerpieces are an easy way to decorate that don't require much work! For centerpieces, add little pumpkins to each table or put one giant pumpkin at each table.
You can also purchase a fake white pumpkin that could double as a guest book for the mom-to-be! This pumpkin can be used as part of your party decor!
Another idea for Halloween baby shower decorations is to place skulls and skeletons around the tables and where you serve food.
What type of games is best for a Halloween baby shower?
Great baby shower games are a guest favorite. With that in mind, planning a few fun games to keep your guests happy is crucial.
Guess The Number Of Pumpkins
This game is fun and doesn't require much thinking from guests. To play this game, fill a glass jar with pumpkin candies. Then have the guests try to guess how many candies are in the jar!
Supplies Needed: A glass jar, pumpkin candies, paper, and pens.
Prep Before The Party: Before the party, fill a jar with pumpkin candies. When the pot is full, empty it and count the pumpkin candies, so you know how many candies are in the jar. You could also use candy corn for this game.
How To Play: To play this game, have guests try to guess how many pumpkins are in the jar. They can record their guess on a piece of paper. The person with the closest guess gets to take home the jar of pumpkin candies!
Baby Shower ABCs – Halloween Version
This is a classic baby shower game with a twist! To play this game, write down many baby-related words before the timer goes off. 
Supplies needed: Pens and paper for all guests—additionally, a timer for the individual running the game.
Prep before the party: Print out, or hand-write the letters "HALLOWEEN" down the side of each sheet of paper for the guests. The traditional version of this game is played by writing down the full alphabet on the side of the paper. You could also switch this game up by using a different Halloween-themed word.
How to play: Pass out the paper and pens. Instruct guests to write down as many baby-related words when they start the timer. For example, for "H," you could write Huggies diapers. Set a timer for one minute! The winner is the person with the most words when the timer goes off.
Best Costume Contest
Invite your guests to dress up in Halloween costumes! The person with the best costume wins the prize.
Supplies Needed: Paper and pens for all guests.
Prep Before The Party: Request your Halloween baby shower invitation so that guests wear costumes!
How To Play: Pass out paper and pens for guests. Each guest gets to vote on who has the best costume!
Looking for more ideas for baby shower themes? Check out our post on throwing the ultimate Harry Potter baby shower.