If you want to throw a baby shower that is sweeter than honey, you may want to use a bumble bee baby shower theme! This article will guide you through everything you need to know about hosting a bumble bee baby shower for a special Mommy-to-bee.
What is a Bumble Bee Baby Shower?
A bumble bee baby shower is a party with a bumble bee theme! This can include everything bee-related, including flowers, honey, beehives, and bumble bee decorations.
A bumble bee baby shower theme allows you to be creative and spoil the Mom-to-bee. A bumble bee baby shower is perfect for any time of the year!
What Do You Need for a Bee-Themed Baby Shower?
Planning a baby shower can be overwhelming. Keep reading to discover everything you need for a bee-themed baby shower.
Bee Baby Shower Invitations
Let your creativity run wild with bee baby shower invitations! Use words in your invite that relate to your theme, like "Mommy-To-Bee" and "Who Will Baby Bee?"
When deciding on an invitation, you can order invitations from Etsy or create your own! If you create your own invitations, there are many helpful templates to explore in Canva.
Pick a color theme for your invitations, and be sure to include the following information:
Sweet as Can Bee Cake
A sweet as-can-bee cake or cupcakes make the perfect bee-themed dessert! You can opt for a cake in a specific shape, such as a honeycomb. You can also go for a standard fondant cake or cupcakes but dress it up with a cake topper or cupcake toppers.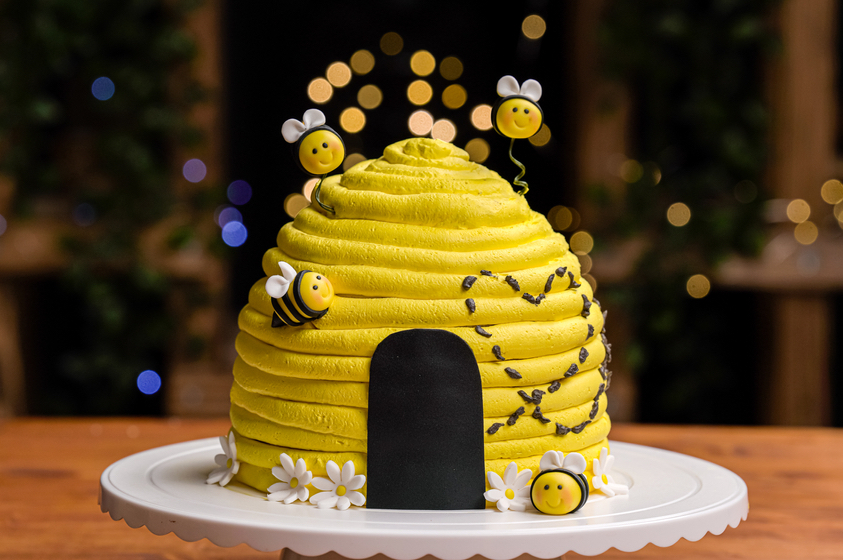 Bumble Bee Party Decorations/Bumblebee Baby Shower Decorations
Decorating for the Mama-to-bee is so fun with a bee theme! Here are some ideas for decorating for a bee-themed party.
Bumblebee balloon garland arch: Use bee balloons or bumblebee-colored balloons to create a garland arch. The garland will make for the perfect background for photos!
Sunflower bouquets: Display your bouquets of sunflowers on tables, near food, and around the party.
Bee-themed tablecloths: Find tablecloths with honey bees on them or use yellow and black tablecloths for a festive pop. You could also opt for more neutral-colored tablecloths and use table runners for a pop of color.
Black and yellow confetti: Add confetti to the tables for an extra dimension!
Party supplies: When gathering your napkins, tableware, and party favors, stick to the bumble bee theme!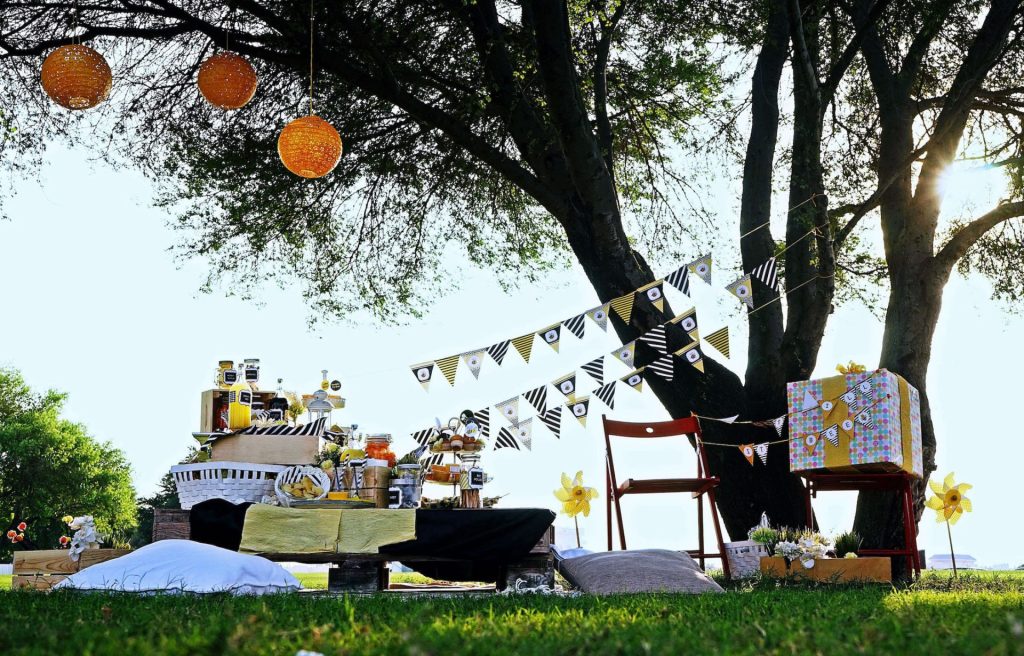 Beehive Centerpiece
Adding beehive centerpieces is a cute and festive way to continue decorating for your theme. You can create DIY beehive centerpieces or purchase one on Etsy or Amazon. You can make your beehive centerpieces realistic looking, or you can use tissue paper versions!
If you want to incorporate your bee theme in a different way, there are plenty of creative options!
Create your own honeycombs! Incorporate hexagonal patterns into your decor to create DIY honeycombs.
Rustic decor fits great with a bee theme. Use oak barrels, mason jars, and burlap to pull your centerpiece together.
Double down on dessert. A beehive cake, honeycomb cupcakes, or bumble bee cake pops can double as centerpiece, at least until your guests eat it!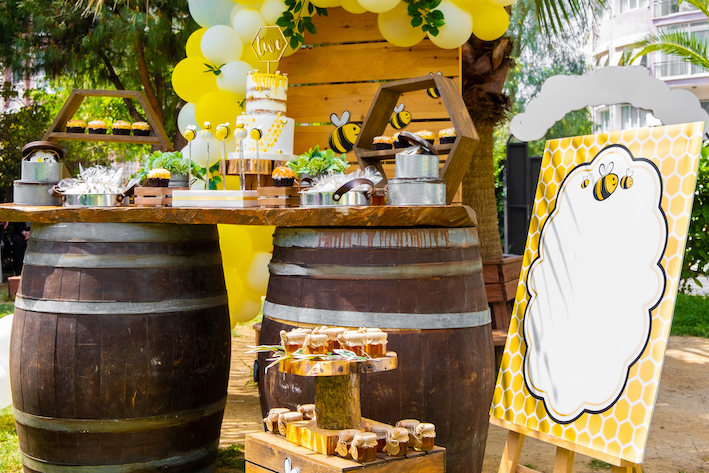 Bee Baby Shower Games
You can play any games at a bee baby shower! Here are a few crowd-favorite games that include the bumble bee shower theme.
Will It Bee Gender Game
If the parents-to-be do not know the gender of the baby, this can be a fun game! Pass out paper and pens to all guests. Have the guests record their guesses for the baby's gender. Save all of these guesses so the parents can reflect after the baby is born!
Who Knows Mommy-To-Bee The Best
Who knows the mommy-to-bee the best? Create a list of trivia questions with topics related to the mom before your bee party. When it's game time, ask these questions to your guests. Guests can record their answers on a piece of paper. The person who gets the highest number of correct answers is the winner.
Bee Party Favors
If you are stumped for ideas for party favors, here is a list to get you thinking:
Honey jars
Honeycomb-shaped soap
Packages of bee-friendly flower seeds
You should now be prepared to host a fantastic bumble bee baby shower! For more party ideas, check out our guide on baby shower prizes.