Are you looking for some creative ideas for your girl-themed baby shower? Check out this list of DIY ideas, from centerpieces to creative themes. This article covers baby shower game ideas, party decorations, and other ways to craft your perfect celebration.
What Are the Traditional Colors for a Baby Girl Shower?
For the mom-to-be, the most typical color for a baby girl shower is pink. But having a girl doesn't have to limit you to just pink! If you'd like something a bit more unique, there are plenty of other colors. Great girl baby shower colors include mint grey, lavender, white, and gold.
You could even go with green, blue, and purple if you have a specific theme. These colors would work great for an ocean or mermaid theme.
Consider Colors other Than Pink
The traditional pink theme is straightforward to decorate, but don't be afraid to change it up, even if it's a girl. One modern decorating idea is to use pastels for your color palette. Incorporate gold or silver accents into your baby shower decorations.
Consider incorporating silver or gold into your frosting colors for baby shower cupcakes. If you're making a balloon backdrop, purchasing pastel-colored balloons are an easy way to deviate from the traditional pink colors.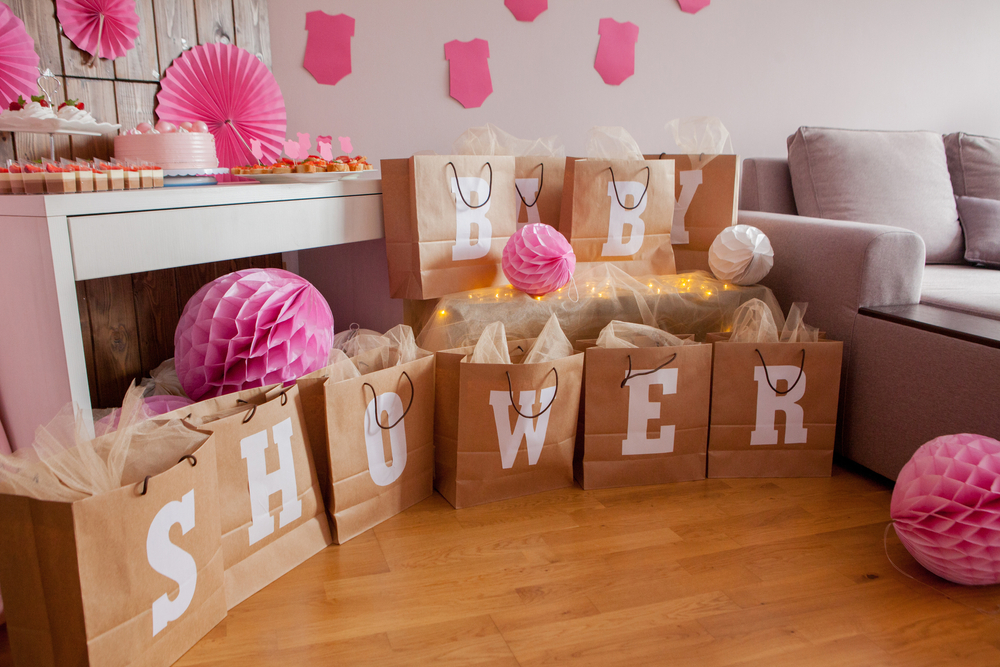 Girl Baby Shower Themes
Here is a list of creative themes to give you inspiration for the arrival of your new baby. These are just a few ideas. Once you choose your theme, you can start researching great ways to incorporate it into your party plans.
Children's Book Theme
Cinderella Shower
Mary Poppins Themed Baby shower
Velveteen Rabbit Theme
Safari Theme
Woodland Animals Theme
Twinkle Twinkle Little Star Theme
Raindrops and Unicorns Theme
Baby Girl Tea Party
Girl Baby Shower Invitations
Girl baby shower invitations are very easy to purchase. You can have them designed specifically for your party theme. Throw in some confetti or other sticker designs for a personal touch.
Invitations are also crucial if you're hosting a gender reveal party. Another option is to send your invitations virtually. Whether you make your own, send them virtually, or order them online, include relevant details such as registry requests and locations.
Girl Baby Shower Decorations
There are endless party supplies for this type of baby shower. You can mix and match the decor if you have a unique baby shower.
Incorporate Your Colors and Theme
Once you've chosen your colors and theme, you can get started on incorporating these ideas into your decorations. Choose from pastel napkin options, or pink, if you're going the more traditional route. Be sure to also include some different accent colors.
It would also be helpful to select some pink balloons for a
Create backdrop that will stand out. Have it center around your theme and color palette. Choose other colors as well that match your color scheme.
Tablecloths and dinnerware. Purchasing tablecloths, plates, and napkins that will match your theme is a simple way to help pull together your shower decor.
Centerpieces and table decor. Put your DIY skills to use to make centerpieces and table decorations that will highlight your theme. Check out these great ideas for how to arrange your table decor.
Don't forget your dessert table. Delicious desserts make for a great party, but they can also double as great ways to incorporate your theme!
Girl Baby Shower Balloon Ideas
Incorporating balloons into your decoration ideas is a great way to stay on budget and make the party more inviting. You can purchase a balloon arch for your guests to enjoy a photo booth. You'll be able to look back on the memories. You could even send the pictures included in your thank you cards after the event!
There are a lot of great how-to videos online if you want to teach yourself how to create your balloon arch or garlands. If you're the guest of honor, this may be something one of your friends can help you make to take the stress of doing all the party planning on your own.
You can choose from woodland animals, customizable signs, and other unique ideas. For ideas for how to create these, check out this article on creating a baby shower balloon display.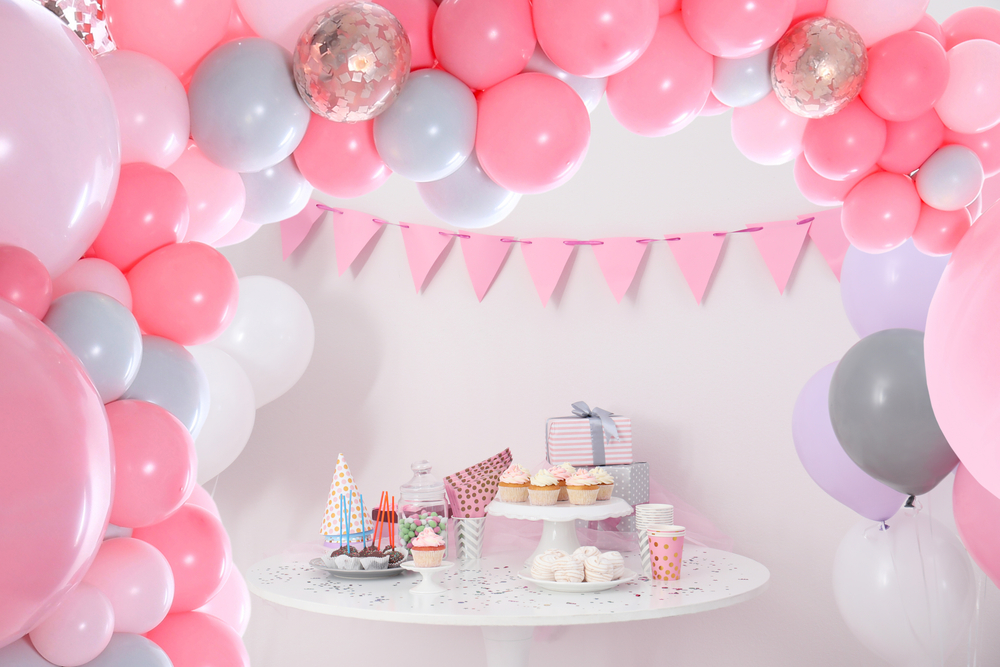 Girl Baby Shower Food and Drinks
No shower is complete without a great menu! Check out the ideas below for how to plan food, drink, and dessert your guests will love!
Planning Your Girl Baby Shower Menu
You can find a lot of great options for this type of event. Make a simple veggie tray and whole-grain crackers a healthy snack option. Other classic options include deviled eggs, meat and cheese trays, and finger foods.
If you're interested in offering more than just appetizers and light food, hosting a taco bar or brunch are great options as well.
Girl Baby Shower Drinks
Beverages are easy to create for a baby girl's baby shower. Make a simple pink punch that is tasty and satisfying for your guests. You can also include alcoholic drinks, such as mimosas, seltzers, or a few bottled beers. If you know someone who is into cocktails, have them create a custom drink for your guests, or find a recipe on your favorite website.
Girl Baby Shower Cakes & Desserts
You can go in many directions with a girl's baby shower cake. It can be as complicated or simple as you want it to be.
You can request to have it designed as a simple box cake, a multi-tier cake, or make your own. For example, if you decide on a Winnie the Pooh theme, decorate the cake with miniature creatures from the book to fit your theme. You could then coordinate the baby shower centerpieces to match your cake decorations.
For a more straightforward cake, you can make your pink frosting and feature pink roses decorated all around it. You can also talk with a cake decorator or look on Pinterest at cake styles you may want to choose.
Other esserts may include pink frosted strawberries, pink donuts, or cutely decorated cupcakes.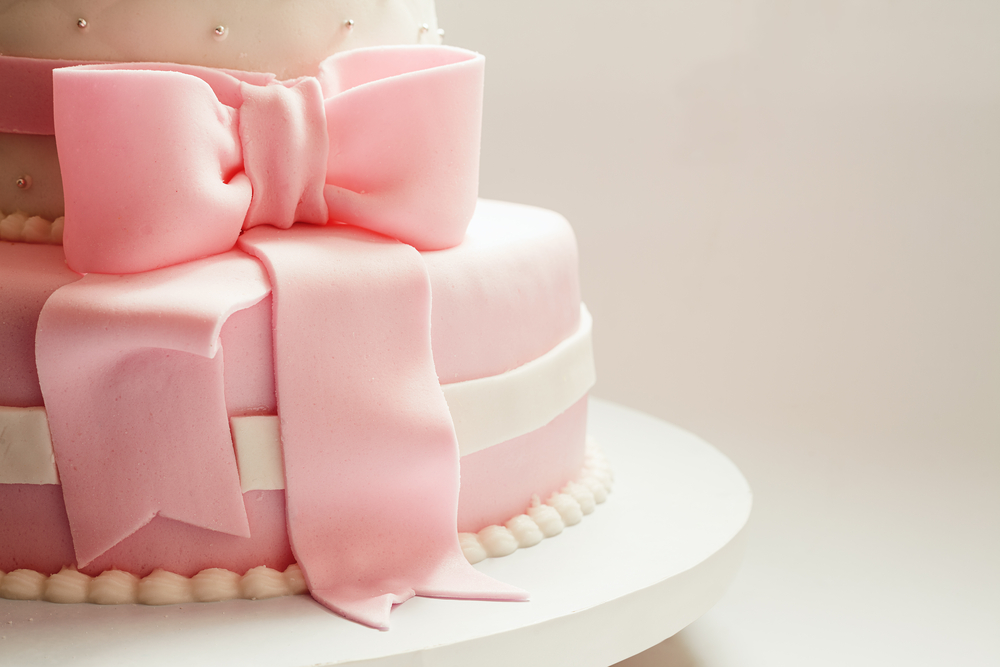 Girl Baby Shower Favors
Your guests will appreciate a kind gesture of a small gift to thank them for coming to the event. Mason jars are popular for decorating and filling with anything to match your party theme. Give each guest a mason jar filled with homemade jam or a candle you created.
Customize a rose gold tumbler with your guest's name on it so they can remember the special day. All these options could work for a baby boy by simply altering the colors. Generic gift cards to restaurants or coffee shops are easy if you need more time to customize gifts.
Girl Baby Shower Games
Game ideas don't have to be complicated. They will engage your guests if you include a few at your shower. Ideas may include games such as "Who Knows Mommy Best" or "My Water Broke!" These games are easy to set up and don't require much time. You can find instructions and supplies online for free.
Other ideas can include "Guess the Baby Food" or "What's Mommy Craving?"
How to Make Your Girl's Baby Shower Unique
Unique baby showers can stand out and create a memorable day.
You could host a movie for the guests to watch, include intricate food options, or let the guests create some unique art.
Hosting a co-ed shower is non-traditional and is another way to make it all-inclusive for friends and family. Have a taco bar option, host a brunch, or hire a band to make it a bash your guests will never forget.
Girl Baby Shower Ideas for Cheap
You can save a lot of money by creating free virtual shower invitations. You can also purchase inexpensive invitations that won't break the bank.
If you need to purchase a venue, hosting the shower either early in the morning or later at night will save on the expense since it's a less requested time of day. There are many cost-effective baby shower games you can purchase in packs. Many cost less than $20 and include a variety of games.
Hosting your event at a church, outdoors (such as a park,) or at a friend's house may be suitable for low-cost hosting. They may even let you use it for free.
Purchasing party supplies can be done through inexpensive options like the dollar store. Consulting friends or family in the area may be an excellent option to find stores that offer lower-priced food options and tableware. Focusing on several focal points in the space will keep the cost down.
Can You Have a Baby Shower and Gender Reveal?
Hosting a gender reveal party and a baby shower as a single party is an option that soon-to-be parents are choosing more frequently. Keeping the decor and colors gender-neutral is a safe way to incorporate both ideas.
There are many significant advantages to having a dual party. If your guest count is typically higher, you can save money by hosting one party and also save on time. The mother can also focus more on the birth if you host the event in the second trimester. Traditional baby showers are held about six weeks before delivery. Soon-to-be mothers often have less energy during this time, which can make an earlier time helpful.
We hope these ideas help get your creativity flowing so you can plan a memorable baby shower for your friends, family, and most importantly your new baby girl!