Diaper cakes are a great centerpiece or gift for baby showers! If you want to try your hand at making a small diaper cake but need a little guidance, we are here to help. Keep reading to learn how to make a diaper cake.
What do I need to Make a Small Diaper Cake?
To make a small diaper, you need the following supplies:
Diapers (about 25 are required for a small diaper cake)
A base (a small pan or pizza pan often works well)
Medium rubber bands
Large rubber bands
An empty paper towel tube, a bottle of lotion, or a wooden dowel
A hot glue gun
Supplies for decorating (ribbon, tulle, stuffed animals, etc.)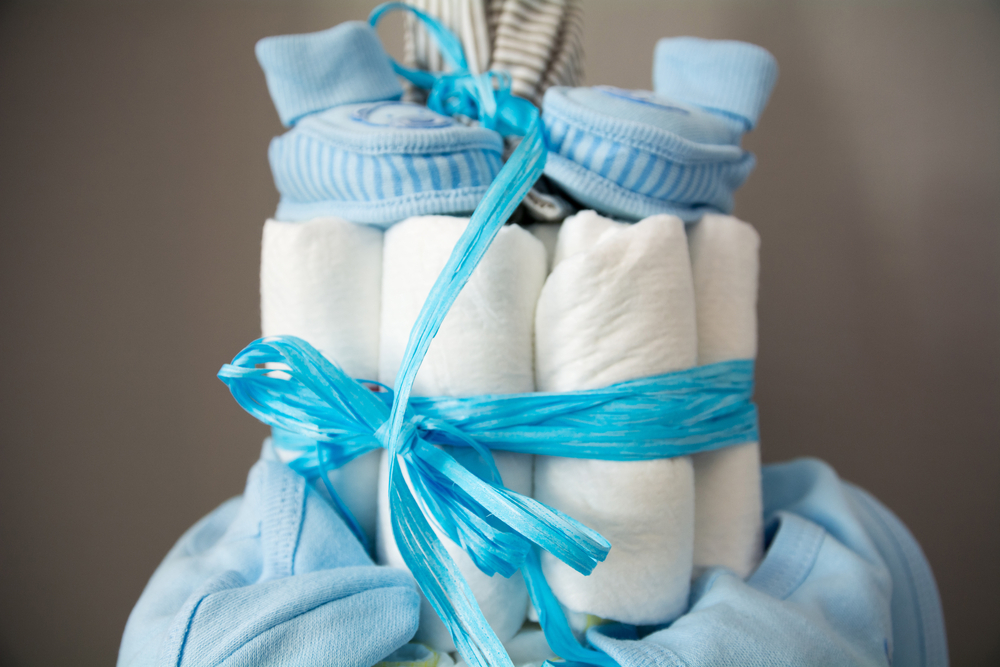 What Can I Use for the Base of a Diaper Cake?
What should you use for the base of the cake? For the base of the DIY diaper cake, here are some ideas:
Dollar Store Metal Platters (or Something Similar)
Find a metal platter or something similar at the Dollar Store. You could even use a cake stand.
Dollar Store Pizza Pan Or Another Circular Pan
You could also use a pizza pan or circular pan for the base of the diaper cake.
Creating Your Diaper Cake
Here is your step-by-step tutorial for creating a mini diaper cake.
Step 1: Gather the Diapers
Start by purchasing and gathering the diapers. You can use Pampers, Huggies, or any brand that you prefer.
Step 2: Roll the Diapers and Assemble with Rubber Bands
Open the package of diapers. Now, roll each diaper. Secure each diaper with a rubber band. Continue rolling the diapers like logs until you have about 25 diapers rolled.
You may need fewer diapers (or even a few more) depending on how big of a base you use and how big you want your small diaper cake to be.
Step 3: Place Your Paper Towel Tube or Lotion in the Center of the Base
Now, place your paper towel tube or lotion in the center of your base.
Step 4: Form A Diaper Ring
Form a ring around the paper towel tube or lotion with diapers. Once you form a complete ring of rolled diapers, add a large rubber band around all of the diapers to secure them in place.
Step 5: Repeat
Repeat this process and add another ring of diapers around the initial diaper ring you created. These rings of diapers will form a solid base for your mini-tiered cake.
Step 6: Create A Second Layer
Now create a second layer above the base. This time though, you will only make one ring of diapers.
For a small diaper cake, you only need to create two tiers. If you want to make a larger diaper cake, you could continue to create layers.
Step 7: Decorate Your Cake
Now that you have formed the cake, it's time to decorate! You can decorate with ribbon, bows, tulle, or anything you like. You can also weave in items like bibs, burb cloths, receiving blankets, baby socks, pacifiers, washcloths, etc.
Use hot glue as needed to add decorations.
How to Make a Small Diaper Cake with a Baby Girl Theme
To make a diaper cake with a girl theme, make the diaper cake per the instructions above. Then you can use pink ribbon, pink tulle, pastel bows, and other similar colors when decorating the diaper cake.
You could create a specific theme for a baby girl, such as a princess diaper cake with a tutu or pink stuffed animals.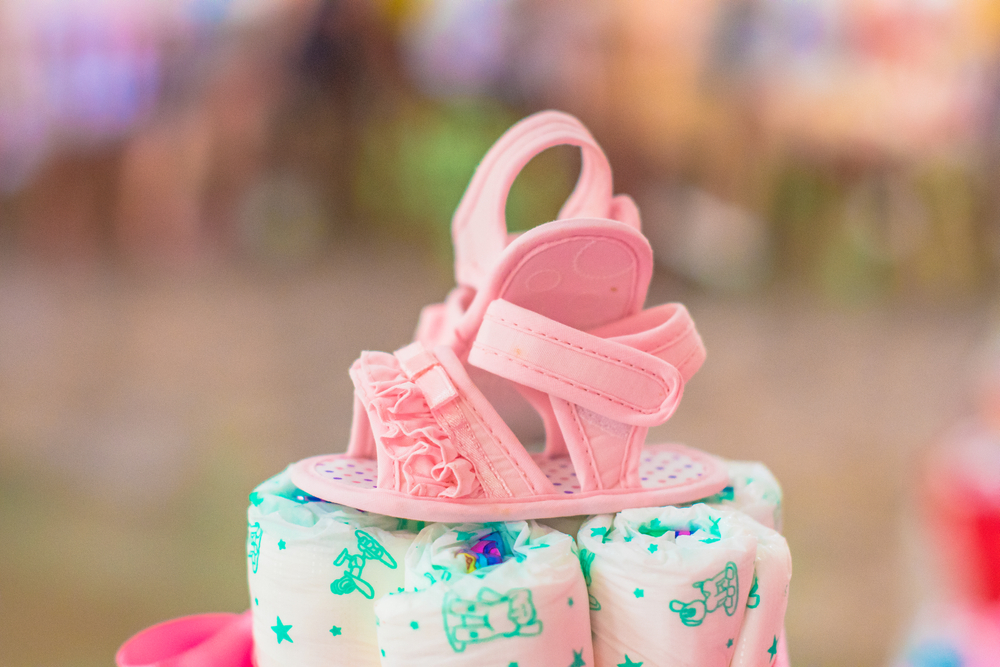 What Are Some Ideas for a Diaper Cake Centerpiece?
Diaper cakes make the perfect baby shower centerpieces! You can make a diaper cake to follow the theme of the shower! For example, if the baby shower theme is "Little Cutie," you could create a diaper cake with orange ribbon, orange tulle, bibs with oranges, etc.
Mini diaper cakes work well for centerpieces, so they are not too tall on tables.
How Do You Make Small Diaper Centerpieces?
You can make small diaper centerpieces by creating a mini diaper cake! Roll diapers to create a base, secure it with rubber bands, and add a top tier.
You could make a small diaper centerpiece using just one bottom tier and then top it with beautiful decorations and cake toppers!
Conclusion
We hope this small diaper cake tutorial was helpful! You now know how to create a beautiful baby shower gift and decorations using diapers. For more tips, check out our guide to decorating for a baby shower with balloons.