Have you fallen in love with the mini diaper cake idea and need help figuring out where to start? This article will answer common questions and share step-by-step instructions and video tutorials on making a cute small diaper cake that will leave the mom-to-be and all guests in awe.
What is a Diaper Cake?
A diaper cake is made from diapers or nappies structured to look like a cake. It is perfect for any baby girl, baby boy, gender-neutral, or gender-reveal baby shower party. You can use them as a DIY baby shower gift for the parents-to-be, a baby shower decoration, a gorgeous diaper cake centerpiece on table tops, or all the above!
The number of baby shower themes you can use to make a diaper cake is practically limitless. You can accessorize the cake with paper cutouts, flowers, stuffed animals, ribbons, and tulle. "It's a girl" or "It's a boy" cake toppers are also a great addition to a diaper cake. So let your imagination run wild.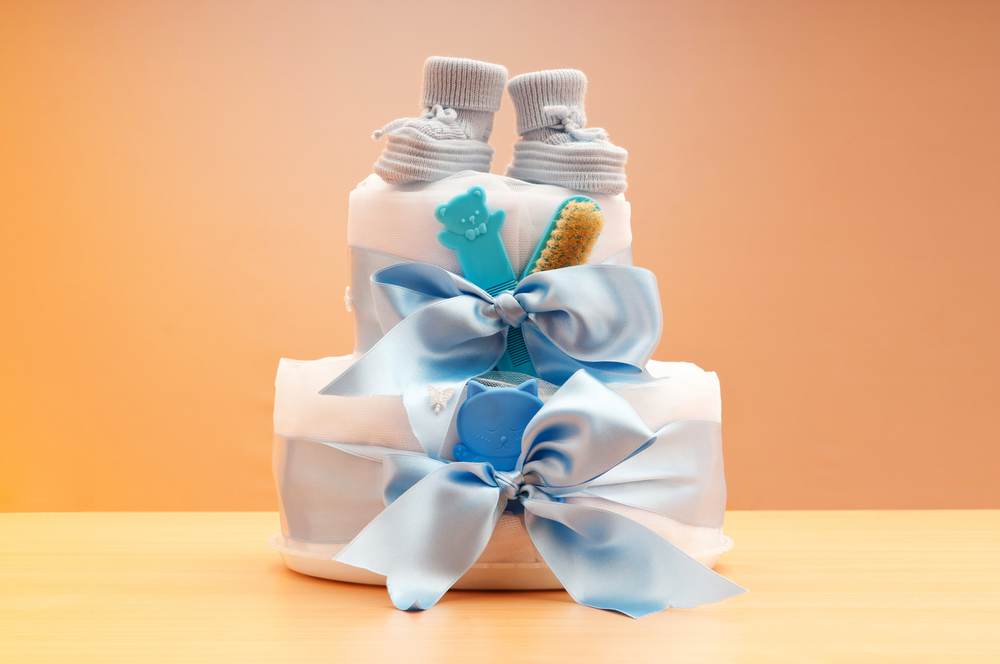 What Do I Need to Make Mini Diaper Cakes?
Of course, it wouldn't be a diaper cake without diapers, so you need to head down to the shop for diapers. The diaper size used for a DIY diaper cake may vary between newborn diapers and size 4. You will also need rubber bands to hold the diapers, in place, during assembly. 
Make sure you have all of the essential items before trying to . I'll also give you a few ideas on what decorations you can use for common baby themes. 
What Are the Best Materials for a Mini Diaper Cake?
Below is a list of materials you will need to make a mini diaper cake.
Diapers: I recommend using Size 2 or 3 diapers, but if you have Size 1 or 4, use them. If you have a particular theme, such as dinosaurs, you can look for a brand of diapers with dinosaurs printed on them. Plain diapers also work well. You can use cloth or disposable diapers.
Cake base: The base should have a flat bottom and be sturdy for stability. You may use cardboard, a cake stand, a round gift box, or a gift basket. If you use a gift box, you can place toys and other baby supplies in it.
Rubber bands: You need one for each diaper and extra ones to secure the diapers together per layer.
Paper towel or tissue roll: Place either at the center of the mini diaper cake base for stability. Use the tissue roll for a single-layer cake and the paper towel roll for a tiered diaper cake. You can also use wooden dowels if you do not have any cardboard rolls.
Hot glue gun and glue stick: Use these to glue items together. 
Washcloth and bibs: Use these at the center of the rolled diapers in place of the paper towel roll when making single-layer diaper cakes. It is another way to sneak in baby shower gifts in the diaper cake. 
Ribbons: Act as decoration and hide the rubber bands holding the diapers together. The ribbon color should match your baby shower color palette. You can use one or more ribbons and combine different textures, such as burlap, lace, and a satin ribbon.
Decorations: Use decorations that compliment your theme. For example, for a woodland theme, you can add a woodland-themed bib as a cake topper, woodland animal card cutouts glued to the ribbon, DIY hedgehog pom-poms, or mini stuffed deer toys. 
For other themes, you can also incorporate glitter, flowers, washcloths, balloons, tulle, Santa hats, baby booties, or honey pots.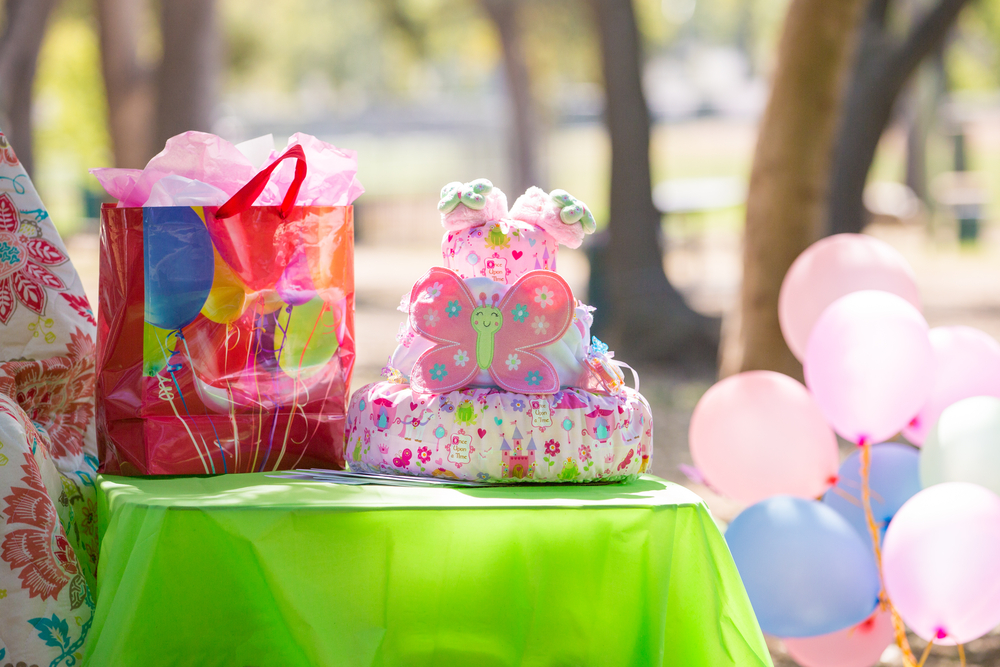 How Many Diapers Do I Need for a Mini Diaper Cake?
For a one-layer mini diaper cake, you may need 7 to 12 diapers, depending on how big you want the cake—a two-tier cake uses, on average, 25 diapers. The number of diapers used also depends on the diaper size; you would need fewer size three diapers to make the same mini diaper cake with size one diapers, so adjust accordingly. 
How Do I Assemble a Diaper Cake?
Once you have bought the materials needed, look for a clean and spacious work surface.
Below are step-by-step tutorials to make one mini tulle cake that's excellent for a girl diaper cake and a two-tier cake that's perfect for any baby shower event.
Tulle Small Diaper Cake
This 'recipe' uses seven size one diapers. You can make many pieces and stack them on top of each other and side by side on the cake base.
Roll the seven diapers and hold each into place with a rubber band.
Glue a cardboard tissue paper roll to the center of the cardboard base.
Anchor the rolled diapers to the paper roll and finally secure them with a large rubber band.
Add a colorful ribbon to hide the rubber bands and glue the ribbon ends.
Place flowers, a pacifier, booties, folded baby socks or caps, or any other decoration at the top.
Wrap each cake with tulle, tying it with a bowtie made using a washcloth.
Two-Tier Mini Diaper Cake
The two-tier 'recipe' uses 24 Size 2 diapers-16 for the bottom layer and 8 for the top layer. Use it to make as many diaper cakes as you wish.
Roll each diaper, starting from the open ends to the thickest part of the diaper. Secure each with a rubber band.
Roll two bibs and two washcloths and set aside. They should have the same height as the rolled diapers.
Arrange the rolled diapers on the cake base, forming a circle, and secure the entire layer of diapers with an elastic band.
Add one washcloth and one bib at the mini diaper cake center.
Insert four wooden dowels in the diaper holes around the cake center to support the second layer.
Slide diapers over the four dowels and add the remaining diapers to form a circle.
Secure the diapers with a rubber band.
Add the remaining bib and washcloth at the center of the top tier.
Trim the wooden sticks if you can see them above the top layer.
Wrap your selected ribbon(s) around the layers, ensuring the rubber bands remain hidden. Secure the ribbon ends with the hot glue gun.
Place crinkle paper on each level and lay other decorations on top. For example, you can place safari animal cupcake toppers on the bottom tier with crinkle paper for a jungle safari theme.
Stuff pieces of tulle into the diaper holes on the top and bottom layers. You can also use the tulle to make a tutu diaper cake for a baby girl shower.
Add a cake topper or a medium-sized teddy bear holding a baby bottle on the top layer.
If you use a gift box or an old candy tin for the cake base, add other baby gifts like feeding bottles, baby wipes, additional bibs, cotton wool, baby powder, or whatever else you wish to gift mama and baby.
What is the Difference Between a Diaper Cake and a Nappy Cake?
A diaper cake and a nappy cake are the same; different regions commonly refer to them in different ways. North Americans use the word diaper more, while people from the UK and Commonwealth countries like Australia and New Zealand use the word nappy.
How Do I Make a Small Nappy Cake?
A nappy cake is made the same way as a diaper cake. Follow the instructions above to make a tremendous nappy cake!