Planning a baby shower is exciting as you look forward to throwing a memorable party to celebrate the parent(s)-to-be. At the same time, the whole process can also be daunting and expensive.
If you're wondering how much a baby shower should cost, hang around, as we've got you covered. We'll explore everything you need to know about baby shower costs, how to save money, and still throw an unforgettable pre-baby party.
What Is a Good Budget for a Baby Shower?
Typically, a reasonable budget for a baby shower is roughly $400. However, the total baby shower budget can range from $100 to $1000. This will depend on several factors, including where you'll host the baby shower and how many people will attend.
Let's have a look at the factors that will determine your baby shower budget:
Venue and Location
The baby shower venue or location will significantly determine how much you'll spend on the celebration. Generally, the venue takes up 5-10% of the total budget. But this is if you're booking a public facility as your party's venue.
For instance, you'll pay $300 to have your baby shower party at a hotel or restaurant. But it will be much cheaper at a community center or local park where you could pay $50.
If you're on a tight budget, it would be best to host the party at your house or the new parents' home, as that will be free of charge. Still, you can have the baby shower at a church or a friend's garden.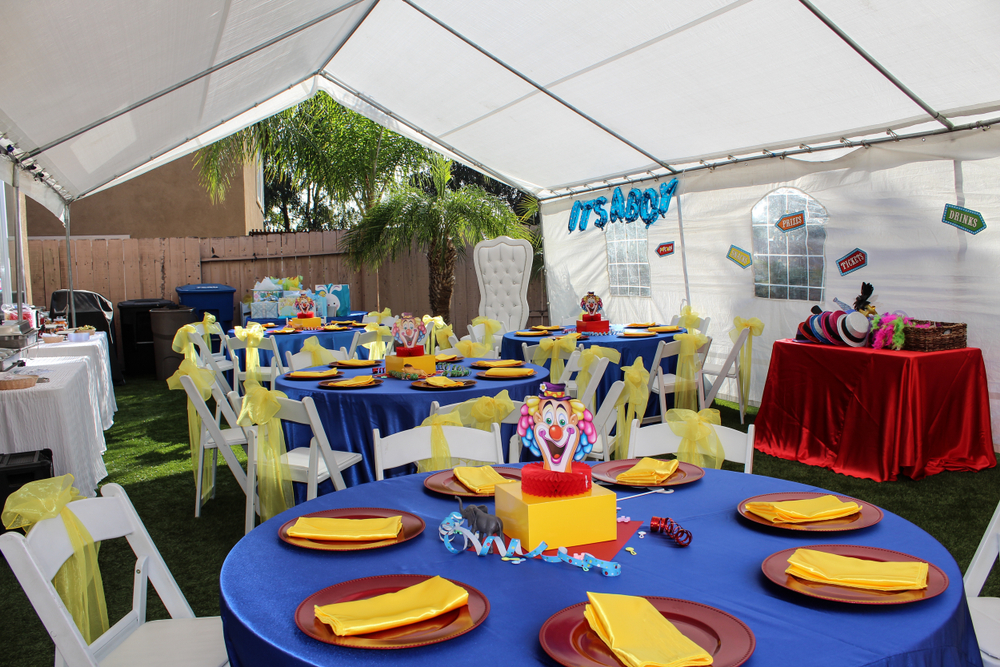 Food and Drink Menu
Every party is complete with food and drink. However, your menu can quickly increase the baby shower costs.
Typically, food and drinks make up 40-50% of the baby shower budget. You can spend about $5-20 per guest. However, it all boils down to what you include in your menu. Do you wish to have fancy full meals, finger foods, or snacks?
The number of guests will also influence your food and drink budget. So, the longer the guest list, the higher the cost.
Lastly, consider the time and day. For instance, your budget might be lower if you host the party away from lunch or dinner since you won't be obliged to serve a full meal. In this case, a brunch or evening tea baby shower would be ideal.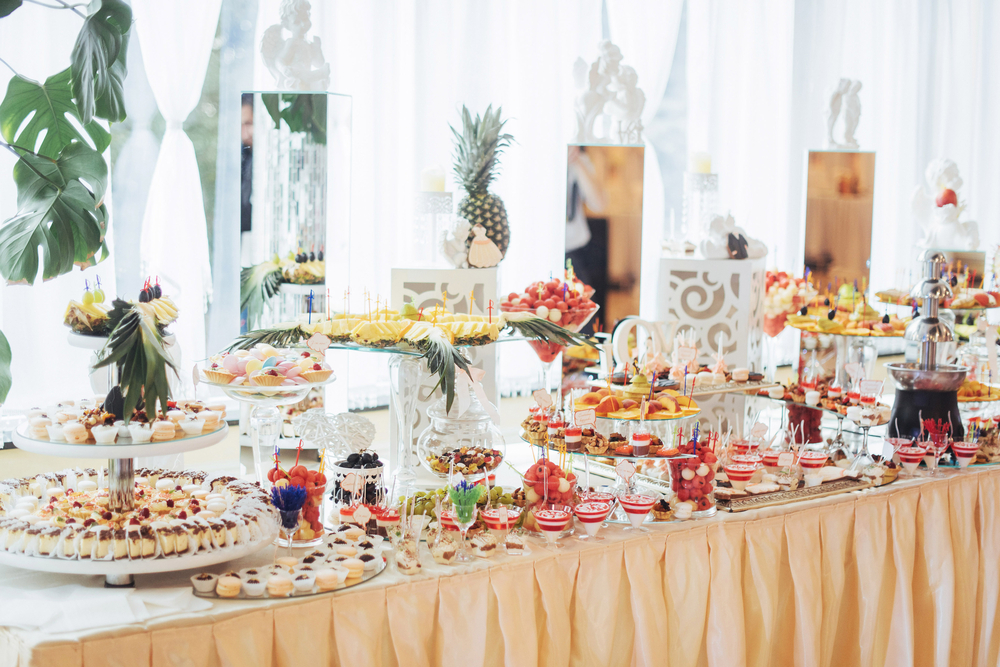 Baby Shower Invitations
Inviting guests to the baby shower will also cost you some money. You can expect to spend around $2 per person. In addition, it can cost you 50 cents – $1 for pre-printed invitations or $1-3 for custom-printed invites.
However, you'll have a lower budget for digital invitations.
Number of Guests
Baby shower guests are one of the essential aspects since you can't have a party without people. The number of guests will determine how much you'll spend for the baby shower.
As we mentioned, you'll need to send invitations and serve refreshments at your party. Hence, the length of the guest list can make your baby shower a low-key celebration or an elaborate party.
Baby Shower Decorations
The decor is a modern-day baby shower staple. Baby shower decorations can make up 10% of the budget. But be careful; the decor can quickly blow the budget, especially if you follow a baby shower theme.
Typically, you'll spend $1-10 per decoration item. And you'll find themed baby shower decorations on Amazon or Etsy.
However, you can choose the DIY route and craft your own decorations. However, you may still need to buy some supplies, which you can get from dollar stores.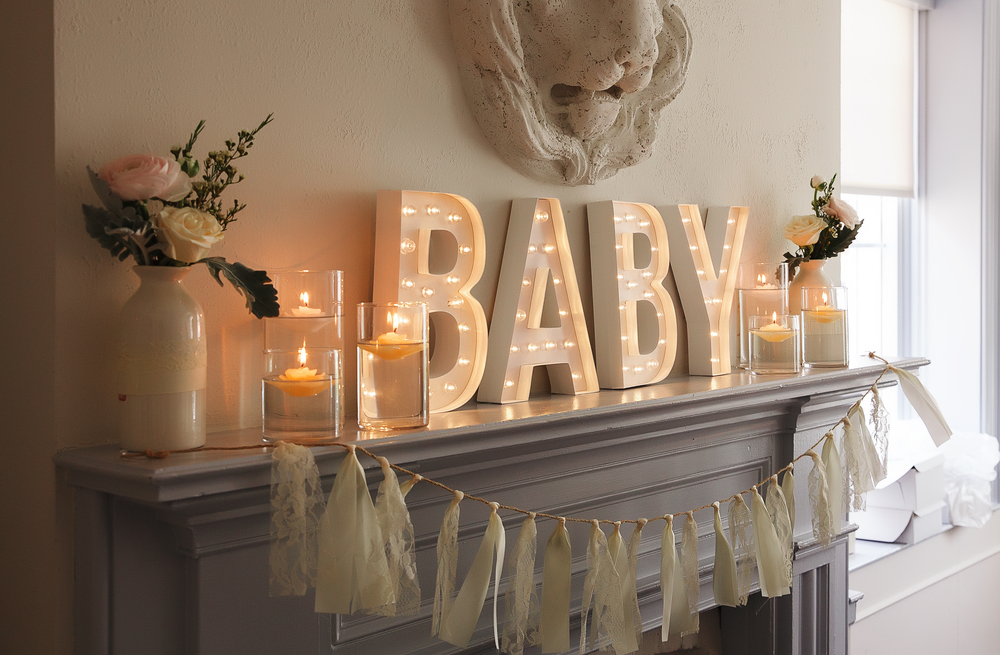 Game Prizes and Party Favors
Entertainment makes baby shower parties fun and memorable. So, consider including several baby shower games depending on the party's duration.
It's baby shower etiquette to award the game winners, which might cost you around $25-50.
Moreover, you can have party favors to appreciate the guests after the celebration. Purchasing these favors will cost you some bucks. However, you can still craft DIY party favors if you're budget conscious.
Extras
What extra costs are you likely to incur during a baby shower?
You can go all out and treat the parents-to-be to a professional photoshoot. Generally, a photographer will charge between $100 and $400 per session.
Other extra costs may include parking and service fees if you're hosting the party in a hotel or restaurant.
Who Should Pay for a Baby Shower?
Anyone, including a best friend, best friends, close relatives, or in-laws, can pay for the baby shower.
Traditionally, friends or close relatives planned and financed baby showers. However, trends have changed; some parents-to-be plan and pay for their baby showers; however, this is rare and against baby shower etiquette.
How Much Should the Host of a Baby Shower Spend?
The host can spend the amount arrived at when planning the baby shower budget. Hence, if the budget is $200, the host may agree to finance the whole party.
However, a budget-conscious host might be open to the idea of having co-hosts. Hence, she'll invite other friends or relatives to help finance the baby shower.
What Are Ways to Save Money on a Baby Shower?
A baby shower can cost you a fortune. But you don't have to splurge or go broke hosting a baby shower.
So, we've listed some practical ideas to help you cut costs when planning a baby shower:
Host the Baby Shower at Home
Undoubtedly, hosting a baby shower at home will be cheaper than a paid-for facility. In addition, you'll have the privilege of cooking the meals and getting help from family members at home, further saving on service costs.
You don't have to worry about extra costs if you extend the booked hours. And you can enjoy an outdoor party at no charge if the home also has a garden.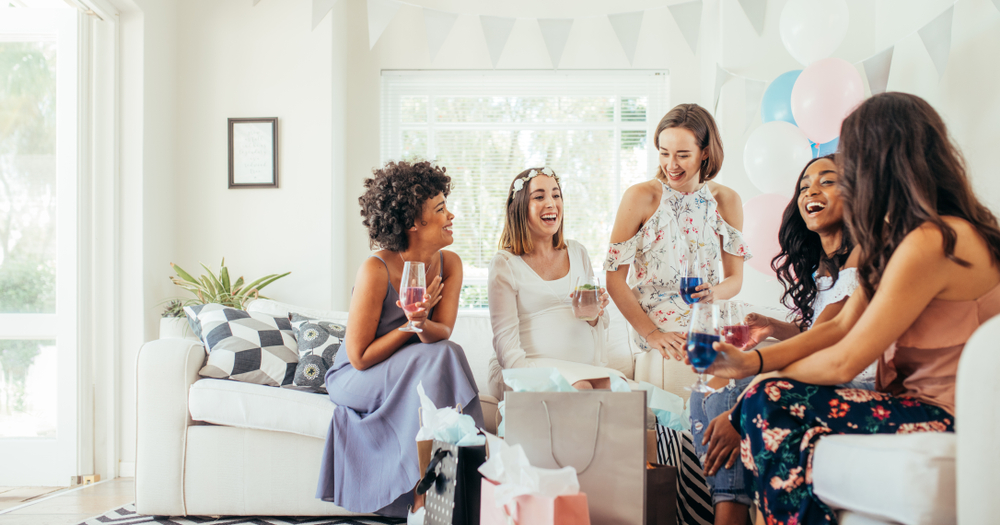 Have DIY Decor
If not carefully planned, baby shower decorations can eat up a considerable portion of the total costs of hosting the party. How about incorporating some creativity to craft simple but pretty DIY decorations? You can also limit the decorations or buy only the necessary supplies, including balloons and ribbons.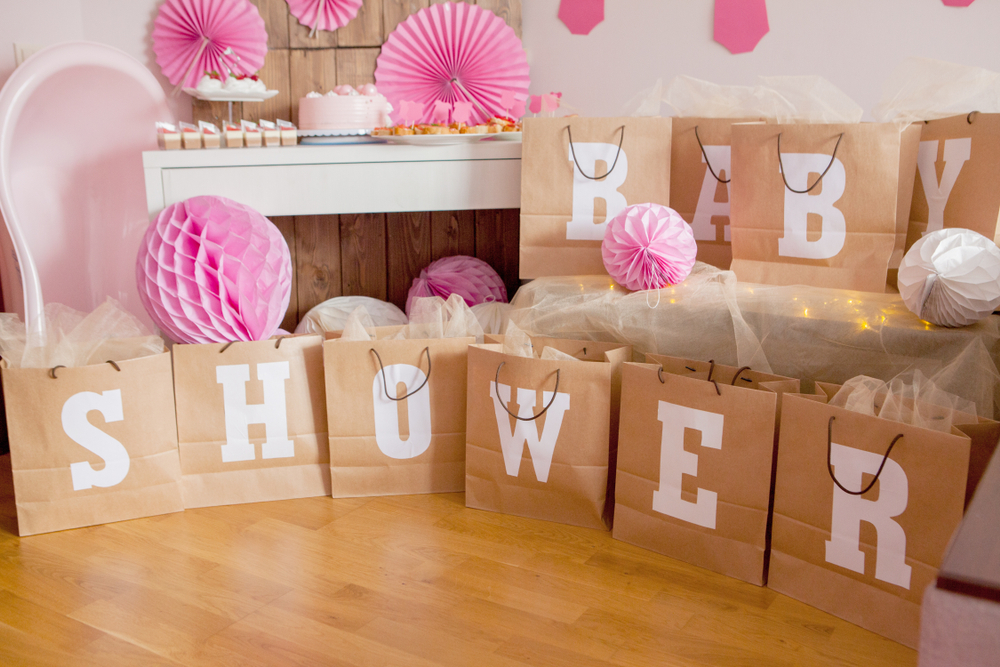 Limit the Guest List
A lengthy guest list means more refreshments, a larger space, and higher costs. Consider limiting the number of guests to your baby shower if you don't want to blow the budget.
One way to do that is by setting an rsvp date. So, those who'll be late to confirm their attendance don't make it to the final guest list. Moreover, only invite very close friends and family members to the event.
Stick to a Simple Menu
When planning a low-key baby shower, don't need to break the bank on an exquisite banquet. So, stick to a simple menu that includes homemade snacks and finger foods such as sandwiches and cupcakes.
It's also a fantastic idea to have a potluck party. Here, you'll request each guest in advance to bring a meal to the baby shower.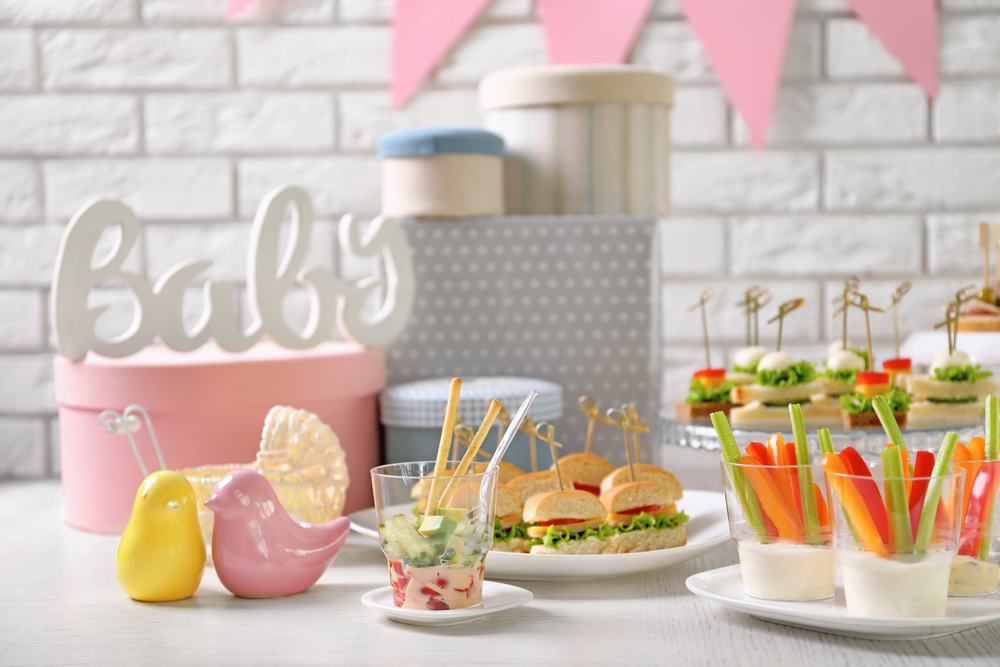 Skip the Party Favors
Party favors are optional in a baby shower. So, you can skip them if you're on a tight budget. Instead, find templates online and craft thank-you notes for each guest after the celebration.
You can also let the guests walk home with any remaining treats after the party.
Host a Virtual Baby Shower
A virtual baby shower is way cheaper than a traditional one. You don't have to offer food and drinks or reserve a venue for the party.
Your only expense might include purchasing or subscribing to a virtual meeting package. Or you could send some party favors to your guests via mail.
However, you can also host free virtual meetings on platforms such as Google Meet.
If you need more cost saving ideas for your baby shower, check out these ideas for hosting a baby shower on a budget.
How Many Guests is Normal for a Baby Shower?
A typical baby shower will have 15-40 guests. But there's no fixed rule on the number of guests to attend a baby shower, as it all depends on the host's or mom-to-be's preferences.
Most hosts prefer having around 25 guests in a baby shower. You can have fewer guests if you want a more intimate baby shower. These could include close friends and a few family members.
Alternatively, a baby shower host can choose to go all out and invite more than 40 people, especially if it's an elaborate baby shower. These could include a larger circle of friends, relatives, and work colleagues.
How Much Should I Spend on a Baby Shower Gift?
Like a baby shower budget, there's no hard or fast rule on how much you should spend on baby shower guests. But typically, guests pay $50 to $150 for baby shower gifts.
The amount of money you choose to spend will depend on the following:
Your budget
Your relationship with the expecting parents
The gift type
Your preferences
You don't have to spend a dime when you're not in a favorable financial position. Instead, you can give a handmade gift, especially if you've got a unique skill such as crocheting, drawing, baking, or crafting.
Also, you can buy inexpensive but good-quality baby shower gifts, including diapers, wipes, pacifiers, baby toothbrushes, socks, and booties.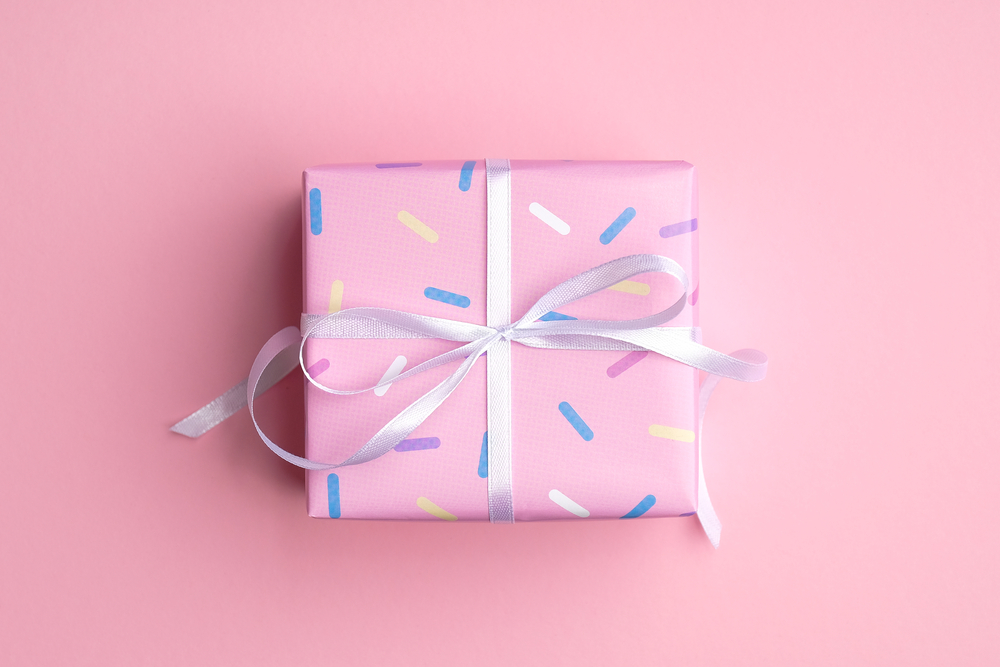 On the other hand, if your budget allows, you can purchase luxury items like a baby stroller, a crib, a highchair, an infant car seat, or a rocking chair.
You might spend more on a baby shower gift if the parents-to-be are close friends or relatives. For instance, you wouldn't mind paying $100-200 since the new baby will be so dear to you.
However, you might only spend up to $100 if the expecting parents are distant relatives or only $50 if they're colleagues or acquaintances.