Baby showers are a great way to shower the mom-to-be with love! But they can also be pricy. If you are planning a baby shower, you may be looking for tips to save money. This article will share tips for hosting a beautiful baby shower on a budget. Keep reading to learn more!
How Much Should I Spend on a Baby Shower?
The average baby shower costs anywhere from $100-$1,000. There is no set cost that you should spend. Determine what you can afford and set a budget for the baby shower. You can throw the perfect baby shower for the parents-to-be without spending much money!
How Do I Make a Baby Shower Budget?
When determining your budget for the baby shower, here are the typical areas where money is spent:
Food and drink
Invitations
Decorations
Games and prizes
Party favors/baby shower favors
Now that where money is spent, you can determine your budget. You could eliminate some of these items. For example, you could cut party favors and decorations to save money.
You should also keep the size of the guest list in mind when determining your budget. The cost can quickly add up if you are hosting a large baby shower.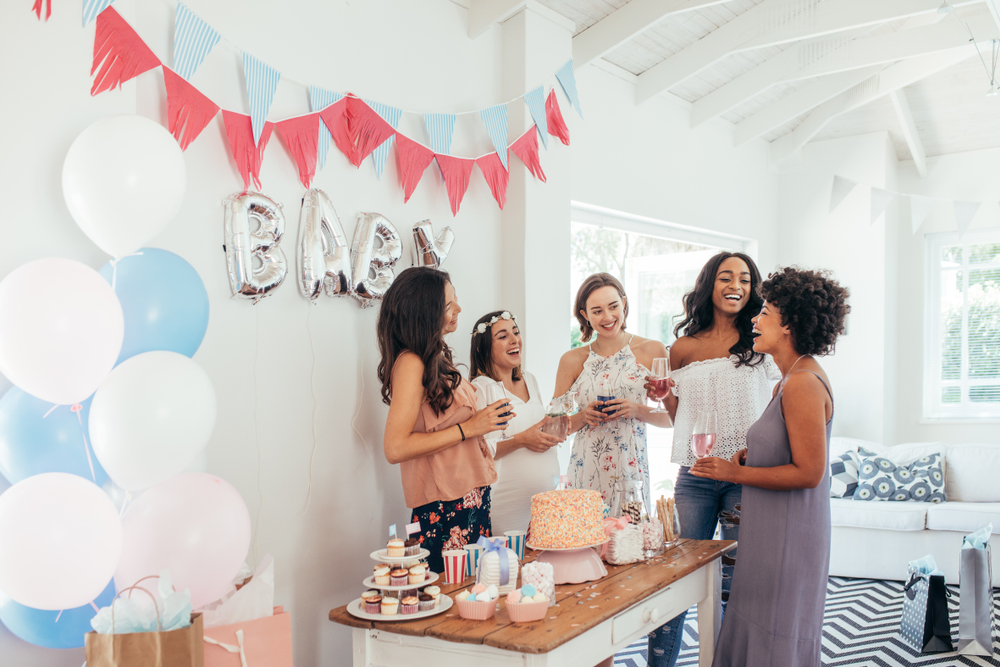 What Are Some Ways to Cut Down on Costs for a Baby Shower?
A baby shower for new parents doesn't have to cost a lot of money. You can still throw the best baby shower on a budget. Here are our top tips for cutting costs for a baby shower.
1. Use A Free Venue
One great way to host an inexpensive baby shower is to use a free venue. Here are some options for free venues.
Someone's home. If you cannot host the baby shower at your home, see if someone close to the mom-to-be would be open to allowing you to use their home. If you live in an apartment, you may also be able to use a community room for free!
A local park. Parks are typically complimentary for events. You may need to request to use the park shelter, but there are typically no fees associated with using a park. You will need to check your specific local park to confirm this.
Virtual baby shower. There's no need for a physical venue if you have a virtual baby shower!
Church. If you or the mom-to-be belong to a church, you may be able to reserve a banquet hall or room at your church for free.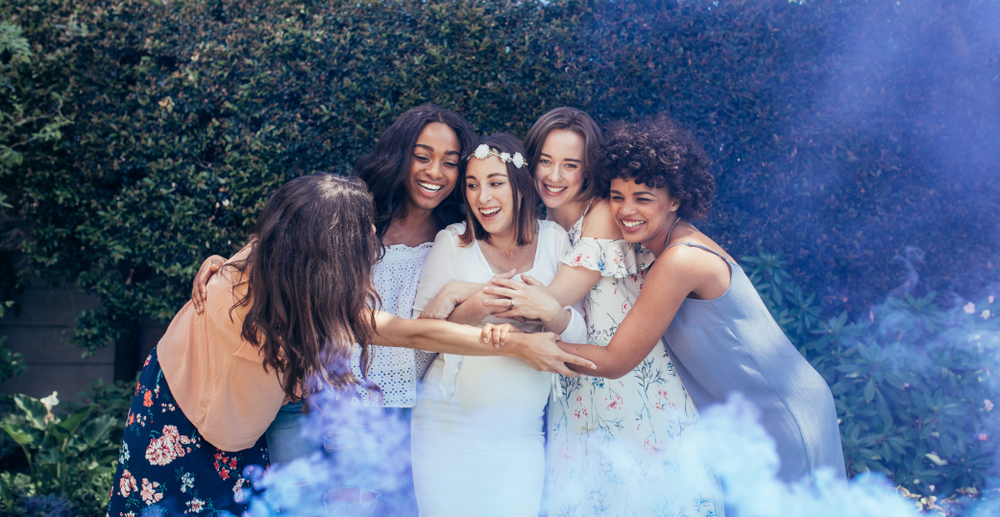 2. Skip Alcohol
Don't serve any alcohol at the baby shower. This is an easy option to save money right away! The new mom can't consume alcohol anyway, so skip the booze for the crowd.
3. Send Free Digital Baby Shower Invitations
Send free evites online instead of traditional paper invitations. You can find many options and templates to create your invitations for free online. You can then send out these digital invites via email or text.
Sending out free digital invitations will save money on printing cards, envelopes, and postage. These may seem like small costs, but they begin to add up, especially if you have a larger guest list.
4. Use Inexpensive Prizes
Use inexpensive prizes for baby shower games! You can find budget-friendly prizes at a Dollar Store! You could put together a manicure kit in a mason jar with nail polish, nail polish remover, and a nail file. This is a great prize, and you can find all items at the Dollar Store!
In addition, if you're looking for great ideas for inexpensive baby shower favors, check out these low-cost Dollar Tree baby shower favors.
5. Host A "Drop-In" Baby Shower
Instead of hosting a traditional baby shower, consider hosting a baby shower where guests drop in. You could still serve light appetizers or snacks, but requesting that guests drop in during a certain time frame would prevent playing games, handing out prizes, and preparing a lot of food.
Guests can still bring a gift or card if they choose and can still shower the mom-to-be with love! This is also an excellent option for a mom-to-be who is not a fan of a lot of attention on her.
6. Avoid Meal Times
Hold the shower in the early afternoon! This will prevent you from having to serve a full meal. You can serve light appetizers and desserts and keep it simple. You could also opt to serve just dessert and coffee!
7. Skip Decorations
Baby shower decorations can look very nice, but they aren't necessary. You can skip the decorations altogether or find decorations that won't break the bank at the Dollar Store! The Dollar Store has tablecloths and other options for simple DIY decorations and centerpieces.
Suppose any guests are bringing a diaper cake for a baby shower gift. In that case, you could put that on display as a decoration for the baby shower party!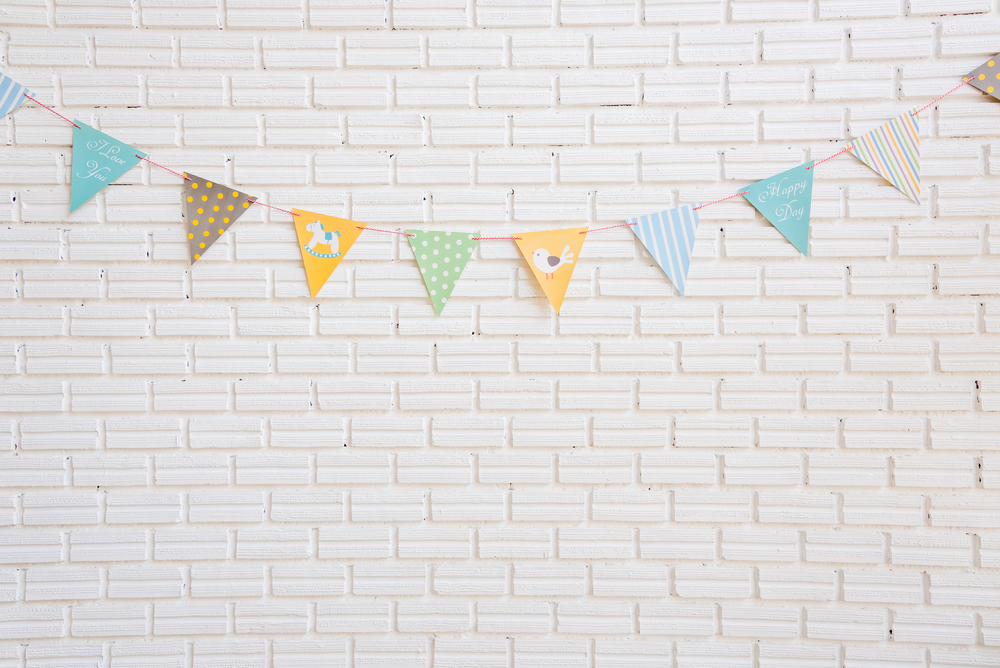 8. Host The Baby Shower With Someone Else
Another way to have a budget baby shower is to share the cost with a family member or group. Host the shower with someone else and split the cost with them! You can still stick to a small budget, but this will help take the pressure off you individually.
What Are Some Cheap Baby Shower Games?
There are a lot of baby shower games that you can plan for your guests that are very inexpensive! Additionally, many baby shower games have free printables!
Baby Bingo
Baby bingo is a super inexpensive baby shower game! You can find a free baby bingo printable online. Print out the bingo cards and pass out pens. This is an excellent game for guests to play while the mom-to-be is opening presents; the only cost is printing out the bingo cards.
Baby Shower Word Search
Another budget baby shower game is a baby shower word search! There are a lot of free printables to use online. Again, the cost of this word search is just printing out the word search!
Remember, you don't have to break the bank to have a great baby shower! Spending time celebrating with family and friends is free, and that is what makes a baby shower special.