What Is a Drive By Baby Shower?
A drive by baby shower is a baby shower where guests form a car parade instead of gathering together for a party. Drive by baby showers became popular during the COVID-19 pandemic in order to celebrate a new baby without gathering together and risking the spread of illness.
For a variety of reasons, expecting parents may wish to still avoid crowds and choose a drive by shower instead of a traditional party.
What Do You Do for a Drive By Baby Shower?
A drive by baby shoer can incorporate many of the same things as a normal baby shower. You can offer guests food and drink in a socially distant manner. Guests can also still bring gifts and cards to celebrate the mom-to-be.
However, instead of congregating together for a party, guests create a parade and drive by the home of the expecting parents.
5 Tips for Throwing a Drive By Babyshower
Are you looking for the best Drive-by Baby Shower Ideas? Look no further!
An inventive way to host a Baby Shower during the Pandemic is by having a Drive-By Baby Shower. Not only will this kind of shower keep the mom-to-be and guests safe, but it can still be a fun celebration with a bit of creative planning.
1. Customize Your Car Parade
An essential component of a Drive-by Baby Shower is a car parade.
Organizing a car parade isn't as tricky as it sounds. It's helpful to have all guests gather in a parking lot near the new parent's home so they can time the parade.
Guests can decorate their cars with balloons, flowers, streamers, and signs like "Congratulations on Your Little One!".
Have the parents-to-be on the lawn or inside the house, watching the procession of cars driving by. Drivers can play music, wave, honk their horns, and even stop their cars temporarily and get out to perform a quick dance!
Consider the following tips to keep things running smoothly:
Be sure you inform neighbors of the parade date and time so they aren't alarmed, and the parade doesn't block regular traffic.
Having signage posted to direct the parade (such as directing people to a yard sale) ensures no one misses a turn.
Having a Yard Sign posted in front of the new parent's home so people who haven't been to the house know where it is can be helpful.
Ensure all guests know whether they can or can't stop during the parade
Having a car parade doesn't mean guests can't swing by later to drop off gifts or (from a distance) greet the parents.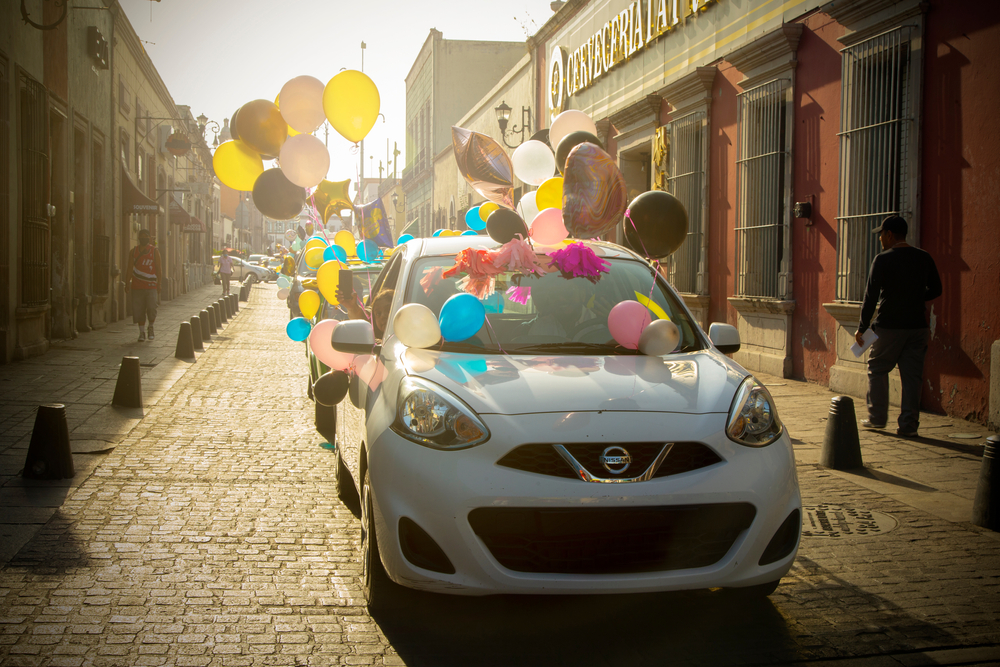 2. Pick a Baby Shower Theme
Welcoming a new baby is a joyous occasion. In keeping with traditional baby showers, having a theme ties everything together.
Simple themes can be "Baby Boy," "Baby Girl," or "Gender-Neutral" and be color-coordinated along with colors the parents prefer.
Some parents want to opt for a trendy theme such as "Woodland Critters," "Twinkle Twinkle Little Star," or "Bee Baby Shower." There are also classic theme options such as "Teddy Bear," "Elephants," or "Nautical." When picking a theme, it can be anything the mom-to-be desires!
Whatever the chosen theme is, you can coordinate the signage, yard decorations, and invitations to give the celebration a cohesive look.
3. Guest List and RSVP
Deciding on a guest list is a critical aspect of a Drive By Baby Shower that needs to be given some consideration.
It can be as small as a family member's only affair or as large as any traditional shower. The more people invited to the car parade, the more difficult it can be to organize.
If a larger group is invited, one way to keep things simple is to have some people participate in the car parade and others stop by throughout the day.
It is crucial to have the baby shower invitations contain an RSVP so you can organize things ahead of time. You can send out paper invitations, but virtual invites are the easiest to manage with this type of Baby shower.
4. Baby Shower Gifts and Baby Registry
Having a Baby Registry is one way to ensure that the mom-to-be will get the items she still needs for the baby. Having a registry such as Amazon makes it particularly easy because most people use Amazon, but hundreds of stores offer online registries.
Most guests will want to drop off a gift or card with good wishes to mom and the little one. Setting up a drop-off area (such as a crib or table) with a sign will allow guests to leave gifts for mom safely.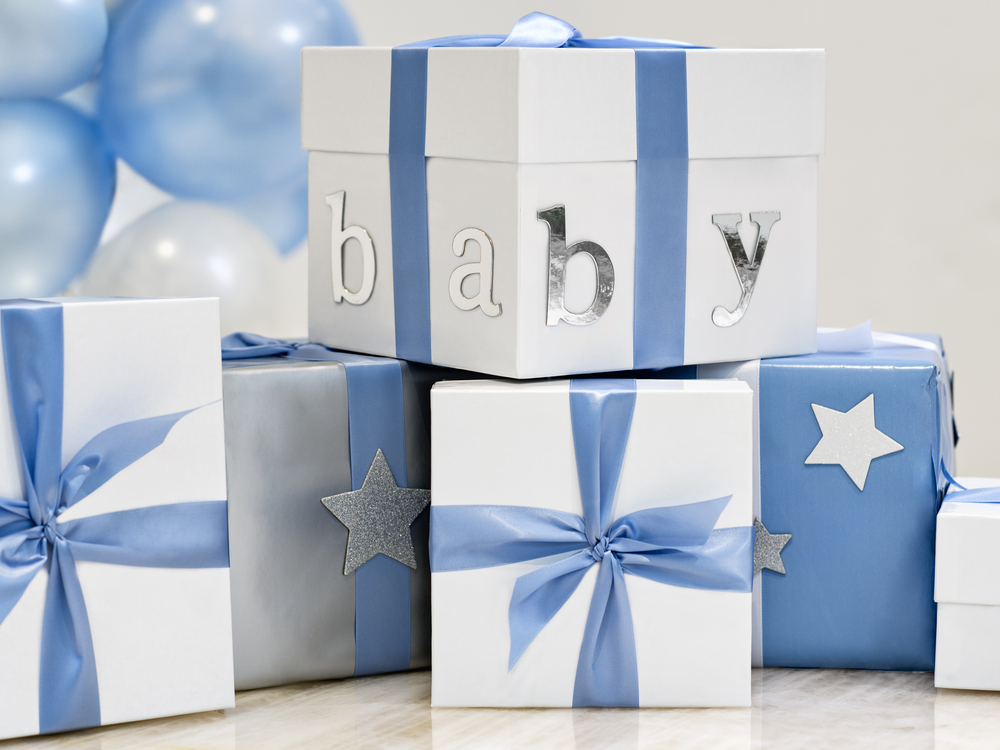 5. Offer Food & Drinks Safely
It is possible to offer to-go food and drinks for guests.
Some rules to keep in mind for Pandemic safety include:
Keeping hand sanitizer ready
Have food that is individually pre-packaged or pre-portioned
Offer individual eating utensils and napkins that you can dispose of later
Choose items that won't go bad from sitting outside (avoid buttercream or mayo-based items etc.)
Some ideas for food and drinks include:
Individual cupcakes, donuts, or cookies
Charcuterie cups with veggies or fruit, crackers, pretzels, and cheese (all can be in original packaging) and set in a cooler
You can dress up bottled beverages with custom stickers, Washi tape, and organza ribbon.
6. Drive-By Baby Shower Games
Drive-By Baby Shower games typically will need to be prepped and sent to guests ahead of time. It is ideal to send these out a few days before the day of the shower.
Most games can be easy printables guests can fill out and drop off during the shower or even return virtually.
Some great printable shower game ideas include:
Baby Animal Guessing Game
This is a simple, two-column game. On the left-hand side, write down the name of an adult animal – for example, a Chicken. A chicken's baby is called a chick, so that would be the correct answer.
See how many guests know the names of baby animals!
Baby Mad Libs
Create your version of Baby Advice Mad Libs! For this shower game, you will need two sheets of paper. One sheet contains sentences with blank spots left for nouns, adjectives, etc. The second sheet has a list asking guests to choose adjectives or nouns randomly.
The idea is for the guests to develop their descriptors without seeing the Mad Libs.
Once they fill out the second sheet, they can transfer their answers to the first page. The results should be hilarious and perhaps make no sense at all.
There are a ton of templates like this one – pick one that matches your theme or create your own!
7. Drive-By Baby Shower Favors
It can be a lot of fun to prepare party favors for loved ones to take with them.
This is where there is little difference between a traditional shower and a drive-by shower.
Baby Shower Favor Ideas
Individual hand-sanitizers with personalized labels
Mini succulent plants in tiny planter pots. Tie a cute bow and add care instructions for the "baby" plant
Personalized mini candles
Bottle openers with the baby-to-be's name engraved on them
"Ready to Pop" caramel popcorn bags
Mason jars filled with candy and a cute sticker attached
Bagged cotton candy hung from a clothesline with a clip and a note thanking them for making the day sweet
8. Follow Local Health Guidelines and Social Distancing
Socially distanced baby showers can be accomplished and still follow all the local health guidelines. It is important to research what those guidelines are so you can be sure to follow them.
Some communities don't allow drive-thru Baby Showers or a gathering of more than a certain number of people. In this case, it may be worth it to host a Virtual Baby Shower instead!
9. Virtual Showers
Here are a few easy tips for hosting a Virtual Baby Shower:
You can easily set up a Zoom or Google Meet call so everyone can see and hear each other.
Any games requiring printables can be sent out ahead of time and played during the shower, or people can play live guessing games.
You can mail kits to guests, including favors or materials they may need for games.
Guests can order and have gifts shipped to the parents ahead of time from the registry.
There are no limits when planning a Virtual Baby Shower! You can even keep everything tied to your theme, including materials, games, and invitations.
If you and your guests are ready for an in person baby shower, check out these suggestions for great baby shower venues!