Inexperienced baby shower planners may make light of the power of event decor, so long as there's food for every attendee and gifts for the mom-to-be. But party decorations are a critical part of the celebration, especially the centerpiece.
Baby showers need centerpieces.
A baby shower centerpiece pulls the entire decor scheme together, giving intent to the rest of your decor. It sets the event's mood and helps emphasize the party's theme.
What Are Some Unique Baby Shower Centerpieces for a Boy's Shower?
Some unique baby shower centerpieces for a boy's shower are those that double as a gift for the parents-to-be after the event.
Take, for example, a jungle diaper cake surrounded by a forest of jungle-themed fruits or cupcakes. What better way to announce the incoming little king of the jungle?
Another fantastic idea is a blue baby sock bouquet centerpiece. Add a topper that reads, "it's a boy!"
In both cases, the new parents will go with the diapers and socks (respectively) used to make the centerpieces.
Let's look at these and more baby shower centerpieces, boy edition.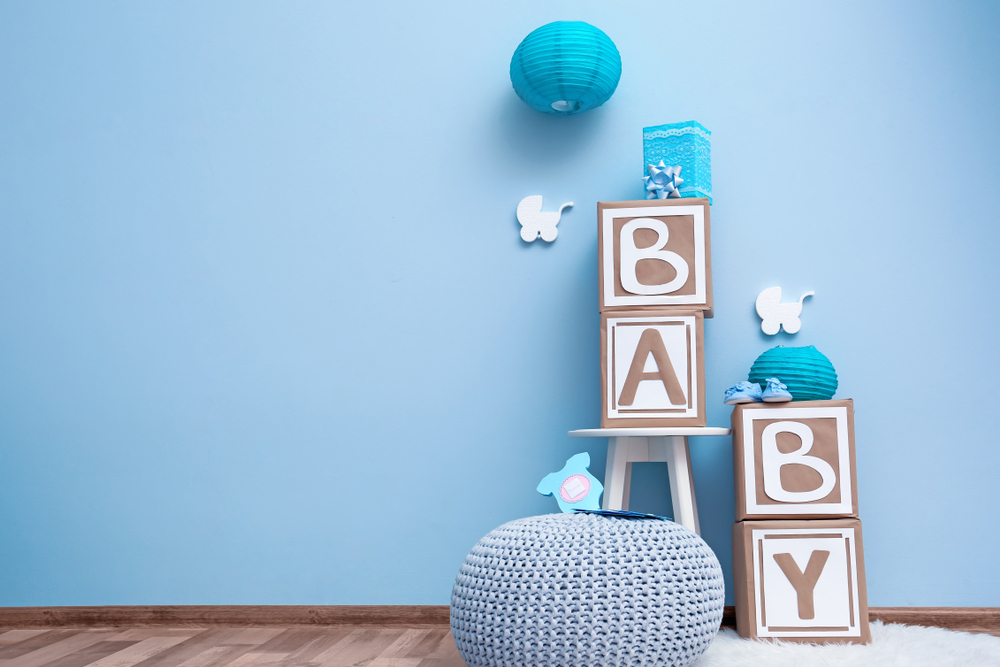 DIY Baby Shower Centerpieces
The best baby shower centerpiece ideas for boys are DIY projects.
DIY centerpieces allow you to pour some love, charm, and creativity into the work of your hands. They can also help you save money by combining purchased and handmade items to add a big burst of style and buzz to your baby shower theme.
Some examples of DIY baby shower centerpieces include:
Baby Boy Sock Flower Bouquet
Here's the list of what you need to make this centerpiece.
Eight pairs of infant baby boy pastel blues and white
1/8-inch ribbon in contrasting colors
A light blue five inches-deep metal bucket. A flower pot, wooden box, large mason jar, or baby plant holder are excellent substitutes.
Pop sticks from the baking section
Silk or real Gypsophila or baby's breath flowers or green leaves
Gift grass
Tissue paper
Instructions
To start, lift the cuffs of the socks and flatten them. Then gently roll each sock to its top, from the toe edge.
Adjust the top edge till you have a rosebud shape.
Nudge the pop sticks into the rosebud to form a stem, then tie yarn or ribbon in a bow shape around both items to secure your arrangement.
Add floral foam to your container, then cover the top with tissue paper or gift grass.
Make holes in the foam using a skewer and insert your rose stalks.
Add baby breath or leaves to cover gaps between the stalks.
Viola! Your baby boy sock flower bouquet is ready for display.
Note: 8 pairs of socks will make 16 rose buds.
Baby Boy Cake Pops
Need more inspiration?
Why not bake some blue cake pops and make a sweet treat and use them to make a fantastic baby shower centerpiece? They are the perfect space-themed baby shower centerpiece idea and a yummy grab-and-go dessert.
So, what do you need to get started?
A light blue five inches-deep metal bucket or large mason jar
Centerpiece sticks from the baking section
Tissue paper
Confetti
Instructions
Look up the best cake pops recipe.
Bake, cool, and roll your cake balls.
Dip them in blue candy melts or frosting.
Add pop sticks to make cake pops and prop them up on an egg carton or Styrofoam block until they harden.
Add floral foam to a mason jar or blue bucket and cover it with blue or white tissue paper.
Make holes in the foam using a skewer.
Then, insert your cake pops into these holes.
Use confetti to cover any gaping holes between your cake pops.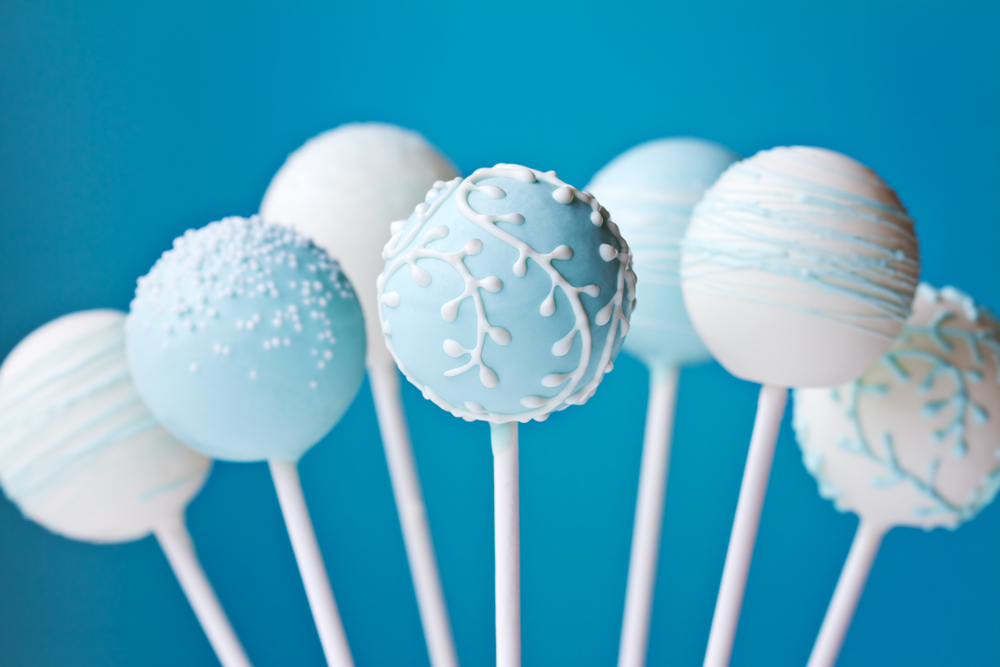 How Do You Make a Diaper Centerpiece for a Baby Shower?
Diaper centerpieces are easy to make. You can make excellent boy baby shower centerpiece diaper cakes using traditional blues, browns, greens, or gray accessories.
These baby shower party decorations are not just cute but thoughtful too. Moms-to-be can recycle them when their babies are born.
So, what items do you need to make a baby shower diaper cake table centerpieces?
A pack or two of baby diapers
Decorative ribbon
Elastic rubber bands
A cake stand, tray, or cardboard as a base
A pair of scissors
Dowels for the layers
Soft tulle
Instructions
Roll each diaper, then secure its shape with a rubber band or ribbon.
Form your diaper cake's layers by placing your diaper rolls into vertical positions.
Secure each complete layer with a large ribbon or rubber band.
Place your wooden dowels between the rolls to hold your next diaper cake layer.
Layer your diaper rolls and secure your second layer using a ribbon or large rubber band.
Make your diaper cake's upper layer small than the base layer to give an illusion of actual cake layers.
Add teddy bear baby shower accessories as a topper item.
What Do You Put on a Baby Shower Table?
Tabletop baby shower decoration ideas are limitless. You can create elegant centerpieces using balloons, ribbons, and the average rubber ducky, teddy bear, truck, baby blocks, or choo-choo train.
Alternatively, make candy in giant mason jar centerpieces for a playful, colorful, and fun vibe. Then, bold florals and greens are excellent party centerpieces for baby boy showers.
You can place items on a baby shower table, including large-sized baby elephants or giraffes, fruit arrangements, storybooks, and baked dessert arrangements.
How Do You Set Up a Baby Shower Table?
Setting up a baby shower table involves researching baby shower designs and accessories. This step will give you a general direction on party ideas.
With an elegant design in mind, use your creative energy to infuse some magic and individuality into the party tables.
The dos and don'ts of the baby shower table decoration setup are simple. Limit your color scheme to three colors, and include white for elegance.
After that, use bold or neutral-colored table linen to strike a balance between your accessories and party theme colors. Remember to use accessories you can easily find in your house or yard. These may include antique boxes, baskets, picture frames, or flower pots to create multiple layers and shapes on your table.
Last, blend in the best baby shower centerpieces boy ideas to tie all your décor ideas together.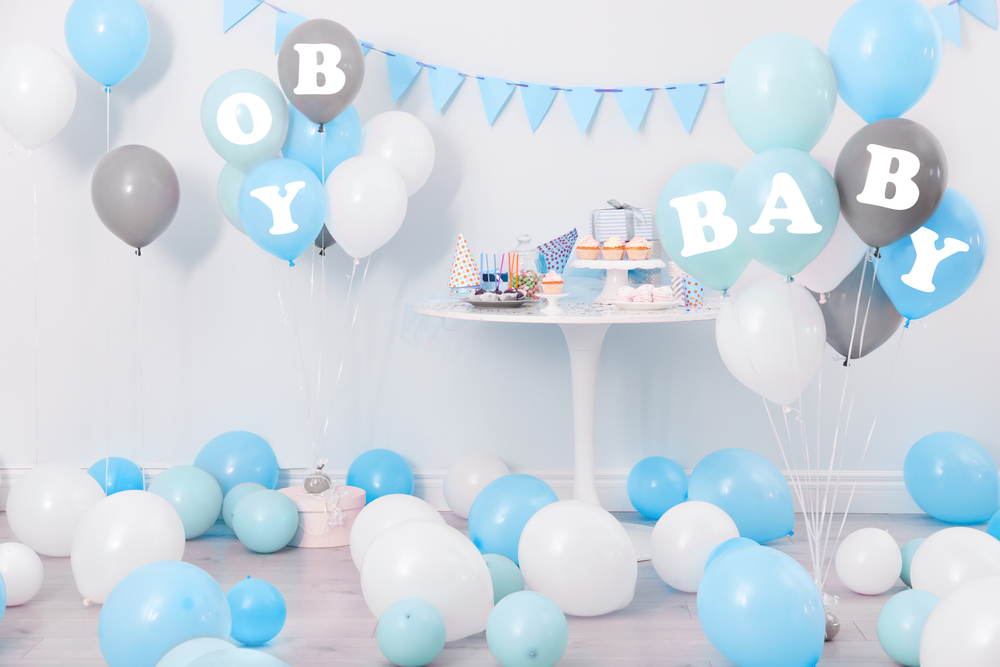 How Do You Decorate for a Baby Shower?
Baby shower party décor blends theme colors, designs, and accessories.
First, think up an attractive theme. Then, scour your kitchen and storage spaces for everyday accessories that add pizzazz to your theme. Besides, you can order more décor party supplies online if you have gaps that need filling.
Then, a good party has thoughtful party favors, so always set aside a table for guests' keepsakes.
What Material Is an Easy and Affordable Way to Decorate a Baby Shower?
Paper decorations and cutouts are versatile and can help you save money for party planning. So, use paper to create beautiful décor accessories such as honeycombs, pompoms, and fans. Silk paper pompoms are especially elegant.
Baby shower balloon centerpieces are more elegant than paper and still cheap. Consequently, you can combine silk paper and balloons for unique but affordable baby shower decoration ideas.
Still itching for more centerpiece ideas? Check out these centerpiece ideas that are perfect for any party!