Baby shower gifts are an excellent way to celebrate the mom-to-be. Besides the gift itself, thoughtfully wrapping it creates a wow effect, especially during the gift-opening session.
Although gift wrapping is fun, wrapping a large baby gift can be pretty complicated. Some large gifts are also oddly-shaped, requiring extra creativity to put everything in place.
But no need to worry because this is just the article for you if you're looking for unique baby shower gift-wrapping ideas.
How Do You Wrap a Large Baby Gift?
So you're planning to shower the new mom with a large gift, such as a baby stroller or a crib mattress. How do you wrap your cute gift and surprise the mom-to-be?
Using beautifully-decorated wrapping paper is one of the best ways to go. It's suitable for almost all gifts, and when wrapping a large gift, all you need is a large piece of wrapping paper or two rolls of identical wrapping paper.
What is more, it's easy to use wrapping paper if your large gift can fit in a gift box.
Here's a step-by-step guide on how to do it:
Choose wrapping paper that matches your preferences. You can select a color that matches the baby shower theme or your gift.
Unroll one roll of wrapping paper and spread it on a flat surface.
Place your baby shower gift (gift box) on the wrapping paper and cover the largest side of your gift. Then, fold the edges and secure them with double-sided tape to avoid splittings.
Repeat this step to independently wrap the other three sides using the remaining wrapping paper and double-sided tape.
Once every part is covered, add decorations to make your gift stand out. You can wrap a large ribbon and add a bow to complete the look. Or, you can make paper flowers, pinwheels, or honeycomb balls and stick them on the wrapping paper.
Here's a simple video tutorial on how to wrap a large gift box using wrapping paper
What Do You Do if You Don't Have Wrapping Paper for a Large Gift?
How do you wrap a large gift with no wrapping paper available? Worry not! You can use many alternative materials to wrap your gift and still impress the would-be mom.
How about checking this list of gift-wrapping ideas for a large gift when you don't have wrapping paper?
Use Butcher Paper
Butcher paper is one of the most versatile types of craft paper. And you can find customizable butcher paper with your preferred wording or symbols on Etsy to breathe life into your gift.
You can then wrap your gift as you would do with wrapping paper. Spruce it up by tying twine around it, then add some jungle-themed critter cut-outs to create whimsical nature scenes.
Alternatively, attach a silver baby rattle, a pacifier, or a stuffed toy to present your perfectly wrapped gift.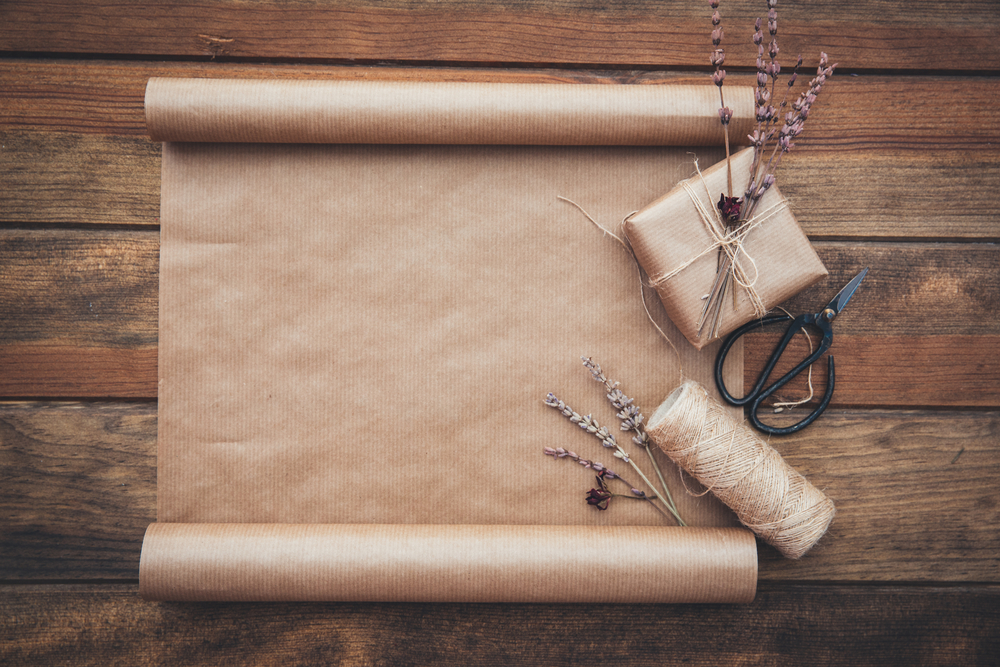 Use Calendar Sheet or Printable Word Search
Do you know the baby's due date or name? Send a special message to the parents-to-be using a calendar sheet to wrap your baby shower gift. Then, circle the expected due date using a colored felt pen.
You can also wrap the gift in a printed word search and circle the baby's name. Then, tie a pretty ribbon or twine and share the joy of welcoming the new baby with everyone at the party.
Repurpose Old Newspapers
You don't have to spend a dime to wrap a large gift when you can repurpose and reuse what you already have at home. For example, do you have stacks of old newspapers? These could make perfect wrapping paper for a large gift.
You only have to get creative with the newspaper to wrap the gift nicely. Also, use the cut-out bits to make paper flowers or use cupcake covers to make colorful flowers.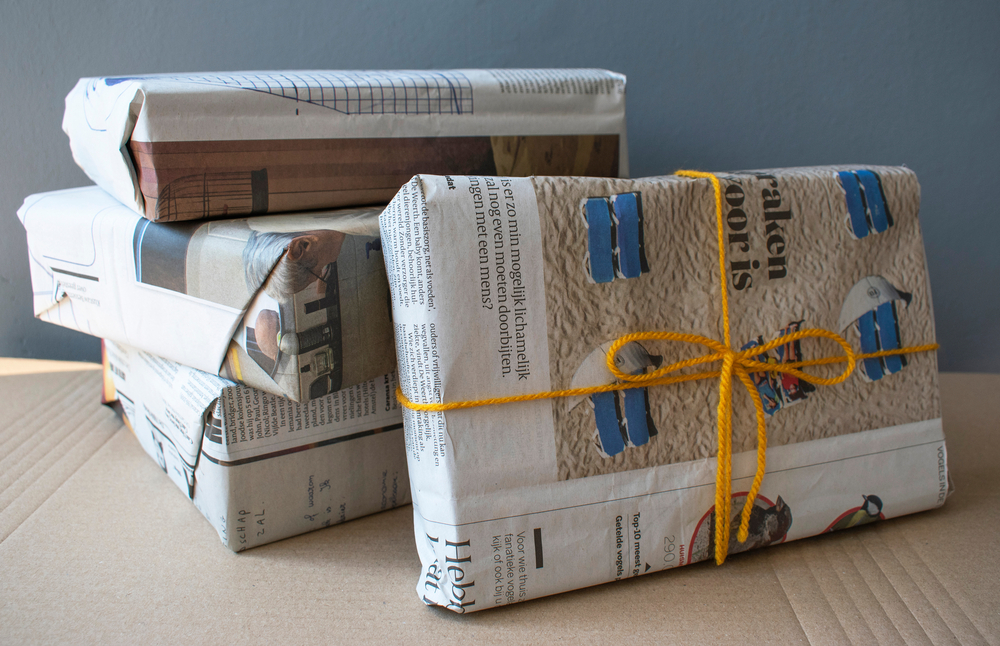 What Are Some Creative Ways to Wrap a Large Baby Shower Gift?
Although wrapping large gifts can be daunting, you can say goodbye to boring wrapping methods by embracing some of our unique gift-wrapping ideas.
Here are creative ways of wrapping large baby shower gifts.
Use Cake Cover Style
Do you have old appliance boxes? You can also get some from an appliance shop or a dollar store. Use these boxes to wrap your gift in a cake cover style.
Follow these steps:
Cut off the flaps of the box.
Place the box over your gift.
Wrap it around your present to cover every side. You can use more than one box if the gift is super large.
Secure the box in place using duct tape.
Wrap custom paper, newspapers, or printable paper around the boxes. You can also paint your gift box.
Decorate to your liking.
Make a DIY Gift Bag Using Pillow Cases
If you have pillowcases that you no longer use, repurpose them into a gift bag. Plus, this is a sustainable and inexpensive gift-wrapping method.
You can use a pair of pillowcases or more than two, depending on the size of your gift. Plain or brightly colored pillowcases would do. You can customize your gift bag using ribbons, crocheted wrap, twines, lace, or washi tape.
Make a Drawstring Fabric Bag
Thoughtfully wrapping a gift gives an impression that you had the receiver in mind. So let your creative juices flow by crafting a drawstring bag using fabric to present your gift.
You don't need to worry if you don't know how to do it. Here's a tutorial on how to make a drawstring bag for your baby shower gift. You'll love the results!
Laundry Basket
You want to use something other than a wrapping material that the mom-to-be will use. How about using a laundry basket to package your gift? It is a practical and unique way to wrap your gift, as the new mom will also use the laundry basket later.
But the presentation doesn't have to be boring. Add some handmade touch to the laundry basket with pom decorations, ribbons, or felt gift decorations.
How Do You Wrap a Large Gift Without Wrapping Paper?
You can use something other than wrapping paper to create a memorable gift presentation. There's an array of materials or wrapping methods you can use to give a large gift an adorable look that everyone will admire.
So, ditch the wrapping paper and try these unique gift-wrapping ideas:
Try oversized gift bags: If your gift is 17-18 inches long, look for an XL gift bag. You'll find giant bags in most gift shops and e-stores like Amazon, Etsy, and Walmart. And if the gift bag doesn't cover up your gift, use a piece of fabric or a onesie to seal the opening creatively.
Use an extra large gift box: If gift bags are unavailable, go for oversized ones. But you can also craft a handmade gift box using available materials. And you can personalize it to match the baby shower theme, like this woodland fox gift box.
Wrap gifts in a baby tub: Do you want to give a baby tub as your baby shower gift? It can be pretty confusing to wrap. How about using it as a gift basket and adding a few bathtime items? And you can jazz it up by presenting it as a bathtub diaper cake.
How Do You Wrap a Large Gift Without a Box?
Need a gift box that fits your baby shower gift? Or do you have an oddly-shaped gift that can't go into a regular gift box?
Try these gift-wrapping ideas to wrap a large gift without a box:
Wrap the gift using fabric: Do you have a large piece of cloth or receiving blanket? This would be a thoughtful way to wrap your gift since it protects it. Plus, the mom-to-be can use this fabric after the baby is born. Also, spice it up using toy gift toppers such as a teddy bear or a cuddly stuffed lamb.
Use a sack: Do you have a large sack you'd thought of disposing? Turn it into a sustainable or reusable gift bag. And you can secure it with a cute ribbon or twine and add a stuffed toy to complete the look.
Use Wooden Crates: Wooden crates make fantastic gift baskets. You only have to place your gift in the crate, add a ribbon, and bow around it, and you're good to go. But you can go all out by stuffing colored tissue paper around it and adding a gift tag.
How Do You Wrap a Large Gift in a Hurry?
We all run late sometimes, especially when planning to attend important events. If you've no time to wrap your gift, you could use some hacks still make it presentable.
Here are a few ideas:
Use a bow and ribbon: You can never go wrong with a bow and ribbon, especially when the gift is super large. For instance, you only have to wrap the ribbon and bow if you're giving a baby crib and ready to go.
Put it in a mailing tube: Do you have a large but slender gift? How about placing it in a mailing tube and wrapping twine or washi tape around it? This will take a little time.
Stash it into a bucket: A baby bucket will come in handy if you've got no time to wrap the gift. Stash it into the bucket, secure it with baby clothes, and add a bow.
Use tulle netting: If you've got the baby shower gift in a box, wrap it in tulle netting and add a gift tag.