Are you planning a baby shower for a girl, but it feels like something is missing? You have all of your pink and purple decorations, an adorable backdrop, a great dessert table, but somehow it feels like something is missing. What your party needs is centerpieces!
A party centerpiece is the most significant decor piece in any event. When people sit around a table, their eyes naturally focus on its center. Therefore, a stunning centerpiece is a noticeable and memorable focal point for all guests. 
So, if you need some inspiration for great girl baby shower centerpieces, check out these great ideas that will tie together your decorations perfectly!
What Is a Good Centerpiece for a Baby Shower?
Your baby shower decorations theme should help you choose a centerpiece.
For example, you want rustic-themed girl baby shower decorations. You can use fresh flowers in earthy wooden accents for an autumnal feel. Layer your natural blooms with rustic details such as vintage enamel jugs, wooden urns, or burnished bronze bowls to create unique baby shower centerpieces.
In addition to that, fresh fruit and veggies centerpieces can inspire a rural, barn-themed baby shower.
On the flip side, are you craving an elegant, jewel-toned theme?
Then create gemstone-colored centerpieces using rose gold seasonal blooms, colorful candles, and glass vases. You can also think outside the floral box and use unconventional| centerpiece accessories such as beautiful balloon garlands, themed pastries, or cute DIY flamingo mason jar centerpieces.
Playful baby shower centerpieces for girl parties go hand in hand with whimsy themes. Excellent examples include curved fruit decors like a watermelon baby carriage, baby blocks, or yarn balls garland centerpieces.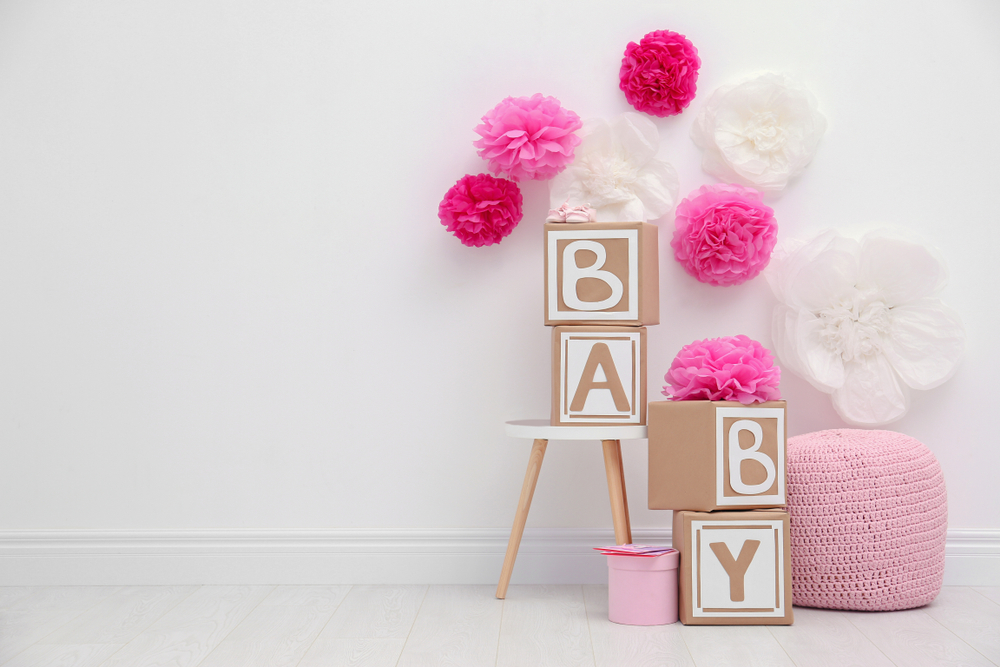 DIY Baby Shower Centerpieces for a Girl
Little princess baby shower ideas are a tremendous opportunity to get creative and overindulge in the adorable. However, as we all know, cute often has a premium price tag. So, what do you do when you want an affordable but pretty-as-a-picture centerpiece?
Well, DIY!
Diy centerpieces for girl baby shower parties can be as enchanting as any high-price centerpiece. Just pour your imagination and love into them, and you will have an eye-catching decor masterpiece.
A fantastic place to start is using a mason jar and filling it with elements that match your shower theme. For example, fill the jars with gummy bears if it's a teddy bear theme. For a whimsical winter wonderland baby shower, fill the jars with winter wonderland cake pops.
Butterfly Baby Shower Centerpieces for a Girl
Nothing says summertime or springtime showers and joy like a beautiful butterfly centerpiece. A butterfly centerpiece can be incredibly thoughtful if the mom-to-be has butterfly decor in her nursery.
So, how do you make butterfly centerpieces for a baby girl shower? An easy choice is butterfly-themed cake toppers. First, order colorful pastel pink, purple, peach, or yellow paper butterfly cutouts and party supplies. Next, stick them on pop sticks, and voila!
These centerpieces will make beautiful DIY toppers and embellishments for your tiered butterfly theme cake and cupcakes. Alternatively, place little pink cake pops around your mini desserts and cakes for a fantastic butterfly centerpiece.
Elephant Baby Shower Centerpieces for a Girl
An elephant shower theme is both cute and charming. It is also a gender-neutral idea. So, you can customize your elephant baby shower centerpiece to suit a baby boy or girl's party.
For example, a gray and sweet mint color palette is all you need for gender-reveal decoration ideas.
One effortless DIY elephant centerpiece idea is a gorgeous diaper cake. Make a large diaper cake for the main table and christen it with little printable peanut and elephant cutouts. A fun and plush elephant and elephant-themed paper fan cake topper is all the icing you need on your diaper cake.
You can also stuff a plush elephant toy at the top of an ABC block for an easy DIY elephant centerpiece. You can also fill a vase or box with delicate pink or purple flowers and place your plush elephant on the side for a different take on this idea.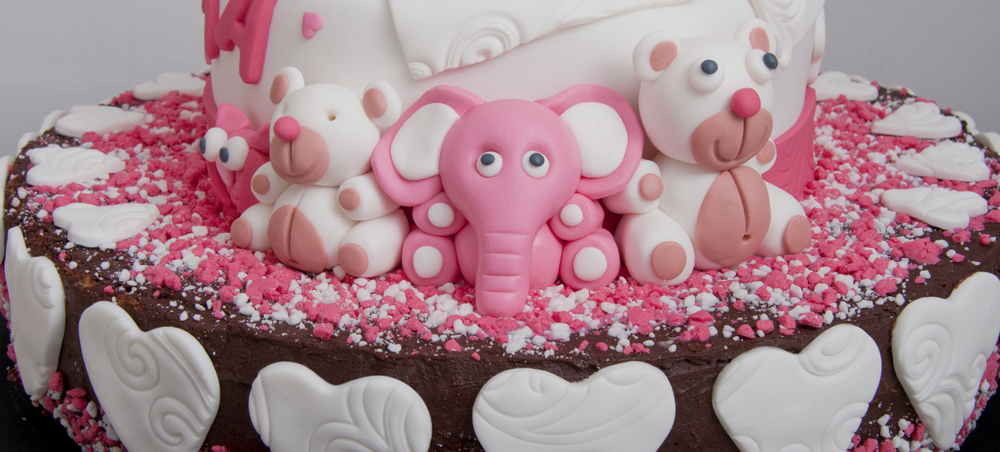 What Is the Most Popular Centerpiece?
Flowers are the most popular baby shower centerpiece ideas.
You can combine flowers with greenery in a gorgeous vase to create beautiful table centerpieces. Flower centerpieces get along with almost any accessory, including chic lanterns, baby shower balloons, wine bottles, and spray-painted bottles.
Flower garlands also make beautiful stand-alone centerpieces.
What Do You Put on the Table at a Baby Shower?
Centerpieces are the most essential baby shower table decor item. But besides that, your table will need clean, statement linen that complements your theme colors and cutlery.
Homemade Baby Shower Table Decorations
Homemade baby shower table decorations are affordable and fun. They work best with trending and whimsy, nature, rainbows, woodlands, or butterfly themes.
Everyday items such as mason jars, large flower vases, large toys, and baby items like diapers can whip up awesome centerpieces for your playful or magical theme without breaking the bank.
How Do You Arrange a Baby Shower Table?
Remember, your centerpiece is the piece de resistance of your entire theme and decor. That said, your guests are why you have worked so hard to create a memorable tablescape.
For this reason, arrange a baby shower with conversation flow in mind. Limit the size of your table's focal point to accommodate guest conversation.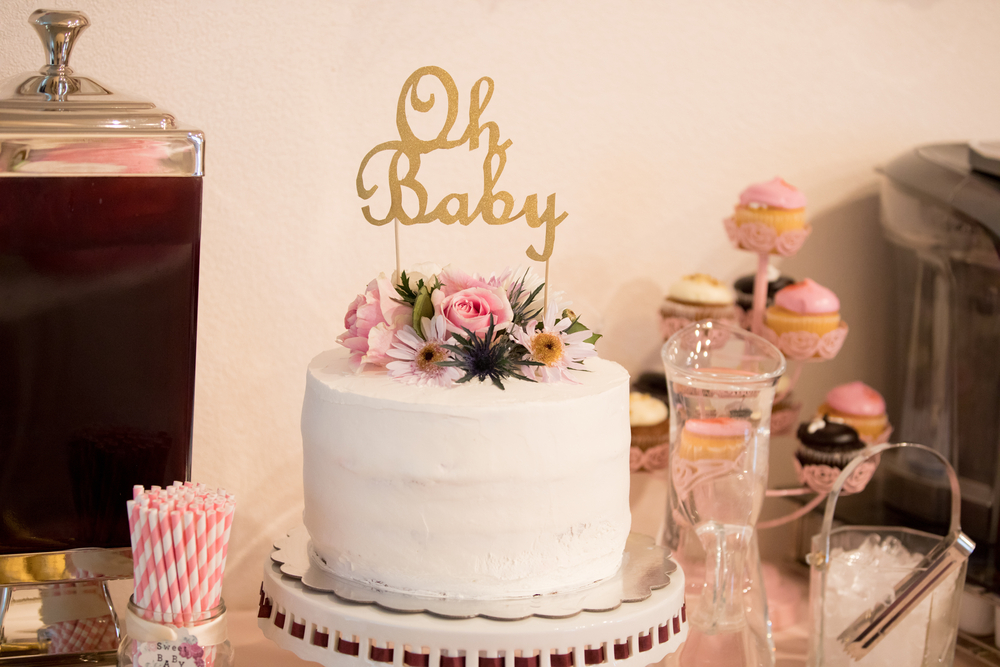 What Size Table Do You Need for a Baby Shower?
The average baby shower get-together has an average of 15 to 30 guests. However, coed birthday parties may have more guests. So, go for a 72-inch banquet table.
A round table will seat about 8 to ten people. In contrast, a 72-inch rectangular table will seat about 6 to 8 people. So, do the math. You probably need two round tables if you have 15 guests. Round tables work best for tall, single centerpieces. In contrast, the rectangular type needs more decor to occupy its lengthy spaces.
Now that you have your centerpieces ready to go, don't forget cake! Check out these great ideas for baby shower cakes for girls!