The cake is usually the center of attention at any baby shower. Like other elements of the shower, such as the backdrop or the centerpiece, the cake (or cupcakes, if you go that route) helps carry out whatever theme you select.
Here are some baby shower cake ideas to create the cake of your dreams, including specific themes and decoration ideas to welcome your new baby.
What Flavors Are Most Popular For Baby Shower Cakes For Girls?
No matter how beautiful or cute the girl baby shower cake is, the decoration matters little if it does not taste delicious.
There are a plethora of flavors to choose from when it comes to the flavor of your themed baby shower cake. Chocolate, white, red velvet, confetti, yellow, and spice cake are among the most popular flavors, but fruit flavors like banana, strawberry, and lemon are fan-favorites too. Cheesecake has a big following among guests.
Cakes might be frosted with cream cheese, buttercream, or fondant frosting and filled with mousse, fruit, custard, whipped cream, or more frosting. Coconut, Oreos, and nuts frequently enhance the flavor.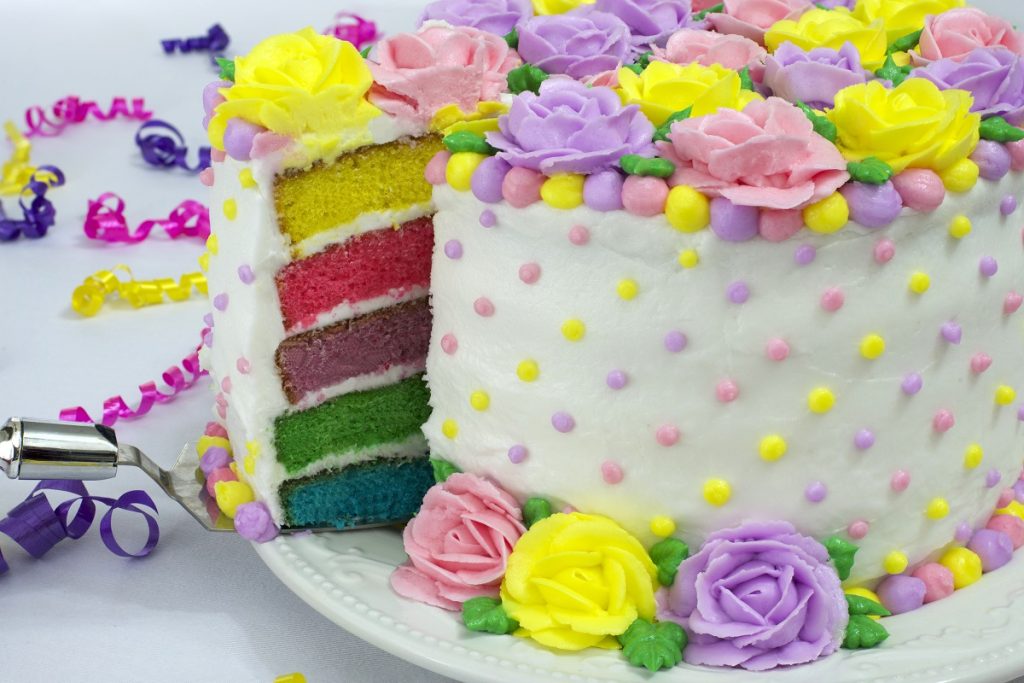 You can choose the flavor combinations you'd like, but looking at Pinterest or a cake shop menu might give you a clearer idea of what to offer your guests. Make sure to be considerate of food allergies when making your selection.
Depending on the number of shower guests, cakes may be sheet cakes, layer cakes, or tiered cakes. Any shape can be the perfect canvas for your theme and mess.
What Do You Write on a Baby Shower Cake for a Girl?
Any writing on the cake can be a simple "Welcome, Baby," but there are many great choices. Some of them may relate to the theme.
A Little Angel is About to Land
A Star Is Born
Baby Girls Take the Cake
Here Comes the Princess
Hip Hip Hooray! She's on her Way!
It's a Girl!
Little Hands, Little Feet. Baby Girls Are Oh So Sweet
Sugar, Spice, and Everything Nice
Thank Heaven For This Little Girl
Up, up, and away!
We can bearly wait to meet you!
Welcome, Little Bear
Welcome, Tiny Dancer
Baby Girl Cake Ideas
Many popular baby shower themes can work for either sex, depending on the colors and trim you use. Frilly pink cakes with lots of flowers tend to be for girls, but the cake should reflect the mom-to-be's taste.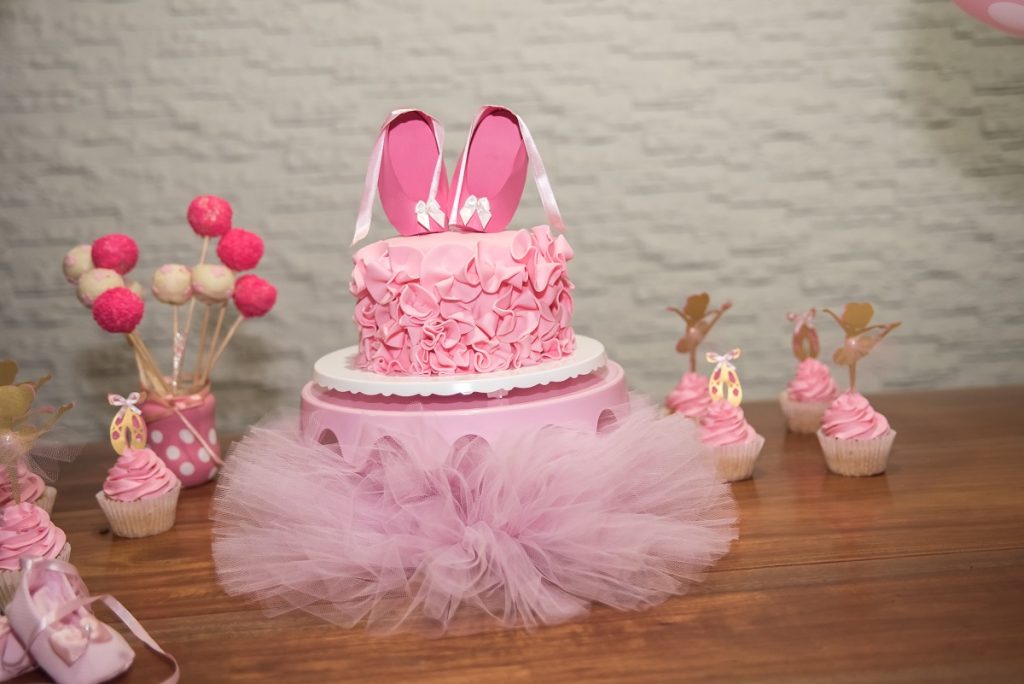 You can bring any theme to life with cake toppers and other decorative elements.
If you choose to make a themed cake, you will likely find a tutorial to follow to guarantee professional results. For example, for a Mermaid cake tutorial, search on YouTube, and you will find several to help you.
If you choose to have a professional make your cake, you can bring your own topper or select from the baker's past creations.
1. Ballerina
A ballerina cake is very feminine and is the perfect touch for a girl's baby shower. You can decorate with pink baby shoes, bows, or beautiful pink roses for a feminine touch.
2. Baby Blocks
Baby blocks make popular baby shower decorations easy to incorporate into cake design. You can position a cake topper or fondant blocks on the top or make the entire cake a block. The design works well for one layer or for a more three-dimensional version with tiers.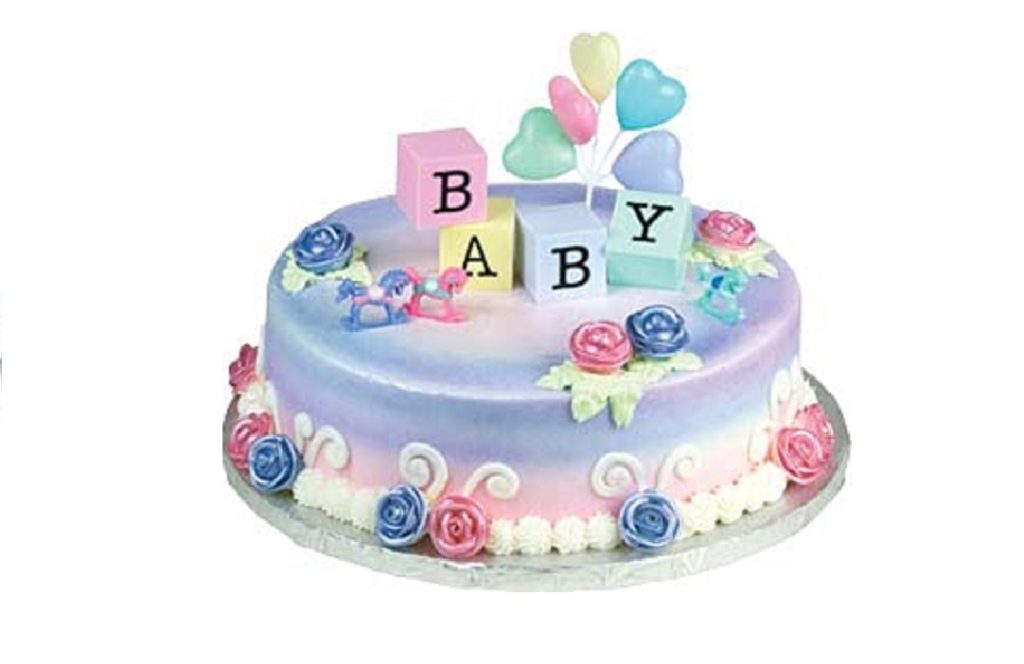 Pink and purple hues are popular for baby girls, but the design looks great in other bright or pastel combinations.
3. Elephant Baby Shower Cake
Adorable elephant cakes are great for any baby gender. Just order an elephant cake topper or even fondant elephants that you can order online. Elephant cakes would easily fit into a safari theme or a stand-alone animal theme.
4. Giraffe
This safari-inspired design is perfect for a baby shower theme or a birthday cake. Giraffe toppers made of fondant will set this cake apart. You could even incorporate other safari animals if you're going with a broader theme (such as all safari animals.)
As for color, you can choose muted, neutral tones or go all-out girl with pink buttercream frosting, polka dots, and a cute giraffe as the main focal point.
5. Hot Air Balloon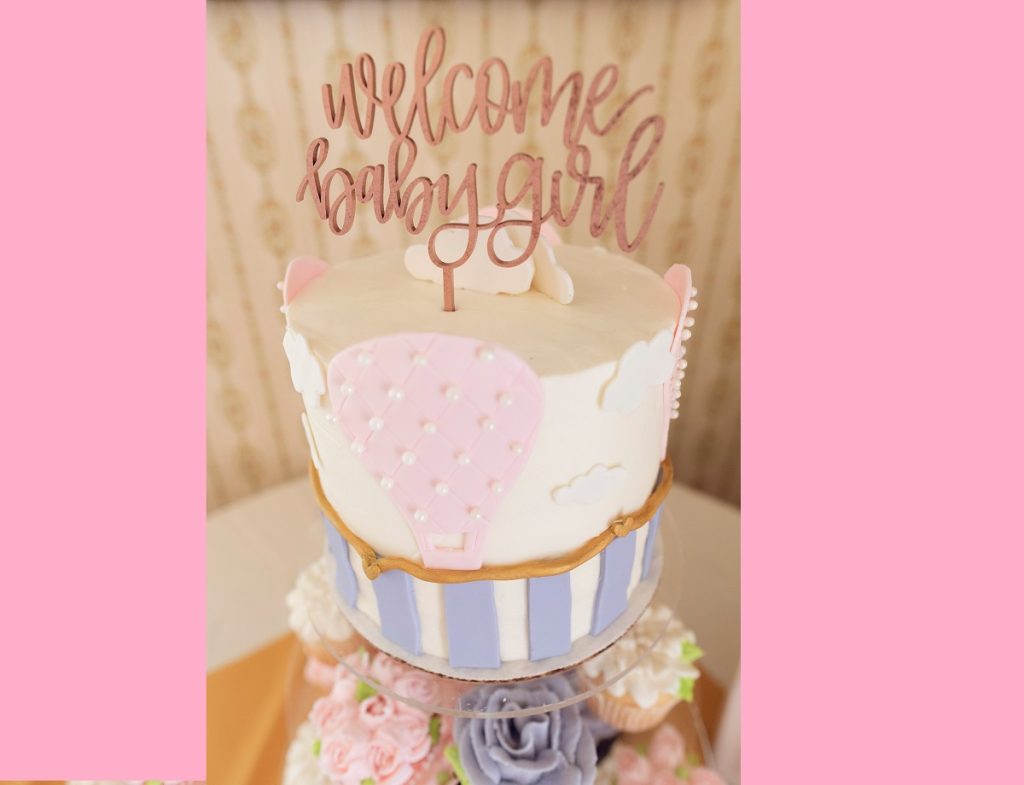 A hot air balloon cake is a unique idea that not many people use. A hot air balloon cake topper on Etsy or Amazon can help you pull off an "Up, Up, and Away" theme. For a travel lover, you could theme your cake to say "The Adventure Begins" and incorporate the idea into the cake design.
You can have a pink cake inside and out or use a variety of pastels or bright colors.
6. Mermaid Cake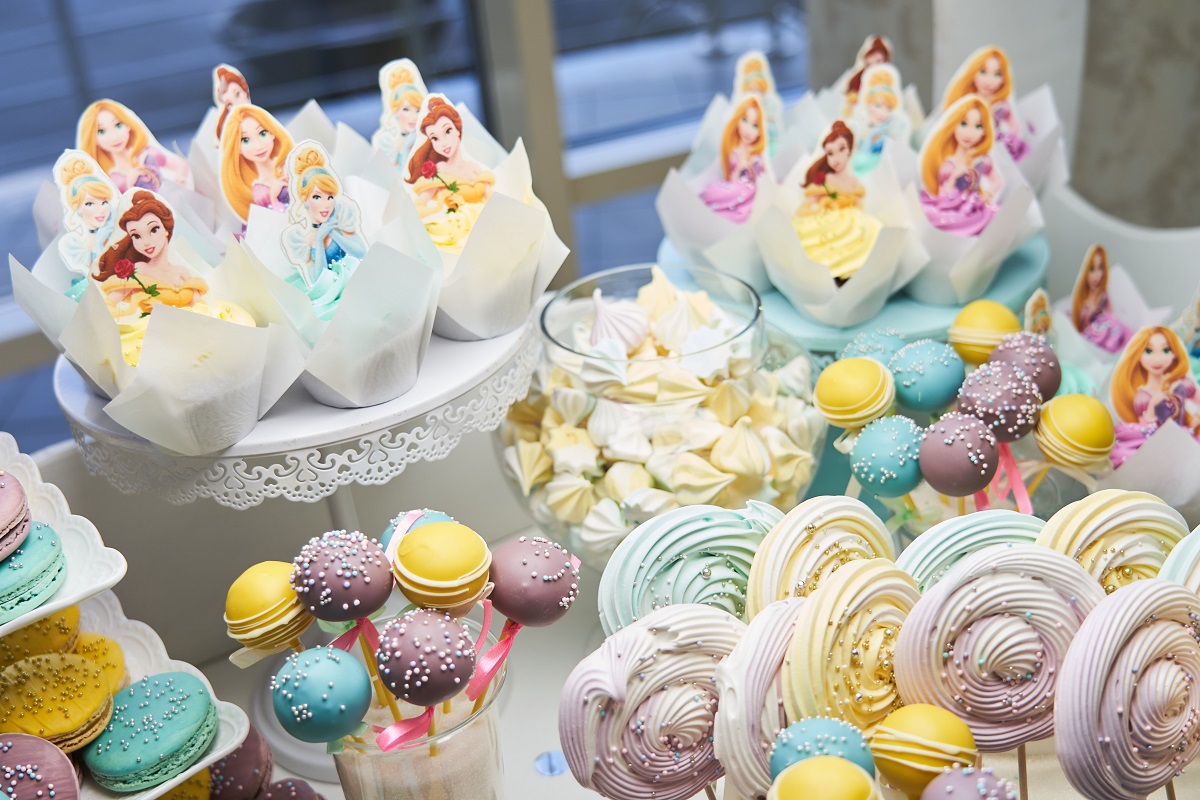 This cake is such a beautiful design that it will be perfect for the mom-to-be. Many of the cake designs feature vibrant teals, purples, and light blues. Buttercream waves can adorn the mermaid cake – learn how online.
Choose from a variety of tiers, cake toppers, and DIY options on Pinterest.
7. Stork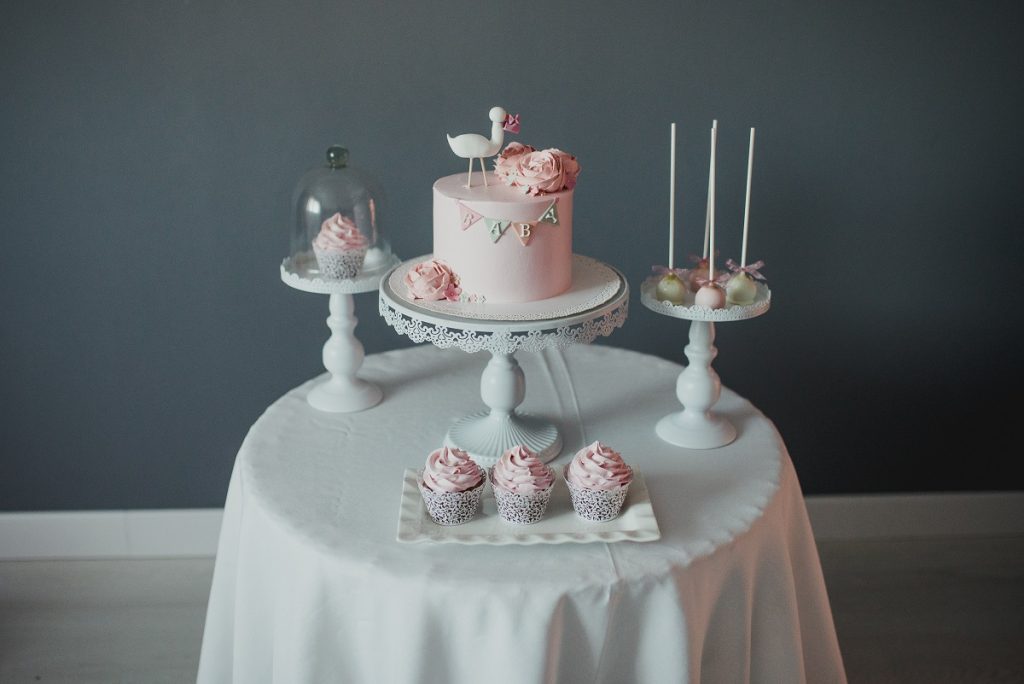 People know that babies don't come by stork or appear under cabbage patches, but a stork theme is still fun for decorating. You can buy a stork cake or cupcake toppers and decorate the cake in any color you like. Keep it simple with white, light pink, or yellow frosting, and drizzle some pink sprinkles on them for some extra fun.
8. Teddy Bear
For a teddy bear theme, you can purchase cake toppers in the shape of a bear or make the cake in the shape of one. You can even add a teddy bear in with other themes, such as the hot air balloon motif.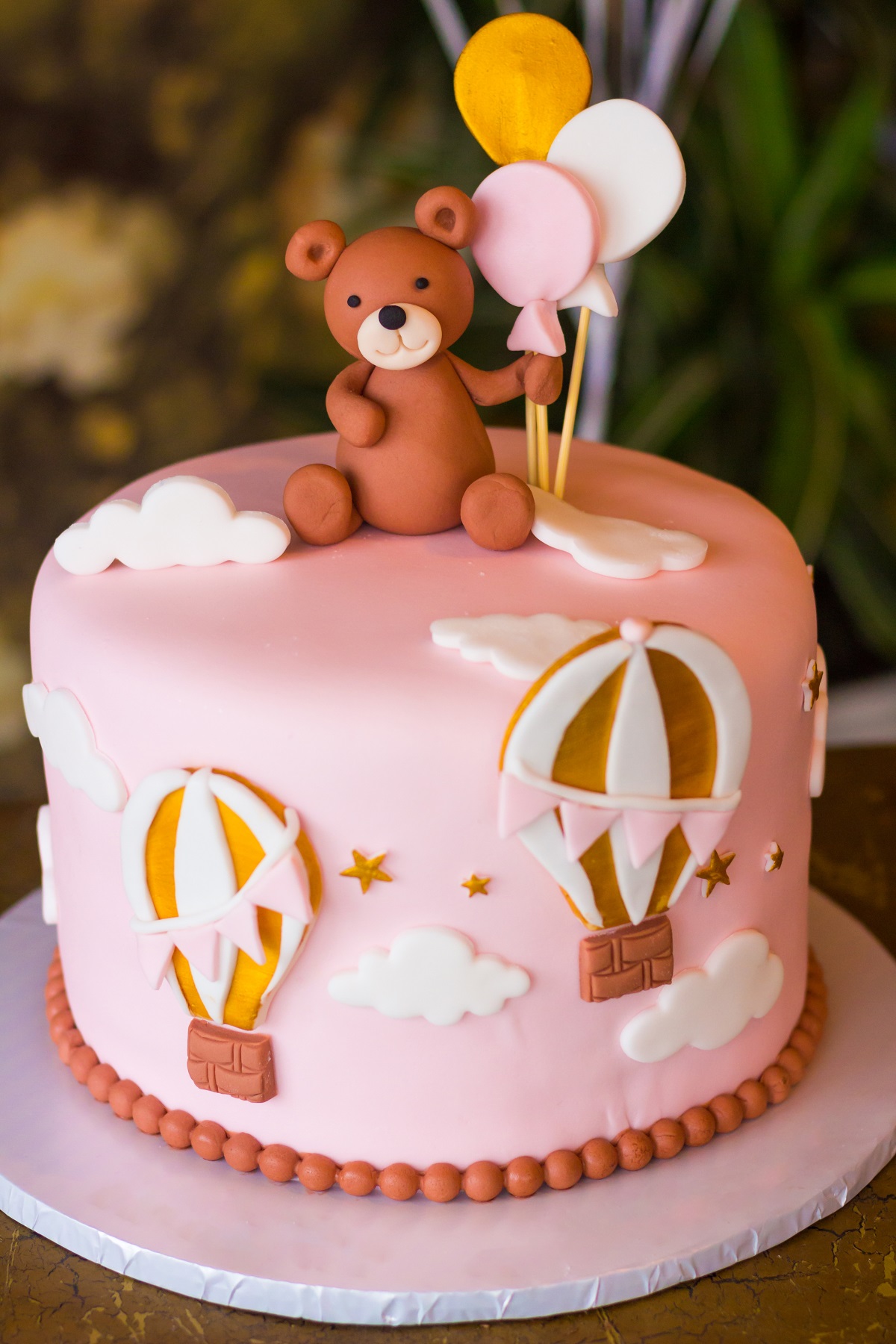 Whether you're having a baby girl or baby boy, it's easy to find other decor and party favors to carry out a teddy bear theme.
Colors for the cake may include blue, lavender, or blue, white, and gold. The cake design could be a simple one-tier cake or include multiple bears for decoration.
8. Twinkle Twinkle Little Star
Another versatile, unisex theme, Twinkle, Twinkle, Little Star, is the perfect way to welcome a little one who will be a star to you! This type of cake offers a large color palette, even if you select to have a gender-neutral shower.
Cakes often have stars as part of the decoration. Many cakes you may see on Pinterest have a blue gradient and beautiful blue stars., but for a girl baby shower cake, you can choose pink, mint green, or yellow.
10. Cupcakes
Cupcakes are an easy alternative to serving a cake. They are more simple to set up and can be a timesaver. If you choose to make them yourself, you'll often need fewer materials, which could cut down on the cost.
You can choose to decorate with pretty pastels, use toppers, or top them with a delicious buttercream recipe. Many cake decorating sites are available for free online to help you with recipe ideas for fillings and buttercreams.
What Can I Serve Instead Of A Baby Shower Cake?
If you have your shower at breakfast or brunch time, you might want an alternative to cake. (Cake lovers seldom watch the clock though, so cake works anytime for many people.)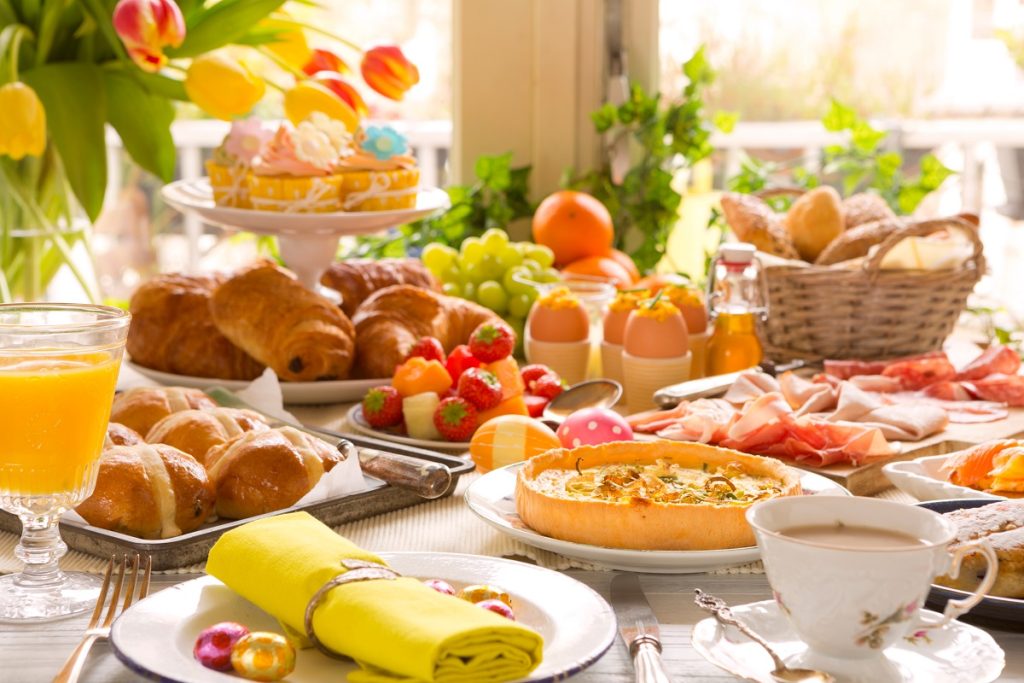 A breakfast bar might feature some crepes filled with chocolate, strawberries, or any other flavors that you enjoy. You can also serve cupcakes, giant cinnamon rolls, donuts, brownies, or muffins.
A variety of mini-desserts can incorporate the idea for your little one coming! No matter what dessert you serve at your baby shower party, your guests will appreciate the thought involved.