If you are trying to figure out how to make great cupcakes for your baby shower, then look no further! Check out these helpful hints to create the perfect baby shower cupcakes! These can be used instead of a baby shower cake if you're looking for a chance to break from the norm. Keep reading for some decoration ideas, supplies you may need, and recipes to select the most delicious options.
How Do You Decorate a Baby Shower Cupcake?
You will need to prep a few things to make your baby shower cupcakes. First, find a buttercream recipe and prep that material for the decoration.
Finding an excellent frosting recipe will be one of the keys to your success, along with purchasing the proper supplies. You will need various piping tips to decorate and a piping bag. Other materials may include food coloring and baby shower cupcake toppers.
Watch some tutorials online to learn the proper techniques regarding positioning and pressure when you begin. Work your way with the piping bag from the outside in to create the perfect look for your cupcakes.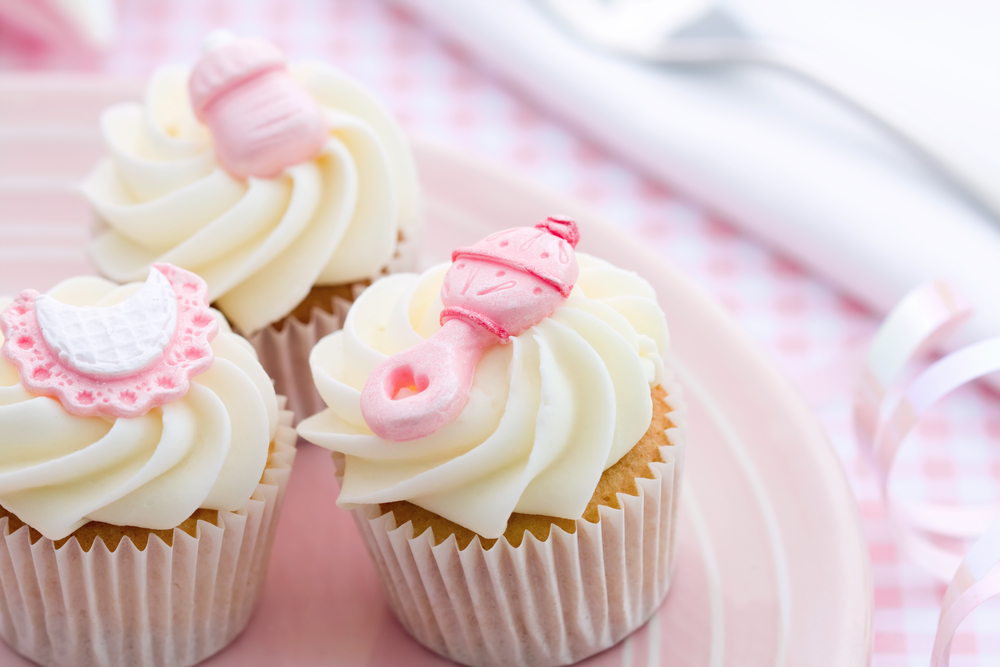 Choose Your Cupcake and Frosting Flavors
Selecting what frosting flavor is best will depend on what flavors you like. There are many recipes for vanilla cupcakes or chocolate cupcakes. There are other recipes in which you could incorporate a birthday cake recipe.
Choose a red velvet cupcake or cappuccino flavor if you decide on more unique flavored options.
A buttercream frosting is an excellent option that you can find tasty recipes to create. You may also choose to go with a meringue base, a cheesecake frosting, fondant, or a royal icing topping.
Gather Your Cupcake Supplies
You will need to purchase a few different materials when choosing which cupcakes to present at your dessert table.
These may include cake toppers, sprinkles, cupcake wrappers, and baby shower cupcake toppers. Also, remember any piping material and frosting ingredients you will need when decorating. You can feature your cupcakes around your themed baby shower and include influences from the theme that you have selected.
Find the Perfect Cupcake Recipe
When you're ready to create the DIY cupcakes, the internet is your best friend! You can find various blogs and recipe sites will help you determine which recipes may be the best option for you.
Options may include chocolate, lemon, vanilla, strawberry, and red velvet flavoring. Make sure to decorate the cupcakes after they are completely cooled.
Choose Your Cupcake Decorations
Rose cupcakes are an ode to all things girl. You can purchase fondant roses to decorate or choose from plastic cupcake toppers. You may even decide to decorate the frosting itself as a rose.
Stork cupcakes are a relatively simple design that you can use for a gender reveal party as well. Most of the inspiration includes white frosting topped with a simple stork topper. You can find some fantastic ideas for color pairing on Etsy if you need help thinking of a good color combination.
You can order teddy bear cupcake toppers on Amazon or Etsy. There are also adorable fondant bears available for cake decorating and intricate designs. Fondant may work well for cake pops if you select that option for your baby shower party.
You can create adorable baby boy cupcakes catered to your special day. "It's a Boy" cupcake toppers are available to purchase through multiple retailers. You can choose from a variety of baby blue and deep blue cupcake frostings. Fondant decorations are available if you choose baby pacifiers, baby bottles, or other options to keep the cupcakes creative for your baby shower decorations.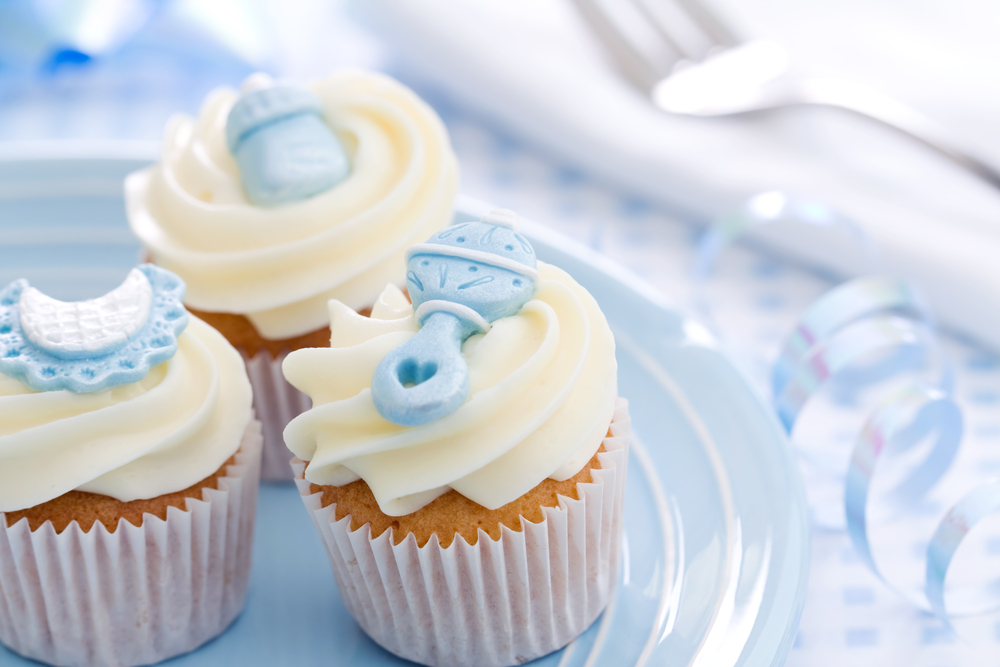 Girl baby shower cupcake ideas are so versatile. You won't have a problem finding something you like. You can order simple cupcake toppers stating "It's a Girl!" or decorate them with cute pink bows or baby feet. You can use a meringue design or a classic swirl decorating with different frosting colors. Make sure to use Pinterest to gather some ideas.
Gender-neutral cupcakes are just as easy to create as a boy or girl-themed ones. You can combine blue and pink sprinkles if you're keeping the special surprise, and decorate with stork cake toppers for an easy transition. Other themes may be "Oh Baby" inspired decor, which you can include in centerpieces and other decor.
You could choose a classic white frosting, a mint green, yellow, or a pastel to stick with a gender-neutral color. Elephant cupcake toppers, baby ducks, bows, and baby bottles are all creative decorations that you can use.
What Are the Best Flavors of Frosting for a Baby Shower?
Buttercream is one of the most popular types of frosting and is easier to work with than many others. Buttercream frosting is made with eggs which produce a fluffier texture. Also, it combines some fat, such as butter, as the winning ingredient. Dessert decorators prefer to use this over other types of options.
There are many flavors of buttercream that may go well with your cupcake pairing. These include French buttercream, German, Cream Cheese Frosting, Whip Cream Frosting, Fondant, and Fudge Frosting.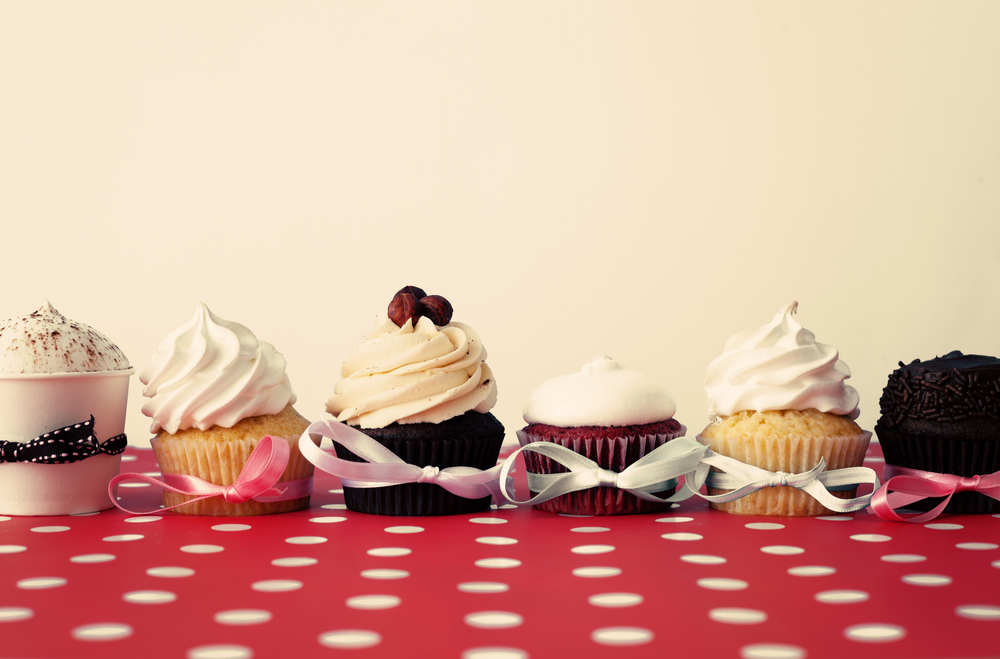 How Many Cupcakes Are Necessary for a Baby Shower?
A good rule of thumb is to make at least as many cupcakes as there are guests. Make a few extras for leftovers and desserts guests can take home, which may be a practical option if you're trying to cut costs.
Looking to stick with a standard cake? Check out these ideas for great cakes for a boy baby shower!