If there's something that the guests may be looking forward to seeing, aside from the mom-to-be or the parents-to-be during a baby shower, it has to be the cake. But how do you make sure that your cake fits with the rest of your baby shower decor?
Take the elephant theme as an example. Perhaps you have had some difficulty finding a cake to match this theme or are afraid your cake will look too generic. In this article, you will learn more about the boy elephant baby shower and all the baby shower ideas that come with it.
Elephant-Themed Baby Shower Cake Ideas
For discussion, let's divide the baby shower cake ideas into three tiers.
Three-Tiered Elephant Baby Shower Cake: The bottom and the middle tier will have a light blue fondant with an elephant pattern. The top tier can be a light gray fondant with an elephant-shaped boy cake topper. And if you want to create an even more stunning effect, you can add a few elephant toys and other decorations around each tier.
Two-Tiered Elephant Baby Shower Party Cake: The top tier can be an ivory fondant with a large elephant figure. You can choose a blue fondant for the bottom tier and decorate it with smaller elephant figures. A special ribbon can connect the top and the bottom tier for a streamlined look.
Single-Tiered Elephant Boy Baby Shower Cake: This cake may look simple, but sometimes, simplicity makes all the difference when thinking about cakes and designs. The top tier could be a light blue fondant with a cute elephant figure wearing a onesie at the center. The bottom tier should be a golden brown fondant with a unique elephant pattern. To complete the design, you can drape a white ribbon around the cake for a more elegant feel.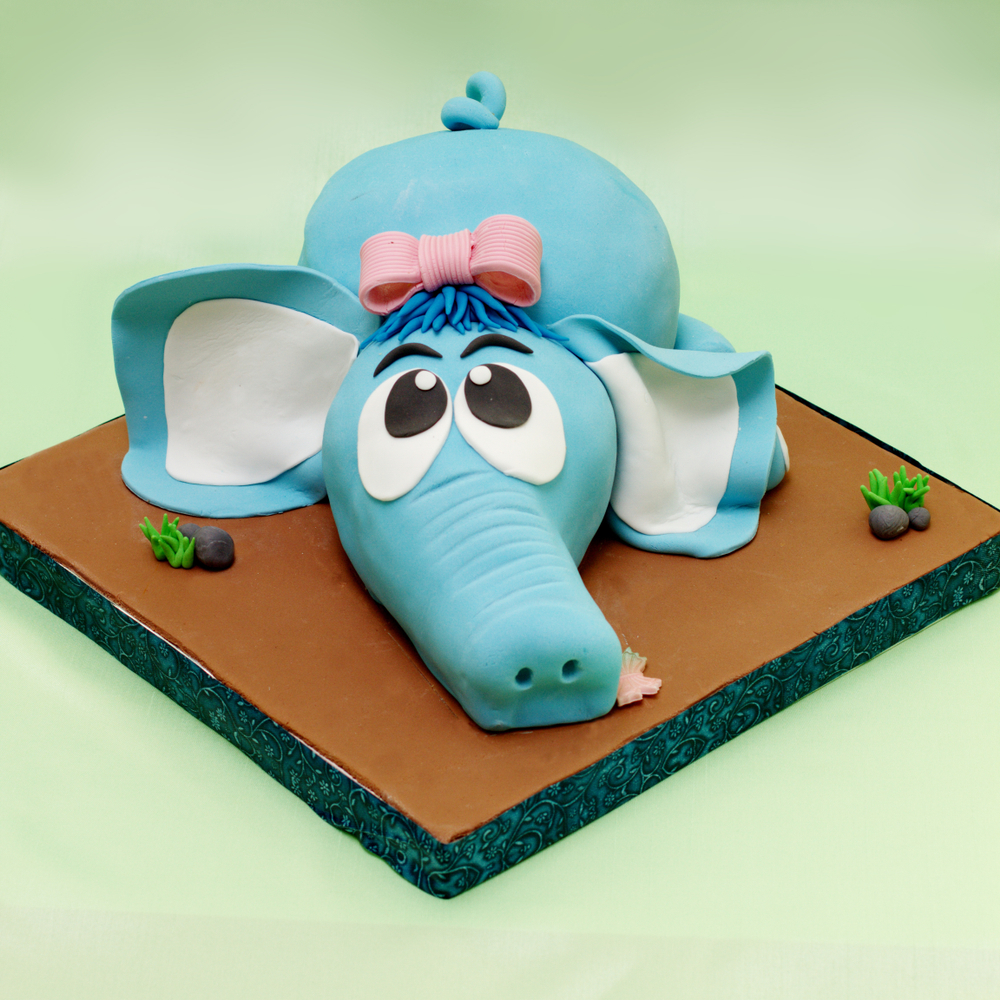 Elephant Baby Shower Cake Decorations Ideas
Aside from the fondant and the toppers, you can also use different decorations that correspond to the elephant theme.
Edible icing elephant toppers
Fondant elephant figures
Fondant balloon strings
Blue and ivory ribbons
Artificial grass or leaves
Elephant-themed cookies
Elephant stuffed toys
Blue fondant stars
Don't feel like you need to use all of these ideas. Keeping your cake decoration simple with just a few colors and eye-catching designs will help your theme stand out more prominently.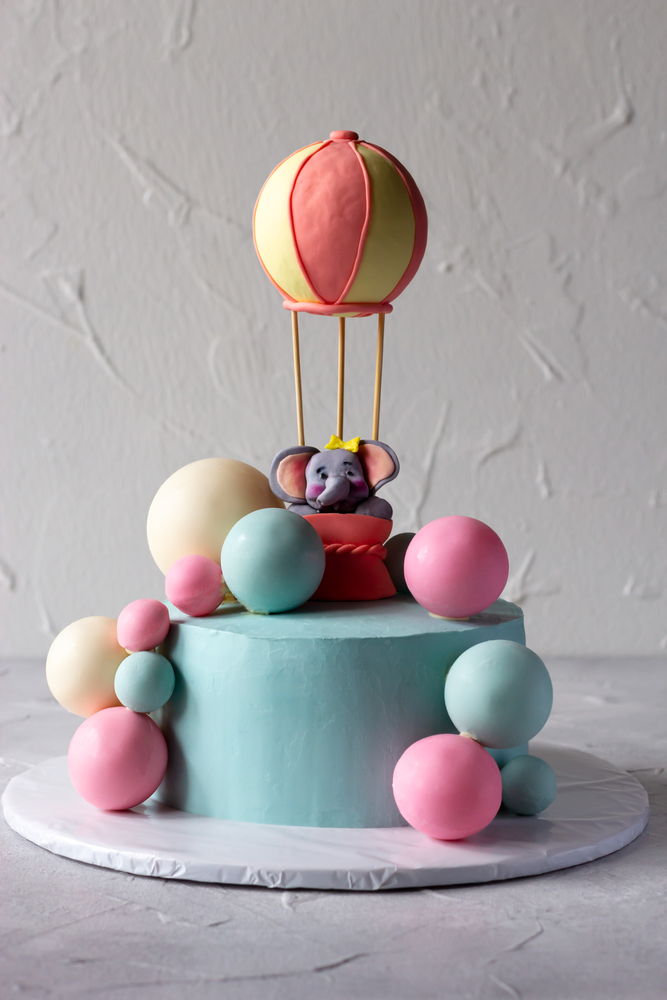 Blue Elephant Baby Shower Cake
Despite the main design of the blue elephant baby shower cake, you may also use blue fondant balloons and edible stars as decorations around an elephant topper made of fondant. You may search social media sites for more inspiration on this specific theme.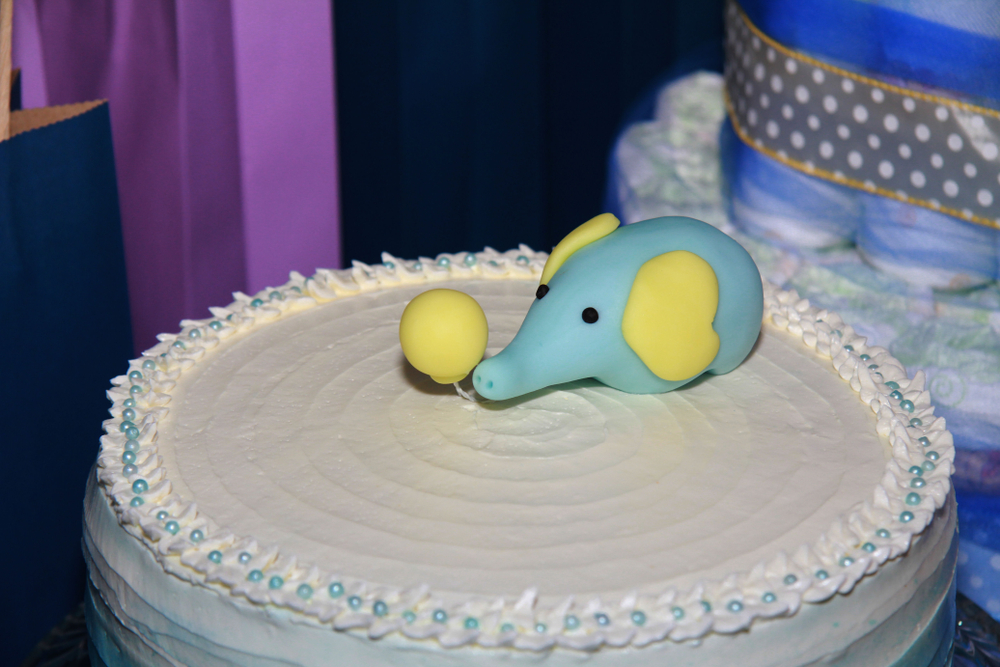 Elephant Baby Shower Cake Topper Ideas
You may choose a fondant elephant head with blue eyes or a fondant figure of an elephant lifting its trunk. You may even go for a simple printed image of an elephant face which you can stick on top of the diaper cake.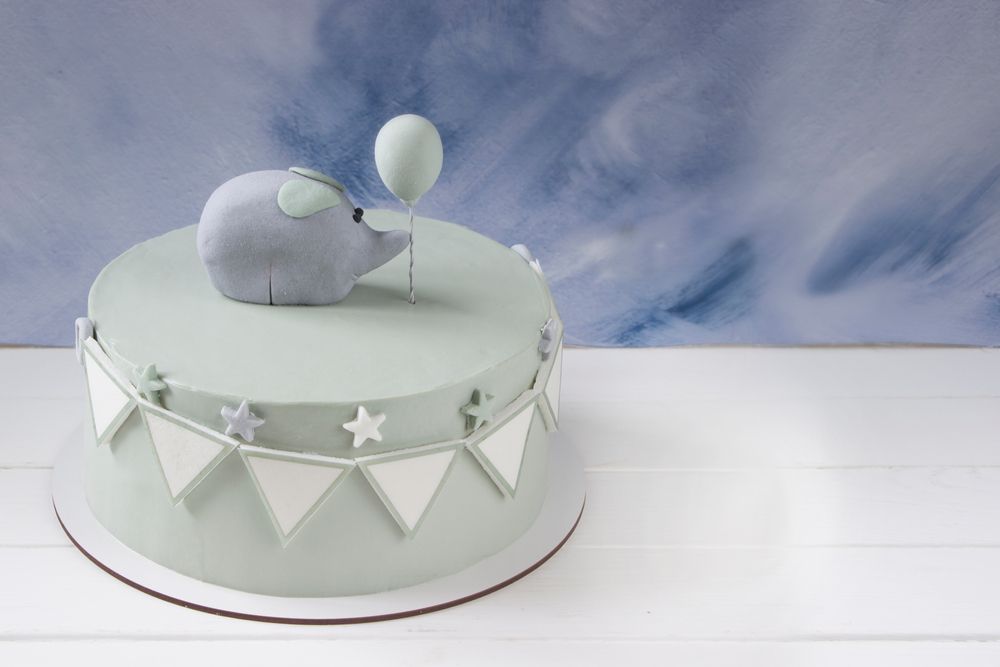 Elephant Cake Pop Ideas
Make cake pops that are shaped like little elephants. The heads, ears, trunks, and legs can be made with blue or gray fondant, while you can make the eyes with white fondant. You can use these cake pops as baby shower favors.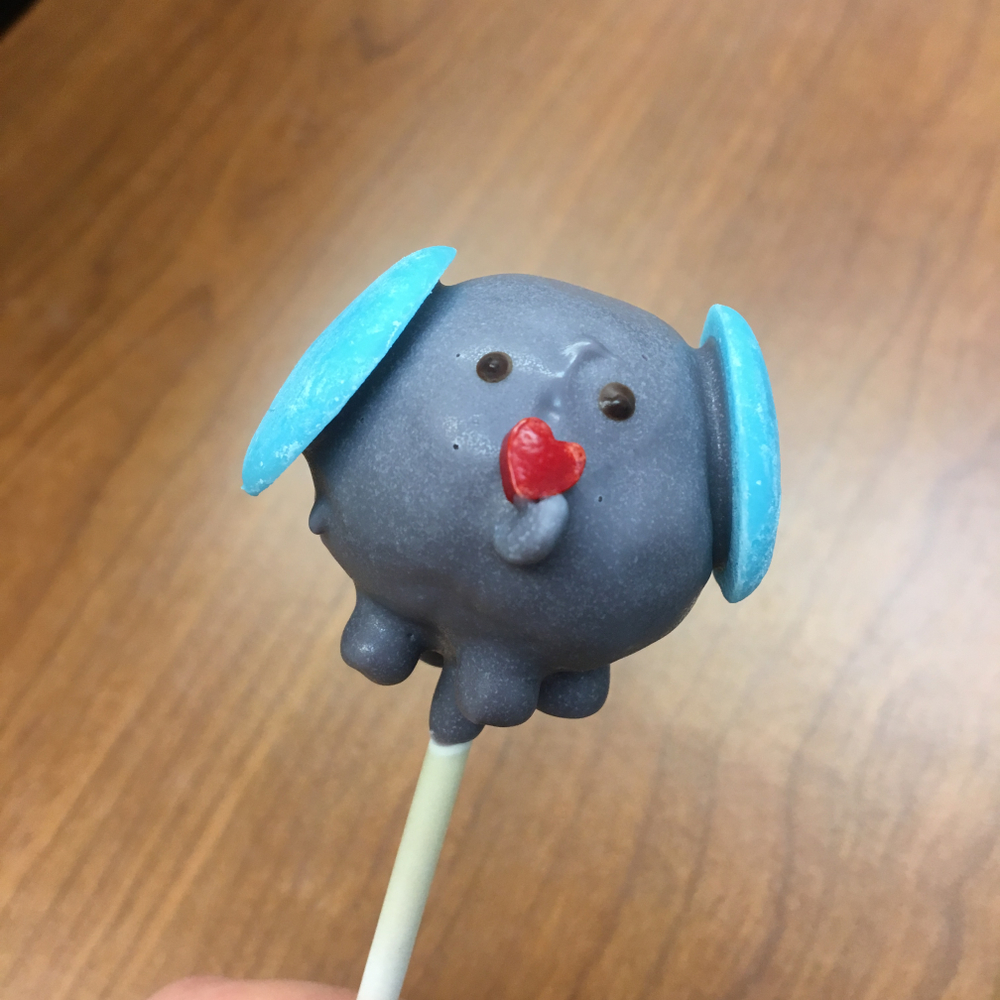 Elephant Cupcake Ideas
Any cupcake will do, as long as the final design matches the elephant baby shower decorations. Even the store-bought ones are good to go with a bit of modification.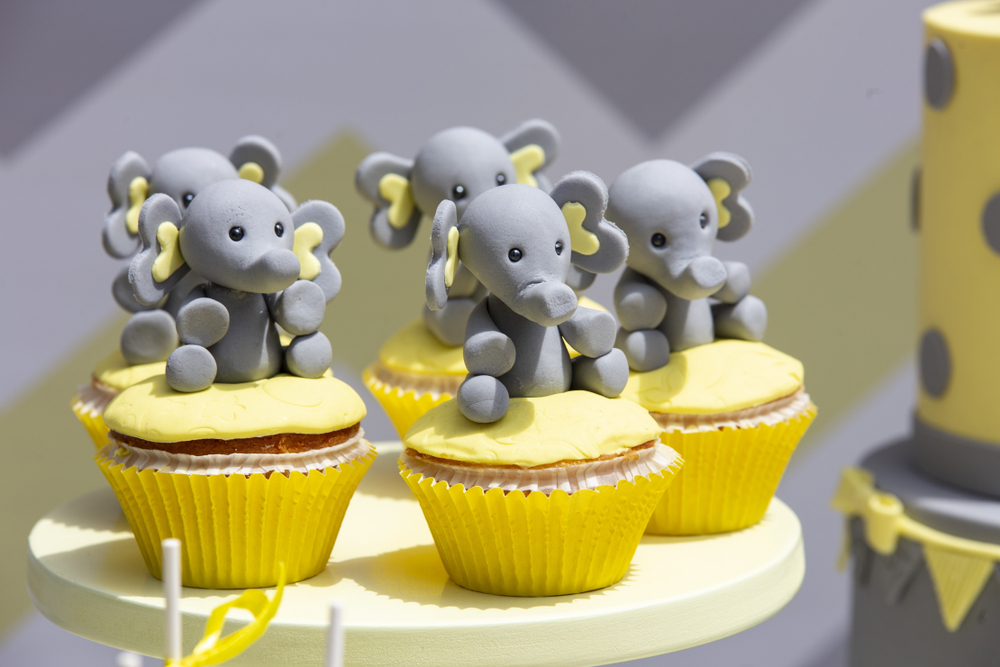 Elephant Cupcake Toppers
Apart from elephant-shaped cake pops, you may also bake blue cupcakes made with white and gray fondant pieces that can form the shape of an elephant. Alternatively, you can bake or buy plain cupcakes and place a fondant elephant figure as an edible cake topper for each piece.
Elephant-Themed Dessert Table Ideas
Line up the dessert table with different trays that display an arrangement of cookies and cake pops shaped like elephants. You may also place mason jars of blue fondant stars and leaves that double as baby shower centerpieces to complement the design of your dessert table.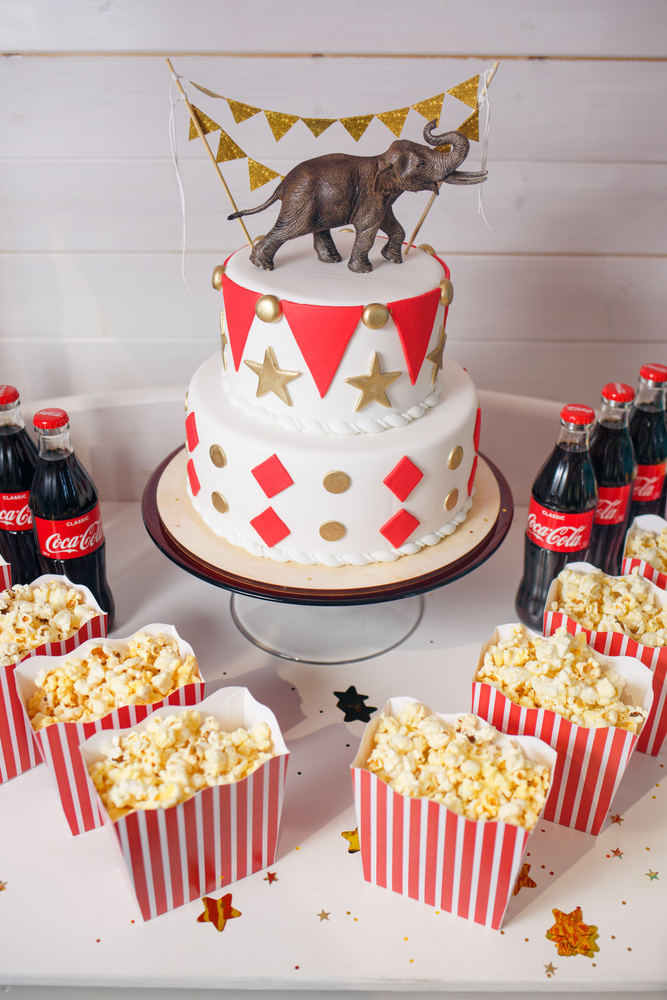 What Is a Popular Color for Baby Shower Cakes?
While different colors can be the primary color for a baby boy shower cake, the most popular choices are blue, gray, and white.
There is no exact rule regarding the colors you should use for a girl baby shower, baby boy shower, or neutral baby shower cake. However, remember that choosing colors that correspond to the theme you've decided on will help create a cohesive design for your cake.
What Are Some Popular Flavors for Baby Shower Cakes?
Like in birthday cake at a birthday party, chocolate and vanilla are the two most popular flavors for baby shower cakes. However, you can still choose from other flavors like carrot, lemon, red velvet, and butter pecan.
Buy small but numerous cake samplers so you know what you want for the event. Just don't forget to consider the elephant theme when choosing your flavor.
For DIY baby shower celebrations, a cake is an absolute must. But suppose you're following a theme that is not usually seen, like an elephant theme. In that case, you may find it tricky to design something well-suited for the event.
With this article, you can hopefully determine which designs and party decorations are perfect for your elephant-themed boy baby shower.
Looking for more ideas for this baby shower theme? Check out these great ideas for an elephant theme baby shower?