The teddy bear is the most popular of all plush toys. Every baby needs stuffed snuffles, slumbers, or pooh bear toys as companions to hug and cuddle when they need some comfort.
For these reasons, many baby shower hosts will choose the "beary cute" teddy bear-themed baby shower for the big day. And nothing says, "there's a beary cute baby on the way!" than a simple teddy bear baby shower cake.
How Do I Make a Simple Teddy Bear Baby Shower Cake?
Teddy bear cakes are adorable and almost too cute to cut and serve! Using a bear-shaped cake baking pan, you can make a simple teddy bear cake.
Alternatively, use 2-to-6-inch round cake pans and a few cupcakes to mold a beautiful teddy bear cake.
How to Make a Bear-Themed Cake Using a Teddy Bear Cake Pan
A teddy bear will be the highlight of your bear-themed baby shower, gender-neutral, or first birthday party. So, what items and ingredients do you need to get started?
Teddy bear cake pan (if you can't find one at your local store, online merchants like Etsy have them available at an affordable price)
Cake recipe or favorite cake mix
plain decorator icing or buttercream
icing colors
decorating bags
decorating tips
Tapered Spatula
Instructions
Prepare your cake mix or recipe, then bake it in your teddy bear pan.
Leave your cake to cool.
Tint your icing sugar using your party theme colors
Next, decorate your cake using the fur piping method. Squeeze and release your icing sugar to make clean fur-like decor on your cake.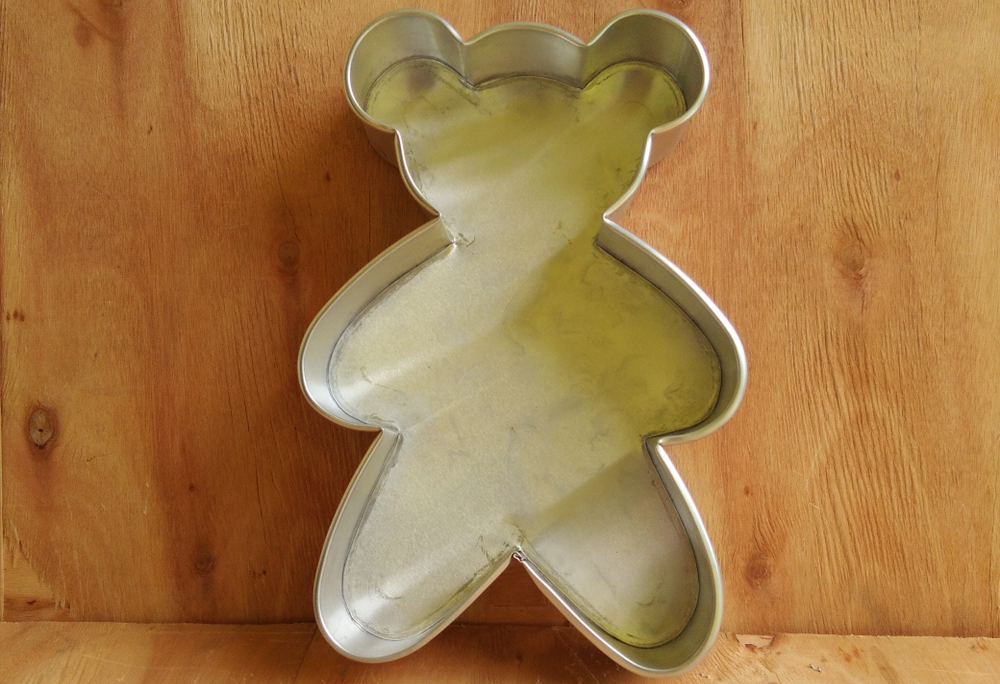 How to Make a Horizontal Teddy Bear Cake Using Round Cake Pans and Cupcakes
Tools
Two six-inch round cake pans
Two mini cupcakes
Five cupcakes
Food color
Decorating bags
Decorating tips
Tapered Spatula
Circle cookie cutter
Instructions
Mix your cake recipe, then bake it in your 6-inch round baking pans. A boxed cake chocolate buttercream or vanilla buttercream mix will simplify this process.
Leave it to cool.
Make creamy vanilla buttercream, then add food color to match your theme. Tan or brown for the fur is an excellent choice. That said, your teddy bear cake's fur could have soft pastel pink or blue accents for the baby boy or baby girl baby shower theme.
Assemble your cakes by first laying them on a serving platter. These cakes will form the teddy bear cake's upper and lower body.
Slice off a portion of the upper body round cake to ensure that your cake's upper body fits snuggly into its lower body.
Make your teddy bear cake's feet using two cupcakes. Use a circle cutter or cut away 1/4 from one of the cupcake's sides.
Place the feet snugly at the bottom of your lower body cake.
Next, cut off the puffy top of a cupcake and make it your teddy bear cake's nose.
Place two more cupcakes on each side of the large cakes to create arms.
Place two mini cupcakes at the very top to form ears.
Cover the cake's sides and top it with a thin layer of frosting to keep it firm.
Spread-colored frosting over the feet, paws, ears, and belly.
Fill your piping with colored frosting.
Cover your cake's sides using the fur piping method.
Create a nose and eyes using craft store candies.
Use teddy bear balloons as a topping.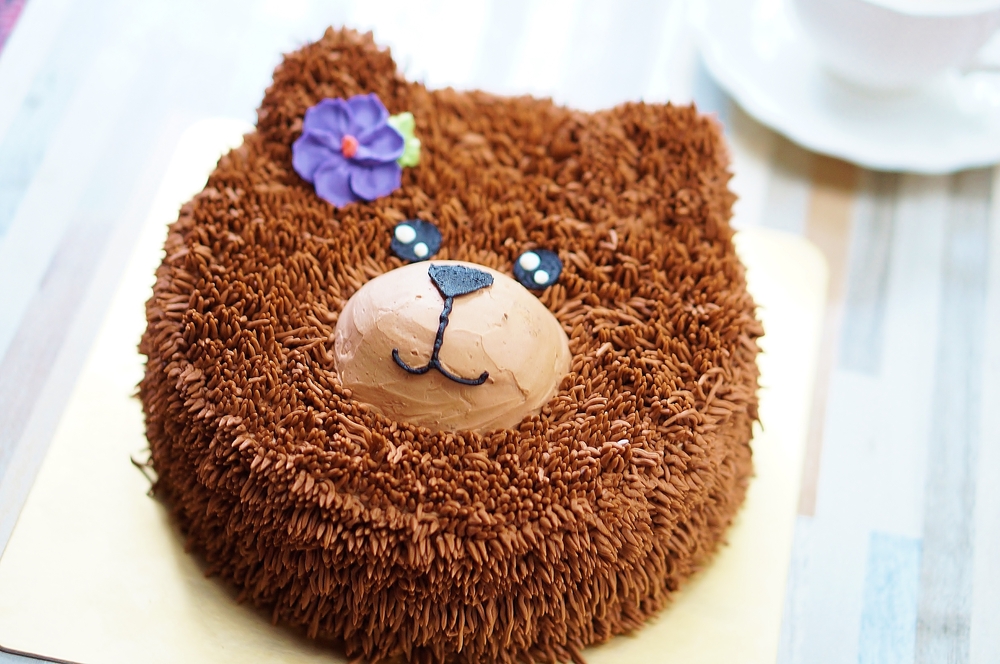 How to Make a Vertical Teddy Bear Cake Using Round Cakes
You can build an adorable vertical teddy bear cake as well.
Place your smaller cake (for the bear's head) on top of the larger one (to form the bear's belly).
Then cut out tiny round pieces of cake and attach them to the bear's body using toothpicks to form the ears, nose, and feet.
Decorate your cake using dainty floaty fondant clouds, boho florals, or rustic layers. After that, use colorful teddy bear-themed toppers to create a 'we can bearly wait' teddy bear cake for your party.
Simple Teddy Bear Baby Shower Cake Ideas
There are lots of sweet teddy bear cake baby shower ideas out there. All you need is a layer or two of round cakes or a teddy bear-shaped cake and unique cake decoration ideas to create a special teddy bear-themed cake.
Here are some of my favorite ideas to get you started:
Teddy Bear Baby Shower Cake
Some standout ideas include the polka dot bear cake. Cover a 6- or 8-inch round cake with fondant, then add polka dot fondant shapes. Use a fondant teddy bear and bow as a topper or centerpiece.
Elegant two- or three-layer cakes covered in fondant ruffles or waves are so beautiful and grand-looking. However, you can also go for a simple one-layer cake with a colorful fondant and teddy bear balloon garland as decoration.
Teddy Bear Cupcakes
Cupcakes are an ideal dessert for a baby shower party.
Some teddy bear baby shower cupcake ideas include peanut butter and chocolate flavored cupcakes with frosted animal crackers or teddy bear-shaped snacks as toppings. Dark chocolate cupcakes, with Mini Jaffa Cakes as faces, Malteser noses, and milk chocolate buttons eyes, will also be a show stopper.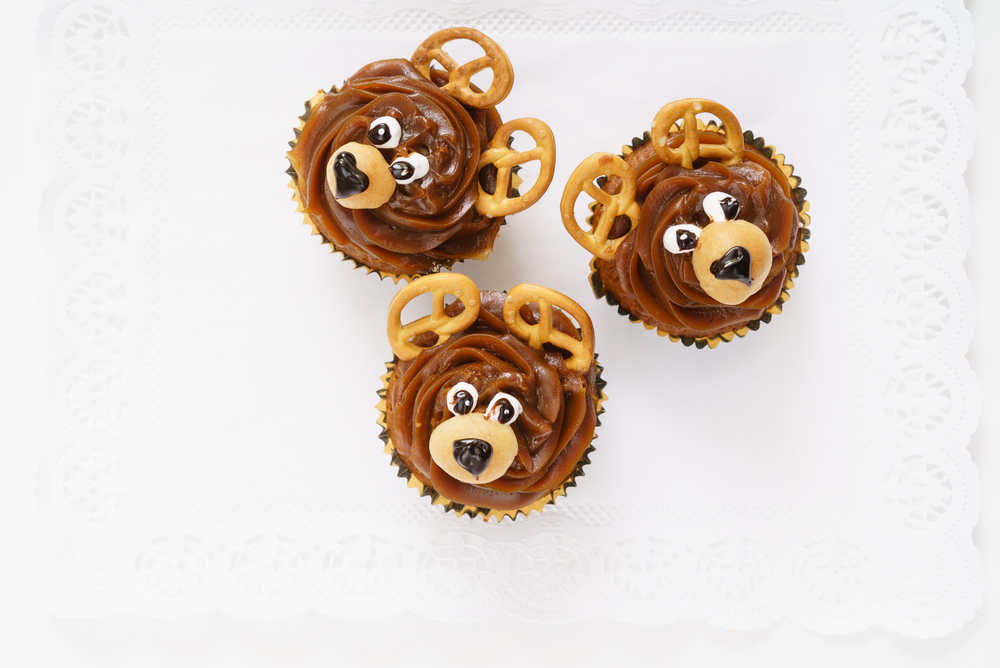 Teddy Bear Cake Topper
A bear-shaped cake topper is one of the most popular ideas for making a teddy bear baby shower cake. This idea makes work easy since the cake can be a simple round shape with plain-colored icing.
A teddy bear cookie sitting by beautiful dried floral toppers is also charming.
Other teddy bear cake topper ideas include dried florals, printable stencils, or a bear in a hot air balloon figurine.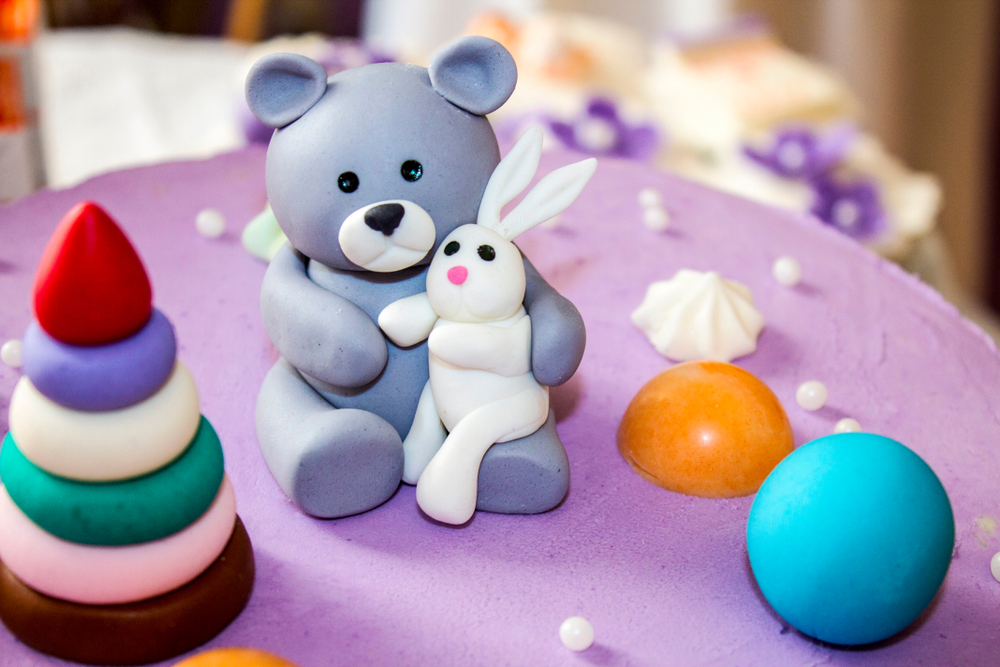 Teddy Bear Cake Pops
Cake pops are a simple yet fun teddy bear party treat.
You can whip up a DIY batch of caramel, peanut butter, or chocolate teddy bear cake pops for your gender reveal, baby shower, or birthday party. Bake a large cake, crumble it, and add your frosting once cool. Use an ice cream scoop to shape your mix into truffle-like balls. Then pop your stick into its middle and dunk it into a coating of choice, such as chocolate. Alternatively, use candy coating or candy melts as a coating. Then, use sprinkles, frosting, or little teddy bear toppings to create a cuddly bear effect.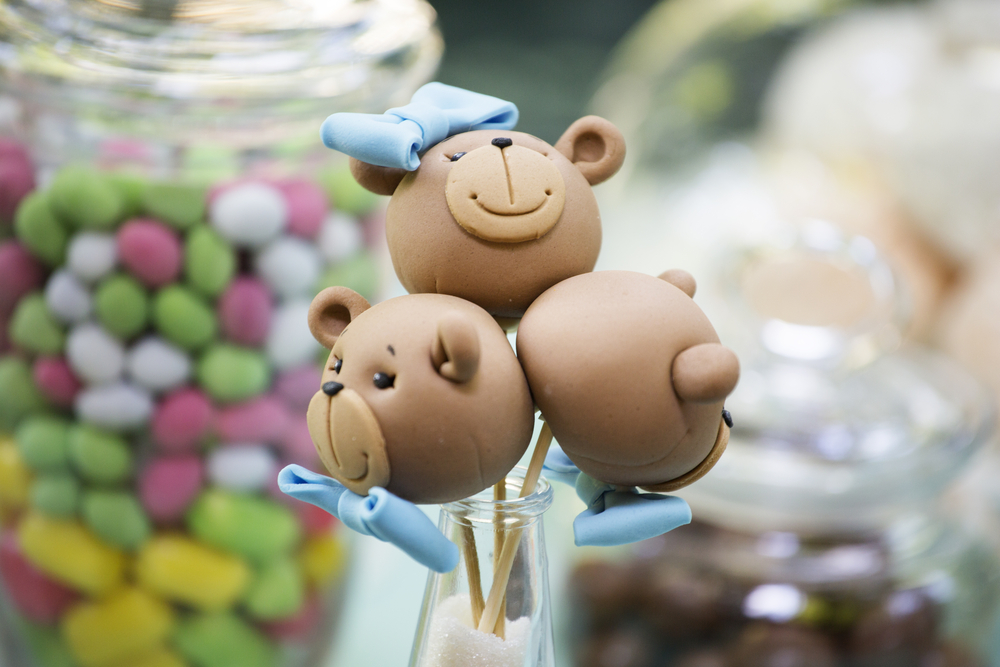 What Is the Most Common Type of Frosting Used for a Cake?
Simple buttercream frosting is the most common cake frosting choice for bakers. Beaten butter and sugar are the main ingredients. Consequently, it is one of the sweetest forms of frosting.
This frosting is also easy to make, creamy, thick, pipeable, and soft. If you mix your buttercream frosting improperly, it will be grainy, greasy, or crusty.