Baby showers may be low-key party events but they have the highest levels of love, positive energy, and laughter. The gathering offers guests a perfect village-bonding experience comprising fantastic baby shower themes, fun baby shower games, lots of gifts, and great food.
Food is the hallmark of a great baby shower party.
It follows then that the best baby shower food ideas for a girl can make all the difference between a drab or jazzy baby shower party.
What Kind of Food do You Serve at a Baby Shower?
The best baby shower food ideas for a girl should be easy to serve in a party space. After all, a baby shower party is a social event.
So, think of unstructured menus such as grazing boards. A loaded grazing table offers your good food-loving crowd a wide range of delicious and favorite nibbles. They can, therefore, graze as they socialize with other guests and the mom-to-be.
Alternatively, you could have a sit-down meal. This works great if you choose a restaurant as your venue or throw a formal luncheon party at home.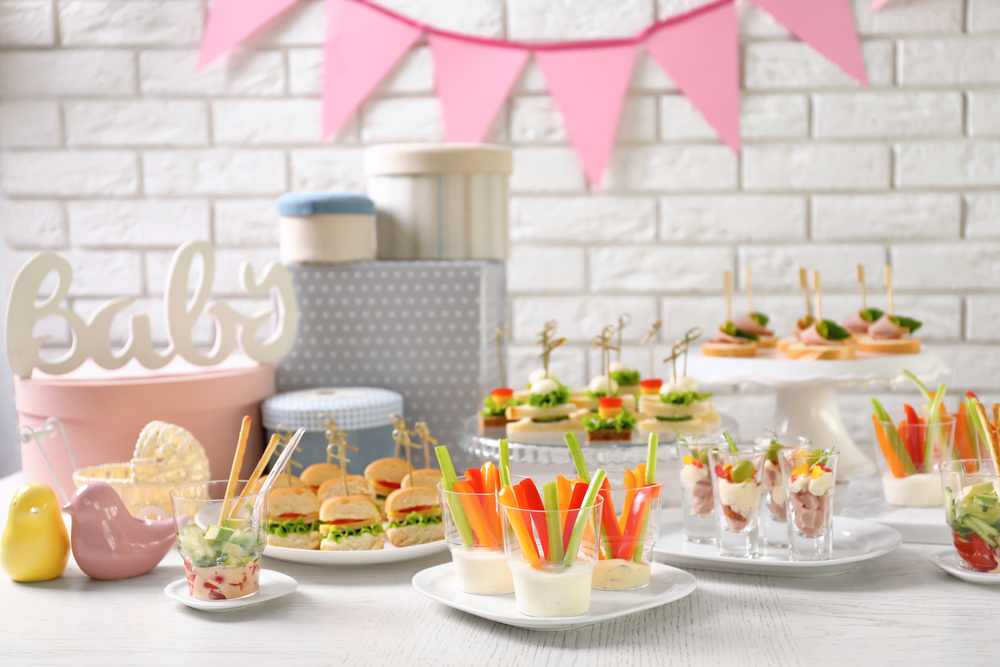 What Are Some Good Baby Shower Food Ideas for a Girl?
Finger foods are the best baby shower food ideas for a girl-themed party.
Unlike hot meals, you can make these bites ahead of D-day and serve many options. Consequently, the mom-to-be and any guests with dietary restrictions will have various options.
Additionally, you can zero in on mess-free foods that allow guests to mingle freely. Enhance your party's theme by adding colorful fruits or veggies to your party food menu and pastries with food dye to match your theme.
Baby Shower Appetizers
Baby shower appetizers can be as fancy as bacon-wrapped figs or baked oysters or as simple as ham and apple cheese wraps. However, it is wise to keep it simple and reduce planning strain as much as possible by serving easy baby shower food.
For this reason, the best baby shower appetizers should be simple to make and easier to serve. Think charming fruit kebabs on a skewer or toothpick that fit easily inside a serving cup.
Classy but uncomplicated hors-d'oeuvres like bite-size mashed potato croquettes with parmesan, chives, mozzarella, and meat stuffing will not only impress your loved ones but are filling as well. Bbq cocktail meatballs are lovely and classic baby shower ideas too.
In addition, you cannot go wrong with the classic pigs in a blanket and its vegetarian counterpart, glazed figs-in-a-blanket, with a creamy goat cheese filling.
Other delicious appetizer ideas for baby girl shower parties include:
mini crab cakes,
spicy shrimp cakes with sweet mango salsa,
fried mozzarella sticks with marinara sauce dipping
dill-pickled veggies
a budget, minimalist charcuterie board.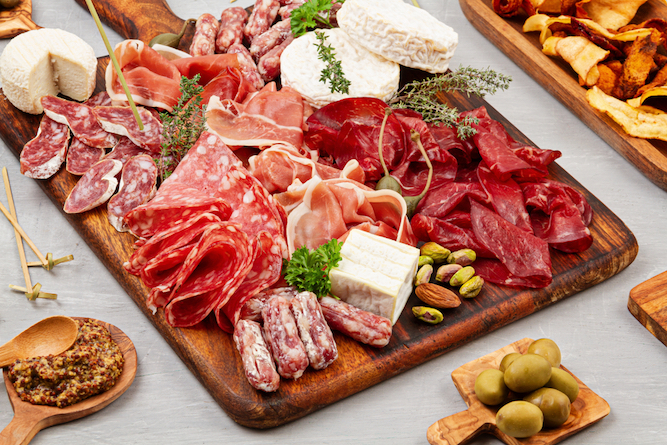 Baby Shower Desserts
Creative girl baby shower desserts are the highlight of the feast. Therefore, have a list of savory and sweet desserts to delight every guest. You can, for instance, serve pink-themed onesie baby shower cakes, cookies, or cupcakes for the sweet-toothed attendees.
Next, nothing says baby girl like pink cake pops, macarons, or confetti Oreos. A soft pink "baby in the belly" baby shower cake will also make a memorable impression. 
However, if you want a display of elegance, think dessert bar.
Build a delightful baby shower pink candy table filled with chocolates, gummies, and sour candies. Then, place your rainbow ruffle cake in the middle as a table centerpiece.
Another great idea is chocolate-dipped strawberries or raspberry vanilla pudding parfaits. These desserts are delicious, healthy, and low-sugar alternatives.
Staple savory desserts like crumbly vanilla lemony olive oil cake or blueberry feta scones will balance the sweetness of your dessert table with light, buttery, and filling flavors.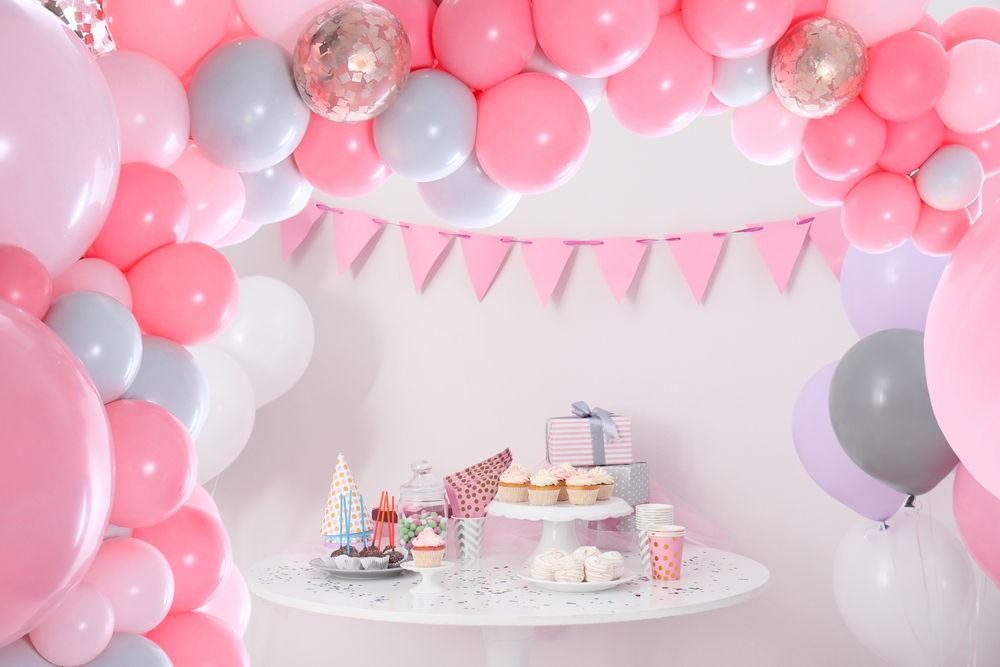 Brunch
Late Sunday mornings are perfect for a brunch baby shower party. So, what foods should feature in a brunch baby shower menu? This is the ideal time to serve elegant and simple breakfast casseroles, finger foods, or charcuterie boards. 
Some yummy breakfast casserole ideas include a strawberry and cream cheese French toast casserole. Layer egg and bread in a pan and bake! It is a low-prep, low-maintenance dish, and you can substitute strawberries with a medley of berries for a louder color pop.
Other excellent breakfast casserole ideas include egg and sausage, cinnamon roll, and potato egg and bacon casseroles. Spinach, ham, crispy bacon bits, mushrooms, and shredded Swiss cheese easy mini quiches are a tasty addition to a baby shower brunch menu. 
That said, mini quiche Lorraines or leeks and sausage dairy-free mini quiches are also fantastic alternatives.
On the other hand, brunch finger foods ideas for a baby girl shower include cheesy and juicy tomato tartlets on flaky puff pastry. Mini potatoes garnished with bacon, sour cream and fresh dill are also an excellent savory idea.
In addition, serve tangy, gooey, and crunchy mini lemon meringue tarts or skewered French toast bites to satisfy every guest's sweet tooth.
Set up a delightful breakfast charcuterie board with mini pancakes, fresh fruit waffles, and condiments. A breakfast charcuterie board filled with delicious waffles, bagels, muffins, and fruit or a cured meat and cheese board are also excellent brunch ideas.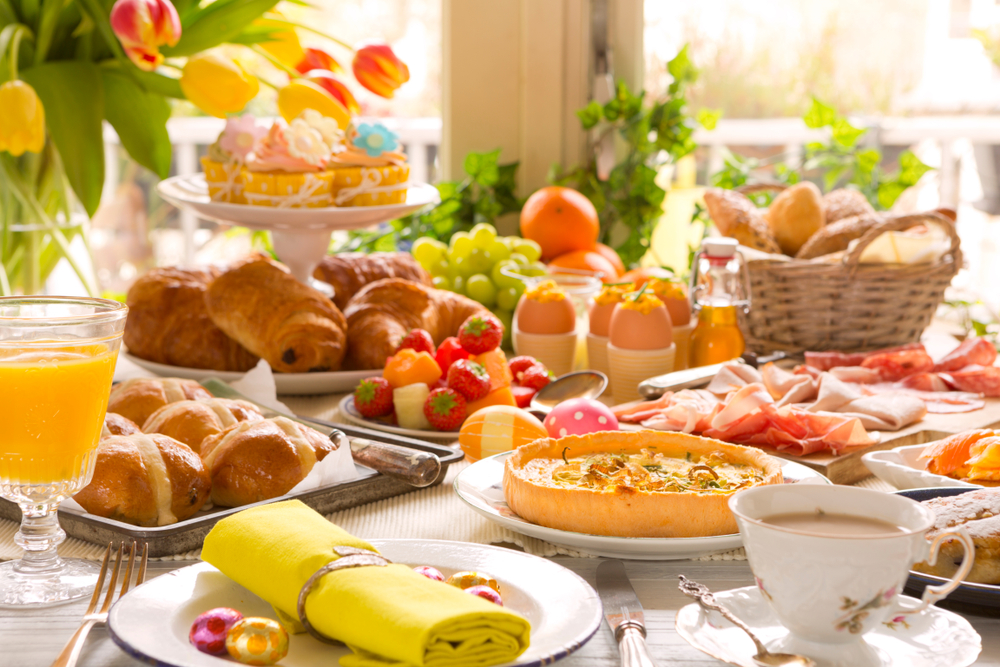 What Are Some Popular Finger Foods to Serve at a Baby Shower?
Popular finger foods for a baby shower include mini appetizers and mess-free desserts. For example:
dainty mini crab cakes
mini quiches
cake pops
Caprese salad kabobs
peach bruschetta
tortilla pinwheels
sweet corn croquettes
What Should Guests Do at a Baby Shower?
Some unspoken rules for guests at a baby shower party include keeping the conversation light. Avoid touchy subjects such as parenting or birth plans.
Baby shower guests should also RSVP a week or two before the party and only bring their plus one or kids if the invite says so. Also, be sure to bring a gift to the baby shower.
If you need more ideas for what to do at your baby shower, games are always a great idea. For suggestions, check out these phenomenal baby shower games.