If you are hosting a baby shower with a safari theme, you may be looking for safari baby shower cake ideas. We have some excellent jungle animal inspiration to help you host the best baby shower for the mom-to-be. Keep reading to learn more!
Safari Baby Shower Cakes
There are so many fun jungle safari cake options for baby showers! Here are a few of our favorites.
Green Safari Cake
A green cake with a jungle theme is perfect for a safari cake! You can use various shades of green and add greenery and jungle animals.
Neutral Jungle Theme Cake
You could also opt for a neutral jungle theme cake. Use neutral colors for the fondant, and then add leaves and a few safari animals for decor.
Safari Baby Shower Cake Pops
Cake pops are also fun for a safari-themed baby shower! You can match the other party decorations for cake pops if you wish. For example, if your safari theme is primarily greens, make cake pops in shades of green with tiny gold animal cake toppers.
You could also make cake pops with zebra stripes and cheetah print!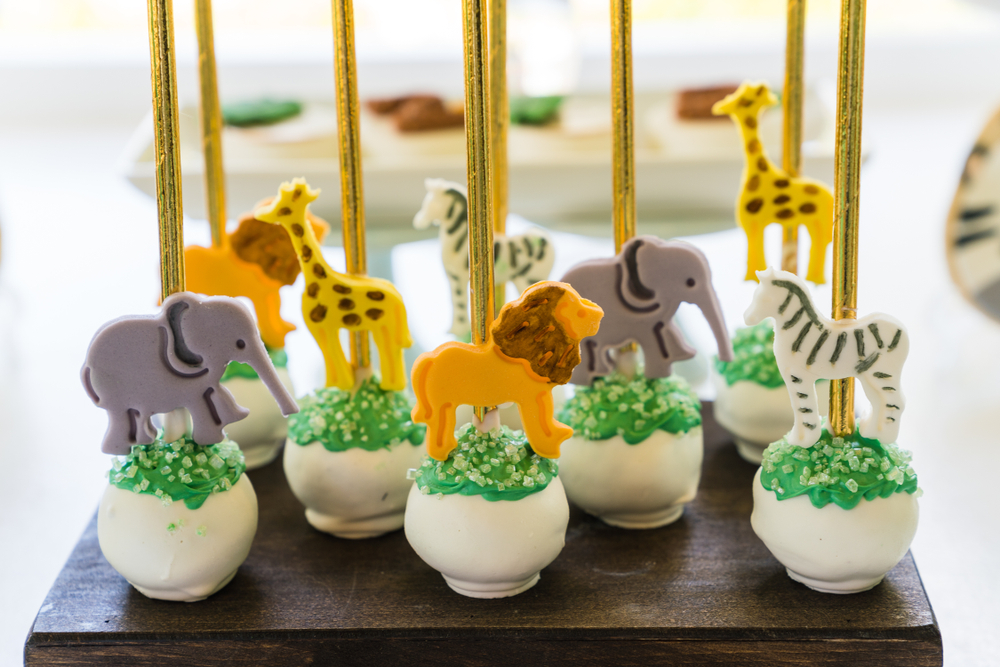 Safari Baby Shower Cupcakes
If you prefer cupcakes, there are also cute safari-themed cupcake options!
Jungle Cupcakes
Jungle cupcakes are a yummy, festive idea for a safari baby shower! You can make cupcakes with buttercream frosting and then add cupcake toppers! There are many options for cupcake toppers, such as baby animals.
You could also make jungle cupcakes with jungle animals directly on the cupcakes!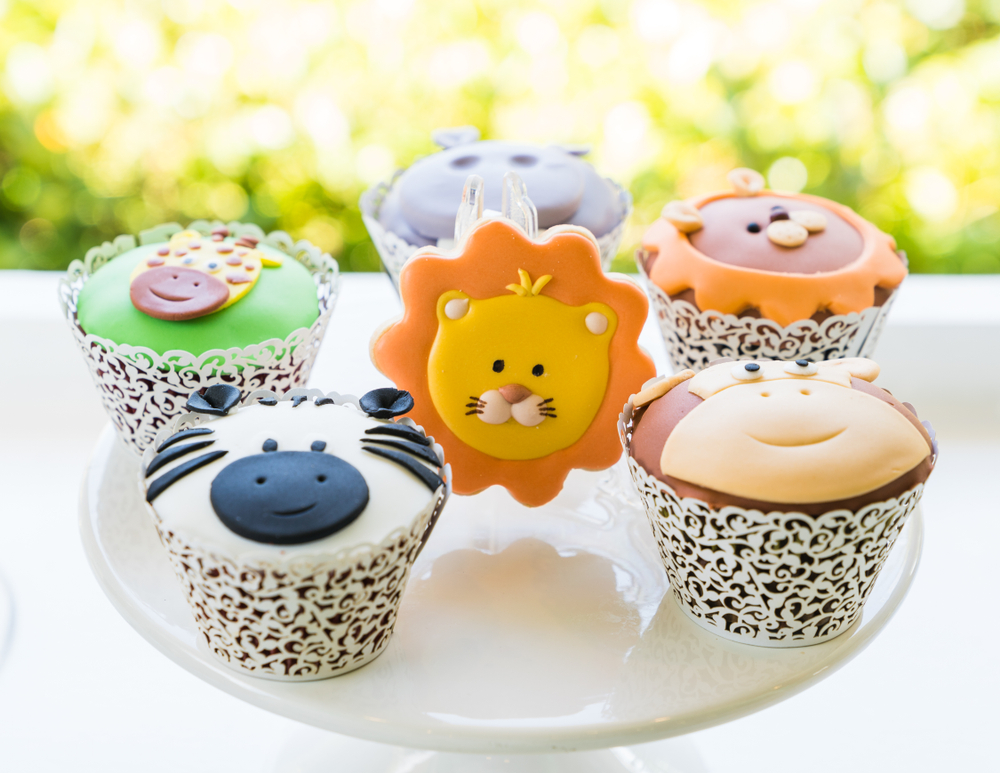 Safari Baby Shower Cake Toppers
Add cake toppers to any of these cake ideas! You can add a themed cake topper to any plain cake to help it fit the safari theme. Here are some text ideas for jungle baby shower cake toppers:
Wild One
Oh Baby
It's A Boy
It's A Girl
Born To Be Wild
Welcome To The Jungle
Safari Baby Shower Cake for a Boy
Here are a few ideas if you are looking for a baby shower cake specifically for a baby boy.
Blue Jungle Cake
A cake with shades of blue and pops of green jungle leaves is perfect for celebrating a new baby boy! Use white frosting and then add shades of blue or blue watercolor. Complete with greenery and jungle safari animals.
Green Cheetah Spots Cake
Cheetah spots on a cake are perfect for a jungle-themed baby shower! Use any base frosting color you would like, and add green cheetah spots with food dye or edible paint.
Safari Baby Shower Cake for a Girl
There are ways to make safari baby shower cakes specifically for a baby girl!
Pastel Jungle Cake
A pink pastel jungle cake is perfect for celebrating a baby girl! For this cake, use white frosting and various shades of pink splashes. You can also add white and gold sprinkles to complete the look. Top with gold safari animals!
Gold Safari Animal Cake
Gold and pink are beautiful colors to celebrate a baby girl! Use gold frosting and add pink for a pop of color on a cake. Add gold leaves and pretty safari animals.
How Do You Make a Madagascar Cake?
A Madagascar cake is perfect for a jungle safari baby shower! There are many ways that you can make a Madagascar cake. If you want to keep it simple, bake a cake with two layers and frost it with white fondant or frosting.
Order Madagascar figurines, and then top your cake with these figurines! You could add additional greenery, such as palm leaves.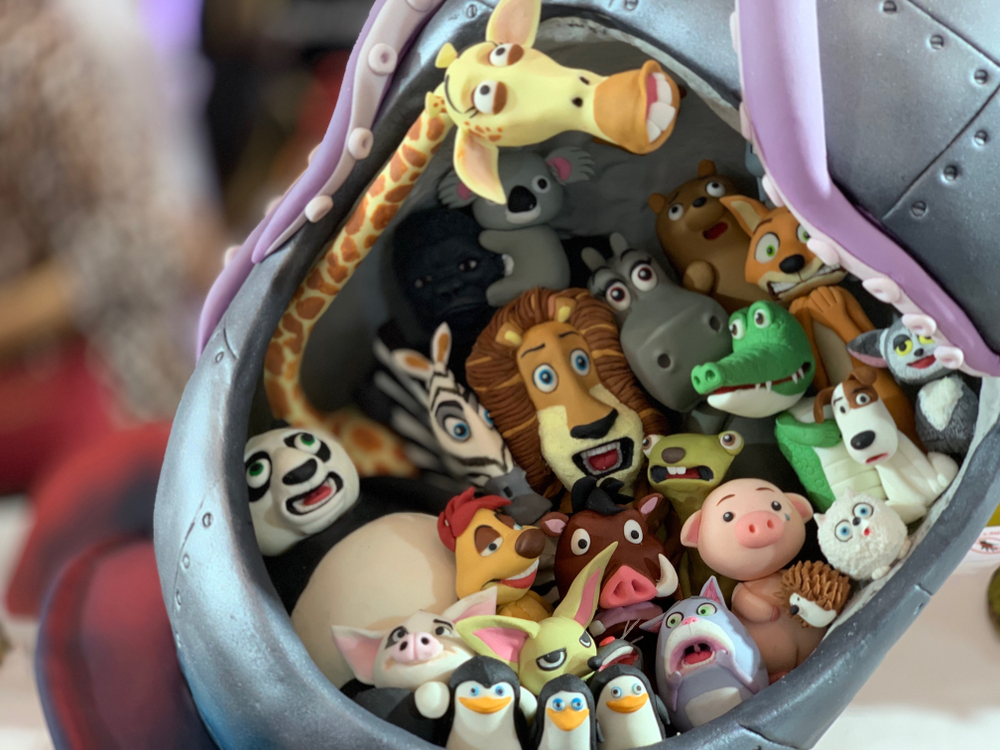 How Do You Make Leopard Print Cakes?
To make a leopard print cake:
Start by baking a cake and frosting it.
Use gold edible paint or food coloring to paint on the spots.
Create a variety of shapes and sizes.
Outline the spots with black edible paint or food coloring.
Leave some gaps when outlining the spots!
Add a few black spots in any empty spaces!
How Do You Make a Zebra Cake?
It's pretty easy to make a zebra cake! The key is to make two different colors of cake batter – typically white and black. Add a scoop of the white batter to a cake pan and a scoop of the black cake batter. Continue repeating the alternating batter colors until you use all of the batter!
Ensure that your white and black batter do not overlap or touch. Doing so is the key to creating the zebra look.
How Do You Make a Giraffe Cake?
Make a cute DIY giraffe cake with just a little cake decorating! Start by baking a cake. Then frost with yellow fondant.
Then make brown fondant for giraffe spots. You will also need to color fondant for the giraffe eyes. You can add ears and ossicones to the giraffe if you like!
If fondant seems challenging, you could also bake a cake and then top it with a giraffe figurine and other cake toppers!
There are plenty of other ways to to incorporate a safari theme into your baby shower! To help, we've put together this great guide for planning a safari theme baby shower!