So, you're planning a teddy bear-themed baby shower and pulling out all the stops to make it perfect. That means the cake should be a masterpiece. You will want to get it right with the flavor, colors, and, most importantly, the design.
To help you wow your guests, here are a few essential things to know about a teddy bear baby shower cake.   
What Is a Teddy Bear Baby Shower Cake?
A teddy bear baby shower cake is a cake with a teddy bear theme infused in the design. It comes in different formats depending on your preference. Here are some excellent ideas.
The whole cake is a teddy bear: If you want to go all in, this design is what you need. Whether or not you're a pro at cutting out designs, this design is easy to hack with simple instructions. You can use a teddy bear-shaped baking pan or bake your regular cake and cut out the design. 
A standard cake with teddy bear cake decorations and toppers: This is the most common design because it's easy to make, and you can customize it to your liking. For instance, you can have little teddy bears or its picture as toppers and on the sides. 
A blend of both: For this design, you make a cake with several tiers, one of which is teddy bear-shaped. For example, you can have a three-tier cake where the second tier is a teddy bear with the third tier on its head.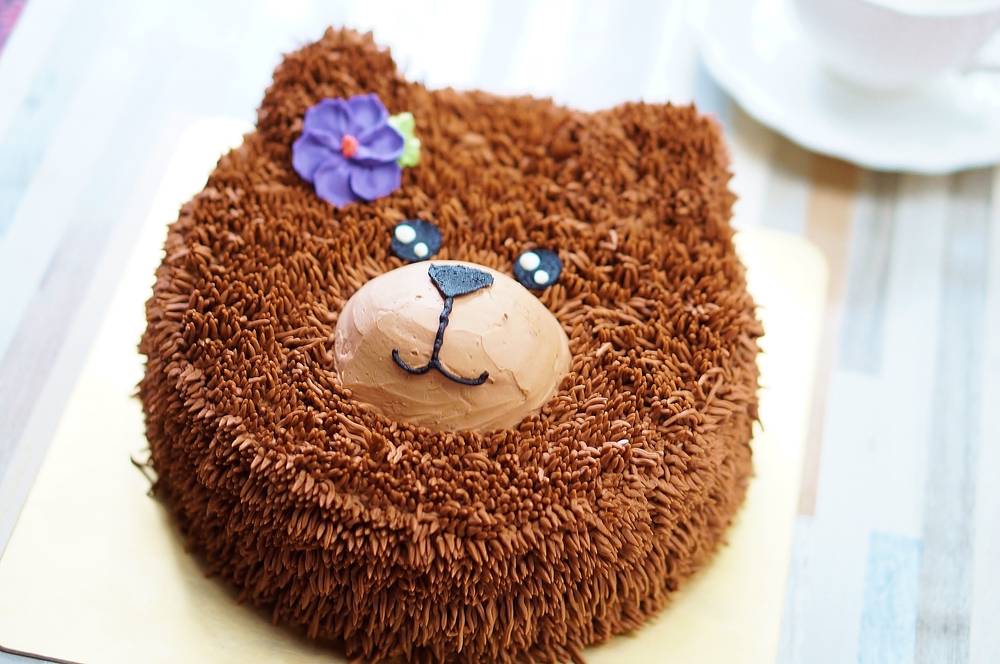 How Do You Make a Teddy Bear Cake?
Making a teddy bear cake may seem daunting if you've never done it. However, with a simple cake recipe, you'll have your adorable teddy bear baby shower cake within no time. 
The ingredients and the tools you use depend on your preferred flavor and the design.
Note: Before making your teddy bear baby shower cake, you must acquire some baking and decorating skills. If it's your first attempt, you can bake with a qualified baker for that spectacular look. After all, you want a perfect cake in taste, color, and looks to welcome your little star.
Here's a simple beginner recipe for an all-brown teddy bear cake.
Ingredients
3-4 cups of cake batter or one box of cake mix 
Brown Frosting 
Brown buttercream or white buttercream and brown food coloring
Black and brown fondant
Tools
Teddy bear baking pan
Cooling grid/ refrigerator
Disposable decorating bag
Decorating tip preferably 233
Tapered Spatula
Serving platter
Baking
Prepare the cake mix as outlined in the box instructions, and bake using the teddy bear baking pan. The boxed cake mix is better since the measurements are precise and easy to use. However, you can also make yours from scratch if you so wish.
Take the cake out of the pan when it's still warm and leave it on a cooling rack until it's completely cool.
Decorating
Prep the decorating bags with tips and fill them with brown frosting.
Place your cake on a serving platter and smear it with brown buttercream using the spatula to spread it evenly. Leave it in the fridge for an hour or two to chill.
For the fur, use the decorating tip to add frosting. Ensure you cover all the cracks and crevices.
Use the black and brown fondant to make cute little ears, a nose, and feet. U can use toothpicks or raw spaghetti to hold them in place.
If you're into carving, you can bake several layers of cake in circular baking pans and carve out the teddy bear. This design is perfect because the teddy bear is upright and looks natural. Check out this simple video tutorial for more information.
Whether you use the bear-shaped pan or carve it out, you can change the ingredients for your preferred flavor, color, and size.
Simple Teddy Bear Baby Shower Cake Ideas
You can always have ideas with teddy bear baby shower cakes because there are numerous options, whether for DIY or ordering from a baker. Here are some examples
Bear in a box: This one requires a cubed cake with a teddy bear head. You can ask a baker for help with that perfect look. Remember the cute little eyes, ears, and nose.
Teddy bear-faced cake: For this design, the top makes the bear's face. For a beautiful look, you can add some fur using a decorating tip.
Sitting and hanging bears: This is just your usual cake which can be square or circular with some little teddy bears sitting at the top. You can have two at the top, two on the side (as if climbing), and several seated at the base. Use different colored fondants to mold the bears.
Add other decorations, such as fondant-made bunnies, gummy bears, or flowers, to make the cake more adorable.
Teddy Bear Baby Shower Cake For a Boy
There are numerous options for a teddy bear cake to welcome your baby boy. However, the all-bear cake beats them all. Bake it using a bear-shaped baking pan or carve it from a regular cake.
You can use brown or different shades of blue when it comes to colors. To spruce it up a bit, add a little bunny at its foot or hand.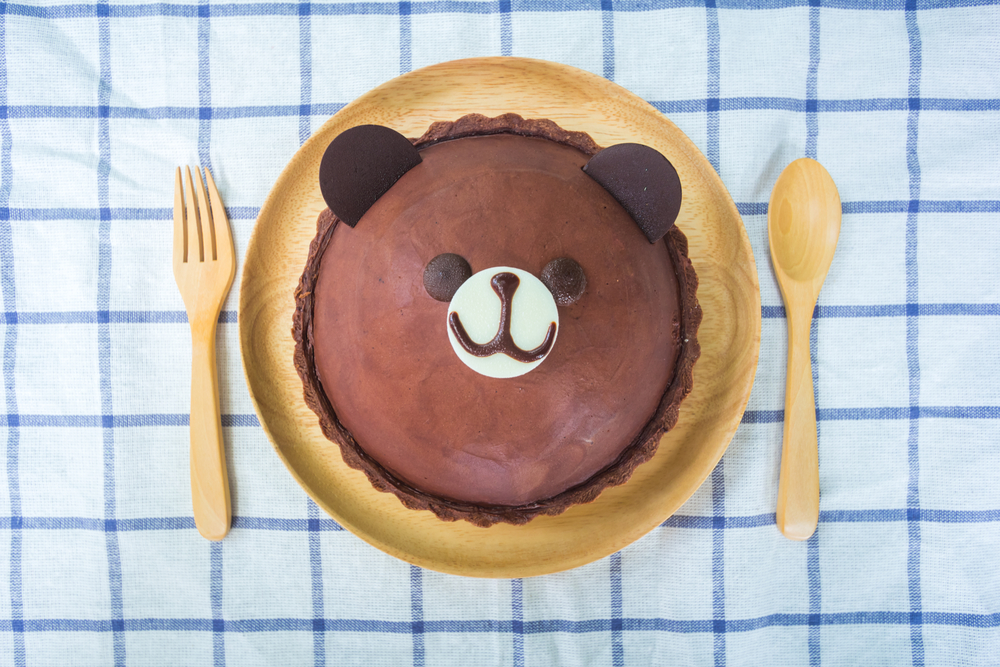 Teddy Bear Baby Shower Cake For a Girl
A tiered cake will be perfect if you're welcoming a baby girl. Go for pastel pink with white polka dots and stars, and have brown bears sit at the top, middle, and bottom. Ensure the bear at the top is a little bigger, and you can add a pink ribbon to it or have it hold a balloon garland.
Teddy Bear Baby Shower Cake Toppers
Whichever cake design you choose, you'll need toppers to make it stunning. You can make yours out of fondant or order online. 
For DIY toppers, mold little bears and bunnies, then use frosting with a decorating tip if you want them furry.
Alternatively, if you prefer pre-made toppers, go for this 3D bear cake topper. It's made of polymer clay, and it's easy to use. The good thing is you can preserve it and use it for your child's first birthday cake.
Another perfect teddy bear cake topper is this "we can bearly wait" topper. It's made of non-shedding glitter and is ideal for any gender.
This bear and moon topper is an excellent choice for your teddy bear baby shower cake. It's made of resin. You can even use it on other occasions after the baby shower, such as a birthday party.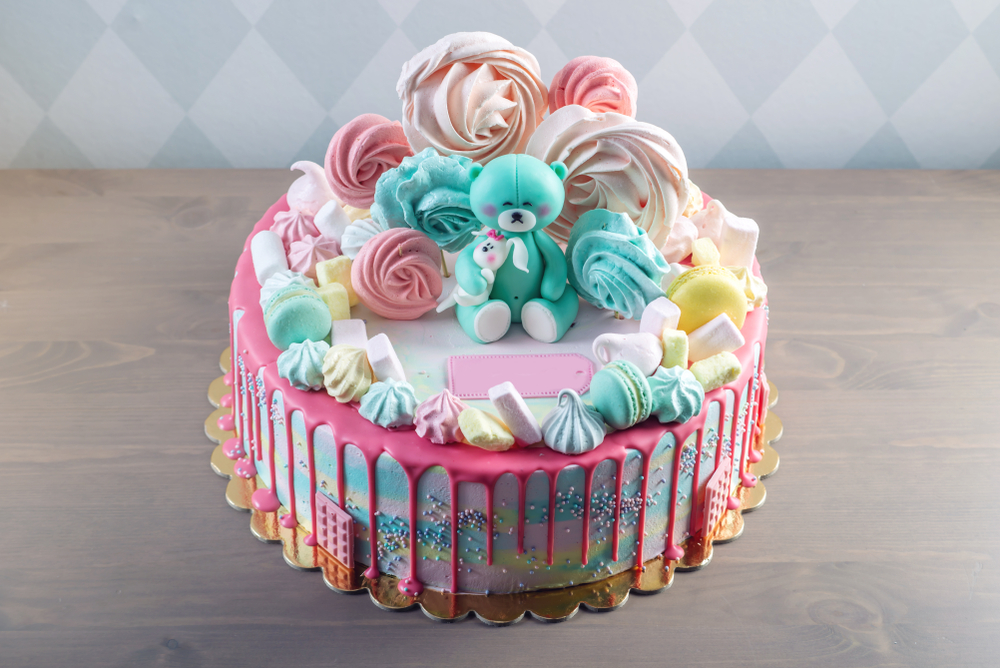 Teddy Bear Baby Shower Cake Pops
Teddy bear baby shower cake pops are excellent sweet treats for your guests to munch on for dessert or to carry home as party favors. Homemade pops are best because you can include different flavors to your liking.  
You'll need cake crumbs, frosting, and lollipop sticks. You'll also need fondant for the ears, eyes, and nose. Dip them in brown chocolate to get a nice brown color, or add multicolor confetti.
If you don't want to make these cake pops yourself, order them on Etsy.
What Are Some Colors You Can Use to Make a Teddy Bear Baby Shower Cake?
The perfect teddy bear baby shower cake color depends on your preference. However, the most popular include:
Brown: This is an all-time favorite for most parents-to-be since it represents the actual bears. The best thing about it is that it's gender-neutral. However, if you want to specify your baby's gender, pair it with blue or pink. Otherwise, different shades of brown are perfect for your cake.
Pink: Different shades of pink are perfect if you're welcoming a baby girl. You can combine it with white or a touch of gold, especially for the toppers. The pink also blends well with different shades of brown.
Blue: Blue is commonly used for boys. But that doesn't mean you can't use it if your baby is a girl. One thing about blue is that it brings out perfect little bears. You can combine it with pink, white, or brown.
The teddy bear party theme is an excellent choice for your baby shower party because it works with either gender. When it comes to the cake, these ideas will help you create a masterpiece to behold and tantalize your guests' taste buds.
Looking for more teddy bear baby shower ideas? Check out this great guide for planning a teddy bear baby shower and this article on teddy bear baby shower centerpieces.