Baby showers and teddy bear centerpieces are an excellent combination for several reasons. First, you can have a teddy bear-themed baby shower for whichever gender—a girl or boy. You can also incorporate this theme if you don't yet know the gender of the baby.
There are endless ideas for beary cute teddy bear centerpieces to choose from. These great ideas will help you create fantastic teddy bear centerpieces and make your perfect shower a reality.
What are some ways to use teddy bears as centerpieces?
A teddy bear-themed baby shower is not complete without a teddy bear centerpiece. Here are a few options for the most adorable teddy centerpiece.
Teddy Bear Diaper Cake
A teddy bear diaper cake is a cute centerpiece for your baby shower party.
Diaper cakes are very functional. Apart from using them as centerpiece decorations, you can give them as baby shower gifts or gender reveal party gifts since they're made out of diapers the mom-to-be will need once the baby arrives.
There are two ways of making diaper cakes for a baby shower: the roll-up method and the non-roll-up method. The non-roll-up process is easier and faster, but the roll-up diaper cake is more secure.
When making diaper cakes, use size three diapers. Babies tend to outgrow sizes one and two very fast but tend to stay at size three for some time.
To make the perfect diaper cake, you'll need the following:
Size three diapers
Circle cardboard for the base of the diaper cake
Round cake pans
Two to three pcs of paper towels.
Rubber bands
A hot glue gun
Ribbon( choose the color depending on the gender of the baby or the party's theme)
Lace ribbon
Accessories to decorate the cake
And, of course, a teddy bear.
Teddy Bear Balloon Centerpieces
A teddy bear balloon centerpiece can create a perfect focus at your baby shower venue.
Choose your ideal pattern or shape for the teddy bear balloon centerpieces. You can decide to arc the balloons, put them in a round shape, heart shape, or whatever pattern best suits the rest of the baby shower decor.
Also, ensure you color-coordinate the balloons and the other party decorations. For instance, if it's a baby boy, pick blue. If it's a girl, pink is the most common color. However, if you don't know the gender of the baby, you can go for neutral colors such as nudes and browns to bring out a nice boho look.
To make the teddy bear balloon centerpiece for the baby shower, you'll need the following:
A big teddy bear
Balloons tying knot tool
Baby shower balloons of your preferred color
Strings and scissors
A hand or electric pump machine
Remember to ask for help when making the teddy bear balloon centerpiece since the process is quite tedious.
We Can Bearly Wait Themes Centerpieces
"We can bearly wait" teddy bear centerpieces are now gaining popularity at baby shower parties. It's no surprise since they're so cute and perfect for both genders.
These centerpieces can blend with different party decor, including modern decor, antiques, or even a boho style.
"We can bearly wait" teddy bear centerpieces can feature balloon garlands. Put together arched balloons, find an aesthetically pleasing chair beside the arch, add art with the words "we can bearly wait," and of course, include a teddy bear.
The most popular color schemes for these bear-themed centerpieces are neutrals. That is creams, browns, and nudes. You can, however, spice it up with light blue and pink, depending on the baby's gender.
To make the centerpiece even more interesting, do this:
Mix the teddy bear centerpiece decor with flowers
Include one or two floating teddy bears throughout the baby shower
Put up a giant teddy bear and table decorations on the gifts table as part of the decor.
It's a Boy
Oh boy! You've just received news that you're expecting a baby boy! Do you know what this means? It's a boy baby shower calling for a teddy bear centerpiece!
You can set up a teddy bear centerpiece for a boy baby shower in various ways. First, you need a garland of light blue balloons. Spice it up by adding a few white or neutral-colored balloons. Ensure the sizes of the balloons are different to make the teddy bear centerpiece pop.
Be creative with how you shape the balloons. For instance, if you intend to name your child Chris, you can shape the balloons in a "C."
The backdrop of the teddy bear baby shower centerpiece should have a mixture of blue and shades of it. An art written "it's a boy" will complete the setup excellently. You can also opt for a banner featuring different card cutouts or stickers put together to read, "it's a boy" or "baby boy."
Add a white, gray, or blue teddy bear to the centerpiece to match the baby shower theme.
It's a Girl
Like with a boy, there are endless inspirations for a girl baby shower teddy bear centerpiece to make your loved one's baby shower unforgettable. You can choose from balloon structures, flower stands, or a DIY hot air balloon teddy bear centerpiece.
You can use helium or latex balloons to create a balloon centerpiece for your girl's baby shower. For a balloon garland, choose a unique shape and use pink and shades of pink balloons.
Another great teddy bear centerpiece idea is having a flower stand or station. This will be the first thing guests see as soon as they arrive at the baby shower venue. You can place cupcakes and napkins on the stand with cute little teddy bear faces.
Put flowers in an aesthetically pleasing vase or wide bowls, then place them on the stand next to a teddy bear. Remember to make the stand pop using a cute tablecloth.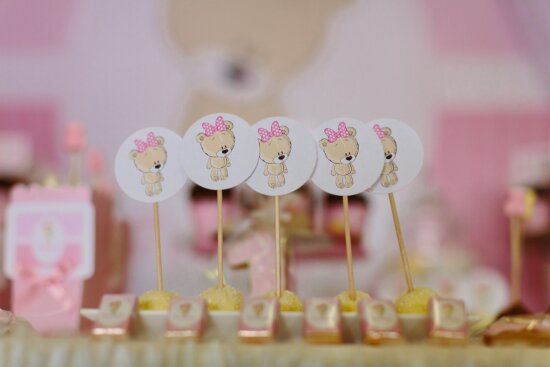 How Do I Make DIY Teddy Bear CenterPieces?
DIY teddy bear centerpieces are easy to make. Below are the two most popular DIY teddy bear centerpieces
Giant Teddy Bear Holding a Balloon
All you have to do here is connect two of the balloon sticks to make it taller. Then attach the arm of the teddy bear to the stick holding the balloons as though it were floating.
Photo Prop
A photo prop is a great centerpiece for your baby shower and visitors. You'll trace the design of a teddy bear onto one piece of foam board. Then, cut a hole in the center of the bear for guests to insert their faces.
Finally, hand paint a bear carrying a hive with letters indicating whether it is a girl or a boy.
What Types of Bears are Used For These Centerpieces
Here are some popular bears you can use for your setup. Have fun at your beary cute teddy bear baby shower!
Interested in some other bear baby shower ideas? Check out these great suggestions for a Winnie the Pooh baby shower!