The typical baby shower party is often a collaboration between the mom-to-be and her close circle of friends. As a result, there can occasionally be some cringy baby shower activities.
But coed baby shower games can be a ton of fun! It is an excellent way to get all your friends and family together for feasting, fun, and the best fun coed baby shower games.
How Do I Make a CoEd Baby Shower Fun?
A coed baby shower will be more fun if it includes activities that engage both men and women.
So, how do you plan a fun, coed baby shower party?
Choose baby shower ideas and themes that infuse neutral fun colors into the guest invites and décor. Instead of more feminine themes, consider something that can also infuse masculine elements as well.
Next, create a balanced guest list and have family and friends from both sides on the list.
A fun, coed party should have great food and creative, fun baby shower games. So, put aside dainty tea party sandwiches and salads and heat that bbq, or a Tacos and Tequila-themed party can have lots of margaritas, a taco bar, upbeat music, and bright decorations.
Do You Play Games at a CoEd Baby Shower?
Yes, you can play games at a coed baby shower. There are a variety of next-level coed baby shower games that are fun for all guests. We have a list of the five best baby shower games below.
What are the Best Games to Play at a CoEd Baby Shower?
The best-coed baby shower games should break the ice and get all guests laughing and mingling.
To keep things Coed, you be sure to consider a mix of games that will appeal to a broad audience. Here are five great suggestions to get you started!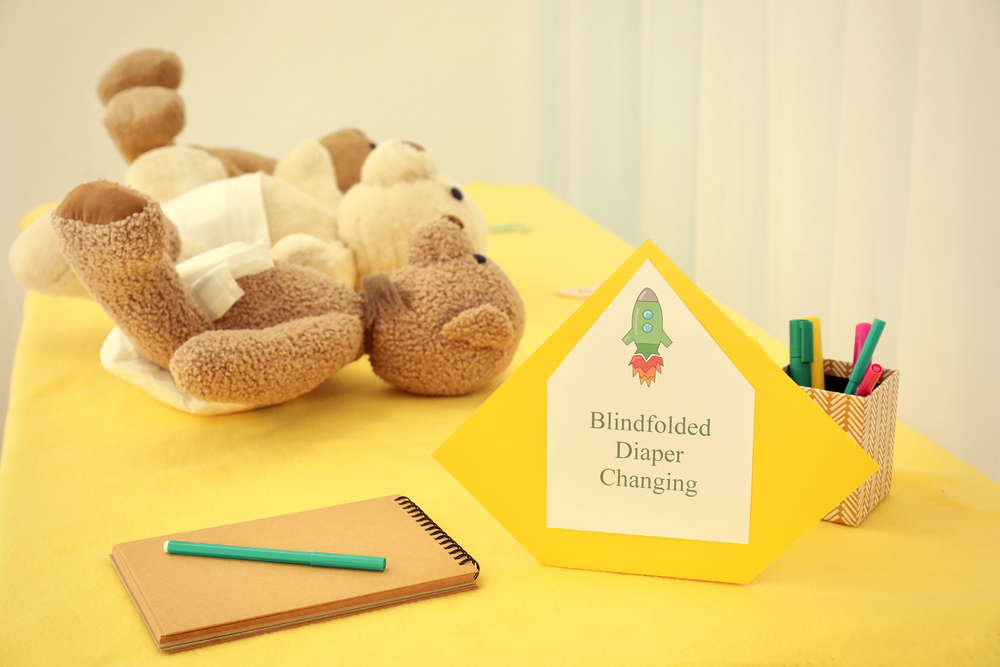 My Water Broke!
My Water Broke! is a fun start to the party. All you need are some plastic babies from amazon and ice cubes. Fill your mini plastic babies with water and freeze in advance. Then, as guests arrive at your party, plop an ice cube in their beverage.
Then, let them know the rules. If their ice melts before that of other guests, they should shout, "My water broke!" The first person that shouts this phrase wins a prize.
What's in Your Phone?
Some guests will diddle on their phones. So, why not make that part of the fun?
Give every guest a pen and checklist. Your checklist should have what's-in-your-phone questions like, do you have photos from the baby shower party?
Each answer that matches the questions on the list earns some points. An easy way to play this party game is to download the printable What's in Your Phone game checklist on Pinterest.
Dad Jokes
Dad Jokes is the perfect rite of passage game for the dad-to-be. First, make a list of the most unoriginal and corny dad jokes that you can find. Then, ask your guests for help.
Finally, read the dad jokes aloud so guests can guess their punchline. You could substitute dad jokes with trivia, or guess who?
Baby Betting Squares
Do you want to get the dads on your guest list immersed in your coed baby shower party? Then play Baby Betting Squares. This game is a spin-off of the famous Super Bowl Squares bets game.
To play, download and print the Baby Betting Squares game card, then sell its squares for a dollar. Let your guests then place bets on the number of pacifiers, onesies, baby clothes, or baby bottles that your guests of honor will receive from guests.
After the gift-opening phase, make a tally, then announce the winner. The guest who wins the prize is the one who bought the square with the intersection between the two winning numbers.
Stroller Racing
Baby stroller racing will have all your guests ribs cracking at the unwieldy antics of two competing stroller pushers.
First, you need a pair of baby dolls and umbrella strollers to play this game. Then, place items such as a ladder, garden hose, kids' toys, or garden furniture as obstacles on your race course. 
This game will be more fun if the race course is lengthy to allow guests a fun race through it while pushing a doll strapped in their stroller. Your racers will lose points whenever they go off course, crash into obstacles or spill the baby. The fastest and most balanced stroller racer with the fewest fouls wins an award. 
How Many Games Should Be Played at a Baby Shower?
A baby shower party is about two to three hours long. Consequently, two to four games are adequate to save time for the gift opening and feasting phase.
What Prizes Do You Give at a CoEd Baby Shower?
Your coed baby shower game prizes should also be coed. For example, you could have minimal gender-specific gift ideas such as the classic mini bubble bath bombs or bottle prizes. However, have a wider variety of gender-neutral baby shower favors. 
The best-coed baby shower prizes include Starbucks gift cards and a coffee mug or mini potted succulent. A good adult board game and a tumble cup filled with snacks or two hot glasses are also excellent ideas.
Other great prizes include:
Personalized organic honey jars
Champagne party favors
Movie tickets combined with plastic popcorn tins.
If you're looking for more prize ideas, check out this article on baby shower game prizes!