Looking for a great theme for a baby shower, but don't know where to start? Consider throwing a dinosaur-theme baby shower!
A dinosaur baby shower may not be the most common theme for a shower, but it provides a ton of great options for invitations, decorations, desserts, and more!
What is a dinosaur baby shower?
A dinosaur baby shower is a celebration in anticipation of a new baby, with the dinosaur theme used as the dominant decorative and design style.
A dino party is excellent for a shower because it works with a boy baby shower, a girl, or a neutral-gender pre-baby party.
How do you host a dinosaur baby shower?
Proper planning will save you a lot of unnecessary pressure and allow you enough time to prepare the best party for the parents-to-be.
Dinosaur Baby Shower Invitations
Informing family and friends about the upcoming baby shower early enough is essential.
Make the guests feel special and look forward to the day by sending them beautifully designed invitations. You can download printable invitation cards online. If you're artsy, go ahead and try unique DIY invitation cards with the dinosaur theme.
Remember to include crucial information such as the baby shower venue, starting time, how long the party will last, and the dress code (if any).
You also need to be mindful of when to send the invitations. The ideal time would be four to six weeks before the day of the celebration. Sending the invitations earlier than that may lead to some guests needing to remember. And sending them later means some guests will need more time to prepare.
Dinosaur Party Decorations
When it comes to dinosaur party decorations, there are many ideas to create a raawwr-rific party venue.
You'll need table decorations, a party banner, the entryway decor, and other supplies to bring out the dino theme!
Start with cute baby dinosaur cutouts and stick them on the walls. You can get dino-shaped toys and use them as centerpieces for a more realistic appearance.
However, if you want to avoid dinos everywhere, you can use dinosaur eggs instead. These will work perfectly with a "Hatching soon" party theme.
Order your dinosaur party supplies from Amazon, Etsy, or your favorite store. Alternatively, make it a DIY project.
Let's dive into a few party decoration ideas for your dinosaur baby shower.
DIY Paper Jungle Tree
Dinosaurs lived in the jungle; hence, having a jungle tree as part of your decor is brilliant.
So how do you make a paper jungle tree?
You will need a kraft paper roll. Unroll the paper as you crumple and twist it to create a tattered look. Make several strands like this, then hang them on a doorway. These will be the tree branches.
Next, add the tree leaves. For this, get green construction paper and cut it into the shape of huge leaves. Pin the leaves on the branches, and you have your paper jungle tree.
This idea works excellently for the entryway decoration.
Create Dinosaurs Using Construction Paper
Creating dinosaurs using construction paper is very easy and cost-effective. You only need dinosaur templates (which you can download online), print them onto construction paper, cut them out, and use them to create cute dino decorations.
The best thing about these decorations is that they can be used for the baby shower celebration, and the mom-to-be can also use them in her baby's nursery if she goes for the dinosaur theme.
The same decorations can be stored after the pre-baby party and used during the new baby's first birthday party.
Dinosaur Table Centerpieces
Centerpieces help emphasize the party's theme and may even be an icebreaker and conversation starter to get guests talking and interacting.
Carefully selected table centerpieces can significantly transform the entire baby shower setup.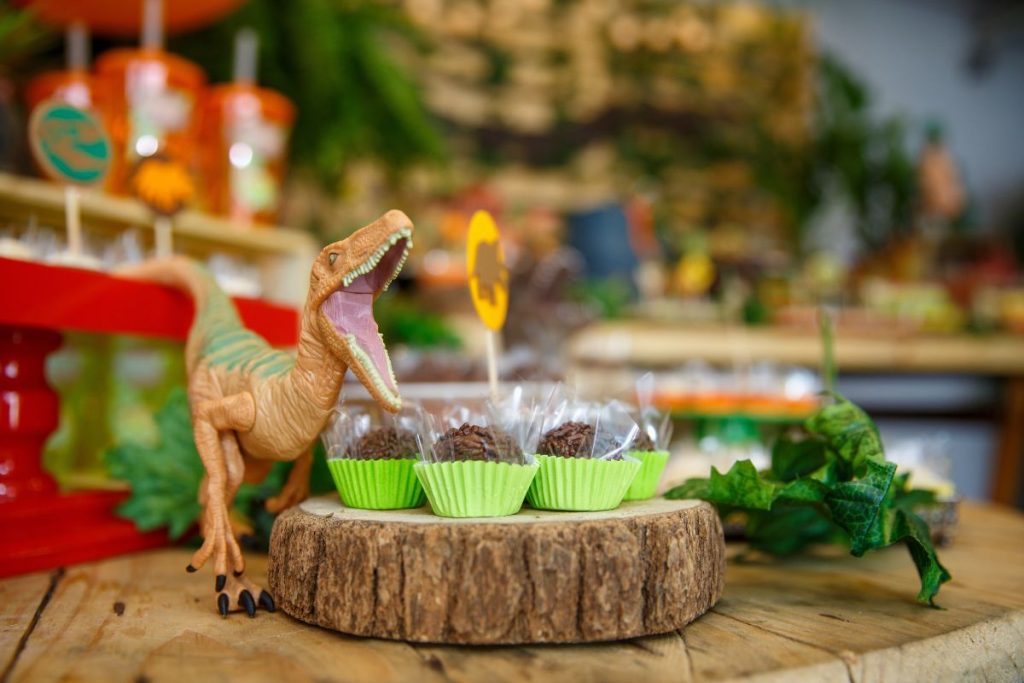 Balloons
A baby shower event can never be complete without balloons.
Fortunately, for dinosaur-themed baby showers, there are several balloon options available. You can find them in different colors, sizes, and designs.
Building a balloon garland or arch for the entrance would be great if the rest of your decorations don't include a jungle theme.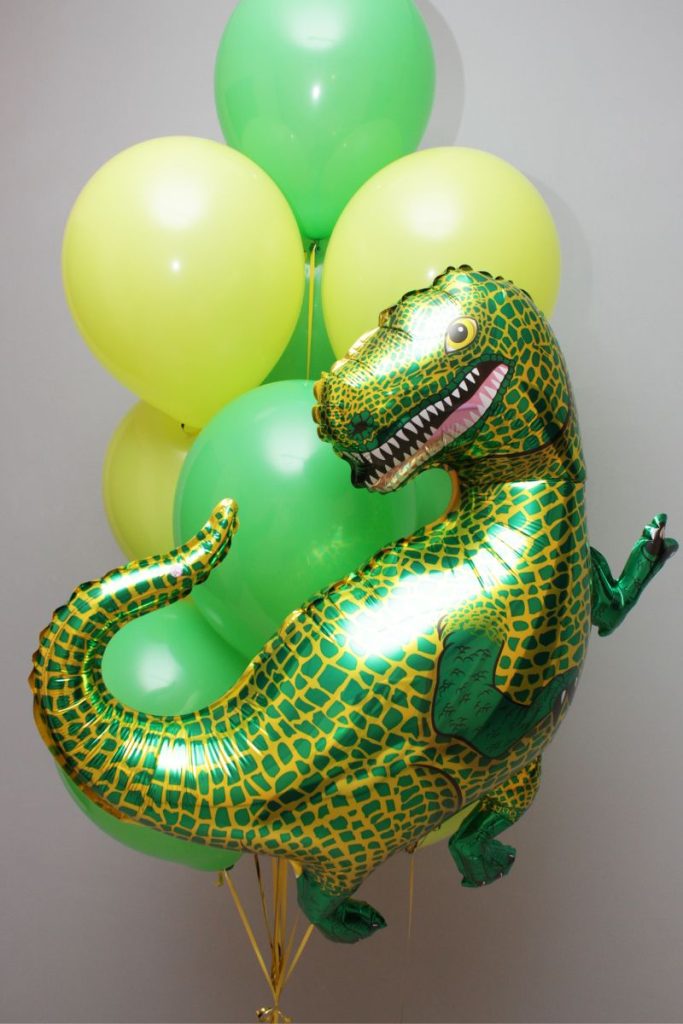 Dinosaur Cakes & Cookies
Cakes and cookies are almost a must-have at baby showers. Make them yourself, or have your baker do their magic.
Have cute dino decorations on the cake, or add dinosaur toppers to bring out the dino theme further.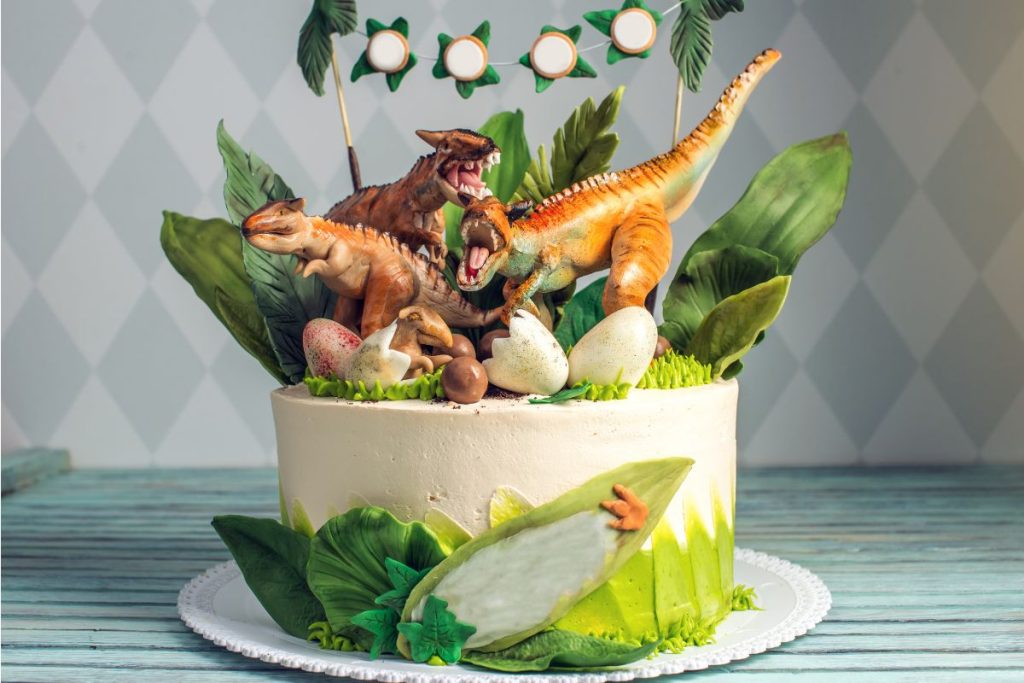 Dinosaur Baby Shower Party Favors
Your guests have taken the time to come to your celebration. They have also carefully selected their outfits to maintain uniformity and make the party colorful. They've also brought thoughtful gifts for the mom-to-be and the baby.
Dinosaur baby shower party favors such as dinosaur-themed candies, keychains, thank-you stickers, bracelets, bottle openers, and chocolate would be great.
What do guests do at a dinosaur baby shower?
At a dinosaur baby shower, guests eat together, talk, laugh, and play games. But most importantly, the attendees give gifts to the mom-to-be or dad-to-be and watch their faces light up with joy as they open the presents.
One of the best parts of a dino baby shower is the dinosaur baby shower games. Let's conclude this guide by talking about that, shall we?
Dinosaur Baby Shower Games
Dinosaur baby shower games are a great way of helping your guests interact and making the celebration more fun.
You can play most of the baby shower games and add dinosaur decorations on the printouts.
Here are some dinosaur baby shower games to play:
If there will be many activities during the celebration, be sure to allocate ample time for each activity. Doing so will help your guests enjoy their stay and participate fully without feeling like they are in a rush.
Baby showers create a perfect time for moms-to-be to mingle, have fun, and celebrate the baby before they are born. A fun and creative theme, like a dinosaur theme, can make the party unique and memorable.