A baby shower invitation is an essential element for the success of any baby shower party. The appropriate invitation for your butterfly baby shower conveys the event's particulars, including the baby shower theme, date, time, location, and other important information.
Below is a guide on all you need to know about creating and finally sending your butterfly baby shower invitations.
How Can I Make My Own Butterfly Baby Shower Invitations?
You can make butterfly baby shower invitations in one of two ways: using ready-made templates or creating your own from scratch.
When creating your invitations digitally, go for a website with incredible templates, especially if you have minimal design skills. On the other hand, if you'd like to create your invitations from scratch, you may need a bit more creativity and an eye for design to make beautiful invites.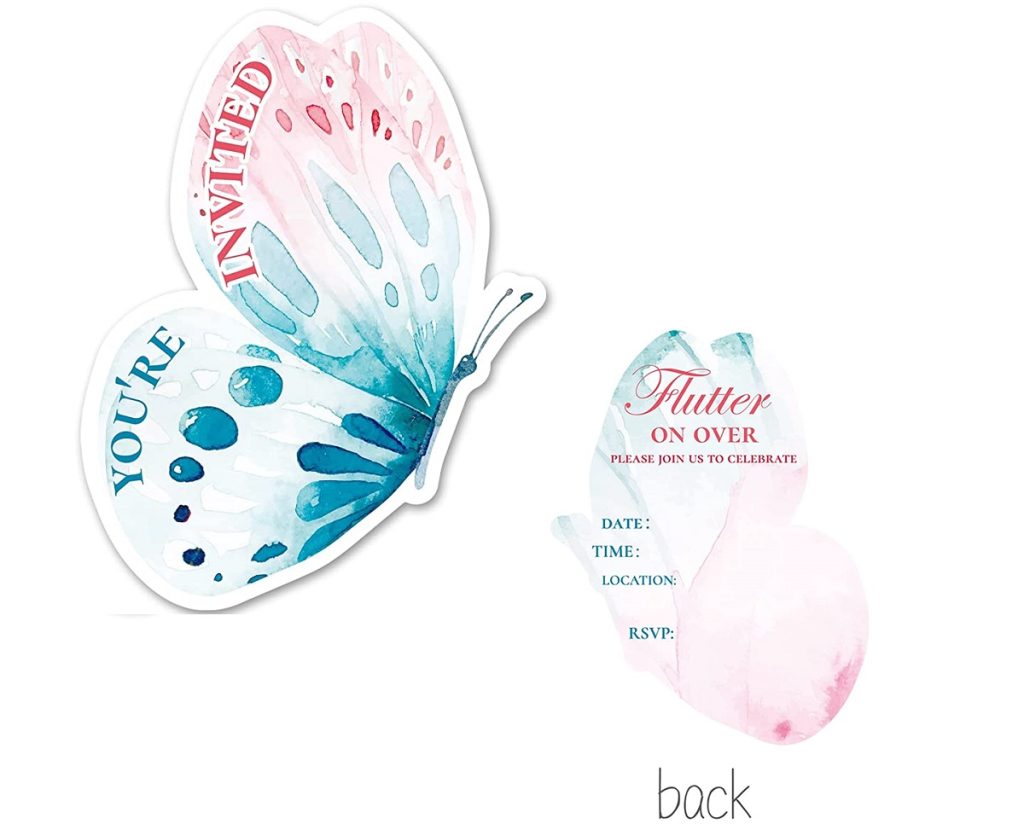 Butterfly Baby Shower Invitations Templates
You can get beautiful butterfly baby shower invitation templates on Pinterest, Etsy, Canva, and different blogs.
However, we know that the more options you have, the more lost you may feel when trying to find the perfect template for your shower. So we'll help you narrow down the best ideas for the ideal invitations.
When choosing the best butterfly baby shower invitation template, the following are what you need to look out for.
A template that is in line with your butterfly theme. It may seem obvious that your baby shower invitation should align with the baby shower theme and party decorations. Still, in the heat of all the planning, you may make invitations that do not reflect your baby shower theme. So, ensure that the template you choose aligns with your theme. Have similar color hues in the invitation as with your butterfly theme.
An editable template. Editable templates allow you to customize and personalize the invitations. An editable template should give you the option to: choose your preferred colors, pick the fonts and font colors you want, add a photo of the mom-to-be, adjust the card's size, and perhaps even share an editable version to collaborate on the design with your friends.
Your budget. Depending on your budget, you can find sites that offer free or paid templates. Most paid baby shower invitation templates offer more variety, especially for editing. However, you can also find high-quality free invitation templates as well.
A template that gives you sending options. You may want to send the baby shower invitation physically or electronically. Therefore, getting a template that offers these two options is essential. The best will also give you downloading options, like whether to download it as an image (PNG) or a printable document (PDF).
Butterfly Baby Shower Invitations DIY
To create butterfly invitations from scratch, you can use one of two ways.
First, you can design the invitation cards digitally, then print them out or send them as e-cards. And second, make them manually from scratch.
Let's take a look at both of these options.
Digital DIY Butterfly Baby Shower Invitations
Instead of using templates, design your own butterfly baby shower invitations. This is a great way to ensure you end up with unique invitations instead of designs that have probably been used repeatedly.
You will need Photoshop, Canva, or Adobe Illustrator for the design phase. An eye for detail and design skills will be critical to ensure you have the best outcome.
Once the design is ready, print it out on cardstock and send your invitation cards. Alternatively, you can forward the invitations as e-cards via email, Facebook messenger, or WhatsApp.
Manual DIY Butterfly Baby Shower Invitations
Making butterfly baby shower invitations is appealing if you're artsy and good at making stuff with your hands.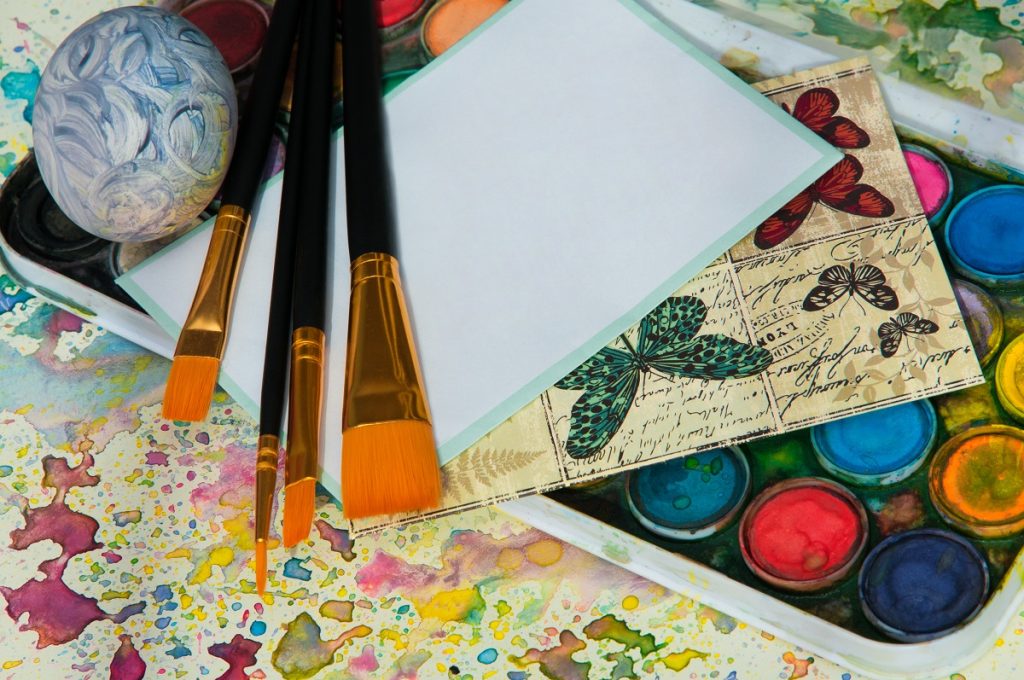 Some of the items you'll need are:
Cardstock
Embossing powder or glitter
Adhesive runner
Decorative paper
Rubber stamps and colored ink
Ribbons
Butterfly stickers
Here is an example of how to DIY a butterfly baby shower invitation.
Butterfly Baby Shower Invitation Ideas
For the most flutter-worthy designs, here's a list of butterfly baby shower invitation ideas you can choose from.
Baby shower invitations with flying butterflies. This is an invitation designed with butterflies in line like this A Little Butterfly Is On Her Way Baby Shower Invitation on Etsy.
Pastel butterfly bouquet baby shower invite. Have a beautiful flower bouquet as the focus of this floral butterfly invitation card, and use cool pastel colors.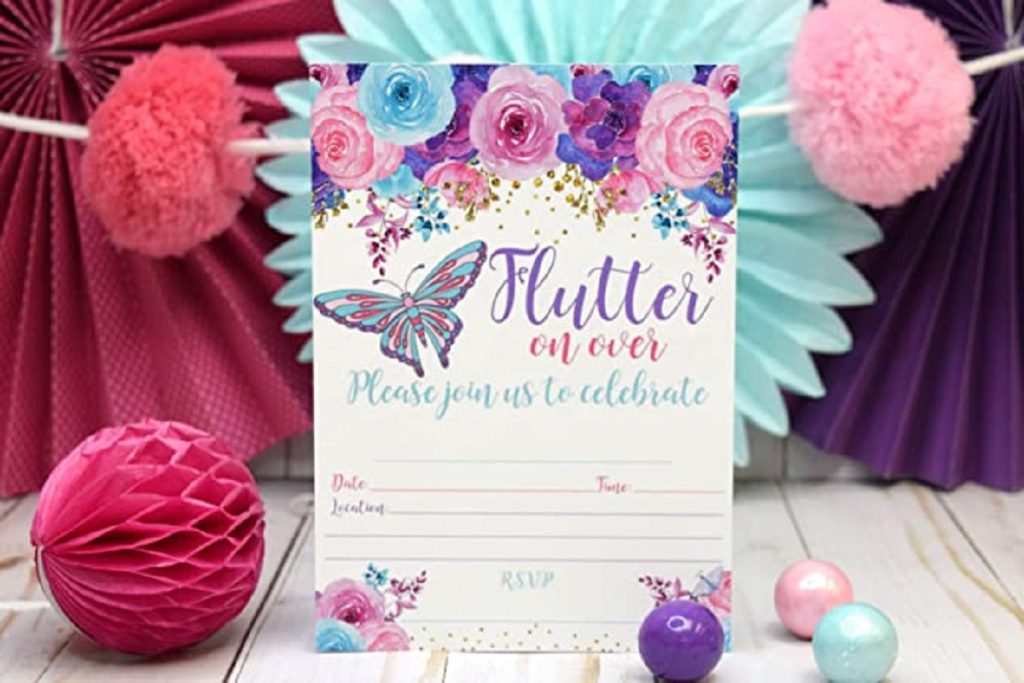 Gold and pink butterfly baby shower invitations. Incorporate pink and gold-colored butterflies, making them look delicate and pretty.
Rainbow and butterflies baby shower invitations. The rainbow in this invitation adds color and pomp to the butterfly theme. This is especially great if you want to incorporate a few more colors into your baby shower decor.
Watercolor-floral framed baby shower invitations. These invitations have flowers with watercolor acting as a frame for the invite with little flying butterflies and a tinge of gold glitter to give it an extra oomph.
What To Include In Your Baby Shower Invitations
Your baby shower invitation should include important information that your guests need to RSVP for the event, like:
Guest of honor: WhWho'saby shower are you celebrating?
Gender of the baby: You can include this if you know the gender
Date and time: Include the time guests should arrive and when the event is expected to end
Event location: Give as much information in terms of direction to the venue as possible. If you have an e-vite, you can pin the event location.
RSVP details: How and by when should the guests RSVP? Should they call or email?
Baby registry information: Is there a baby registry? Inform guests where to find it. If there is none, inform them too.
Host: Who is hosting the event? Share name and contact details.
Nature of event: Is it a surprise baby shower? Is it a virtual or in-person event? Will it be a brunch, tea party, or traditional party?
Any other information and requests: Do you have a dress code you'd like to align with your themed baby shower? Is there a diaper raffle? Inform the guest of any baby shower games you will play, especially if there's anything they should bring for the games.
How Far in Advance Do You Send Out Baby Shower Invitations?
Aim to send out your baby shower invitations at least four to six weeks in advance. This gives time for your guests to RSVP for the event.
When planning the baby shower, consider the season the event will be held because some people have set traditions for the summer and winter seasons, like ski trips and beach week. Therefore, if the event will be held during these seasons, consider sending out a "save the date" note more than six weeks in advance as a heads-up.
Another essential aspect when determining when to send the invitations is the type of invitation you want to send out. If you're making a DIY butterfly baby shower invitation with a complex design, you should factor in the creation time in order to send the invites on time.
Are Evites OK for Baby Shower Invitations?
It depends on your preference and budget. E-vites for a baby shower party invitation are more affordable and time-saving than paper invitations. Moreover, you can add more details and links to essential items like the baby registry and a pin to the event location, among other things, on the e-vites.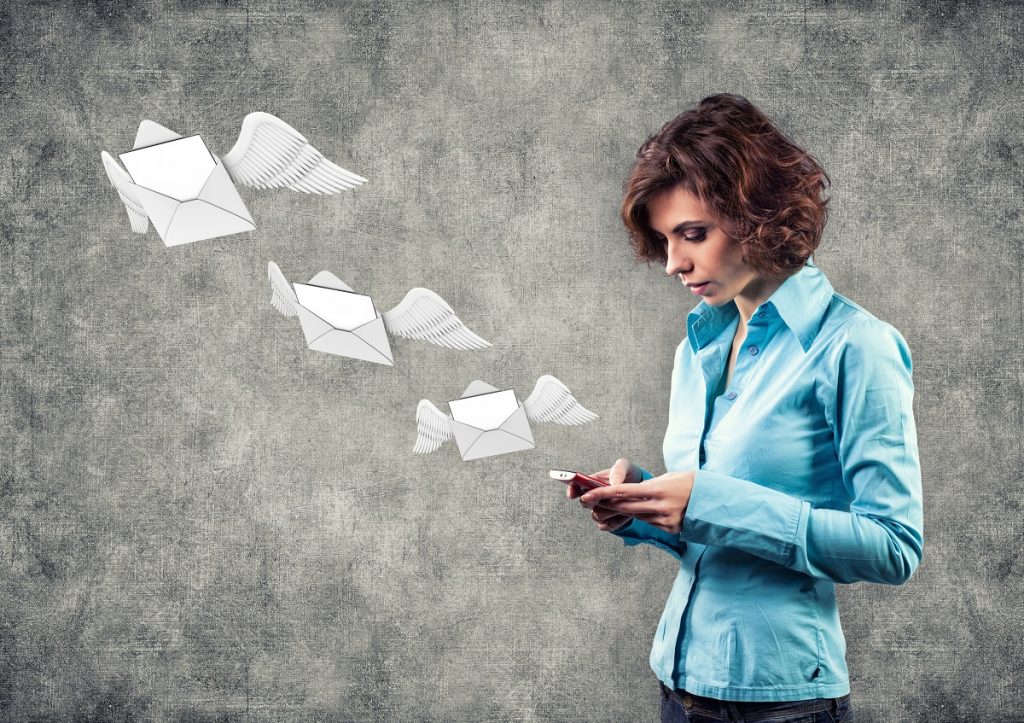 Additionally, with more and more people being digitalized, it's easier and faster to get people's emails to send e-vites. But that's not all. There is also a green component to e-vites, as no paper is used for these baby shower invitations.
With that said, some people still believe that sending out invitation cards is proper etiquette and professional, while e-vites feel more casual than professional. So, whether to send out an e-vite or not for the baby shower depends on what you prefer.
With the invitations out of the way, get inspirational baby shower decoration ideas for your upcoming baby shower.