The woodland theme is a popular theme that could work well with a boy or girl baby shower. The party decorations are easy to find, and there are many options for DIY activities to extend your creativity and keep costs down.
This article contains a few ideas to spark your party planning for a successful woodland animals baby shower for the mom-to-be.
What Is A Woodland Baby Shower?
A woodland-themed baby shower use decorations like trees, outdoor aesthetics, and woodland creatures such as foxes, bears, elephants, hedgehogs, and deer. The color palette includes gender-neutral colors, which makes it suitable for a gender-neutral baby shower.
The shower theme is among the most popular these days, especially among those who love nature and want to escape the commercialism of modern life.
You can have the shower outside, using nature as your backdrop, or have a more traditional gathering inside, complete with purchased or handmade decor.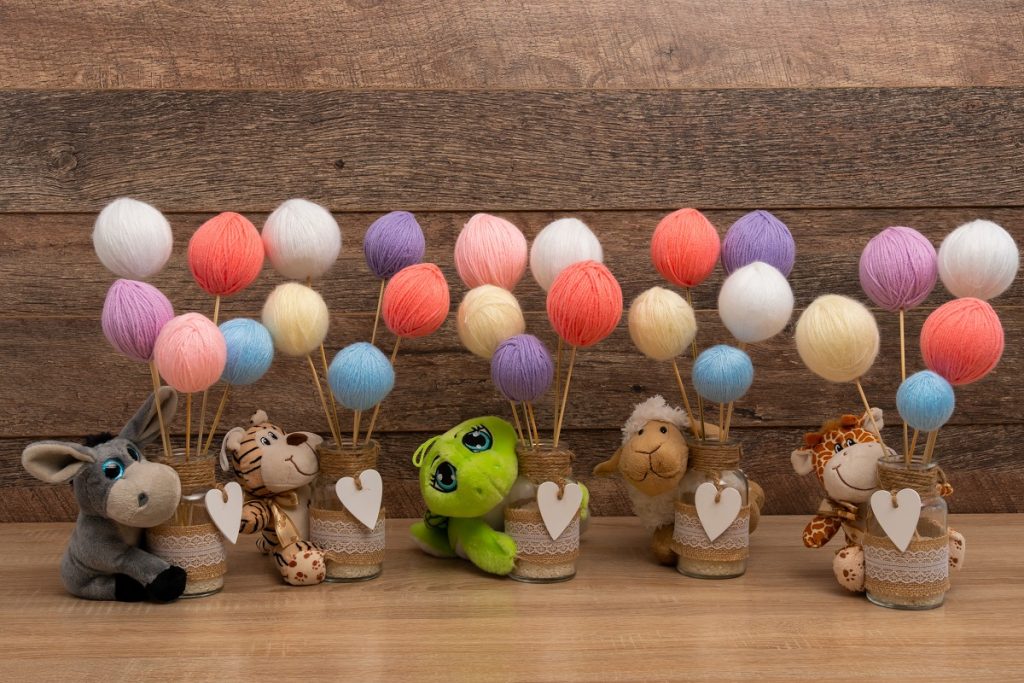 What Is The Main Theme Of A Woodland Baby Shower?
The main idea behind this theme is that all the elements are centered around nature. Decorations are often rustic-inspired and contain elements found in nature, such as sticks, flowers, mushrooms, leaves, to flowers.
Don't forget all of the adorable woodland animals. You can feature your party around one or many different types, such as owls, bears, elephants, foxes, hedgehogs, etc. Greenery and knickknacks or stuffed forest animals are easy to find, even if you are on a budget.
The beauty of this theme is that all of the decorations can be repurposed for your nursery decor. Save the items as keepsakes for the baby's bedroom.
5 Ways To Pull Off A Woodland-Themed Baby Shower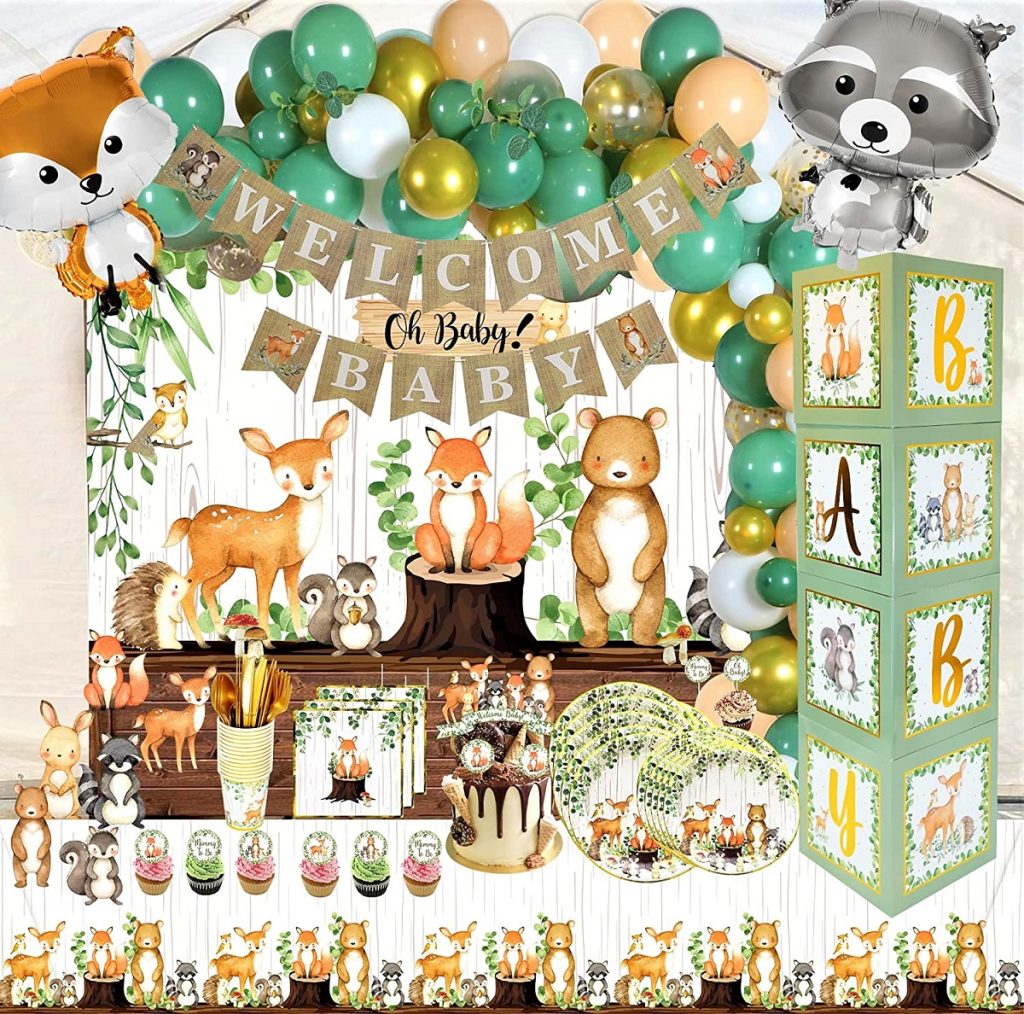 1. Printable Woodland Animal Party Decorations
For a woodland animals baby shower, you can download printable options online. This could work for centerpieces or decorations throughout your woodland party. All you need to do is print off your selection, and the rest is DIY. Cut them out yourself and place them throughout the space.
When searching online, you can find a variety of woodland baby shower decorations. This includes cutouts of bears, squirrels, skunks, hedgehogs, raccoons, and rabbit centerpieces. Etsy has a wide variety, although other sites also have free versions.
Print out woodland forest themes with greenery to match! You can even tape holders to the animals for fun party props.
You will also not want to forget the essential woodland baby shower invitations. You could always custom-make them yourself with stickers for a personal touch. If you want to go the easy route, download printable cards with the party details noted on the card.
You can include this in your list of party supplies. Don't forget to include cake toppers, paper plates, a guest book, and napkins. If you don't want to be extra fancy, stop at any grocery store to include cutlery in colors that match your baby shower party. Amazon offers great packages of woodland decor.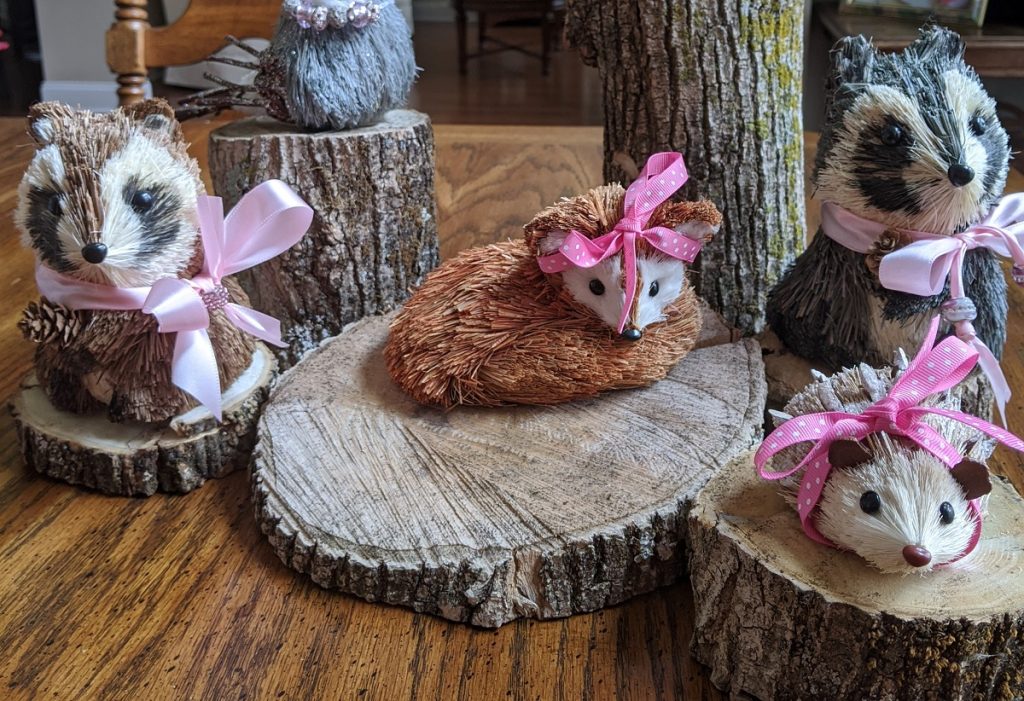 2. Handmade Centerpiece Ideas
There are so many great ideas to create your own centerpieces filled with your favorite woodland friends. You can tie four diapers together in a bundle of fabric and stick cutouts of your favorite animal in the middle with a toothpick. These animal cutouts would also work well for cupcake toppers.
Other table decorations may include rustic wood centerpieces with woodland cutouts made from templates found all over the Internet. If you have some mason jars lying around, add some tea lights in them and decorate the jars with greenery or your favorite whimsical creatures.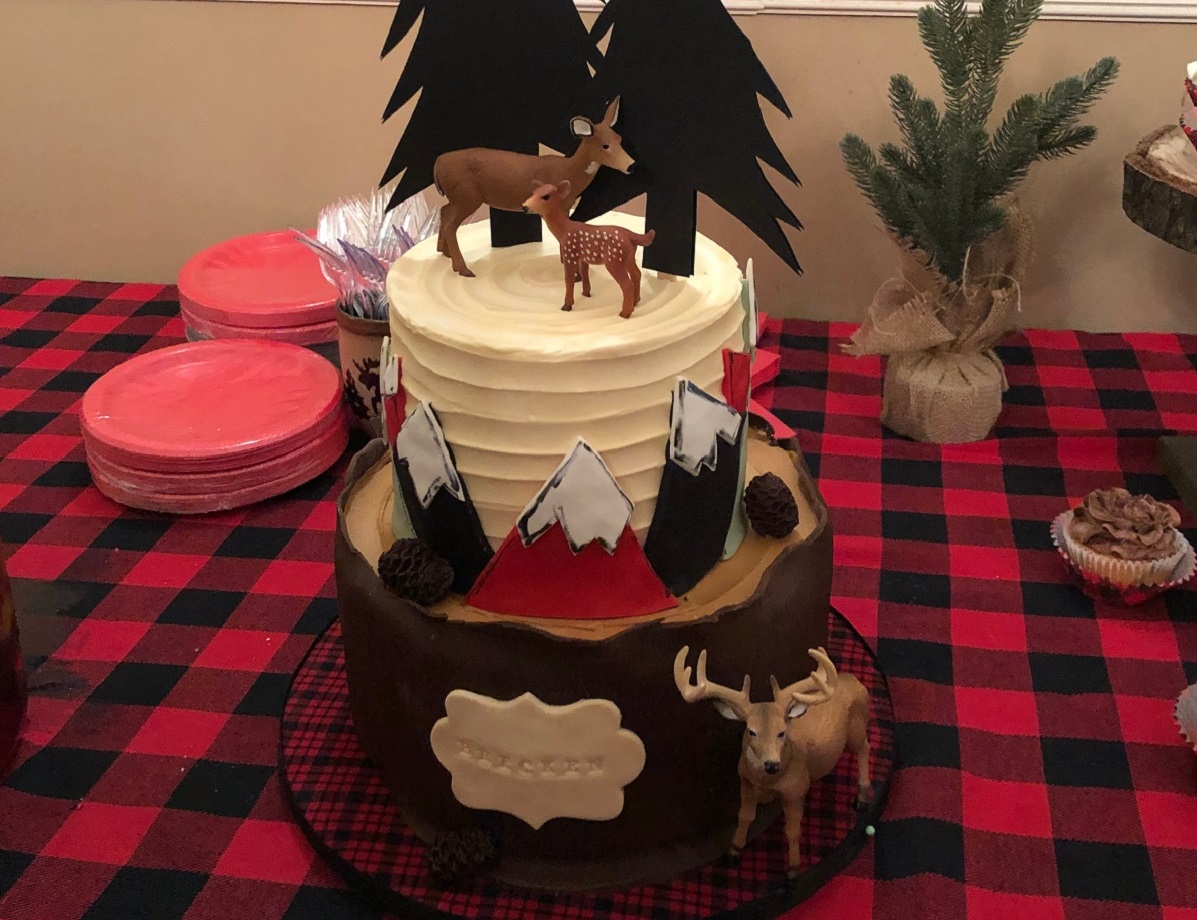 3. Bake Your Own Woodland Baby Shower Cake
Your woodland baby shower theme, of course, needs a cake! If you want to make your own and don't have a favorite recipe, you can find free recipes for the buttercream and cake mixture online.
If you're lost on where to start, do a YouTube search to learn how to make the perfect cake all on your own. You can decorate it with many baby animals, acorns, and pine trees and feature the cake on a rustic wood plate.
Cake decorating supplies can also be purchased at any craft store or online.
Cookies or cupcakes are great additions to the dessert table as well.
4. Create Your Own Party Favors
There are many ways to show your guests appreciation for attending your woodland baby shower that reflect a DIY approach. Purchase some little jam jars and give everyone some homemade jam. You can tie it off with a cute ribbon from a craft store with a "thank you" sticker on the front.
You could also hand out loose-leaf tea wrapped in a baby animal jar or create soaps for the guests to take home. Little pots of succulents are a great remembrance of the day too!
Gift cards are also a safe option if you're not super crafty. Your guests will appreciate any baby shower favor!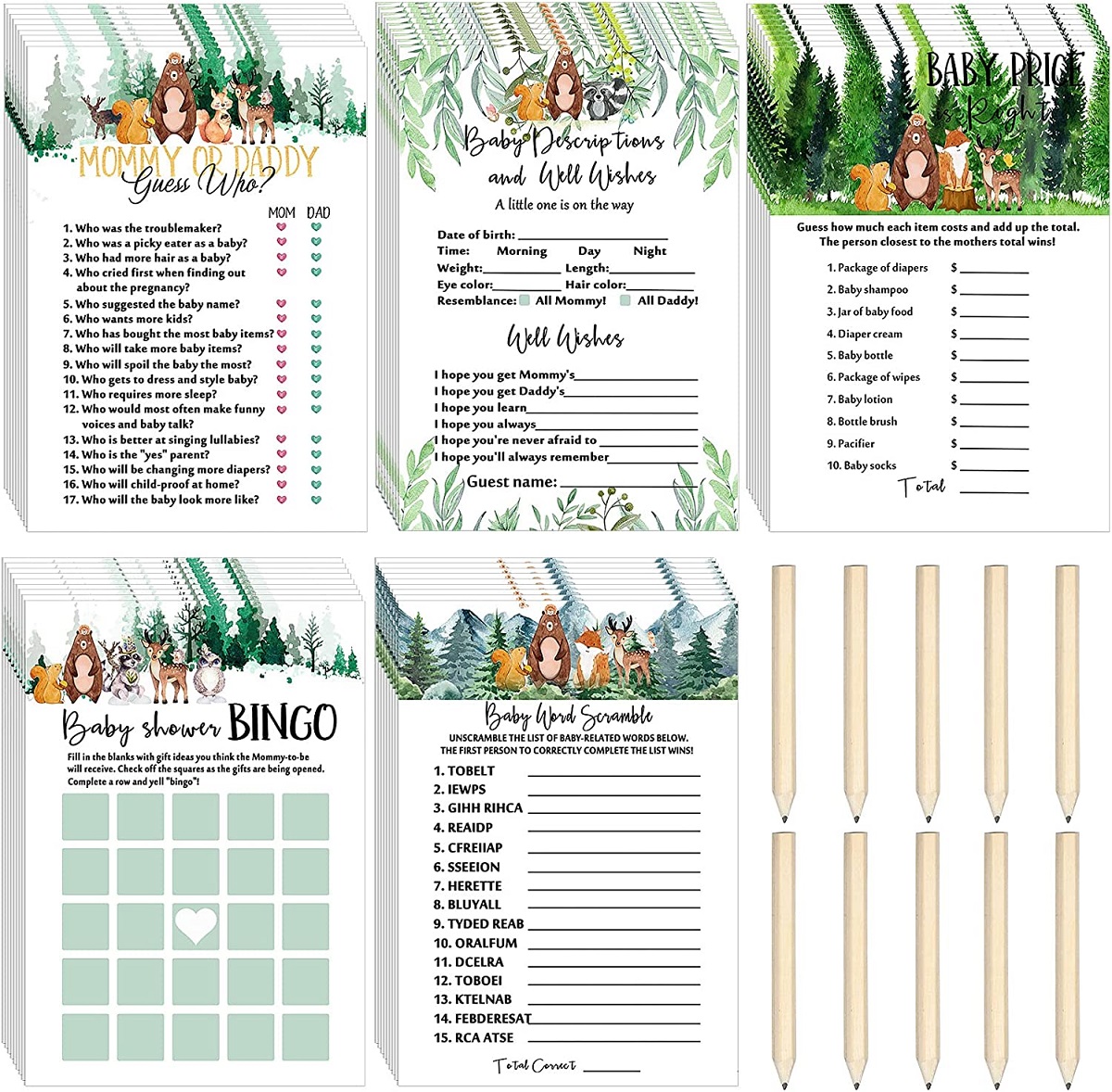 5. Host Your Woodland Theme Baby Shower Games
One of the easiest baby shower games to host is a diaper raffle. Have each guest bring a pack of diapers and provide a gift card or a fun prize for the winner. Another idea is to host a pacifier hunt! Hide baby pacifiers around the space, and whoever can find the most wins!
There are even printable forest friend packs with many games designed in a woodland theme to choose from, such as Bingo, questions about the mother-to-be, and more.
Another great idea to tie into the theme is to put a bunch of gummy bears into a jar. Have the guests write down how many they believe are in there, and the closest to guessing wins a prize!