Decorating a baby shower is a ton of fun! Get ready to show your creative side with these adorable baby shower decoration ideas.
Whether you're purchasing party supplies or are a DIY diva, these ideas are sure to set your baby shower apart, no matter your budget or theme.
How Do You Decorate for a Baby Shower?
When it comes to decorating for a baby shower, there are lots of great ideas to choose from, but you will want to narrow down your theme and color scheme before choosing your decorations.
Whether you're having a girl, boy, or prefer to keep your decorations gender neutral, here are some great ideas for you!
Baby Shower Decorations for a Girl
If you're hosting a girl's baby shower, you should first decide on a color scheme.
Most baby showers for girls feature the color pink but don't be afraid to mix it up with something non-traditional. Depending on your theme, you can do a variety of soft pastels or mix pink, purple, or red with other soft colors like beige and white.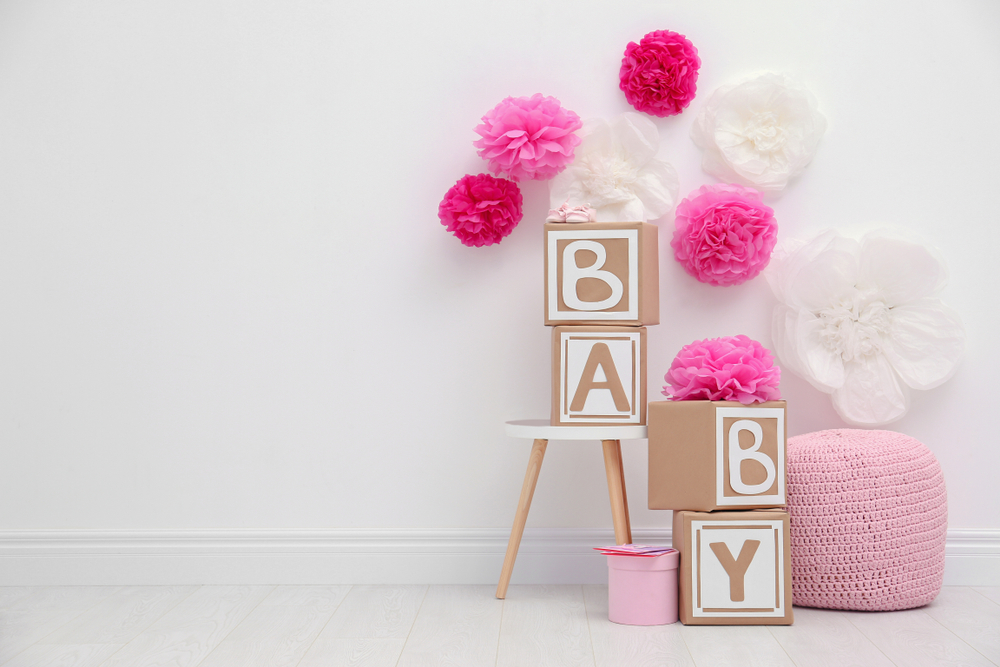 Girl's Baby Shower Decoration Ideas
Acrylic boxes made to look like Baby Blocks filled with pink and white balloons
Form a rainbow balloon out of Pastel colored balloons flanked with white balloons for "clouds"
Use wood or cardboard cutouts that spell "Baby" and have flowers and leaves glued to them. An alternative idea is to wrap the letters in fairy lights!
Gather oversized paper flowers in the primary baby shower colors and adhere them to the wall in an asymmetrical pattern
Hang soft semi-sheer curtains with white fairy lights behind them
Vintage mirror frames painted in the shower colors in varying sizes, placed on the walls as a backdrop
Small jars filled with pink candies topped with miniature tiaras as party favors
"It's a Girl" napkins, plates, and banners!
Tulle wrapped around water bottles to form a ballerina's tutu
Baby Shower Decorations for a Boy
If you're hosting a boy's baby shower, the color scheme is traditionally shades of blue.
Of course, it's possible to choose any color! Other popular color choices for boy showers include army green and striking primary colors.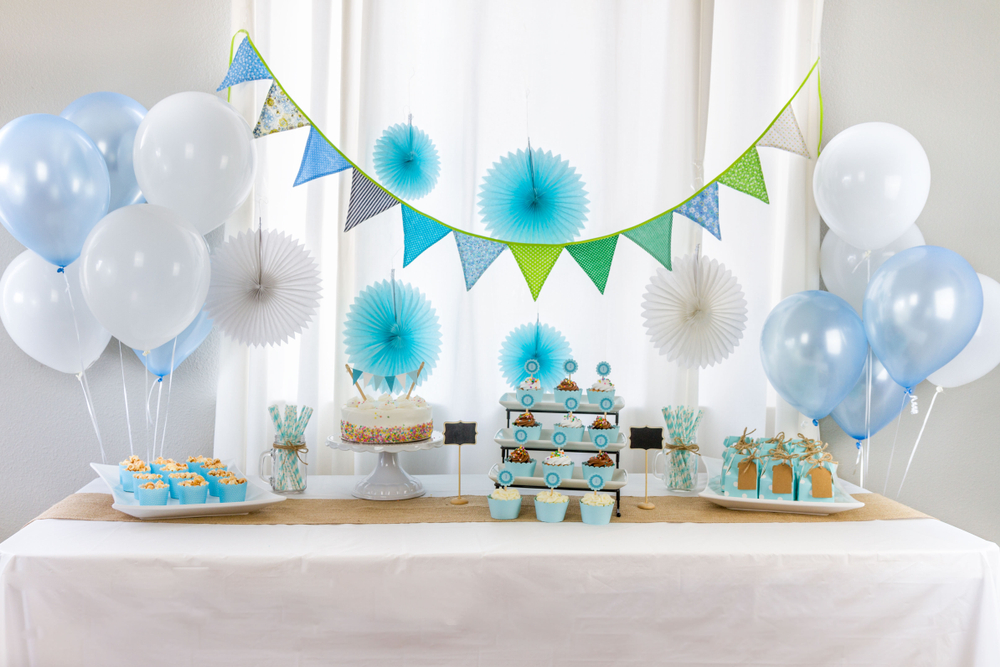 Boy's Baby Shower Decoration Ideas
It's A Boy banners and balloons
Crepe streamers coordinated with the shower colors
Prince crowns and "royal" pillows holding gifts
Large bunch of balloons in the center of the room with a teddy bear hanging from it
Streamers or banners made from blue and white onesies tied together with a heart cutout in the middle of each
Painted cardboard boxes spelling out "Baby Boy" made to look like stacked blocks
Little glass jars filled with candies, topped with a rubber bottle tip and tied with blue ribbon as a party favor
"Baby on Board" painted surfboard
Sailboat and nautical decor cutouts because life will be an adventure
Decorations for a Gender-Neutral Baby Shower
Aside from pink and blue, a gender-neutral baby shower allows you to play with colors like green, orange, and yellow. You should stick to one or two colors that are complementary to give the shower a cohesive look.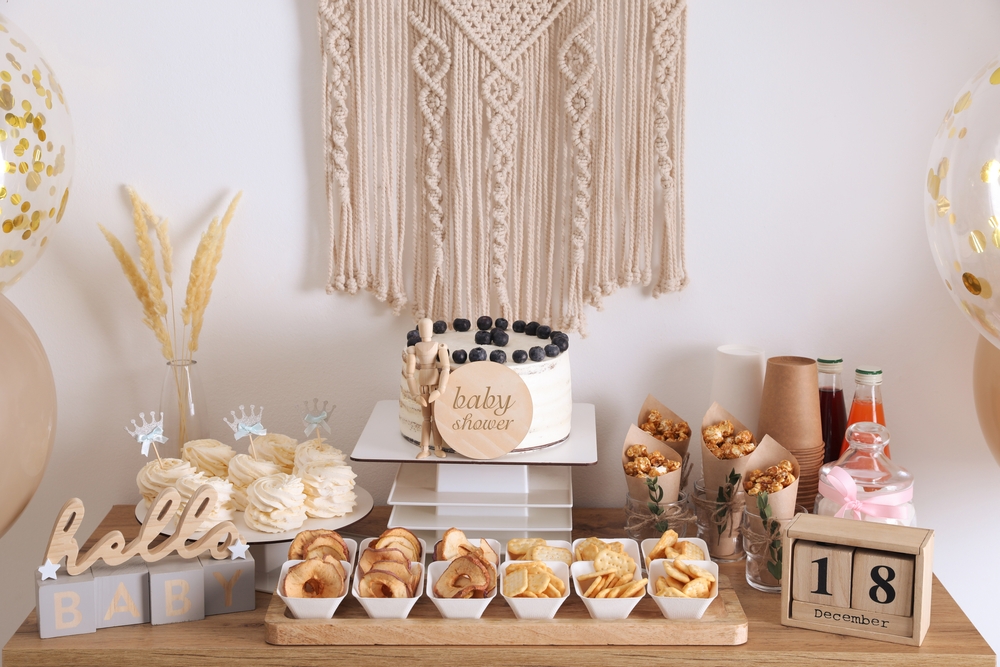 Gender Neutral Baby Shower Decor Ideas
Balloon Arch made from the shower colors at the shower entrance
Hot Air Balloon paper cutouts hanging from the walls and ceiling
Rubber Ducky shaped balloons and rubber ducks added to tables
Elephants and other stuffed animals wearing onesies scattered through the space
"Poppin Bottles" banner for the parents-to-be who have a sense of humor
Honeybee cutouts, streamers, and stuffed animals
Nature-inspired botanicals and white floral arrangements in varying sizes placed on tables
Popular Nursery Rhyme or children's book character printables (Mouse from "If You Give a Mouse a Cookie," etc..)
Paper pompoms or Chinese lanterns hung from the ceiling at varying heights in the shower colors
What Is a Good Theme for a Baby Shower?
A baby shower theme can be just about anything.
It is growing more common to tie the nursery theme and color palette with the baby shower theme so the mother-to-be can use all those baby shower gifts in the nursery.
Some of the most popular themed party ideas are:
Safari
Safari-themed baby showers are so much fun! They can easily be gender-neutral, and the variety of animals in a safari theme allows for a wide range of baby shower gifts.
Safari Baby Shower Decorations
Stuffed animals wearing baby onesies – decor and a gift in one!
Baby shower balloon animals such as lions, tigers, and elephants
Take a balloon arch full circle! Form a circle of life out of brown and green balloons with a few blow-up giraffes and animal balloons to add that animal touch
Baby safari animal portraits (giraffes, zebras, lions)
Jungle leaf banner
"Baby" cardboard letters painted to look like animal hides (zebra stripes, leopard spots)
Teddy Bear
Teddy Bear is a classic and cute baby shower theme that allows for timeless baby shower photos.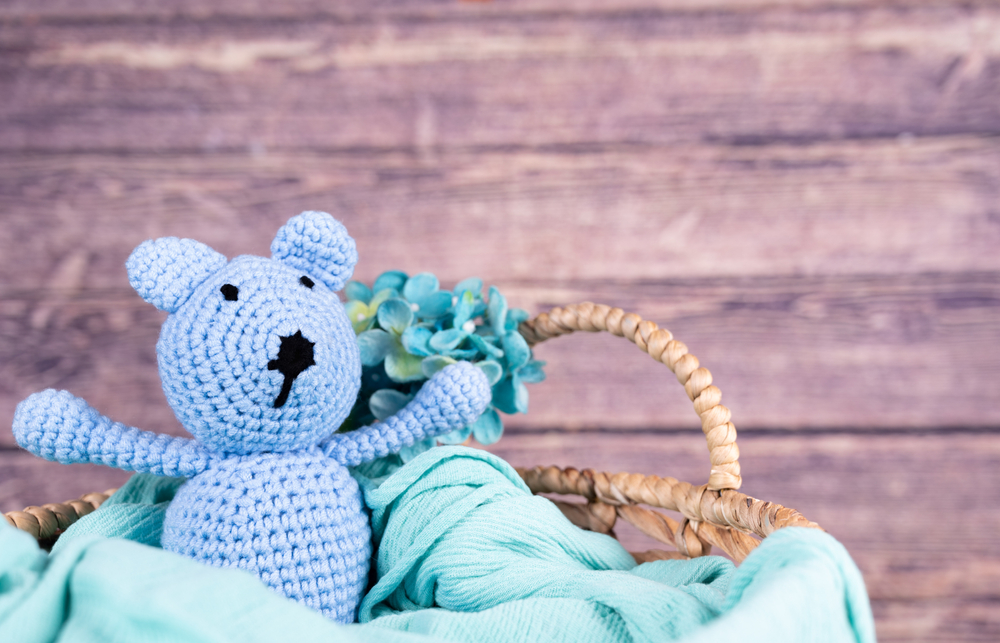 Teddy Bear Baby Shower Decorations
Cupcake platter on the dessert table in the shape of a Teddy Bear
Teddy Bear head cutouts to make a banner for the wall
Large Teddy Bear at the entrance with a bunch of balloons tied to his wrist
Mini teddy bears on top of candles as a baby shower theme favor
Teddy Bear shape made from mini roses using a styrofoam form
A Teddy Bear seated atop a rocking horse
A Teddy Bear dressed in a onesie and placed in a bassinet or stroller
Halloween
A bit of gothic flair never hurt anyone. Halloween is fast becoming a stylish baby shower theme for children who will be born close to Halloween or parents that love the holiday. It's a bonus that you can also use the decorations for Halloween next year!
Halloween Baby Shower Decorations
Pumpkins with pacifiers and eyes drawn on with sharpie, i.e., "Baby-O-Lantern."
Mini pumpkins wrapped in tulle with burlap bows
Lots of soft spiderweb gauze material draped on the buffet and gift tables
Purple, orange, and black confetti-filled balloons
Spider balloon animals
"Floating" ceiling candles made from electric candles hung from the ceiling on strings
Cauldrons filled with candy as centerpieces
Woodland
A Woodland theme is the perfect baby shower for nature lovers.
Woodland Baby Shower Decorations
Felt Mushrooms and leaves strewn over tables
Tablecloth with a wood grain print for all the guest tables
Woodland Animal cake topper
Twigs tied into the shapes of letters with ribbon and greenery spelling the baby's name
Slices of wood from trees (found at a craft store) beneath centerpieces or used as drink coasters depending on the diameter
Mini glass terrariums with stone, moss, and twigs to create a woodland scene, complete with felt animals or animal cutouts
Add some boho flair with Macrame wall hangings inter-woven with leaves
What are Some Ideas for Unique Baby Shower Centerpieces?
Table decorations can make all the difference for a baby shower.
Diaper Cakes
Have a handful of guests create a "Diaper Cake" tower and use them as centerpieces. They are adorable and practical because the mom-to-be will use all the items to make them.
For more great cake ideas, check out this article on cakes for a boy baby shower.
Edible Centerpieces
Sure to be a hit with guests, making the centerpiece edible will make shower guests happy. The best edible centerpieces are easily single-serve, such as bouquets built from themed cake pops or fruit bouquets instead of flowers.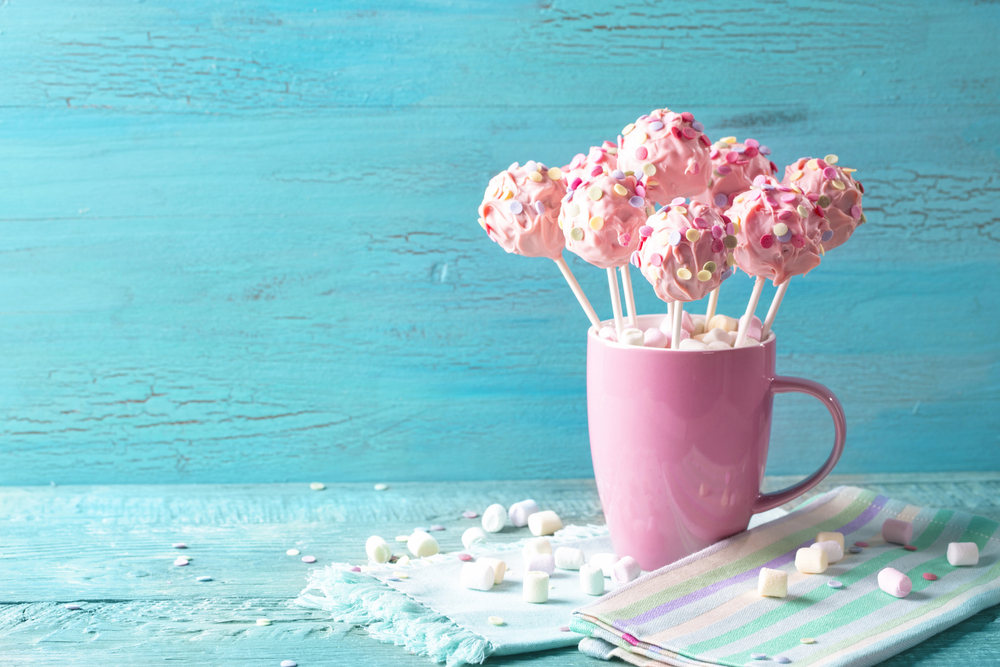 Guest Book Centerpieces
Use pregnancy photos or printables inside a picture frame that has a wide matting around it. Supply gold and silver pens and ask guests to sign them with wishes for the baby! These can be used as nursery decor later on.
DIY Baby Shower Decoration Ideas
Mason Jar Centerpieces
These are so easy to make!
All you need is Mason Jars, twine, acrylic paint (in your shower color), and some greenery and flowers.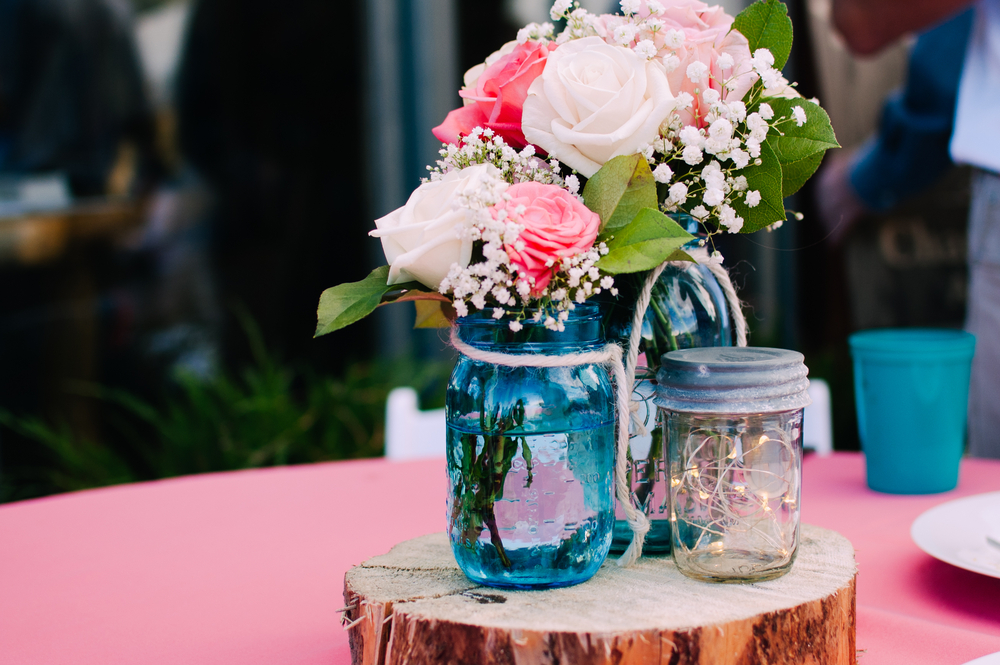 Paint the inside of the Mason Jar with acrylic paint and allow it to dry. Tie a bow from your twine around the lip of the jar. Fill with flowers, greenery, or whatever your heart desires!
Tulle Balloon Decoration
You can make these in a snap, and they look great in photos!
You will need balloons, tulle, ribbon, and scissors.
Blow up the balloon. Tie a string from the balloon to the length of the floor. Drape the tulle over the balloon and cover it completely. Trim the tulle, so you leave a few inches past the end of the balloon. Gather the tulle at the bottom in one hand and tie a ribbon into a bow around it to secure it.
These look like floating lollipops!
Diaper Wreath
Great for decorating the walls and making a colorful statement all in one. These are a lot easier to make than diaper cakes.
You will need 10-15 newborn-size diapers, tape, a styrofoam wreath, and two kinds of ribbon (a wide ribbon and a narrow ribbon). You can also add something adorable in the middle (a toy or a stuffed animal).
Roll each diaper into a funnel shape. To keep the shape, tie it with a wide ribbon around the middle. You can use tape rather than tying it if that's easier, and lay the ribbon over the tape so you don't see the seam.
The ribbon gives the wreath the color it needs, so be sure to choose a fun color.
Repeat several times until you can make a wreath shape out of the diapers, and secure each of the individual diapers to the styrofoam using a thin ribbon.
Secure the stuffed animal or toy to the center or place it how you'd like, and finish it with ribbon bows! These are lightweight and practical because every new parent needs plenty of diapers!