Friends and family have graced your baby shower. They brought goodies, played baby shower games with you, made you feel special, and transformed your party into a memorable event.
It's time to go home, and you can't find the right words to express your gratitude. So, how about gifting them cute baby shower favors that will do the "talking."
In this article, I've outlined dozens of thank-you gift ideas you can give your wonderful guests. And if you're tight on budget, don't worry; there are several inexpensive baby shower favor ideas here as well.
What Kind of Favors Do You Give at a Baby Shower?
From edibles to beauty products and plants, there are a whole lot of items you can offer your guests as a sign of gratitude for gracing your baby shower.
Here's our list of baby shower favor ideas you can have at your party:
Edible Favors
Cookies – Who wouldn't love a packet of themed baby shower cookies to take home? Gift your guests onesie-shaped cookies cutely packed in muslin bags or favor boxes. You can make these at home or order from your favorite baker.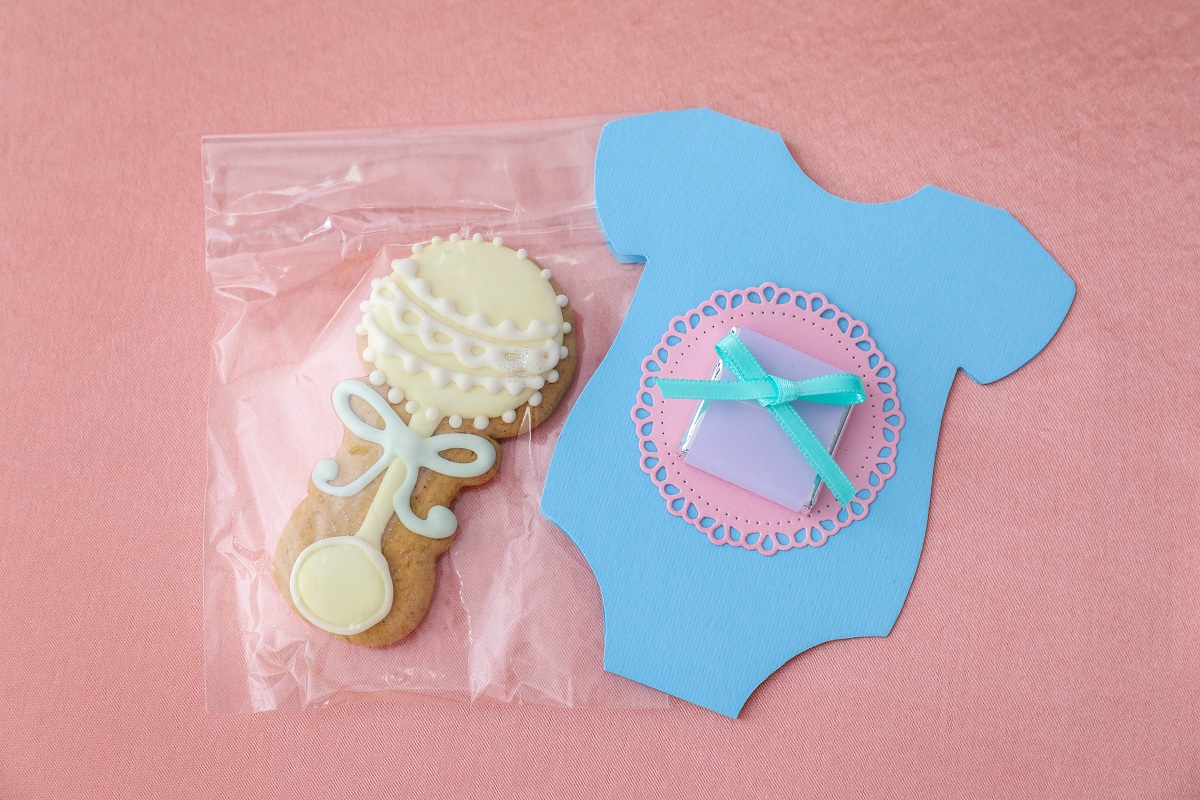 Oreos – Customized Oreos are perfect baby shower party favors. Have your Oreos covered in blue or pink candy melts and colored sprinkles, depending on whether it's a baby boy's or baby girl's shower.
Cake pops – These are inexpensive baby shower favors your guests will love. Use theme-fitting tags like "Thanks for Popping By" to make a statement. Cake pops can also be part of the party decorations, especially on the dessert table.
Popcorn – "Look Who's Ready to Pop!" Have these baby shower favor tags on popcorn kernel jars for guests to prepare at home. But you can also please them with a delightful treat by preparing candied or buttered popcorn to take home.
Honey jars – Treat your guests to mini honey jar favors with personalized bee pendants and wood dippers for bee or Pooh-themed baby showers.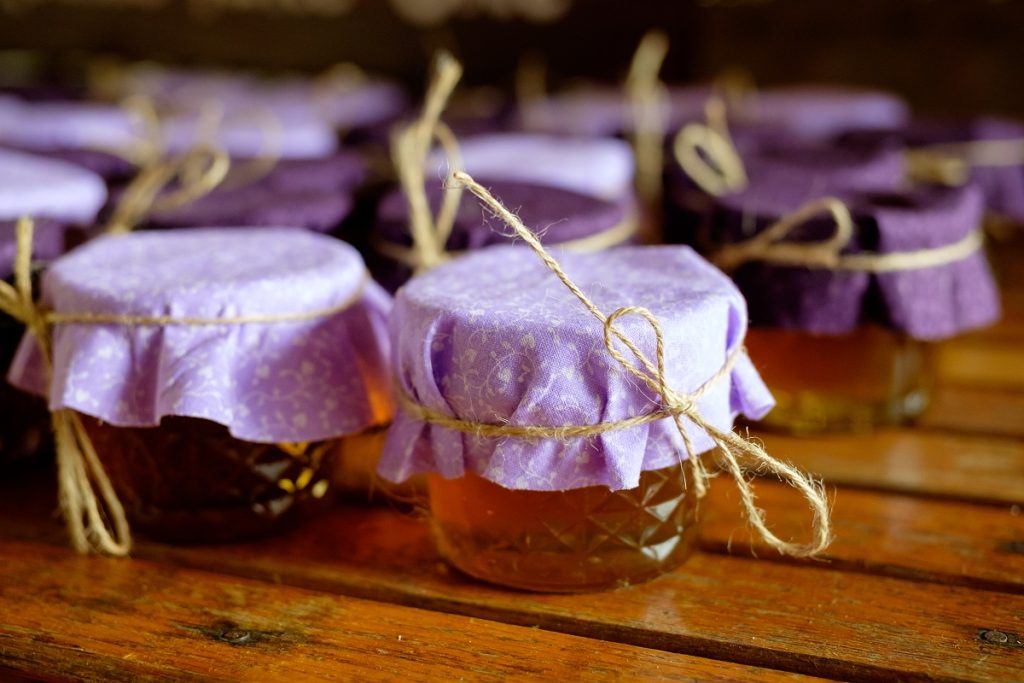 Hershey's – These are sweet and cheap baby shower favors. Paper baby strollers or cute napkin diapers would be ideal for packaging personalized Hersheys.
Tea bags/Coffee – You can never go wrong with tea or coffee favors. Give your guests instant coffee packets or beans in personalized favor boxes or tins. Or, package different tea bags in mini jars. Then, add interesting tags, like "A Baby's Brewing" or "Thanks a Latte."
Self-Care/ Beauty Product Favors
There's no better way to thank your guests than gifting them self-care or beauty products.
Pedicure or Manicure sets – Buy items like nail polish, remover, nail files, and nail clippers in bulk on Amazon. And wrap a combo of these items in pretty sets to make excellent favors.
Hand lotion – These are fun and thoughtful items to gift your guests. You can add custom labels, making them treasurable favors.
Bath bombs – These are irresistible favors your guests can't get enough of. And you can wrap the bath bombs in baby shower-themed tulle and add a favor tag like "You're the Bomb!" for a unique touch.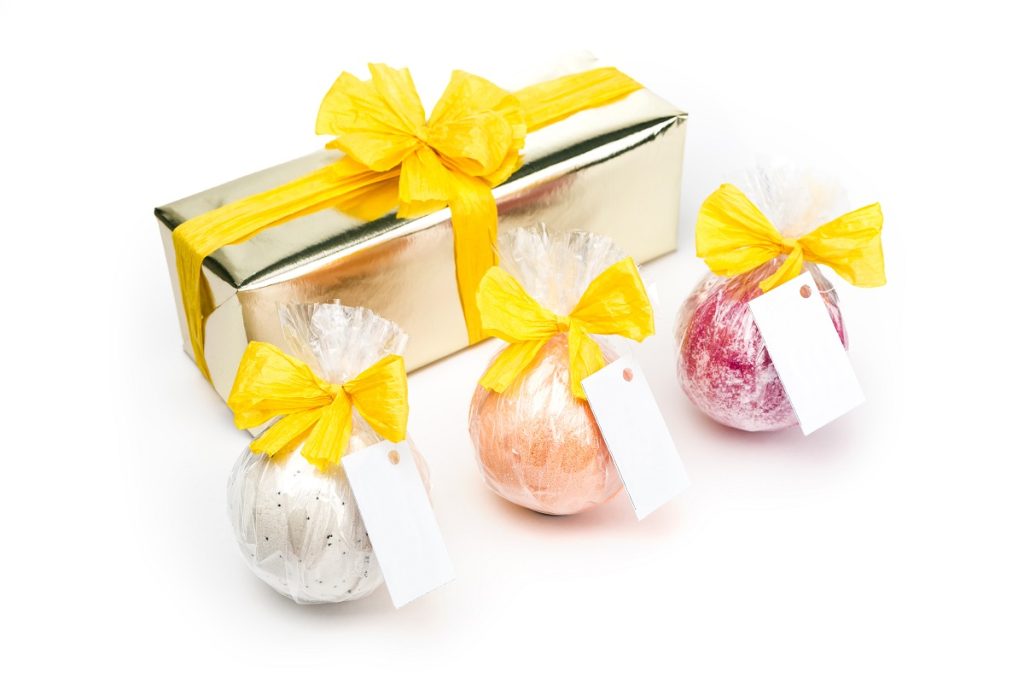 Bath salts – Like bath bombs, bath salts are super cool baby shower favors. There are many fragrances to choose from, including rosemary, spearmint, rose, lavender, and jasmine.
Sanitizers – With the recent pandemic, who wouldn't want a hand sanitizer in their handbag or purse? So, these can be perfect baby shower favors your guests will appreciate. Add a personal touch using these favor labels (available on Etsy).
DIY Favors
Homemade baby shower favors are not only cheap but fun to make. So, put your creative foot forward for DIY favors your guests will love.
Here are some ideas:
Cupcakes – These are irresistible treats to have as favors. Stick to your baby shower theme as you make and package mini cupcakes to gift your guests.
Sugar scrubs – Your guests deserve some pampering after a long day. So how about making fragrant sugar scrubs for them?
Napkin diapers – Looking for a super easy and inexpensive way to wrap your candy or chocolate? Make cute napkin diapers that match your baby shower theme. And you can add ribboned baby socks (or gloves) and miniature pacifiers to make chocolate baby favors (in these napkin diapers).
Paper cup baby booties – These easy-to-make favors will be cute baby shower souvenirs. And these booties only require a few materials to make, including paper cups, a hole punch, jingle bells, and satin ribbon.
Useful Favors
You don't want to gift your guests favors they'll throw away. Hence, these valuable items will make fabulous baby shower favors your guests will find use for:
Candles – Whether homemade or store-bought, scented candles make thoughtful favors. You can package them in customized mini jars, favor bags, washi tape, or candle holders.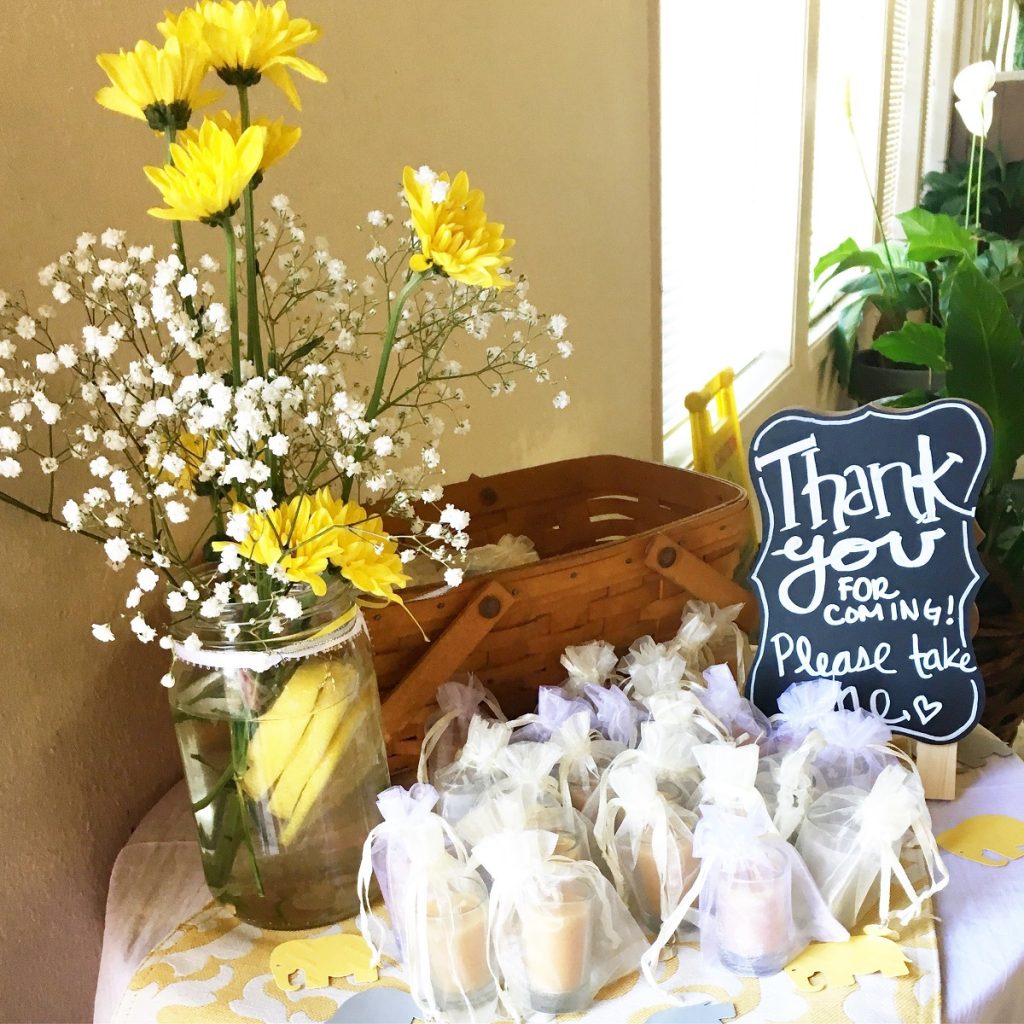 Wine glasses – Let your guests celebrate the baby's arrival with personalized stemless wine glasses. You can also add these cute charms to help them track their drinks. Alternatively, gift them tumblers filled with candy or coffee mugs with jelly beans.
Keychains – Everyone has a bunch of keys, so custom keychains are perfect favors. Baby shower guests can walk home with these pretty baby carriage, macrame, and wood letter bead keychains.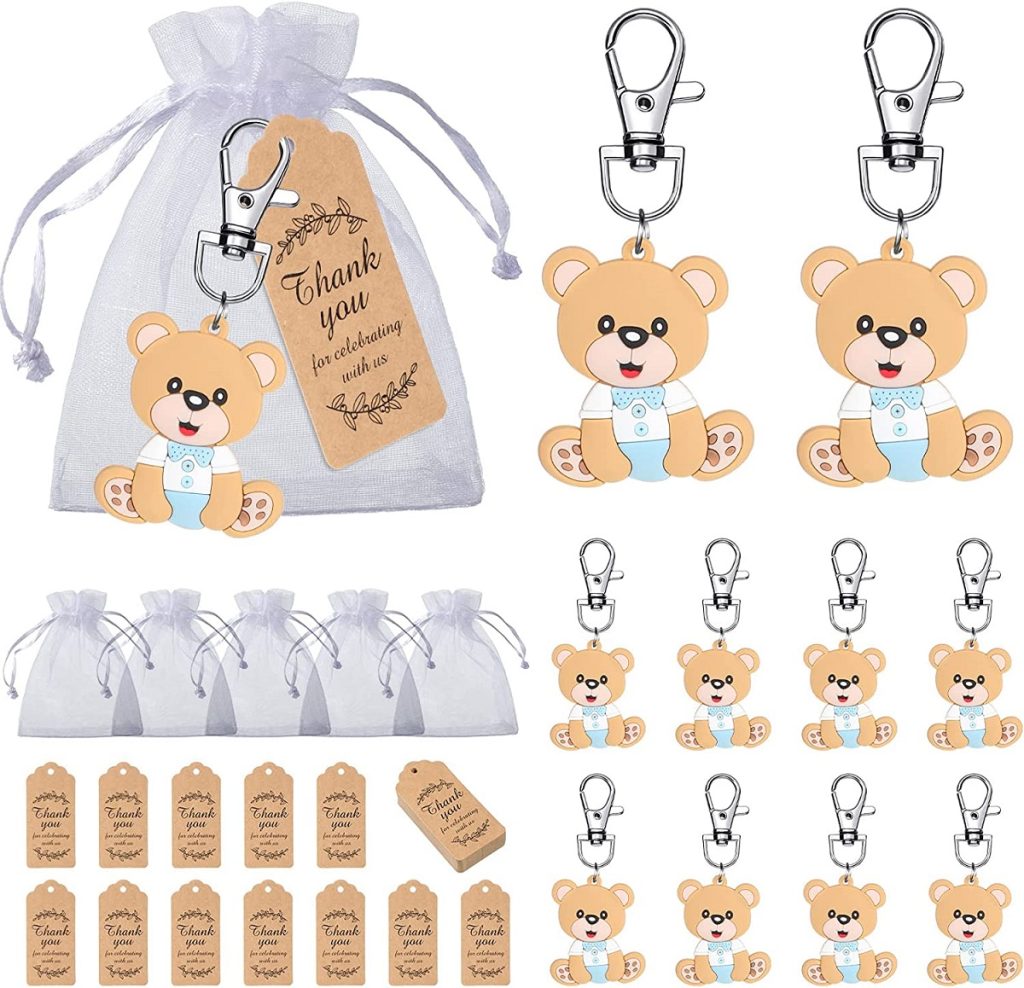 Mason jars – These versatile containers are a must-have. Use them to make memorable baby showers by adding themed items, like bath salts, sprinkles, pedicure items, candies, or hot chocolate mix.
Measuring spoons – Spread some love by adding these household staples to your guests' kitchen. They come in sets, making them affordable favors.
Plant Favors
Plant favors will be great if your guests have a green thumb. Here are a few:
Succulents – Buy mini succulents in bulk for a better price and package them in cups or mini pots. Favor tags like "Watch Me Grow" or "All Things Grow with Love" will be adorable.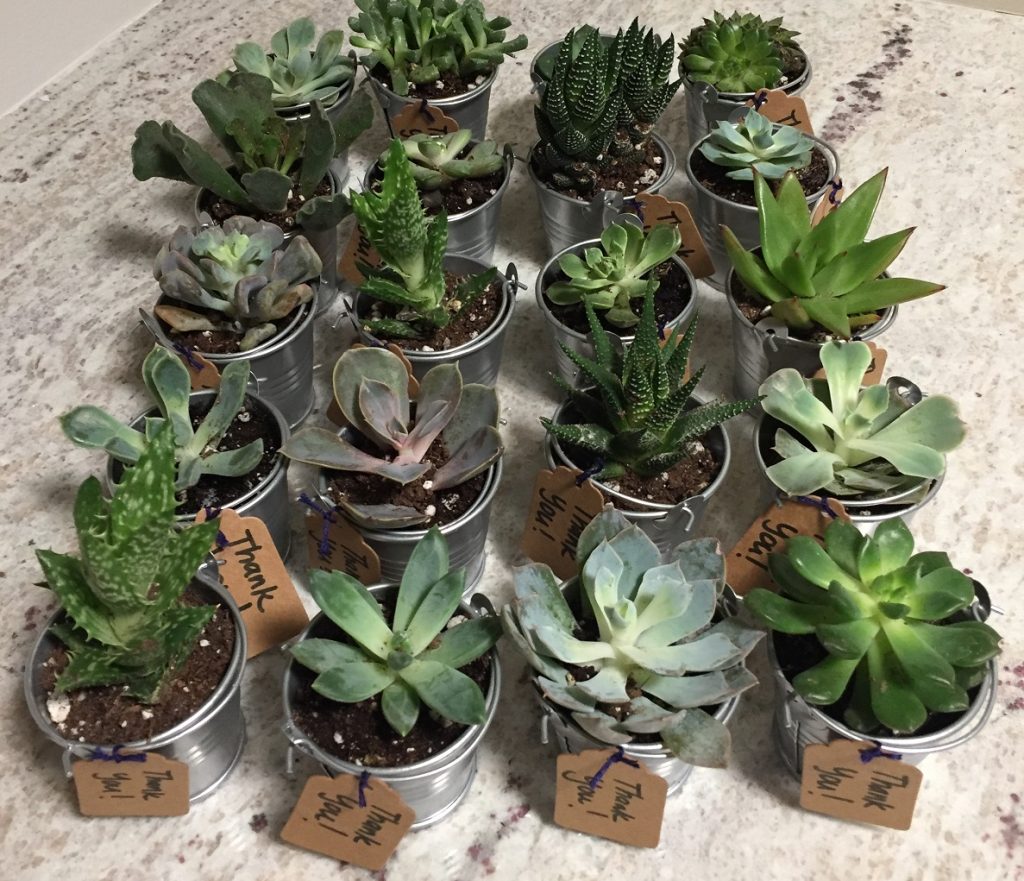 Seed packets – These come in handy when you want to save your budget. Get seed packets for succulents, flowers, or veggies, and your guests will love the gesture.
Potted herbs – Who wouldn't love potted herbs on their favorite window? Get inexpensive dollar-store pots and plant common herbs to gift your guests. Then, decorate them with twine or ribbons to make beautiful favors.
How Much Should You Spend on Baby Shower Favors?
There's no hard and fast rule on how much you should spend on baby shower favors. How much you use depends on your budget and time availability.
If you're on a tight budget but have ample time to plan your baby shower, go for DIY favors, as you'll only spend a little money to source materials.
If time isn't on your side and you are okay with flexing your financial muscles, buy favors in bulk from your favorite store. Most baby shower favors come in sets and range from $10 to $50. A quick look at Amazon will convince you that you can get something memorable for under a dollar per guest.
So, whether you go for pricey or inexpensive baby shower favors, keep in mind that they should be:
Useful and practical
Cute or memorable
Items that most people love
What Are Some Inexpensive Baby Shower Favor Ideas?
Who said the best baby shower favors must be the most expensive items? You can stick to a budget and still get practical favors that your guests will appreciate and cherish.
There are many affordable baby shower favors that'll wow your guests.
Here are inexpensive baby shower favor ideas for some inspiration:
Nail polish favors – Wrap them in tutus or add cute tags for more pomp and color.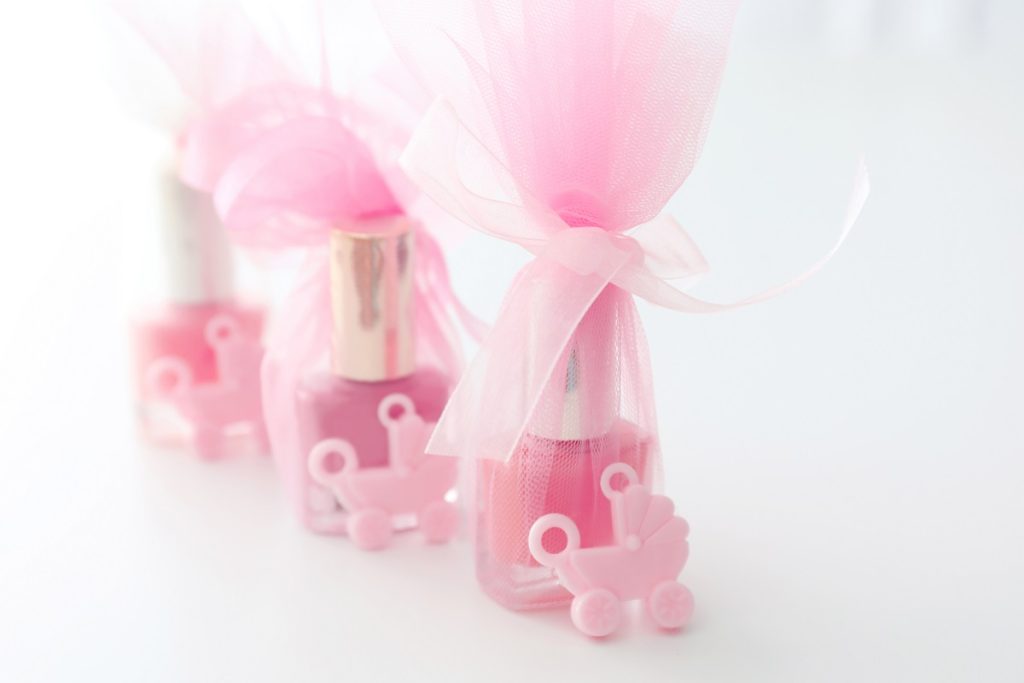 Lip balm favors – Package them in favor bags or use these themed labels.
Hair tie favors – Buy assorted sets and enjoy pocket-friendly prices.
Scented soap favors – are cheap and thoughtful favors.
Baby bottle opener favors – are available in sets at affordable prices.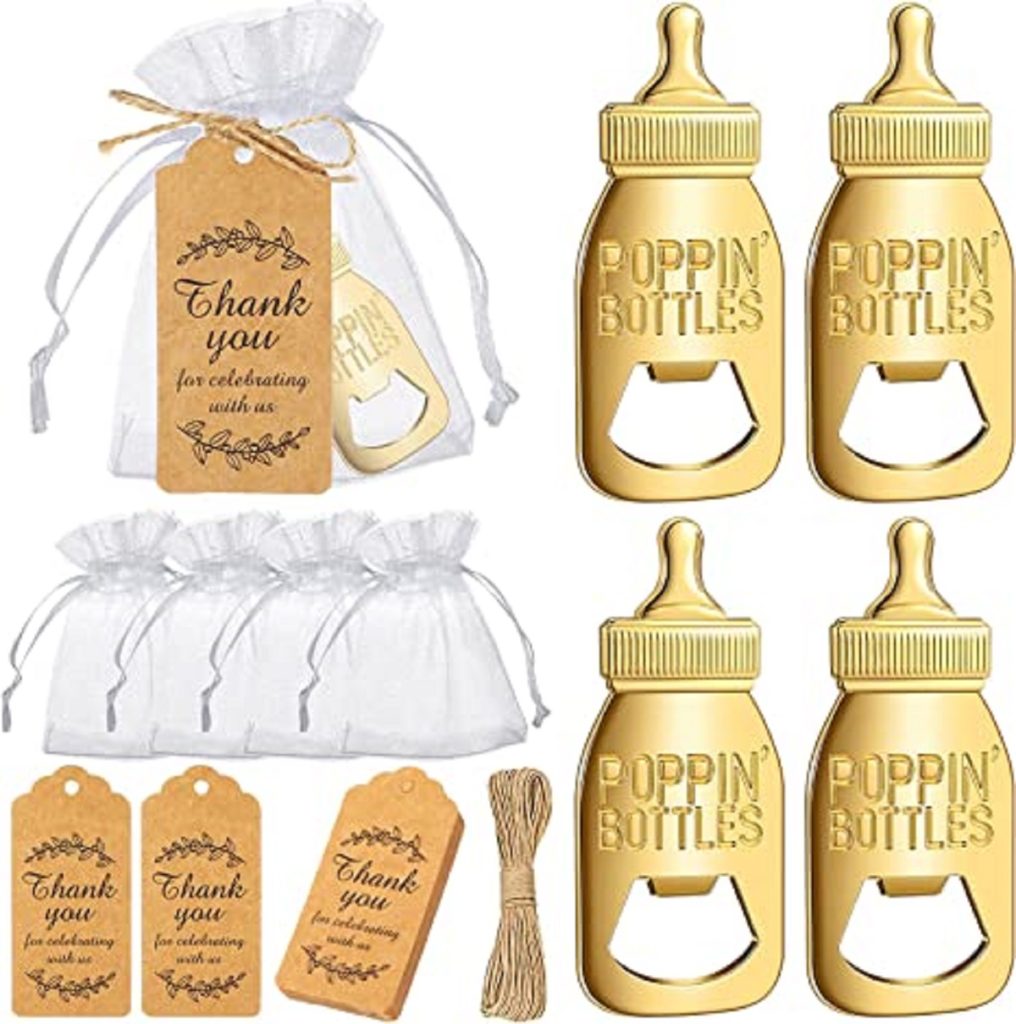 Others include:
Mini honey jars
Small scented candles
Mini body lotions
Keychains
Lollipops
What Can I Make for Baby Shower Favors?
You can make many things to use as your baby shower favors. And they don't have to be complicated.
While it can be challenging to craft cute, helpful, and practical favors that your guests will love, you could use some inspiration. You'll find many tutorials on YouTube and great ideas on Pinterest and Etsy to trigger your creative juices.
Here's what you can make for baby shower favors:
Bubble bath bars
Themed gift bags
Homemade journals
Baby carriages (for chocolate/candies)
Sugar scrub
Soaps
Wish bracelets
Necklaces
Gummy bears
Lemon drops