When you're a guest or the host for the next baby shower, you may want to go the extra mile and not just prepare the venue, your clothes to wear, and all that jazz. Why not do your nails and have them in the same theme as the upcoming baby shower? It will be a great way to commemorate the day. At the same time, it gives you something extra that you can take a picture of and let linger a few days after the event.
What Are Some Baby Shower Nail Ideas?
There are a lot of ideas online if you have the time to take a look, but we've rounded out 11 of them to make drawing some inspiration easier.
French Manicure
Nothing beats the classic, whatever occasion it may be. To get this look, use clear nail polish to paint all your nails with one or two coats. Then, add a white stripe of polish across the tip of each nail. If you want to put a little twist to it, put a few white glitter specks (if you like) to complete the look.
Gender Reveal Nails
Paint one hand with a light blue polish and the other with a light pink polish. Use a thin brush to add white stars (or any nail art design you like).
Another way to go about it (if you already know the gender) is to paint your nails in either pink or blue or use an acrylic nail design in the correct shade. Have it in at least two coats to ensure it will not wear off quickly. Next, place nail stickers over the areas. Remove the stickers during the actual reveal.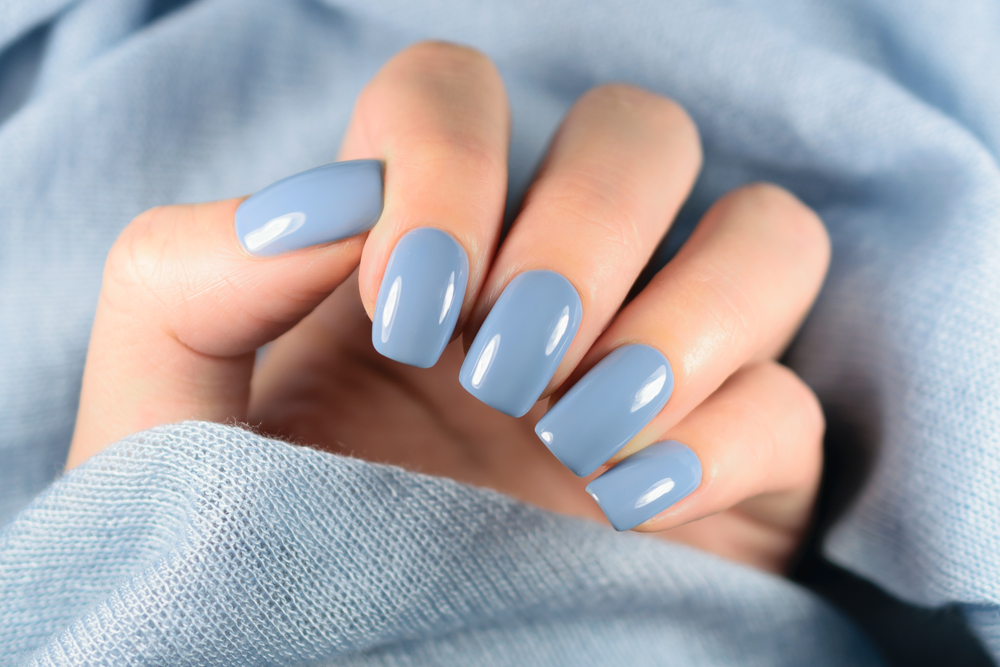 Polka Dot
For a more lighthearted design, polka dots are always a good way to go. Choose your base shade, depending on your party theme. Dip a dotting tool, a toothpick, or a bobby pin into the polish and start dotting your nails using a shade that complements the theme and the base color of your nails.
Baby Shower Nail Art
If you're feeling more creative, you can make baby motifs like rattles, onesies, ducks, and other similar baby shower themes. You can do this by using a thin brush and your choice of nail polish. Because some images may be too intricate, you may ask someone to help you draw in the design to do the nails on your dominant hand.
Disney
If the mom-to-be loves Disney characters or Disney-themed baby shower parties, why not give her what she wants? Even Disney princesses can be suitable motifs. If you can't decide which princess you should use for the nails, why not have a different one for each nail instead?
Flower Nails
For a more toned-down look, use a soft shade of nail polish colors, like pastels and neutrals, for the base coat. Make detailed curves or tiny circles to form the petals. Both hands don't have to look the same, so you can mix and match shapes for the design.
Accent Nail
Why not try an accent nail if you're looking for something different? Paint all your nails according to your base color. Then, for one nail (usually the ring finger), choose a color that's different from the rest but still complements the other nail. It can also be the one that stands out with glitter or a soft pastel color.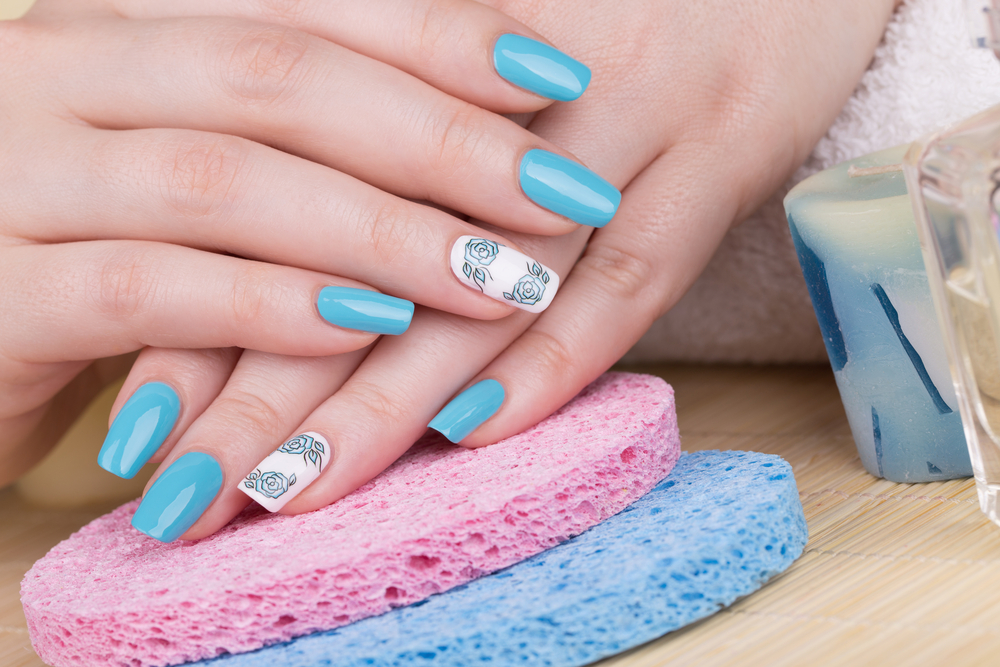 Rhinestones
Rhinestones can add sparkle to your nails. You can place it randomly on the edges or along the tips of your nails. Do this for your accent nail if you want to keep things laid back.
What Are Some Cute Colors for Nails?
In general, pastel shades can be cute and fit most types of baby shower themes. Aside from these, you may choose from the colors below to get you started with even more creative ideas.
Pink Nails
Pink shades are a go-to for almost any baby shower, as it symbolizes innocence and femininity. You can choose from a wide range of shades, from light baby pink to bold hot pink.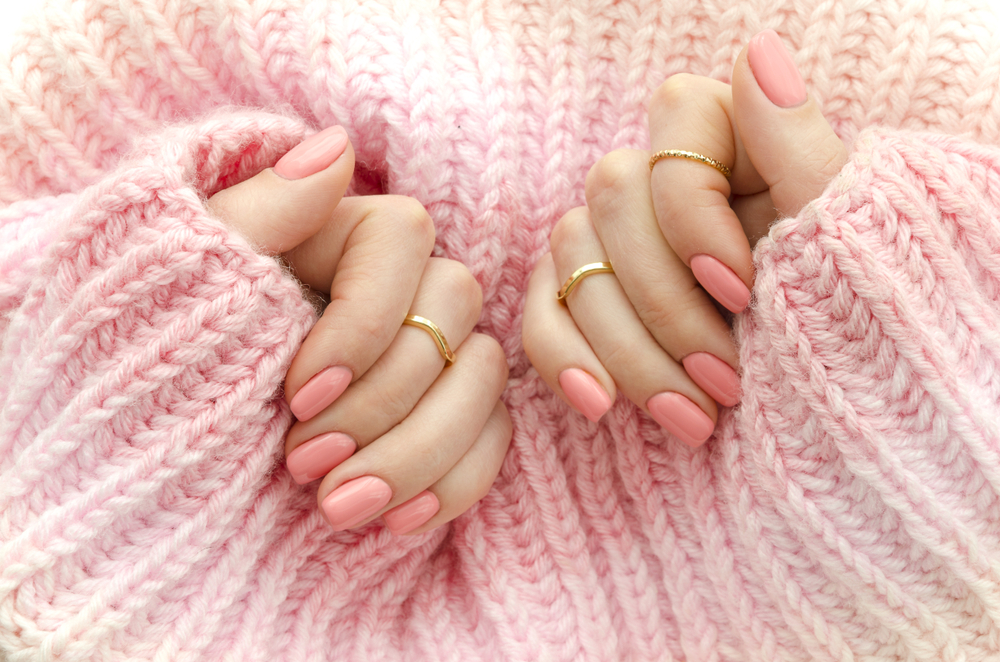 Blue Nails
Shades of blue can be an excellent choice for nail color, especially if the mom-to-be is expecting a baby boy. Choose from a wide range of blues, from a light baby blue to a darker, more intense shade.
White Nails
White is also an excellent choice for a baby shower, as it symbolizes sweetness and purity. You can add some silver or gold foil accents to your white nails to make it a bit more interesting.
Can I Do My Own Nails?
You can certainly choose to do your own nails, provided you have an uncomplicated pregnancy. You can go DIY for the baby shower if you want to save money. You can get a lot of tutorials online, or you can watch a few videos to give you more ideas or teach you the basics of doing your nails.
If you have gestational diabetes or diabetes mellitus, you may have to consult with your doctor first. Make sure you get the green light before doing your nails on your own, especially your toenails.
Now that you have some inspiration for your nails, don't forget the rest of your outfit! We have you covered with perfect baby shower outfits for mom!