Outdoor baby showers are becoming increasingly popular thanks to their unique and versatile nature. These pre-baby parties offer an opportunity for the parents-to-be and their loved ones to celebrate the arrival of a new baby in style while enjoying some fresh air and greenery.
And while hosting an outdoor shower is all fun and games, it requires extra planning and preparation to pull off. Here's everything you need to know about hosting an outdoor baby shower.
What Is an Outdoor Baby Shower?
An outdoor baby shower is a celebration in honor of the arrival of a newborn baby that takes place outside in the open air, such as in a backyard, garden, park, or beach.
Outdoor showers allow guests to enjoy the natural surroundings while celebrating the new baby's arrival. This kind of party offers plenty of space for decorations and activities that make the event extra unique and memorable.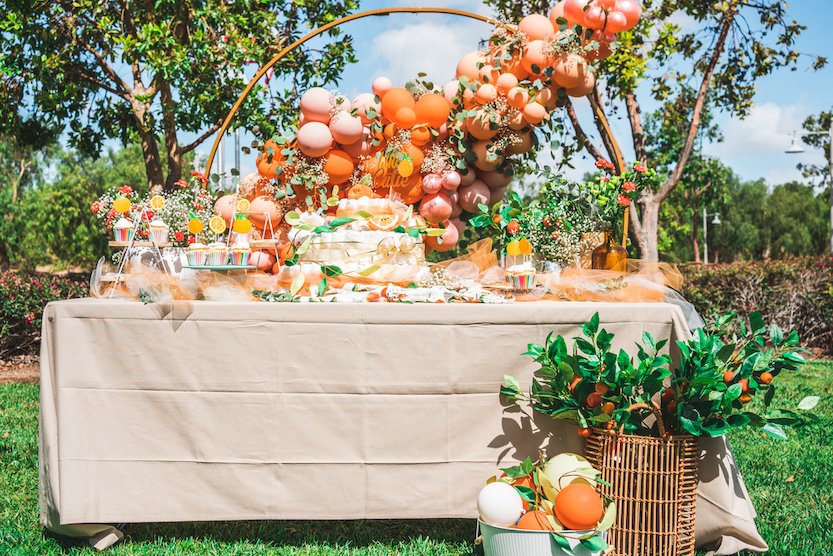 How Can I Host an Inexpensive Baby Shower?
To host an inexpensive yet unique baby shower, consider a budget-friendly venue, cheap food, and decorations, and go for DIY party favors.
Plan
Like any other event, hosting an inexpensive baby shower party starts with planning. Know your budget, and determine the venue, who to invite, what to serve, and what activities to include. Ensure you set a realistic budget that's easy to follow!
Host the Party at Home
If you're working with a smaller budget, hosting an outdoor shower at home eliminates the cost of renting a venue. It also gives you the luxury of ordering in or preparing homemade foods and drinks, doubling up the savings.
Keep the Guest List short
The longer the guest list, the more you'll spend on space, food, and drinks. So, consider reducing the number of guests on your invite list. You can still make your baby shower colorful, fun, and memorable without inviting too many guests!
Go for Digital Invites
Sending physical invitations can be time-consuming and expensive. Consider sending digital invites, such as emails and SMSs, or creating a Facebook event page or WhatsApp group to invite your guests. Plenty of free online services, such as Evite, allow you to send baby shower invitations at an affordable rate.
Catering and Food
Another great way to save a few coins when hosting an outdoor shower is by making delicious homemade food instead of ordering in. You can also bake your treats and have a build-your-own drinks bar to cut down on costs further. Ask your friends to bring with them a dish or two.
Timing Matters
Avoid scheduling your outdoor shower at the prime lunch or dinner time. This way, your guests won't expect a full-course meal; thus, you won't have to spend too much on catering. By timing your baby shower right, you can get away with a cheap menu that includes appetizers and snacks only.
DIY Decorations
You can break the bank when it comes to decorations. Plenty of DIY décor options will make your outdoor shower stand out without spending too much money. You can find plenty of ideas on Pinterest or through other sources for inexpensive outdoor baby shower decorations that are both fun and easy to make. You can also get affordable DIY décor pieces on Amazon and Etsy.
Baby Shower Activities and Games
Instead of buying expensive baby shower games, you can create fun activities to keep your guests entertained. Consider hosting a scavenger hunt or playing an outdoor game like horseshoes or beanbag toss. You can also include some baby shower trivia questions if you like. If kids are involved, you can rent affordable slides, bouncing castles, and trampolines.
How Can I Decorate My Backyard for a Baby Shower?
You can decorate your backyard for a baby shower using balloons, lights, yard signs, flowers, and other party décor pieces.
Get your creative juices flowing regarding decoration ideas! Go for what works for you!
Here are some ideas to get you started.
Put up a Tent
A beautiful tent helps guests enjoy the outdoors without worrying about the scorching sun. A tent also adds a twist to your backyard, making it perfect for the baby shower.
Include Comfortable Seating
Get cozy outdoor furniture that will make the guests comfortable. You can get special seats for the parents-to-be, elderly guests, kids, and the differently abled.
Balloons
Nothing looks more fun and cheerful in an outdoor shower than colorful balloons! You can hang them from trees and other structures in the backyard or scatter them around the space. You can also make a beautiful balloon arch or garland to add a pop of color. Your choice of balloons should rhyme with the baby shower themes.
Lights
String lights and café lights are also excellent ideas to decorate your backyard and keep the party mood going.
Signs
Put up beautiful yard signs or banners displaying messages for your guests, such as "It's a baby shower!" or "It's a baby boy/ baby girl!" or "Oh baby!"
Flowers
You can never go wrong with a good choice of flowers. Decorate your backyard with flowers of all different colors and sizes. You can place the flowers in vases or hang them from trees. Floral centerpieces also add a pop of color to the baby shower party.
Games
Create fun games your guests can play during the baby shower, such as a scavenger hunt or beanbag toss.
Streamers
Hang streamers around your backyard to add an extra element of festivity.
Buntings
Also consider hanging buntings around the backyard to add a stylish decorative touch. The buntings should be in line with the color scheme.
Props
Place props around the backyard that fit into your themes, such as baby rocking chairs, baby clothes, and teddy bears.
Photo Booth
Setting up a photo booth is another great way to decorate your backyard and add fun and excitement to an outdoor shower. Consider placing props around the photo booth area, such as funny hats, glasses, and wigs. You can also get printable custom signs with cute messages for your guests to hold up in the photos.
Table Decorations
Choose festive tablecloths and tableware, such as dishes or cups, that match the overall theme of the baby shower.
Table Centerpieces
Place a centerpiece on each table to add a special touch. You can make your centerpieces with items matching the baby shower themes or choose store-bought options. Some of the best baby shower centerpieces include woodland mini-diaper centerpieces, mini diaper/ napkin cake name ideas, confetti balloons, and flower vases.
Baby Shower Cake
Have a designated spot for the baby shower cake. Place it on a table or unique stand to make it the centerpiece of the backyard. You can also include beautiful cupcakes for a fun twist. And remember a beautiful cake topper.
Gifts
Set up a designated space for gifts, such as a table or corner, to make it easy for guests to place their presents for the mom-to-be and newborn baby. It also helps create a more organized atmosphere.
Music
Play soft music in the background for an extra special touch!
Following these tips, you can quickly transform your backyard into the perfect venue for the best baby shower.
What Can I Do to Make my Backyard Baby Shower more intimate?
An intimate backyard baby shower calls for a short guest list, a simple
Here are our top tips that you can borrow:
Keep the guest list short: One way to create an intimate atmosphere is to invite only close friends and family members.
Create cozy seating: Create a comfortable space for your guests to relax by arranging chairs and couches in a circle. This setup will make it easier for the guests to see each other, chat, and catch up.
Use natural lighting: Natural lighting is vital when creating an intimate ambiance. Where natural light isn't available, don't use bright artificial lights; opt for candles or string lights instead.
Choose a simple menu: When it comes to foods and drinks, opt for family-style dining. When planning your menu, consider guests with dietary restrictions.
Get creative with decorations: Decorate the space with small touches that will make your guests feel at home. Consider hanging photos and flowers around the area or displaying meaningful items.
Personalize the activities: Create games and activities that reflect your relationship with your guests and include fun ways to share stories from the past.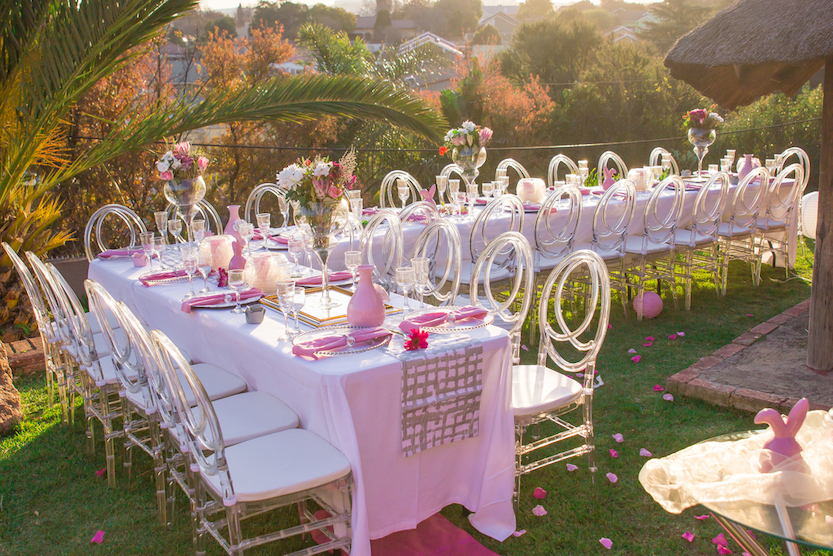 What Do You Serve at an Outdoor Baby Shower?
The food and drinks you serve at an outdoor shower depend on the time of day and your guests' preferences.
Here are some delicious ideas:
Appetizers: Serve mini quiches, cheese platters, crostini with different toppings, hummus and veggies, and other light bites.
Finger foods: Serve finger foods such as sandwiches, tacos, wraps, and mini pizzas.
Desserts: Prepare desserts that are easy to grab and go, such as cupcakes, cookies, and muffins.
Drinks: Offer a selection of drinks, such as iced tea, lemonade, and mimosas.
When you plan your menu for an outdoor shower, be sure to consider your guests' dietary restrictions. By offering various food options, everyone can enjoy the event without worrying about going against their dietary needs.
Outdoor Baby Shower Ideas
Here are some ideas for a beautiful outdoor baby shower:
1. Garden Baby Shower
Bring your garden to life by hosting a baby shower there! Set up beautiful decorations, get cozy furniture, and set up games and other fun activities in the garden to make the baby shower even more special. Remember delicious snacks, drinks, and desserts for your guests to enjoy.
2. BBQ Party Baby Shower
You can also host a BBQ baby shower in your backyard or other outdoor space. Invite family and friends to come over and enjoy BBQ with you. Set up some yard games, decorations, and delicious food for your guests!
3. Beach Baby Shower
If you have access to a beach or pool area, consider hosting an outdoor baby shower there! Bring pool floats, beach balls, umbrellas, decorations, food, and drinks to make your event even more fun.
4. Picnic in the Park
Carry some blankets, lawn chairs, playground toys, food, and decorations to create an outdoor baby shower in the picnic park. Invite friends and family to share this special occasion with you!
5. Backyard Camping
 Set up a tent in the backyard and host an outdoor baby shower! Invite friends and family to come over for a fun-filled event. Bring board games, snacks, and drinks for your guests to enjoy.
6. Have a Bonfire
You can also create an intimate and cozy outdoor shower atmosphere with a bonfire in the backyard or another outdoor space. Get beautiful decorations, food, drinks, and fun activities to keep the mood alive.
Now that you have what you need for your outdoor baby shower, it is time to pick an outfit! Check out these great ideas for what to wear to a baby shower.