Backdrops are a great way to announce your theme at a baby shower. Made of fabric, vinyl, or paper, they are baby shower decorations that are easy to set up as many are simply hung on a grommet ay very minimal cost.
Do you need a backdrop at a baby shower? It is not essential to include them at your baby shower, but they make great (and relatively inexpensive) backgrounds for a cake table or gift table. As is, or accented with a balloon garland, they are a great place to take photos of your guests for a lasting memory.
You can, of course, get your theme across with centerpieces and such, but a backdrop is an easy way to set the scene.
Baby Shower Theme Backdrops
You are more than likely to find a backdrop that will fit the theme of your baby shower. You can always add a balloon arch to add more decoration for pictures and a general gathering place.
If you're hosting a gender reveal, some backdrops display "Boy or Girl?" made with pink and blue colors.
Whether your theme is "Oh Baby" or anything else, you are likely to find designs that make a great cake table or photo backdrop.
Elephant Baby Shower Backdrop
Adorable baby elephant decor is easy to cater to a boy or girl's baby shower. You can find customized party supplies on Etsy if you want the backdrop to say something specific.
You could have the display and title it "Our Little Peanut is Almost Here." This closely ties into the Disney movie Dumbo. Your guests will love this set for a baby shower banner.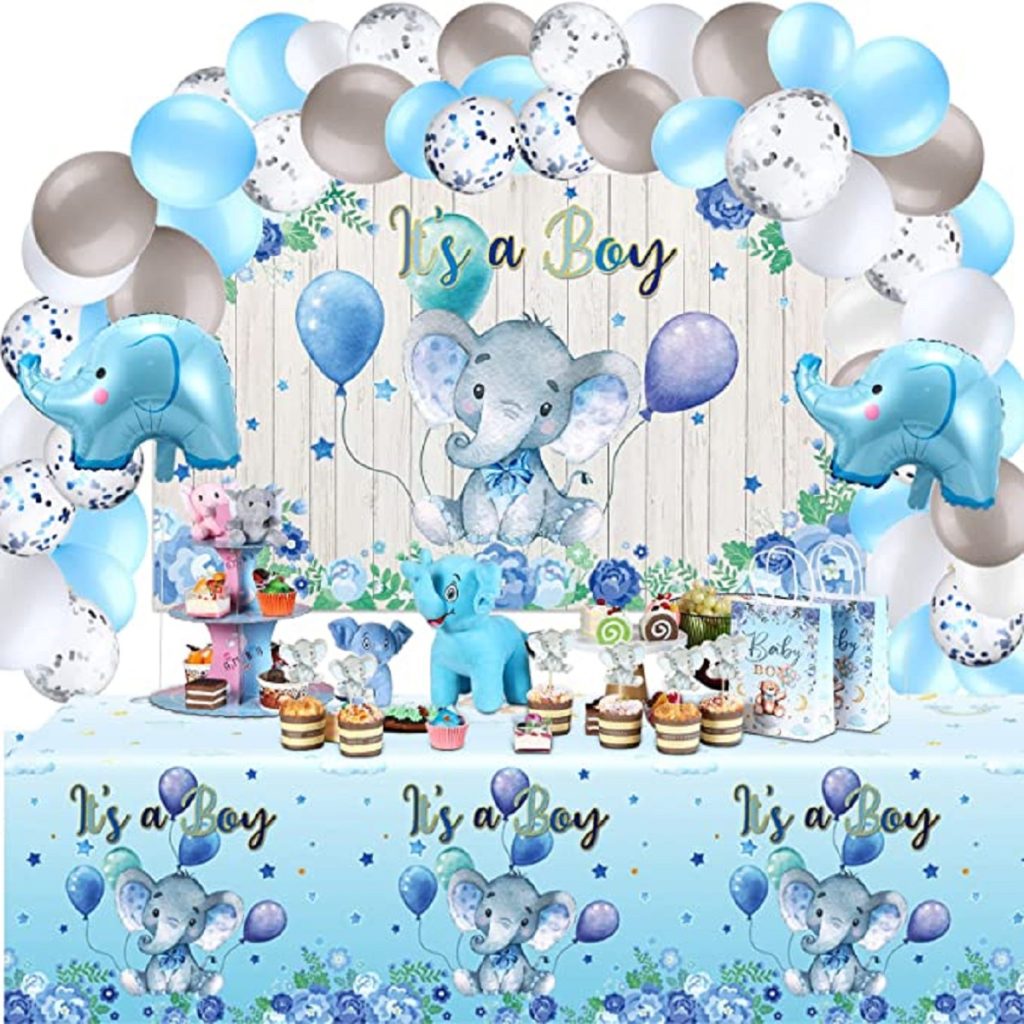 For other baby shower ideas and gender reveal party ideas, you can purchase an elephant backdrop that states "What Do you Think?" This is a fun photo opportunity for guests, and you can put them on the spot to choose a gender if it's a surprise!
Pumpkin Baby Shower Backdrop
This adorable display features a pumpkin in the middle of the fabric and may say "A little pumpkin is on the way." Ranging styles include rustic wood backgrounds to more feminine themes. Fabric options are available in neutral colors or more pinks and blues.
You can doll up the borders with pink or blue balloons depending on the sex of the child. This theme may be most appropriate for a baby shower that is in the fall.
Teddy Bear Backdrop
Ever popular, teddy bear shower backdrops can be customized to fit other occasions, such as birthday parties or a gender reveal. A fun idea may be a printable backdrop featuring the slogan, "We can bearly wait."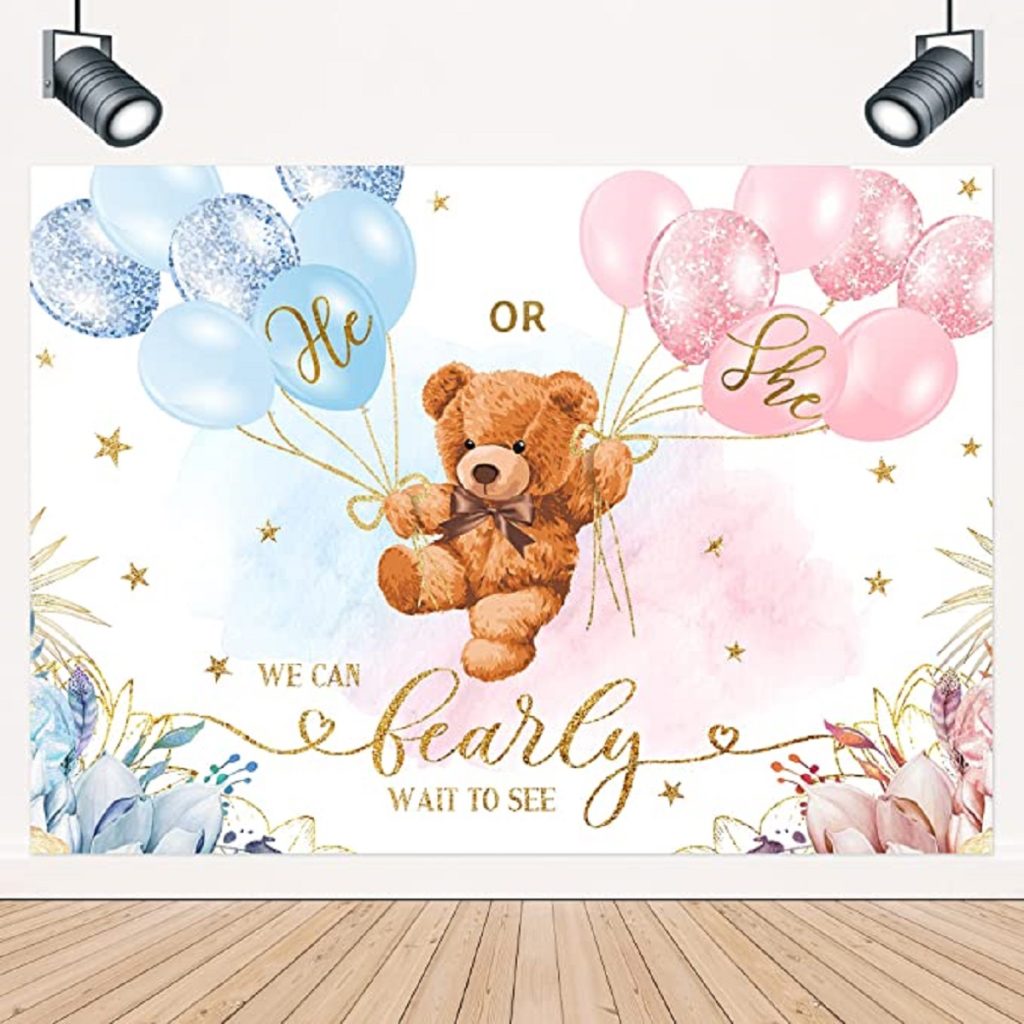 A very popular idea that many people have adopted for this backdrop is to display a large teddy bear next to it to include in the photography background.
Twinkle Twinkle Little Star Backdrop
This is one of the most versatile and beautiful backdrops that are available in several color combinations. There are pink and gold backgrounds featuring a moon that make for the perfect photography backdrop. They can be found all over the Internet, but Etsy seemed to be a great resource for inspiration.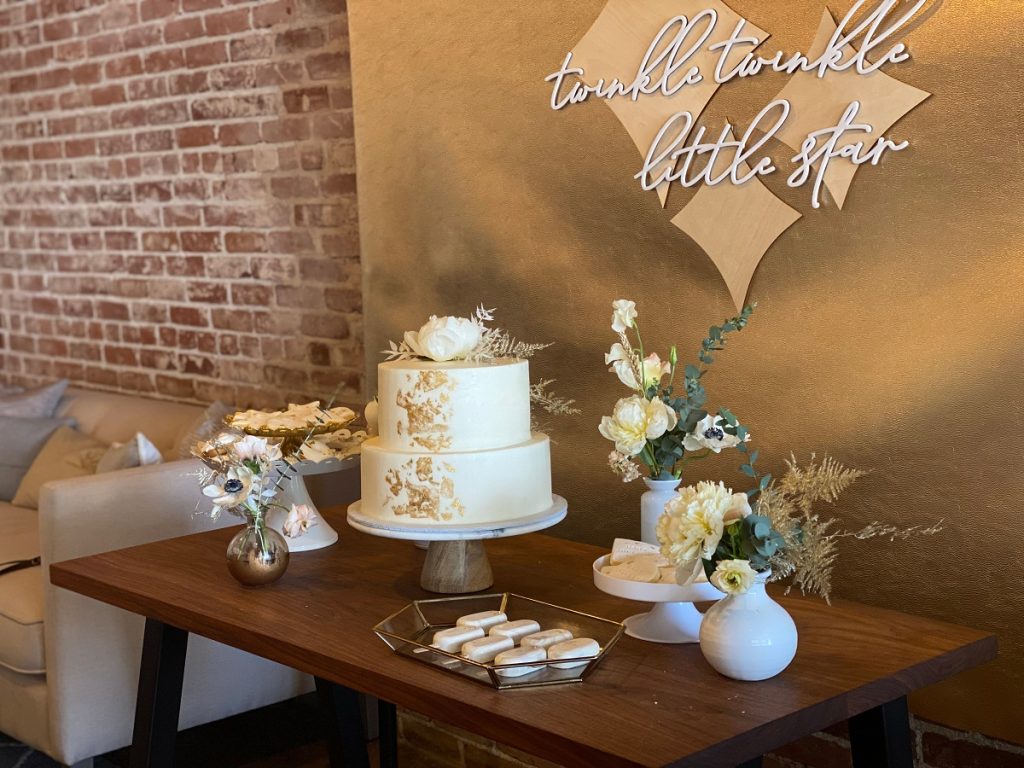 Fashion your backdrop with silver and white balloons, or gold and white to highlight your color style. There are even printable versions if you prefer to DIY. You can even go with a more generic version if you would like to recycle the material for use in birthday party decor.
Boy Baby Shower Backdrops
Popular colors for the backdrop include blues, gold, white, and silver. You can incorporate woodland animals, spaceships, or colors of the season in a baby boy celebration.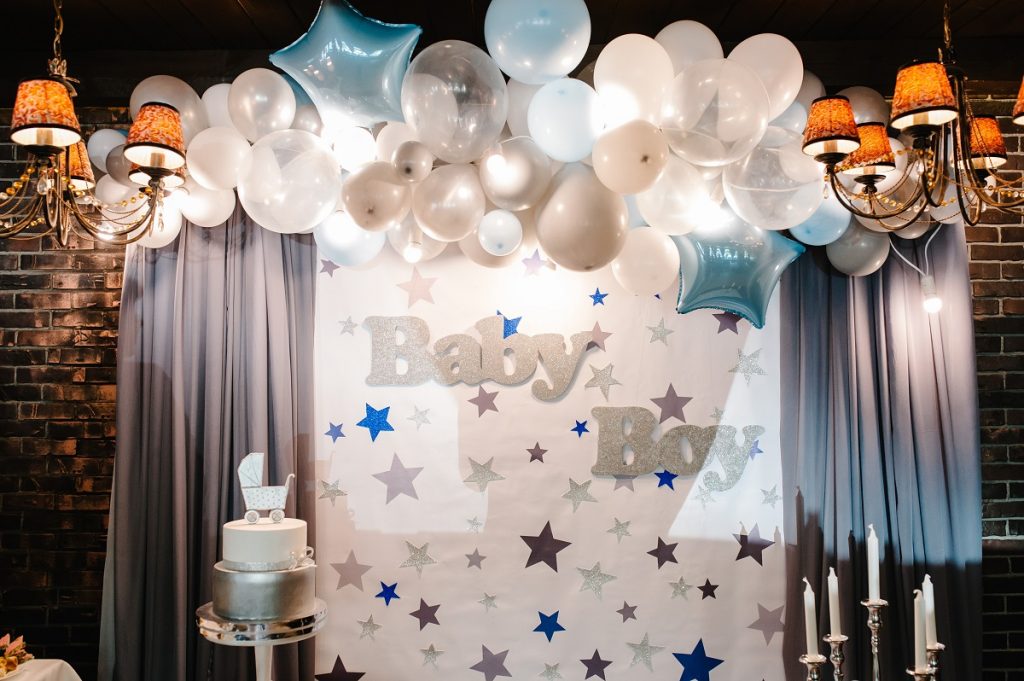 Party balloons can dress up your backdrop to make it unique to the colors of your event. Check internet sites frequently for updates to order the item at a sale price. You can order your custom item to feature phrases such as "It's a Boy" or the new child's name. You can cater your party backdrop to your specific theme or keep it very simple.
Girl Baby Shower Backdrops
Baby shower backgrounds for girls offer many colors and styles to choose from. Floral baby shower backdrop that boasts bold colors and lots of greenery is one way to go.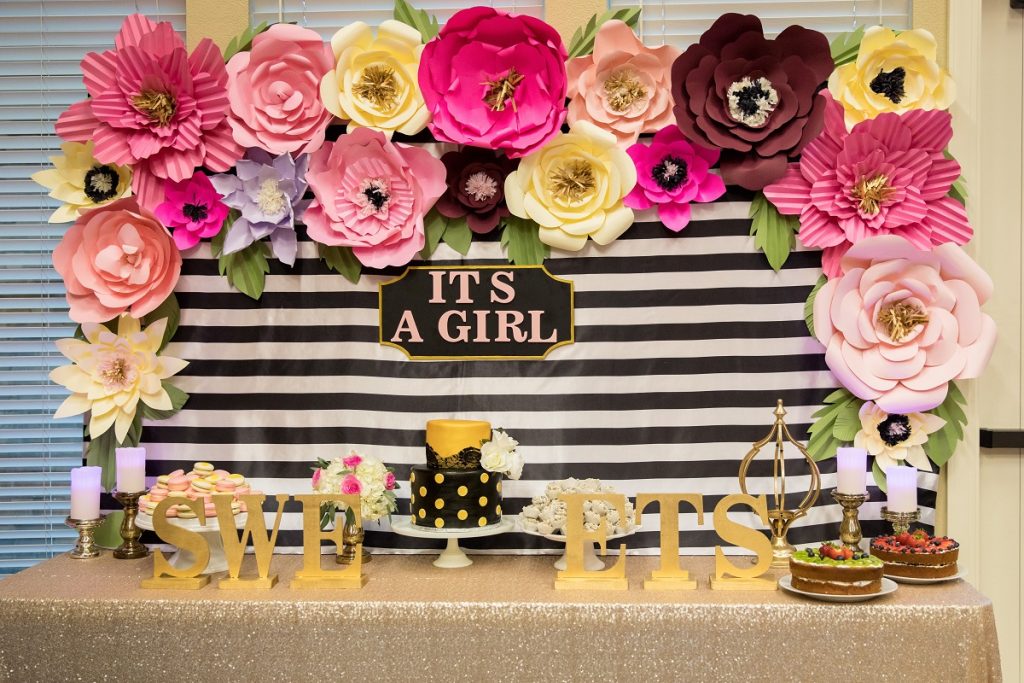 For a boho baby shower, muted pinks and rose gold accents are popular colors for decorations. Backdrops that feature pink flowers made with watercolor that pair nicely with pink and purple balloons surrounding the art.
You can find almost any type of custom backdrop for a baby shower for girls whether you know what you're looking for or you are browsing on Amazon.
Gender Neutral Baby Shower Backdrops
Gender-neutral baby showers are gaining in popularity. Many backdrop options online feature neutral-colored balloon garlands. This color palette may include ivory, gold, white, mint green, or yellow. Other backdrops lay out the possibility of a boy or girl.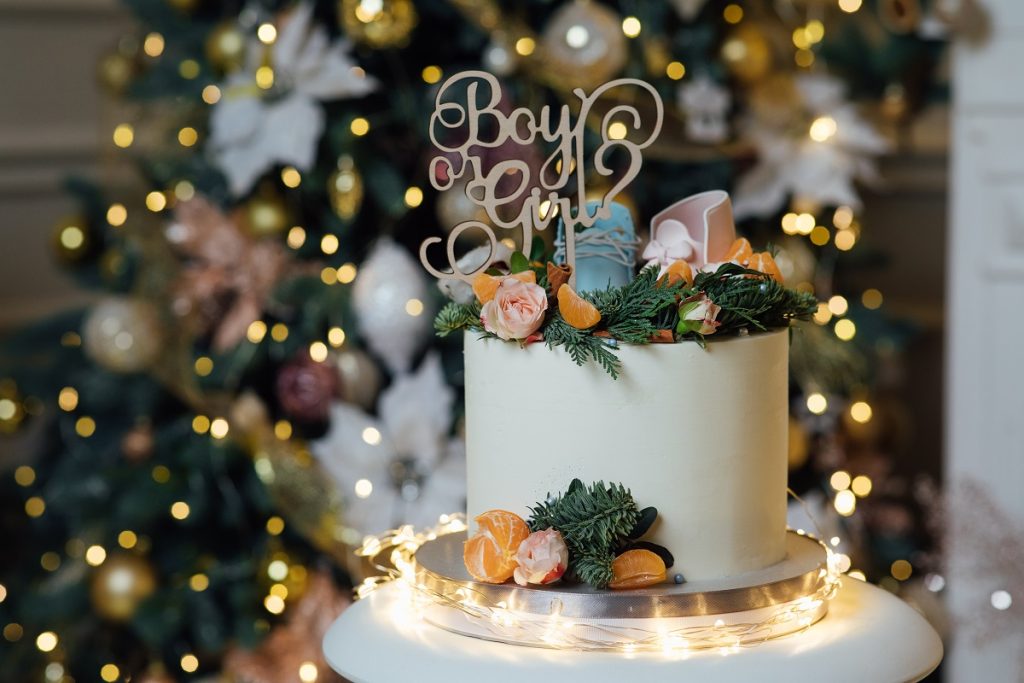 Baby shower banners may feature the shower theme such as "Oh Baby" or "Twinkle Twinkle Little Star." Other neutral backdrop ideas may include a classic woodland animal theme or a jungle safari. Balloon arches may feature colors such as orange, brown, gold, or white.
Photo Booth
A photo booth backdrop is an easy thing to do yourself if you're on a budget. They make the best baby shower photos. You can purchase all the supplies for less than $10. You will need various sizes of PVC piping and caps. Other supplies will include decorating materials such as streamers, balloons, sequins, or a custom sign that you can order.
Don't forget the photo props! For a baby shower theme, you may want to choose relevant items such as baby bottles, cute sayings, woodland animals, or props that may include your little one's name.