When you're expecting, deciding what to wear to a baby shower can be exhausting. If you're wondering what to wear to your baby shower, consider these options for best baby shower dresses. Regardless of the season, these eight baby shower dresses will offer you some trendy outfit ideas to wear for every season.
The Maxi Dress
A maxi dress is a floor length dress that is form fitting at the bust but loose at the bottom. It is made to flow over the body, which makes it an incredibly flattering dress for expectant mothers. The best thing about a maxi dress is the comfort and freedom it gives you to move around as you please during your baby shower.
A maternity maxi dress like this one is incredibly comfy since it offers soft, stretchy fabric, so your bump doesn't feel squeezed. The stylish design allows you to dress up by accessorizing if your party event needs more glam.
Maxi dresses also offer a wide variety of colors at prints, including both solid and floral prints. This give you a wide variety of options as you look for a something that will fit the theme of your event. There are also so many places you can easily find a great maternity maxi dress. From boutique maternity stores to a quick Amazon search, you can certainly find a great maxi dress, no matter your price range.
A maxi dress can also be paired with a wide variety of shoes. You can go with sandals, flats, sneakers, wedges, or heels depending on how formal or informal your event is.
The maxi dress may be the most versatile dress available, which is why it makes for a great maternity dress during any stage of pregnancy. The only downside is their lightweight material may not be best suited for a winter baby shower.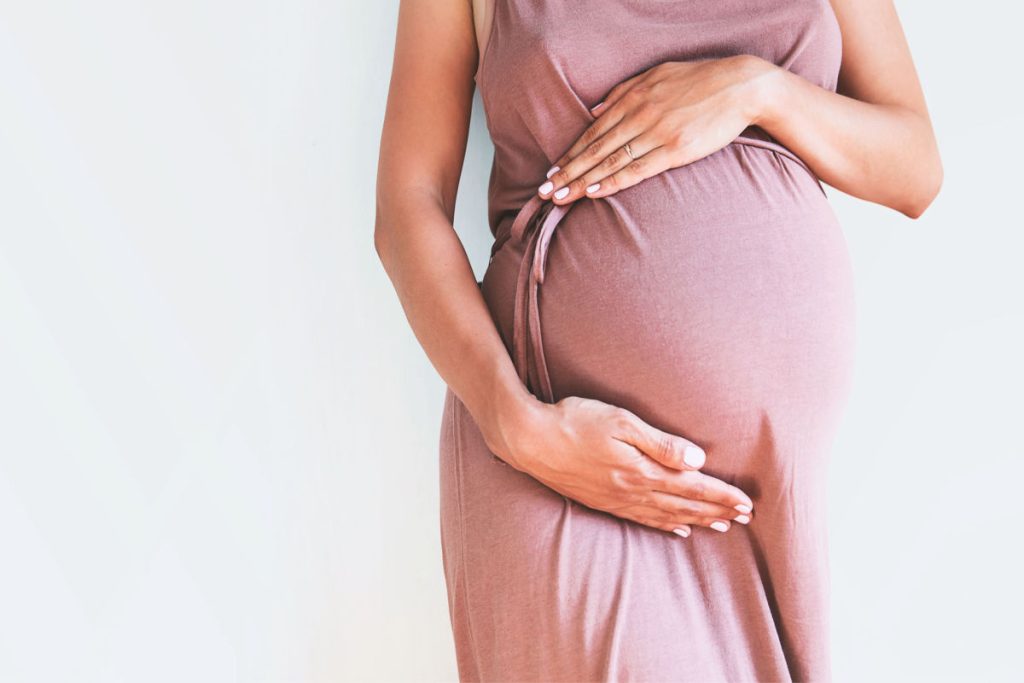 The Ruffle
Ruffles are flattering, don't you agree? That's why ruffled maternity dresses are fabulous for baby showers.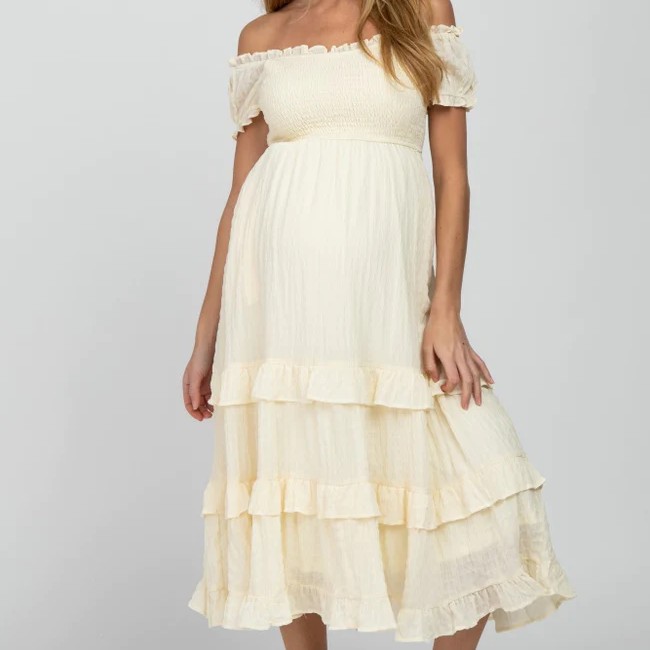 Ruffle dresses are simple, classy, and fashionable all in one. Additionally, they can also be super functional. For example, this ruffle-tiered baby shower outfit has a lining, which means there'll be no peekaboo moments. The dress features side pockets, which is cool because you can put your phone or whatever else you want on the go.
Ruffle dresses are a great choice for spring, fall, and summer baby showers, and they are also great if you're looking for a dress you can still wear after pregnancy. However, their playfulness may not always be best suited for extremely formal events.
A-Line
An A-Line dress is designed to show off your beautiful body. It is cut to be tight in the bust and flaring out to form an 'A' shape just beneath the chest. This is a great dress for any mom-to-be looking to show off your adorable baby bump. You can also easily accessorize the dress with a hat and jewelry to make the outfit more trendy.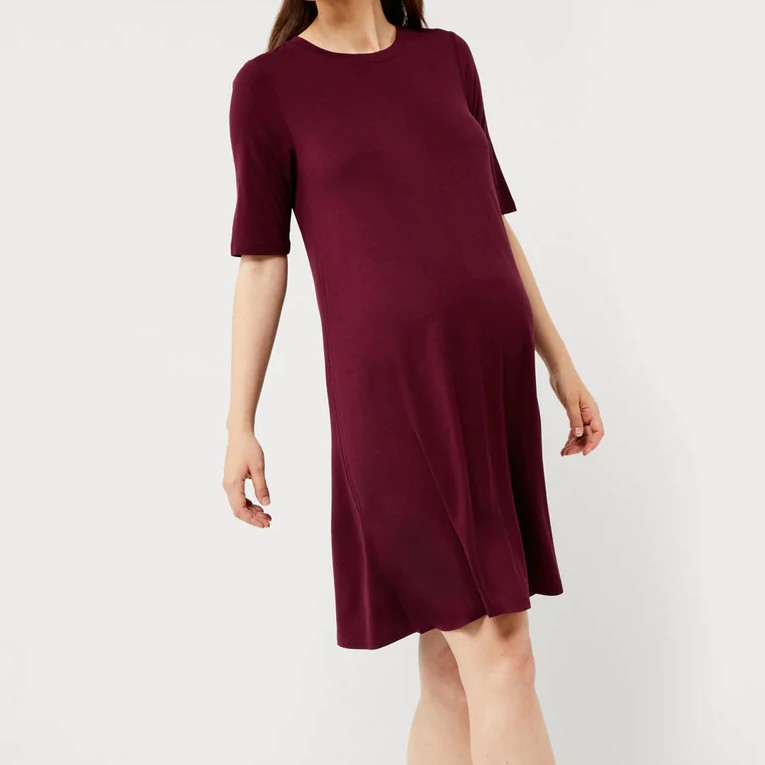 Much like a maxi dress, this goes well with sandals, sneakers, wedges, or heels, giving you limitless options to dress for your baby shower or any other occasion, for that matter. Additionally, there are a wide variety of options. You can find both floor length A-line dresses, or cute knee length dresses like this one.
The A-line dress is perfect for every stage of pregnancy and after. Plus, they work great almost any time of year!
Babydoll
A babydoll maternity dress is a short loose-fitting with short sleeves and often includes puff sleeves like the classic dresses found on a babydoll. These can be an incredibly cute and fun option for your baby shower.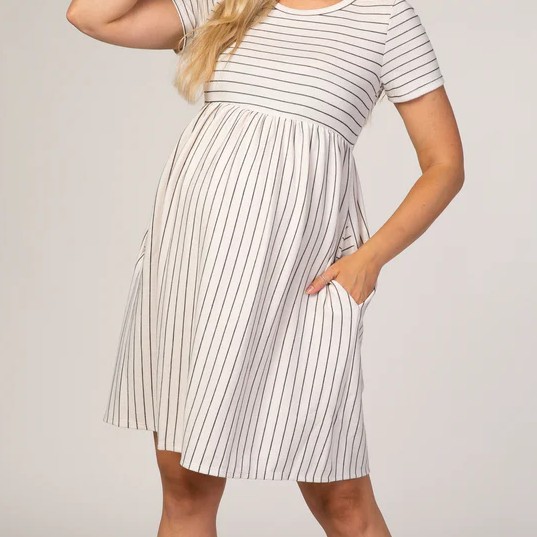 For example, this striped maternity baby doll dress by PinkBlush is simple and cute. The rounded neckline emphasizes your bust, making this dress ideal for small-busted expectant mothers.
If you're looking for a dress that will make you feel young and free, the babydoll may be a great choice for you!
A babydoll is great for for more casual events, but its playfulness may not be best suited for a more formal baby shower.
The Midi Dress
Whether tall or short, petite or plus size, a midi dress is a gorgeous outfit to wear to your baby shower. Falling between the knee and the ankle, this dress is incredibly sleek and can be accessorized for both formal and informal event.
A midi dress is versatile because you can wear it during and after pregnancy. You can also wear it with a comfortable pair of sneakers for a toned-down vibe or wedges for a semi-formal look.
A midi dress is great if you are looking for formal dress that is still versatile enough to wear for more casual events.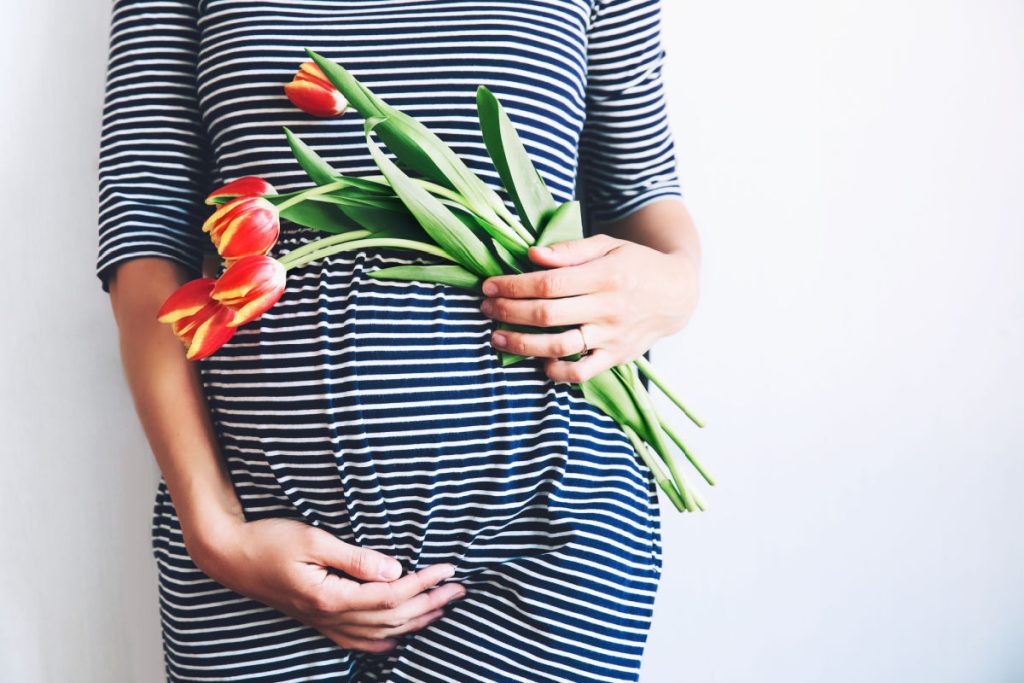 Long Sleeve Midi Dress
If you love the comfort of a midi dress but would prefer something a bit more formal or need a dress for a winter event, a midi dress with sleeves is a perfect choice. A long sleeve midi dress will have the same great style of any midi dress, but with long sleeves instead of short or sleeveless. This kind of long sleeve maternity dress exudes elegance and romance all wrapped into one.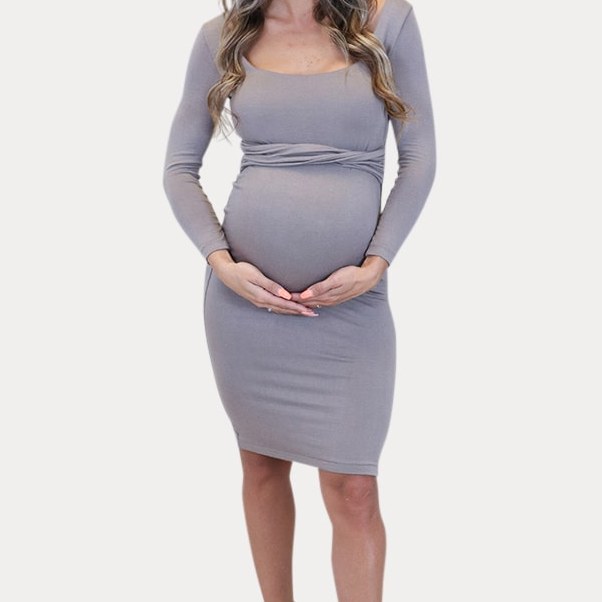 A sleeve midi dress is great for a baby shower being held in a more formal venue. It is also great for colder season events. A long sleeve midi dress may not always be ideal for a more casual event, but if you'd like to dress it down you can always pair it with any flat shoes. Otherwise, keep it formal with a pair of wedges or heels. This is also a great dress for maternity photoshoots or weddings.
Jumpsuit
If you want to break away from dresses, try a jumpsuit. These one-piece outfits with pant legs instead of an open dress-bottom provide a ton of options for every body type.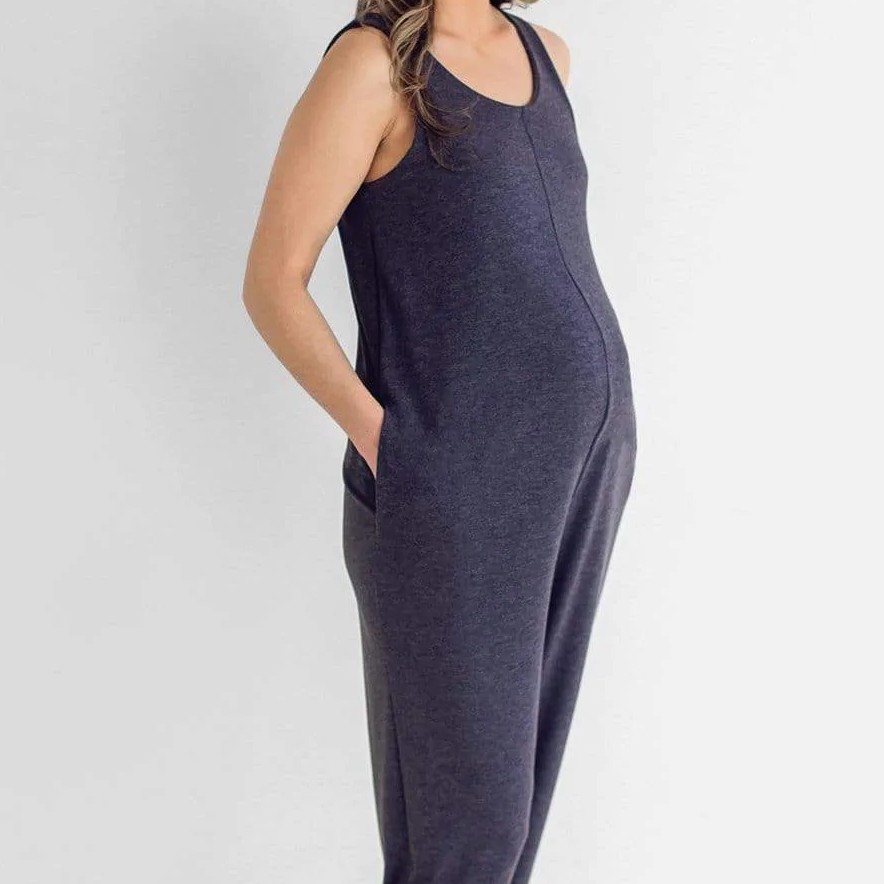 You can find great maternity jumpsuits with every fit imaginable. Whether you are look for a jumpsuit with long sleeves, short sleeves, or spaghetti straps, wide leg or skinny, floral print or solids, v-neck or scoop neck, there is without a doubt a great jumpsuit that will be perfect for your baby shower.
When selecting a jumpsuit, be sure to consider what kind of event you'll be attending. There is a lot of diversity in style and material. Lighter weight jumpsuits may not be best suited for formal or cold weather events, but may be great for casual, outdoor baby showers.
Bodycon Dress
As the name suggests, a bodycon dress is made to show off your body. Why not flaunt ​​your baby bump with a sexy, slim-fitting maternity bodycon? The fit will emphasize your curves and highlight your beautiful pregnant figure.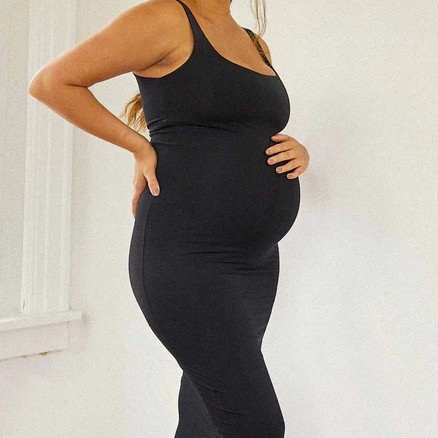 This is also an incredibly versatile dress. You can wear this slim-fit, baby shower maternity dress with sneakers for a casual vibe or wedges or boots for an edgier look. This dress is great for both casual and formal baby showers through the spring, summer, and fall. However, this style of dress may not be ideal for colder weather.
Finding the Dress for You
Between the different styles and patterns available, there are so many options to choose from! No matter the time of year or how formal your baby shower is, these styles can help you find a dress that will highlight your features as you celebrate your little one!