There's nothing better than showering expecting parents with love before the arrival of their new baby! But, you may wonder how much to spend on a baby shower gift. You're not alone!
How Much Should You Spend on a Baby Shower Gift?
Typically it is advised that you spend $25-$200 on a baby gift. The more you spend, the closer you are to the parents-to-be.
When debating how much to spend, you should consider a few things.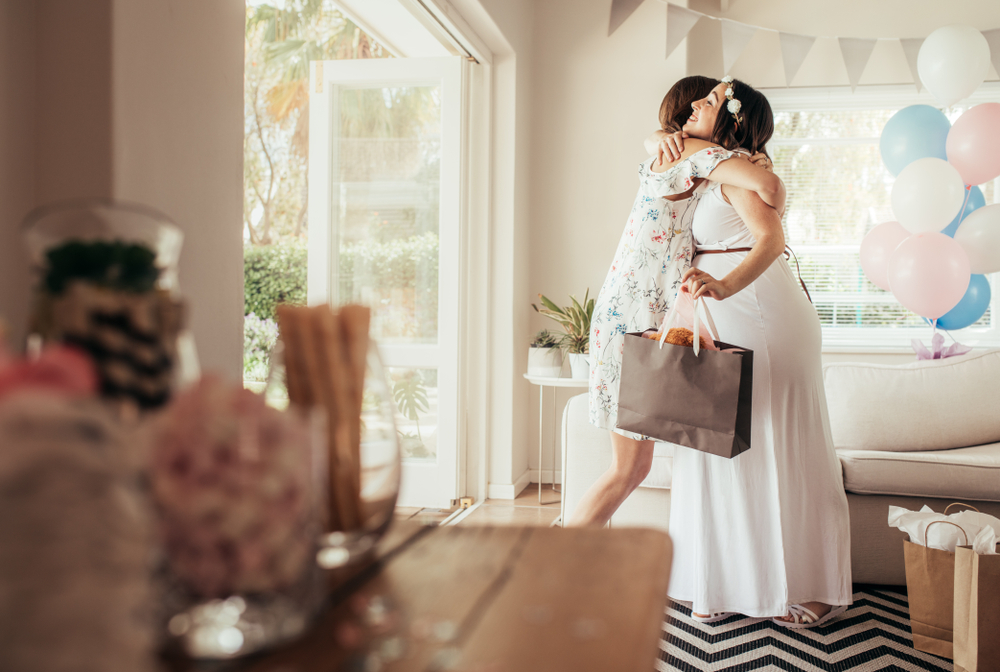 Stay Within Your Budget
How much can you afford to spend? Don't spend beyond your means, no matter how close you are to the parents-to-be. If you don't have much money to spend, you could help instead with preparing the home for the new baby, helping out when the baby arrives, babysitting, etc.
Focus On A Practical, Useful Gift
Rather than focusing on a dollar value, focus on how practical and useful the gift will be to the new parents. A super useful gift is always most appreciated!
Consider Your Relationship to the Person
When determining how much to spend, consider your relationship with the person.
How Much to Spend on a Baby Shower Gift for a Best Friend, Close Friend, or Family Member
If the mom-to-be is your best friend, a close friend, or a family member, consider spending more money. You could spend anywhere from $50-200 depending on your budget and how close you are to your mom-to-be.
If you have a large family, consider whether the individual is a close relative.
Ideas for Best Friends, Close Friends, or Family Members: If you have the budget, consider items like a crib, stroller, high chair, etc. Keep in mind that you could also go in on a gift with someone else. You could also purchase a variety of smaller items and make a basket or bundle.
How Much to Spend on a Baby Shower Gift for a Co-Worker
If the mom-to-be is a co-worker, you can spend less money than you would spend on a close friend or family member. A gift from $40-$80 for a co-worker would be acceptable.
Ideas For Gifts for Co-Workers: Anything off the baby registry is excellent. Focus on smaller gifts like diapers, wipes, etc.
How Much to Spend on a Baby Shower Gift for a Distant Relative
You can spend even less money if the mom-to-be is a distant relative. $25-$80 is acceptable for someone you are not close with a particular relative.
Ideas for Gifts for Distant Relatives: Sticking to the baby registry is always good. Focus on smaller items like lotions, pacifiers, bottle warmers, etc. These items are practical and will be appreciated!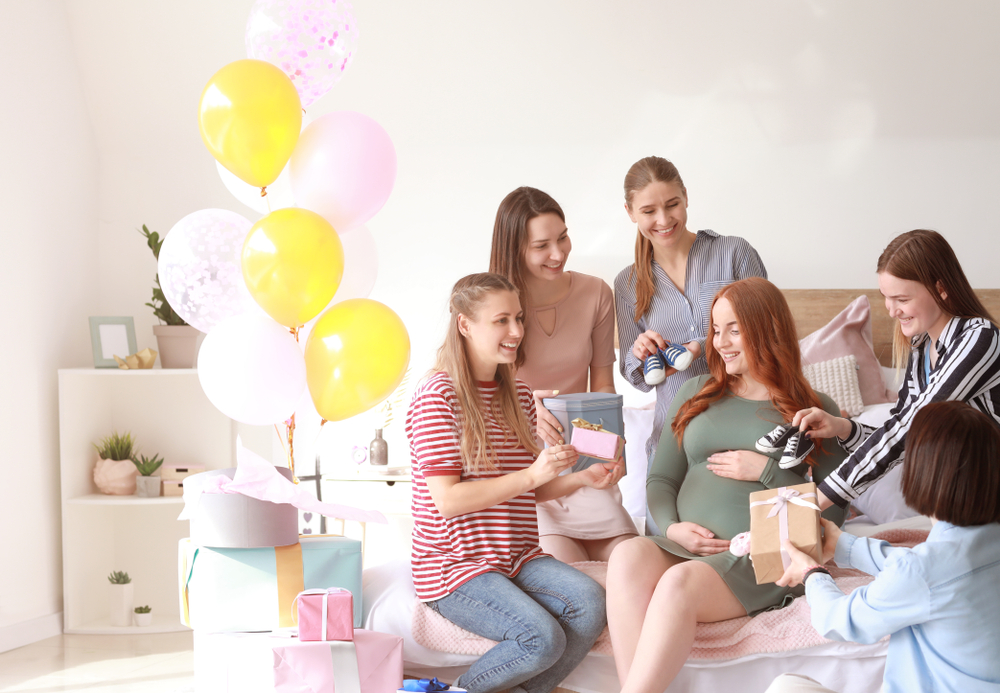 How Much Should I Contribute to a Group Baby Shower Gift?
Purchasing a group gift is a great way to get big-ticket items for the new Mom! These are often items like strollers and car seats.
If you want to coordinate a group gift, determine how much you would like to spend. Then put that amount of money toward the group gift.
Purchasing group gifts allows individuals to contribute (mostly) anonymously and will enable you to select a great gift from the gift registry. Typically these are expensive gifts that an individual would need help to purchase!
Suppose there aren't any big-ticket items left on the baby registry. In that case, you could also consider doing a group gift card or gift basket. A gift card to Amazon or local food delivery would be meaningful and useful for new parents! A thoughtful gift basket would also be the perfect gift.
Budget-Friendly DIY Ideas
DIY gifts can save money and serve as sentimental keepsakes for new parents. If you are looking for budget-friendly DIY ideas, here are some options to consider!
Handmade bibs
Diaper cake
Handmade washcloths, burp cloths
Gift baskets
Baby onesie bouquets
Check out this article for more great DIY gift ideas.
What Is the Appropriate Amount to Spend on a Baby Shower Gift?
Spending $25-$200 on a baby shower gift is appropriate. Always remember that you should only spend what you can afford. Your presence at the baby shower is the most important thing! If you are on a tight budget, consider donating your time to help the new parents when they bring their bundle of joy home.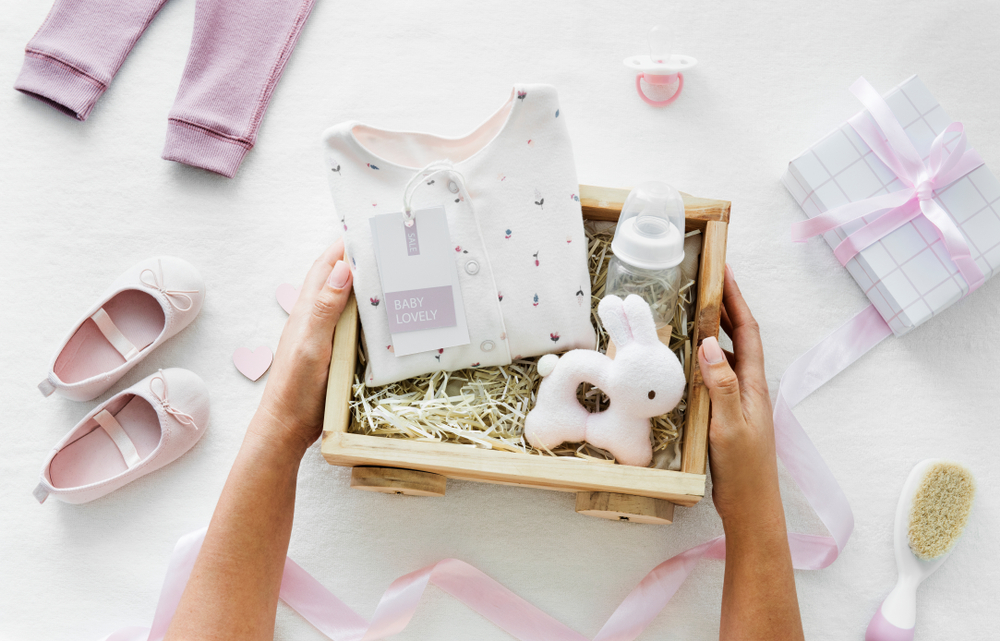 Is $50 Enough for a Baby Shower Gift?
Yes, $50 is enough to spend on a baby shower gift. Any amount is appreciated and shows that you care!
Is Cash an Appropriate Baby Shower Gift?
Cash is an appropriate baby shower gift! Cash is an excellent option if you are unsure what to purchase or can't afford a big-ticket item from the baby registry. Cash ensures that the parents-to-be can buy something they need and will use regularly.
What Is the Average Baby Shower Gift?
The average baby shower gift is some baby gear from the baby registry. The average gift truly depends on the amount you can spend. Items like bottle warmers, diapers, diaper bags, strollers, etc., are everyday items on a baby registry.