For a long time, baby showers have been a female affair. However, with the world changing and, with it, long-held traditional gender roles, do men now get to attend these pre-baby parties?
In current cultural norms, men can go to baby showers and participate in all the celebrations to welcome the new baby. These showers with both ladies and gentlemen in attendance are known as co-ed baby showers.
Who Normally Attends a Baby Shower?
The traditional baby shower attendee is a close female friend or family member because baby showers are an age-old all-female practice. Women have held them since the 5th century, a baby shower taking the form of a birth celebration.
The family would gather for a religious thanksgiving ceremony for the life of the mother and child. At the time, maternal and infant mortality rates were high. Hence, a successful and safe birth was an event worth celebrating.
Baby showers evolved to be a mom-focused event in the renaissance period. Women would gather around a pregnant mother and shower her with goodies. These parties, however, took on a festive flair in the Victorian age.
In the 1800s and at the start of the 1900s, grandmothers would hold lavish parties for their pregnant granddaughters and shower them with expensive silverware. The gifts, however, were practical, propping a family up in a time of need. At the time, it was in bad taste to accept such generosity and a baby shower was a good excuse to share wealth amongst the family.
The modern-day shower is an heirloom of this Victorian tradition. But in the place of luxurious silverware, the mom-to-be receives practical baby gifts such as baby clothes and diapers.
Do Fathers Come to Baby Showers?
So, do men go to baby showers? Yes, they do.
Today, fathers are playing a more significant role in parenting and childcare. Back then, society would frown at the thought of a father coming to a baby shower.
Men now take up more newborn parental tasks thanks to changing societal views on masculinity. The Family and Medical Leave Act (FMLA) has a 12-week paid parental leave provision for dads about to have a baby, foster care, and adoption cases included.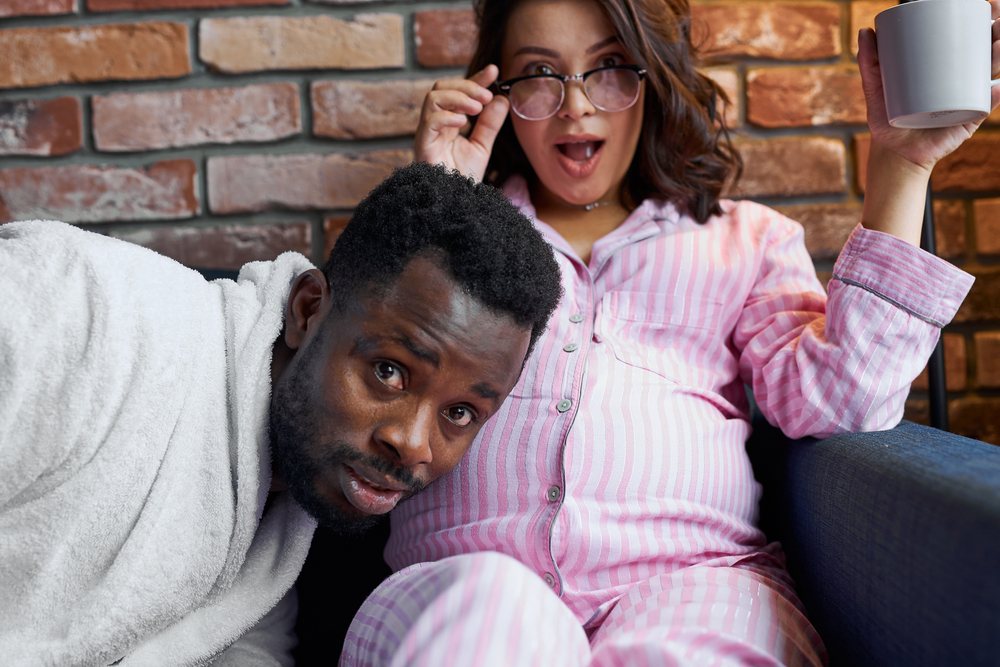 Do Men Attend Baby Showers?
Many men embrace the ongoing transformation and believe that it is long overdue. So, they attend diaper parties or the "dad"-chelor party to support their partners and welcome their progeny to a rapidly changing world.
When Should I Have a Co-Ed Baby Shower?
So, now that we have established that dads-to-be go to baby showers, when should you host a co-ed baby shower? You must pay attention to the rule of thumb: Hold a mixed-gender party only if both parents-to-be agree with the co-ed baby shower idea.
Another good reason to have a co-ed shower party is the expecting parents have a 'more-means-merrier' attitude to life. It is the perfect excuse to bring loved ones together for a good time. Besides, some dads love to be involved and want to be part of the new baby welcoming party.
So, host a co-ed baby shower if the dad-to-be wishes to be part of the set-up, décor, and hosting process. On top of that, you can host a mixed-gender baby shower party if the mom-to-be does not like to be the center of attention.
A supportive dad-to-be can share the burden and make her load lighter. Then, a co-ed party gives big brothers an excellent opportunity to share the special day with family and friends. So, host a co-ed party and spread the baby shower buzz to older kids.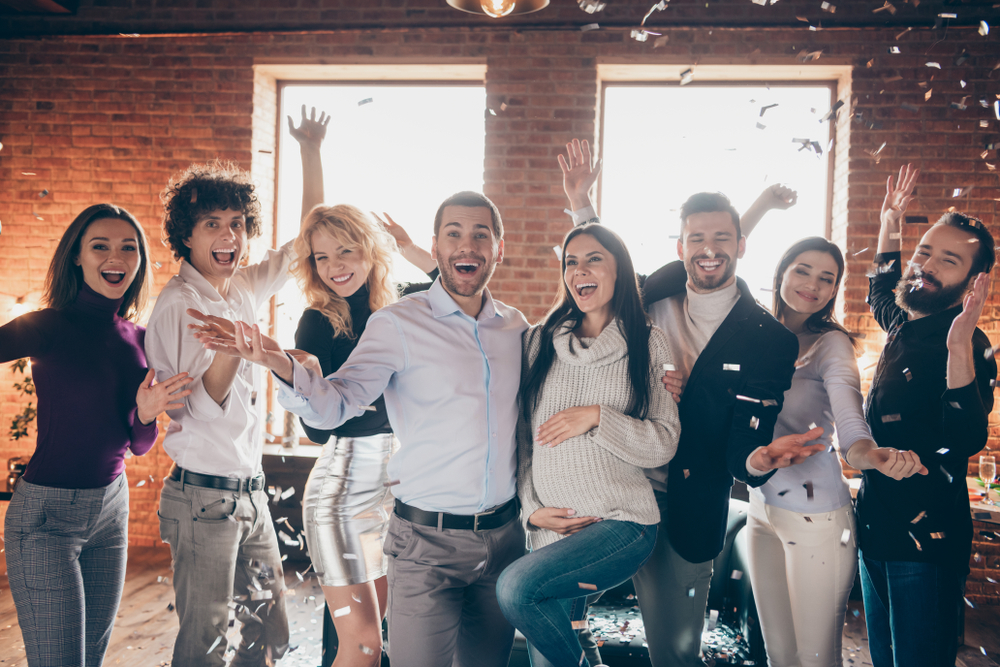 How Do I Plan a Co-Ed Baby Shower?
Plan your co-ed baby party by first making a guest list. The new parents should first decide who among their friends and family they will invite, then send out invitations.
A word of caution, though, the idea of men attending baby showers is still too modern for older demographics. Older male relatives, therefore, might choose not to attend, so RSVP.
However, younger male guests are more flexible and accepting of changing views on masculinity and gender roles. So you could have more of them in attendance.
The couple should also assign the host role to a female and male friend or family member. Mixed-gender co-ed baby shower hosts will offer diverse views on the planning process, balancing the get-together's feminine and masculine aspects.
Pick Your Theme
With the guest list ready, it is time to pick a gender-neutral theme. First, steer clear of the classic baby boy or baby girl pastel blues or pinks. Instead, go for a theme color that appeals to both parents. Besides, neutral tones such as an all-white modern minimalist theme are elegant and charming. Then throw in some hints of nature greens for a pop of color.
Alternatively, go bold and fun with color. For example, an orange and brown little pumpkin fall theme is an excellent gender-neutral theme.
Serve your hot chocolate with s'mores and have the warmest summer co-ed baby shower. It would be best if you incorporate your choice of theme colors into your baby shower invitations and décor.
Plan Your Menu
The classic women-only baby shower menu is light. You will find many finger foods such as cakes, sandwiches, chips, dips, and desserts. In contrast, a co-ed party should have heartier, dense foods such as scalloped potatoes, veggies, and meatballs.
It follows then that a co-ed baby shower is a perfect opportunity to throw a backyard barbeque in the warmer months or a buffet-style lunch.
Find Great Games
Co-ed baby showers are an excellent opportunity to remind the dad-to-be that the parenting experience is a shared human experience. Therefore, the best co-ed baby shower games are a fun and hilarious opportunity to lower the soon-to-be parent's anxiety at the oncoming task.
Cards games like the risqué Cards Against Humanity or Humans Against Baby Showers are top-notch icebreakers. They will fill the party with wild laughter. Beer word scramble and diaper pong board are stress relief ideas that can turn into a drinking game for beer lovers.
Also, be sure to check out these great ideas for co-ed baby shower games.
Besides printable games, have some adrenaline-charged fun games such as baby stroller races or diaper-changing relay races.