A baby on the way is good grounds for enjoying the warmth and humor of a get-together. And, few things say celebration louder than the yummy baby shower drinks.
If you have been looking for the perfect opportunity to show your prowess in mocktail, punch, and cocktail mixing, then your baby shower party is it. So, summon your creative energy, think up your dream baby shower theme and send out the invitations. It is time to delight your friends and loved ones with delicious baby shower drink ideas.
What Drinks Should Be Served at a Baby Shower?
The traditional baby shower drink menu is booze-free. That said, several modern baby showers serve both non-alcoholic and alcoholic drinks. But first, you should plan your drink menu according to your audience, time of the party, theme, and parents-to-be preferences. 
So, consult with the parents first. Next, check your guest list. The attendees have a significant influence on your choice of drinks. An all-female guest list, for instance, will have a different food and drink menu than the village bonding setup of the co-ed party.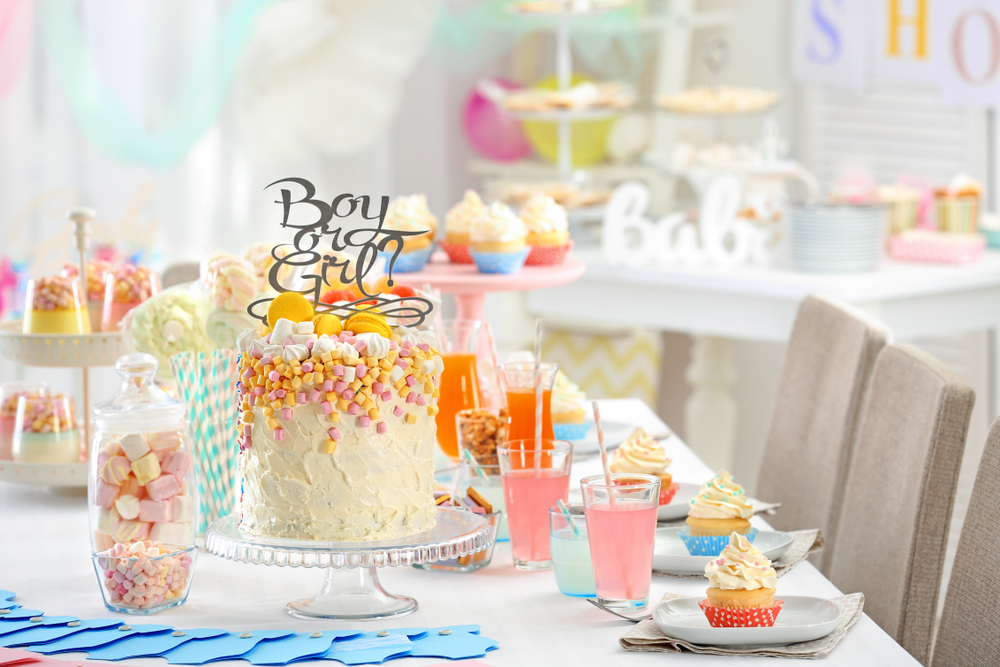 How Many Drinks Should You Have at a Baby Shower?
If the day's choices are alcohol-free fruity punches, iced tea, or coffee, then your guests can serve to their heart's delight. If your menu has alcoholic drinks, your guests could have one or two drinks during the two-to-three-hour-long baby shower party.
We recommend having three or four different drink options to ensure your guests have various drinks they can choose.
Can You Serve Alcoholic Drinks at a Baby Shower?
Yes, you can serve alcoholic drinks at a baby shower if the parents-to-be allow it and you have the appropriate guests.
Boozy baby shower drinks will crown your happy occasion's toasts and are ideal ice breakers. A rule of thumb is to serve alcohol alongside lots of food to lower your guest's peak blood alcohol levels.
While your mimosas, spritzers, champagne, and wine are excellent celebratory tipples, they may not be the best baby shower drinks for an outdoor public area. Please don't serve alcohol in a prohibited area.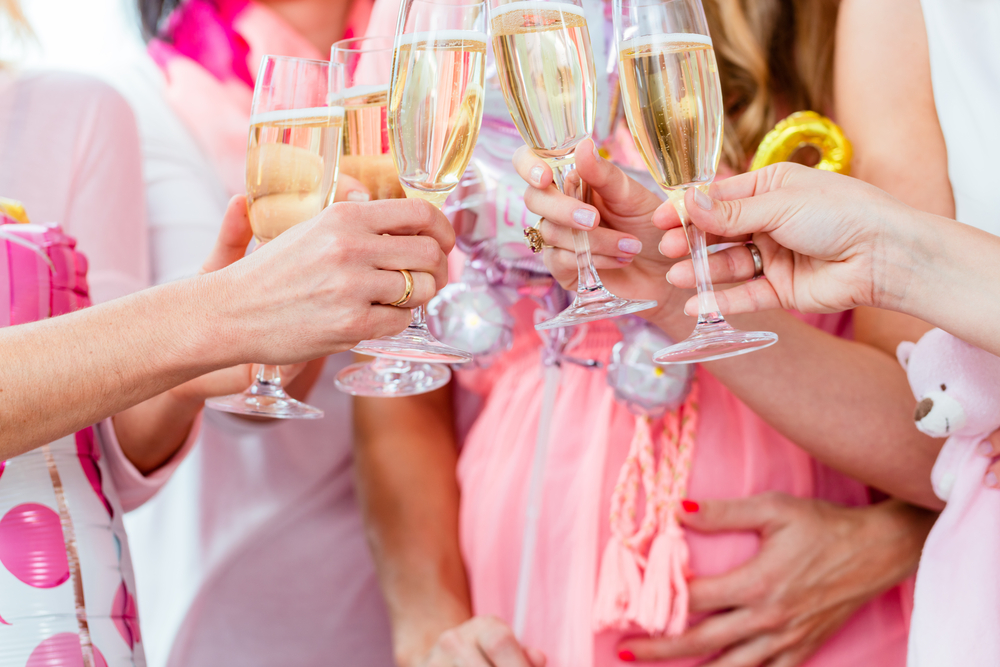 Five Easy Drinks for a Baby Shower
Baby shower drinks set the party mood at a baby shower and enhance your event's theme. For instance, English cream tea is ideal for an English breakfast tea-themed baby shower.
Fun, colorful lemonades and spritzers, on the other hand, are summery and tart. They are the to-go-to baby shower drinks for your garden-themed baby shower party.
A blue lagoon mocktail or booze-free blueberry fruit smoothie is a delicious way to announce a baby boy. Then, a Pink Panther-colored raspberry lemonade, pink sherbet punch, or a bloody Baby Mary says, it's a girl!
Below are five divine alcohol-free baby shower drinks for your party.
Pink Lemonade
Lemonade is one of the most underrated drinks. However, few drinks are as refreshing as a tall, ice-cold glass of lemonade on a hot summer day.
The classic homemade lemonade is yellow or clear colored, tangy, and sweet. But you can have your lemonade in a baby pink color. Moreover, you can embellish it further by making it into a spritzy, carbonated, or cloudy pink baby shower drink.
Make pink lemonade by adding grenadine or red dye to the classic lemon and sugar drink for light pink color.
Alternatively, raise the bar, and infuse red berry goodness into the ordinary lemonade. Raspberries, cranberries, strawberries, grapefruit, or cherries are an exciting twist and will infuse a pink color to your fruity punch. Besides, berry-infused lemonades are sweeter, less tangy, and fantastic baby girl baby shower drinks.
Iced Tea
Tea mixers are a delicious low-sugar alternative to sugar-filled beverages. In addition, you can make a no-preservative, caffeine-free iced tea beverage in a color of your choice. All you need is water, sugar, ice, tea bags, peach slices, and fresh mint.
Punch
Baby shower fruit punches are yummy fun drinks and appealing to the eyes. For instance, a blue baby shower punch has a vibrant hue for your blue-themed party.
Punches are easy to make and kid-friendly too. All you need to make a blue, creamy Hawaiian non-alcoholic punch, for instance, is Sprite for the fizz, pineapple juice, and ice cream. Add your ingredients into your punch bowl and serve. 
Alternatively, make a colorful rhubarb, ginger, and raspberry punch for your baby girl's baby shower party. You only need sour lime juice, fresh ginger, tart rhubarb, soda water, and sweet raspberries.
Need a neutral baby shower punch idea? How about a light green lime sherbet punch? Pour your pineapple and lime juice into a punch bowl. Then scoop your lime green ice cream into the bowl and add ice cubes. Use fun drink toppers to crown your neutral-gender baby shower party. 
How to Make Baby Shower Punch
Set aside a large pitcher or punch bowl
Pour in the high-quality 100% fresh fruit juice of your choice. Orange juice, pineapple juice, watermelon, cranberry juice, raspberry sherbet, grape juice, and limeade are all excellent choices.
Add 7-up, ginger ale, club soda, lemon-lime soda, and Sprite for carbonation and a sparkling quality to your punch.
Use ice cream, frozen berries, or citrus slices as toppers.
Your punch is ready to serve.
Mocktails
Mocktails are fun, beautiful, and delicious; your guest of honor will love them. As a bonus, they are easy to make.
Non-alcoholic wine mocktails are the crème de la crème of mocktails. They are alcohol-free but will infuse wine's premium aroma and flavor into your mocktails. 
You can, for instance, make virgin mimosas using grapefruit juice, orange juice, pineapple juice, and fizzy non-alcoholic wine. Sparkling water or sparkling apple cider is ideal non-alcoholic wine alternatives.
Sparkling Water
Infuse fizzy sparkling water with fruit for a yummy, hydrating healthy beverage. It is an excellent alternative to soda since it does not contain calories. Use fresh mint, mango, blueberries, or lemon slices in your sparkling water for a refreshing twist to this bubbly, fun drink.
5 Great Baby Shower Cocktails
Light beverages such as champagnes, wine, mimosas, or spritzers are the best sippers for a baby shower party. Use them in place of pure rum, gin, vodka, and whiskey, which guests could over-indulge.
Sangria
Sangrias are the yummiest of cocktails. A combination of fresh fruit, sugar, and liquor, they are delicious and highly flexible. You can make a colorful and sweet sangria coo by blending chilled red wine, ginger ale, lemon, lime, and orange juice. Toss chopped pineapple, orange slices, strawberries, and sugar syrup in a tall pitcher, stir, and voila!
Mimosas
What is classier than a mimosa bar at a baby shower party?
Mimosas are bubbly and yummy and can be the highlight of a brunch baby shower party. The classic mimosa is a mix of orange juice and champagne.
Fun alternatives include grapefruit, cranberry, strawberry-kiwi, pineapple, and pomegranate juice flavors. On top of that, you can use Spanish or Italian sparkling wine in place of champagne.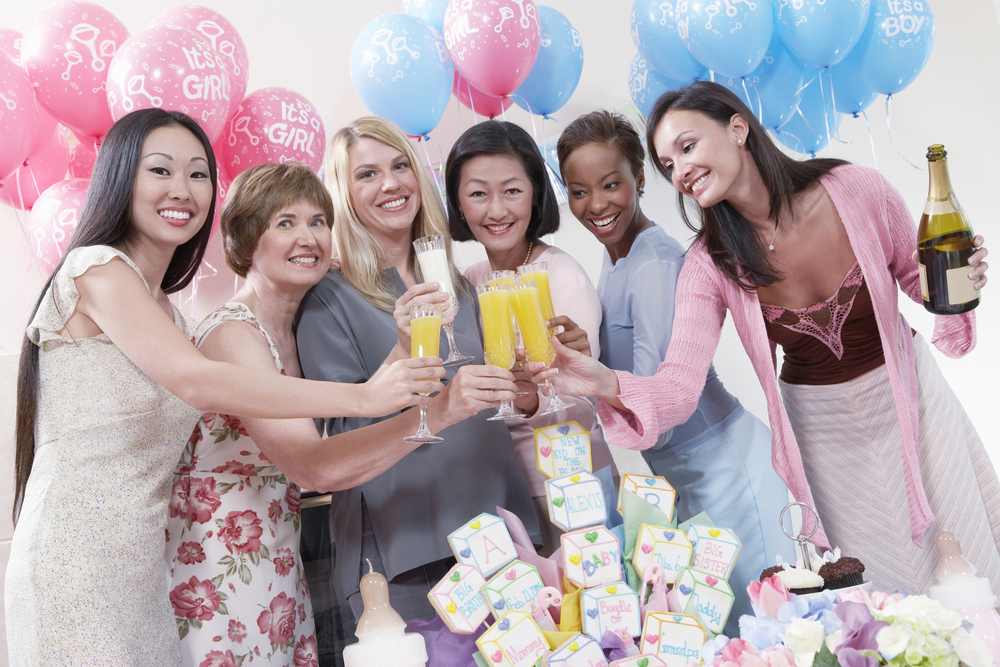 Mojitos
Mojitos are a classic Cuban punch that consists of lime juice, sugar, soda water, and white rum mint. Sweet, citrusy mojitos are gloriously refreshing. Moreso, you can make mojitos to match your theme. As an illustration, add blueberries to your pale mojito and instantly transform it into a baby boy shower drink.
Margaritas
A margarita is a lime juice, tequila, and orange-flavored liqueur cocktail. You can serve it with or without ice. Serve in a margarita glass with salt around its rim, in tune with its Mexican traditions.
Wine Spritzers
A wine spritzer is a light cocktail and is delicious when served over ice. It is also a versatile drink. You can, for instance, mix your wine, club soda, and layers of colorful fresh fruit to make a tasteful rainbow spritzer.
Now that you have drinks covered, it is time to plan the rest of the menu! Be sure to check out our complete list of baby shower food ideas your guests are sure to love!