Whether you host a virtual baby shower or an in-person event, baby shower trivia is always a great game to incorporate. This list provides questions and answers you may want to consider for your party guests.
How Do You Play Baby Trivia?
Baby trivia is a fun and interactive game you can provide for your guests at your next baby shower. Many printable options include different types of questions and answers.
For example, this may include matching a baby animal to its baby name. Other baby shower trivia may consist of specific questions about the mom-to-be. This game is called "Who Knows Mommy Best."
It is best to search for shower baby trivia questions online. There's a plethora of categories that may even match the shower theme selected.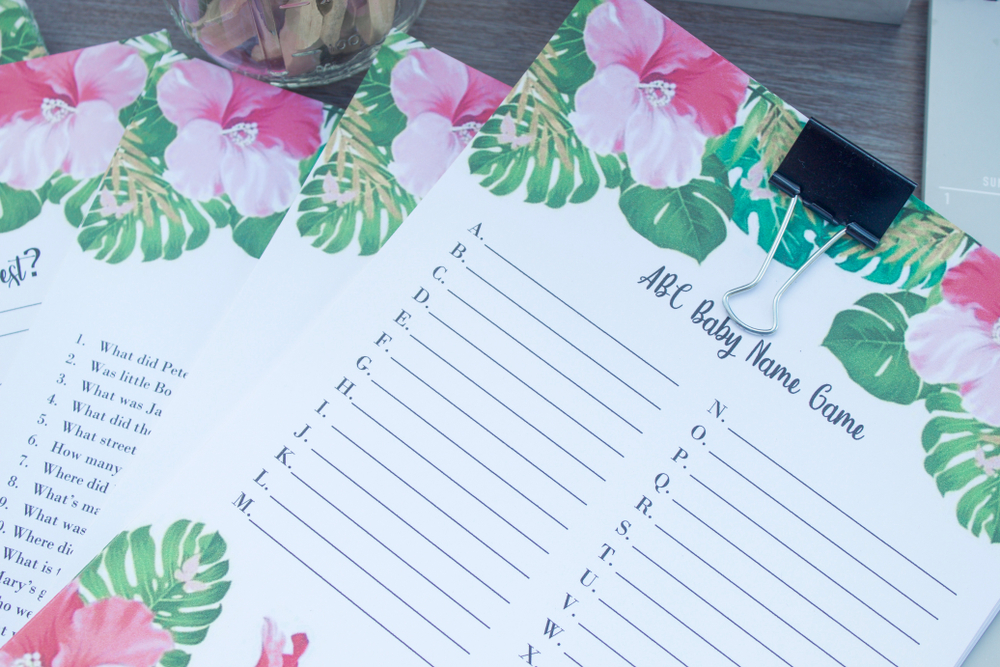 What Are Good Baby Trivia Questions?
Here is a list of some unique baby shower questions you may want to include. These party game questions will undoubtedly keep your guests interested and entertained.
What's the first sense babies develop after birth? – Sense of Touch
At what age do fingerprints appear on a baby's hands? – Around three months
What is the word that describes a baby's first bowel movement? – Meconium
Are babies born without kneecaps? – True
How significant was the weight of the heaviest baby recorded at birth? – 22 pounds, 8 oz
At what age does a baby start to shed actual tears? – They can still cry, but actual tears form at month one.
What Is the Average Weight of a Baby at Birth?
Most women deliver their newborn between 37 to 40 weeks gestation. The average weight of a newborn can range from 5 pounds, 8 ounces to 8 pounds, 13 ounces.
What Is a Baby's Head circumference at birth?
The new baby's average head size is approximately 13 and 3/4 inches or 35 centimeters.
When Is the Baby's First Tooth Usually Seen?
The most common teeth to appear on a newborn baby are the front bottom teeth. They usually poke through between 5 to 7 months of age.
What Is the Weight of a Baby When it Is Born?
The average weight of a newborn baby is anywhere from 5 pounds 8 ounces to 8 pounds and 13 ounces.
What Is the Name of the Youngest Mother in the World?
The youngest mother ever recorded in history is named Lina Medina. She was only five years and seven months old when she gave birth to a baby boy.
What Is the Most Common Boy's Name in the United States?
The most common boy's name in the United States is Liam.
What is the Soft Spot on a Baby's Head Called?
The soft spot on the baby's head is called a fontanelle. It should feel smooth and flat, and at times may also think it is pulsing.
What Bone Do Babies Not Have at Birth?
Humans are not born with their kneecaps. The patella starts forming into the bone at 2 to 6 years old.
How Do You Play Trivia for Baby Showers?
The parents-to-be want to make the baby shower as entertaining as possible for their guests. There is a multitude of trivia questions you can choose from to have your guests answer.
You could make these yourself or download printable cards with different categories. Many include fun facts regarding a baby's development. Some involve goofy questions about body parts, such as when the umbilical stump falls off.
Have the guests fill in answers on trivia cards and offer a fun prize at the end for the winner.
You can learn many unique facts about a pregnant woman. Do a quick search online to brainstorm more questions you may want to add to your mix.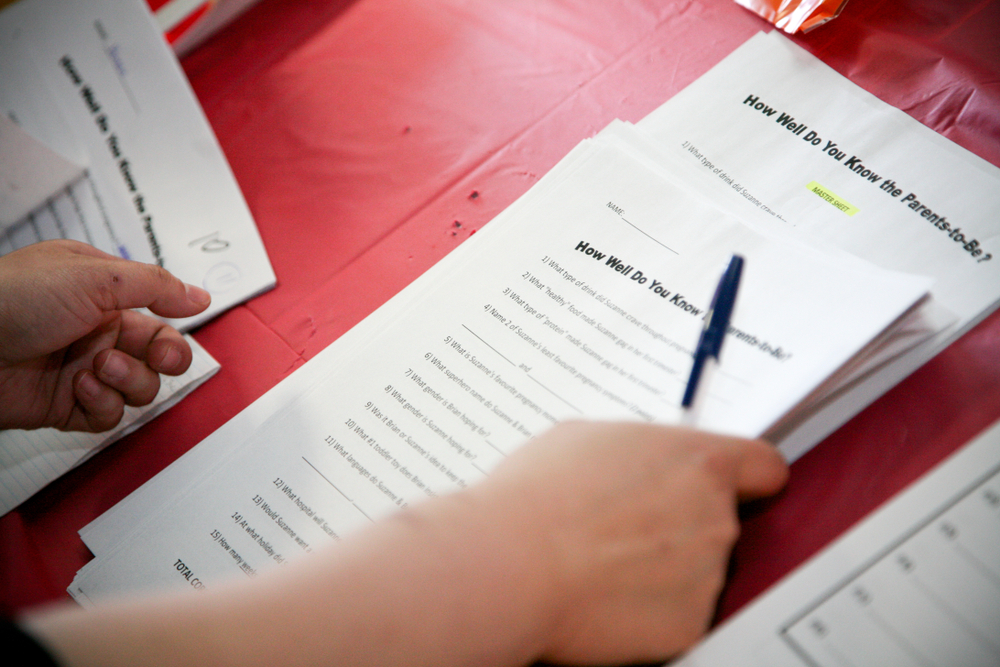 What Are Some Other Good Baby Shower Games?
New parents may want to incorporate something besides baby shower trivia questions. Fun baby shower games include guessing the due date, Guess the Famous parent, Guess what's in the nappy, or How Old Was She?
You can also coordinate the trivia games specifically for your baby shower party. For example, if you decide to have a stork party, download printable cards with this theme on display.
For more ideas, check out this article on great ideas for coed baby shower games.