Want a baby shower theme that's easy to find decorations and simple to execute? Don't worry because there are lots of themes that can fit this set of criteria. One of these is the sunflower baby shower theme. And what better way to cap off a themed party like this than with a sunflower baby shower cake?
What Is a Sunflower Baby Shower Cake?
A sunflower baby shower cake is a cake that is customized to follow a sunflower-themed baby shower. Typically, it involves adding a sunflower-inspired design to the cake. This themed cake is not just cute but also social media post-worthy! 
Quick tip: Be sure to serve the cake in a cool, air-conditioned room to ensure the cake will last the entire party.
A sunflower baby shower cake can be plain-looking with a giant sunflower on top of the dessert. You can make his subtle but meaningful baby shower decoration with fondant. It may also be a sunflower-shaped cake decorated with edible sunflower seeds and fondant or buttercream petals. 
If you don't want the theme to be blatantly about sunflowers, you can go for a subtle design, such as piped yellow and brown icing, as the dominant colors of the cake.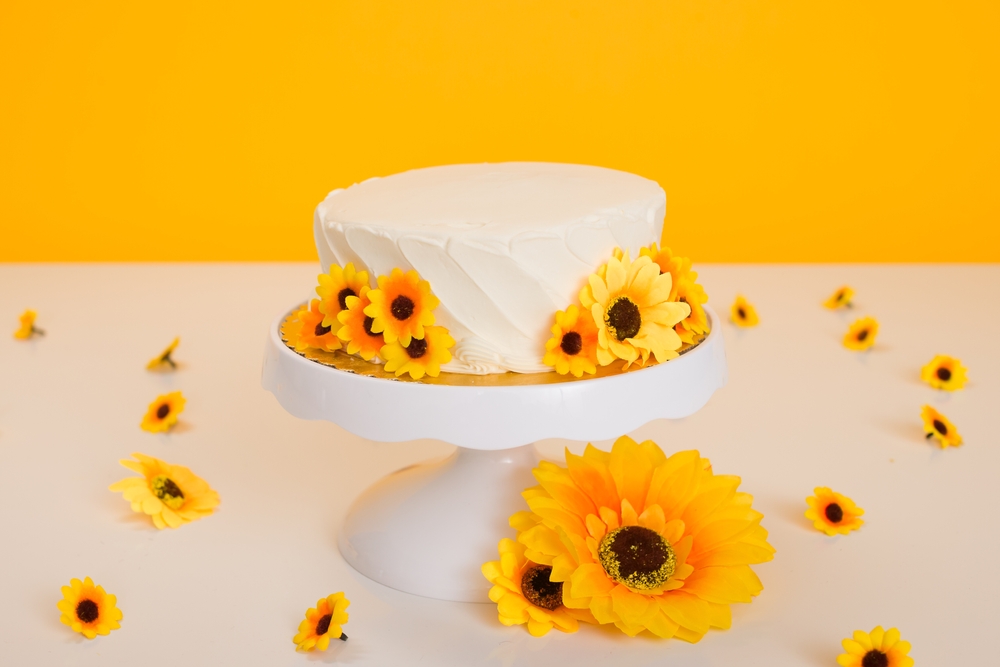 How Much Does a Sunflower Baby Shower Cake Cost?
The cost of a sunflower baby shower cake will vary widely depending on the design, size, complexity, and decor. Generally, a cake can range from $50 to $200 (or more). The more intricate the design, the more expensive it will be. Moreover, more cake package inclusions (such as cake toppers, sunflower cupcake toppers, cupcakes, and sparkling candles) translate to additional costs. 
What Ingredients Are Needed to Make a Sunflower Baby Shower Cake?
The essential ingredients usually include butter, eggs, flour, sugar, baking soda, and baking powder. Depending on the type of icing you want, you may need powdered sugar, butter, cream cheese, and milk. You can use fondant, edible flowers and leaves, food coloring, and other cake decorations.
Still, the ingredients you'll need for a sunflower baby shower cake can depend on the cake recipe and the decorations you will use. Check out the cake base you want and the icing or frosting that goes well with that type of cake.
Sunflower Baby Shower Cake Decoration Ideas
You'll need at least one sunflower and its leaves for a sunflower baby shower cake. You can choose to go for an easy dollop of fondant for the flowers or use a little more creativity.
Ideas that bring out a stunning cake include:
Edible paper leaves and petals
A sunflower print
Yellow and brown ombré layers
Buttercream sunflowers and petals
Plus, you can always add personalized cake toppers like the parents' names, tiny yellow balloons, and the baby's name if the parents have already decided on one.
Sunflower Baby Shower Cake
You can go for more straightforward, store-bought cakes already decorated with the theme or make a DIY sunflower cake at home, similar to a birthday cake. Either way, you and the guests will surely enjoy the fun and vibrant cake that comes along with the boy or girl baby shower party.
Sunflower Baby Shower Cupcakes
If you're looking for an alternative that is much easier to execute and not as intimidating, try a sunflower theme baby shower cupcake. You can play around with the cupcake decorations and cake toppers to reflect the sunflower theme. And, with individual serving-sized cupcakes, they make a great selection of sunflower party decorations where many guests might come and celebrate.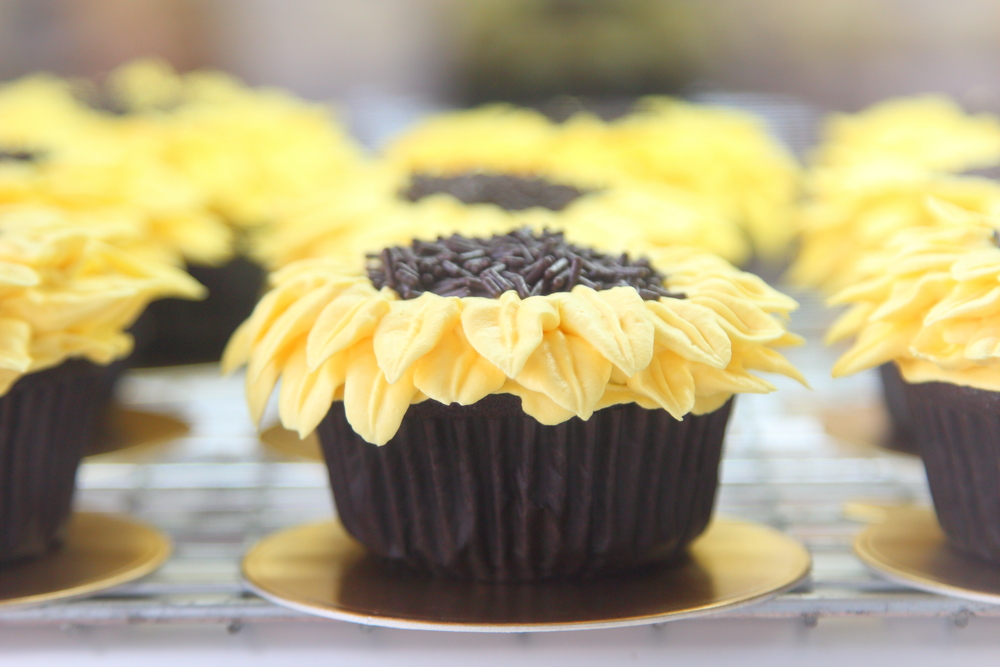 Sunflower Baby Shower Cake Pops
A great addition to a sunflower-themed baby shower cake would be some adorable sunflower cake pops. These are great baby shower favors for guests that you can customize any way you want. Add edible glitter, use food dyes to shape sunflowers or leaves, and add personalized toppers.
Sunflower Baby Shower Cake Topper
To add that special touch, you can always add a personalized cake topper to any sunflower baby shower cake. You can have custom toppers with the baby's name, birthday, parent's names, and other unique designs.
So if you are looking for a gender-neutral and summer-inspired baby shower theme, then the sunflower baby shower is definitely for you. Try incorporating it through the cake, sunflower baby shower decorations, and other small details.