Planning a baby shower party can be both exciting and exhausting. However, with the right tips and strategies, putting together the most memorable pre-baby party may feel like a breeze.
Let's consider six best practices for planning a successful cowboy-themed baby shower.
But first…
What Is a Cowboy Baby Shower?
A cowboy baby shower is a pre-baby party that brings to life the wild west era. It embodies what the wild west is best known for: hay bales, saloon doors, cowboy hats, boots, and cowboys.
It's a fantastic theme to implement when expecting a baby boy or girl (cowgirl) or even for a gender-neutral shower.
What Is the Theme of a Cowboy Baby Shower?
A cowboy baby shower can either focus on a western theme representing the wild west or a southern country theme.
The good thing is that either of these themes will use similar elements regarding the party decorations. You can include browns, blues, whites, and reds for your decoration colors. Alternatively, spruce up the decor with yellow wildflowers. More on this later.
How Do I Plan a Cowboy Baby Shower?
A cowboy baby shower is quite simple and often inexpensive to implement. Below is a step-by-step approach to planning your western or country-themed baby shower.
Before the baby shower:
Choose a date and time for the western baby shower.
Identify the host for the party. 
Pick and book a venue.
Identify your theme; in this case, it'll be the country western theme.
Create and send your cowboy baby shower invitations.
Identify, purchase, and set up the decorations needed for your event.
Organize to buy the western party supplies according to your budget.
Prepare a western-style food menu, keeping in mind the number of guests who have RSVP'd, and ensure it is simple and easy to prepare.
On the day of the baby shower:
Make final touches on the venue decor.
Display your food on decorated tables.
Welcome guests on a high note.
Play some fun baby shower games.
Have a gift opening session for the mom-to-be.
Give party favors to all attendees as they leave.
After the event:
Send a thank you message to your guests.
Let's dive into six of the most important planning steps for the success of your western party.
Cowboy Baby Shower Invitations
Baby shower invitations largely contribute to the success of your baby shower party. Invitations provide a great deal of information about your upcoming baby shower.
Depending on your preference, you can send physical card invites or e-vites. But no matter how you send them, well-detailed and timely invitations allow your guests to RSVP on time so you can continue your plans for the event.
The best time to send your cowboy baby shower invitations is about six weeks before the event. However, you can send the invites earlier for guests who live far away or if the event is close to summer or winter (these seasons are usually packed with events).
What Should You Include in your Western Cowboy Baby Shower Invitations?
Ensure to include the following information in your invite:
The names of the parents-to-be
Name of the host
Location of the event
The time and date of the baby shower party
When the guests should RSVP
Baby registry information
The nature of the event
The party's theme. Ensure your invites clearly show the shower is a cowboy baby shower theme party.
Any additional information like dress code and unique items you would like guests to have—for example, red bandanas or cowboy hats.
Find the perfect template for your cowboy baby shower invitations to match the western-style theme, like this editable and printable Little Cowboy Invite from Etsy.
Cowboy Baby Shower Decorations
Baby shower decorations communicate the theme of the event. Therefore, it is essential to get it right.
From the entrance to the centerpiece, ensure every piece of the party decoration is aligned with the theme.
Decorating the Entrance
Below are some ideas for decorating your entrance to the cowboy-themed baby shower venue.
Have a cowboy hat or cowboy boots wreath at your door.
Create the old, wild western saloon doors' style on your door. You can use hand-printed paper taped on your door or printable western-style saloon door curtains instead.
Spruce the entryway with large plastic cactus plants in metal-like buckets or pots decorated with little cowboy hats and bandanas.
Include cowboy-themed lights to light a path to the door.
Place hay bales on the path or around the venue (the house for an indoor party or the garden for an outdoor party) for an authentic western-style look.
Table Decorations
The table is the most critical part of the event, as it will be the center of attention during the baby shower. Below are some ideas for decorating the table.
Cover your table with a gingham tablecloth (pick a color prominent on your cowboy theme) or use a bandana print tablecloth instead.
Add a raffia table skirt and tie it around the table.
Spruce up the table skirt with color by tying colorful bandanas around the table (you could use blue and red bandanas for this)
Present party treats in metal or tin buckets or wooden crates.
For the centerpiece, choose a western-style lantern and mini bales, a cowboy-decorated diaper cake, wildflowers or sunflowers in a glass jar, or a backdrop made of old shutters to embody the saloon swing doors. The ideas are endless for a centerpiece, so you can pick the one you like best.
Place your baby shower cake on an upside-down wooden barrel.
Have a wooden backdrop with hanging bandanas and cowboy hats. You can also use a rope to write the baby's name on your chosen backdrop. You could also have a cowboy banner instead of a string for the writing.
You can have a similar tablecloth for all the other guests' tables. Add cowboy hats to the guests' chairs or instead have hay bales for guests to sit on.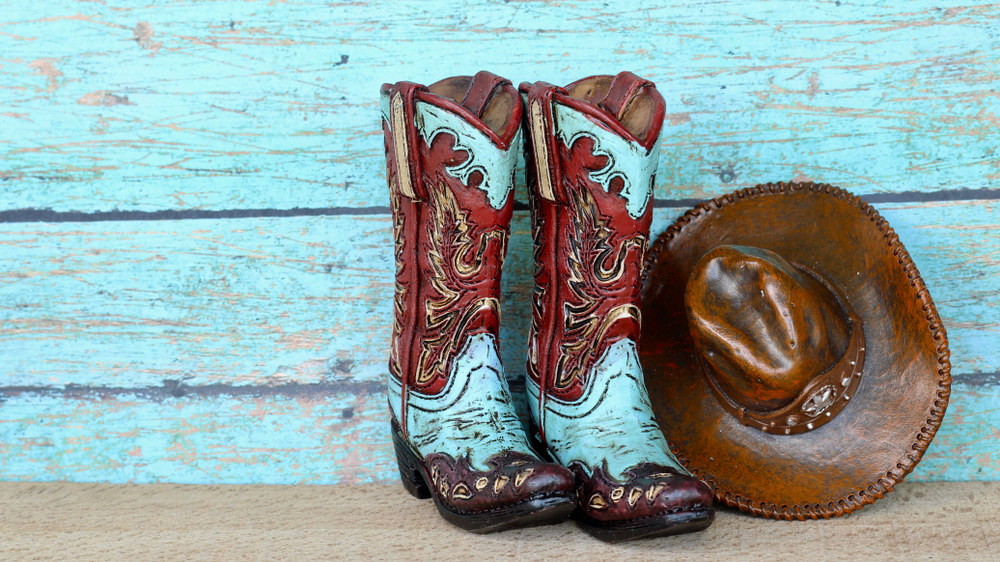 Cowboy Baby Shower Food and Drink
Your food and drinks also need to be aligned with the baby shower theme; therefore, create a menu that embodies this theme. Depending on your budget, you can choose to go all out or have an inexpensive menu.
Here are a few ideas of the foods and drinks to include in your menu.
Cowboy Baby Shower Food
When creating a food menu for a cowboy-themed baby shower, it's essential to factor in the party venue. Will the baby shower be held indoors or outdoors?
Below are some food ideas for your western baby shower.
A barbecue with different types of meat if the party is outside
Pieces of corn on the cob
Cornbread
Baked beans and potatoes
Hotdogs
Hamburgers
Steak stew instead of barbecue if the party is indoors
Mini tacos
Potato salad
Macaroni salad
You could also have appetizers like chips, potato skins, quesadillas, and salsa.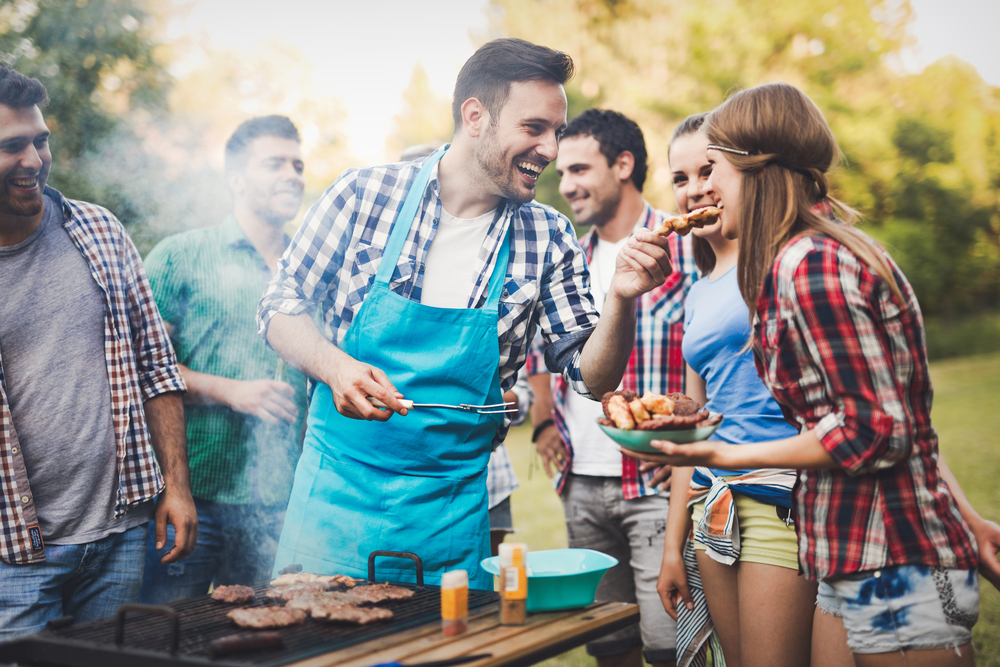 Cowboy Baby Shower Desserts
Your guests will greatly appreciate some sweet treats. You can place your sweet treats in metal buckets or wooden crates. Your deserts could include.
Cupcake toppers, such as little cowboy boots, horses, and cowboy hats.
Cowboy cookies
Granola bars
S'mores
Edible chocolate cowboy hats made of chocolate thins and Rollos held together by melted chocolate chip.
Rice Krispies, presented as tiny hay bales.
Cowboy Baby Shower Drinks
Since most baby showers don't serve alcoholic drinks, you can have fruit punches, like this easy-to-make shower punch, in a cowboy-themed drink dispenser. Other simple non-alcoholic beverages you could choose to include are sweet tea and lemonade.
However, if you choose to serve alcoholic drinks, below are a few ideas.
Root beer floats made of root beer and a scoop of vanilla ice cream.
Your favorite beers placed in a metal bucket with ice cubes
Cocktails
If your baby shower party is outdoors, you can have cute decorative wooden ponies (made of ordinary saw horses) as party signs. For the signs to the food and drink table, you can include words like "Cowboy grub" for the food and desserts and "Watering hole" for the drinks section.
Organize Your Cowboy Baby Shower
Follow the steps we've shared to plan your upcoming western cowboy baby shower that your guests will love!
Get more baby shower theme ideas from our baby shower theme collection.